The very first impression a student makes to the interviewer will remain forever and will set a mark about his/her interview. And the most appealing part and the first memorable impression is made by the dressing and body language. A confident body language comes by the appropriate dressing. It is very important to take good care of your looks, you should be very decent and charming. Good dressing for an interview need not be very fancy or trendy. Even though every college circulates many guidelines for an interview appearance, it is best to take care by yourself which suits you and also comes under the guidelines. Let's glimpse through few tips on choosing a right dress for college interview.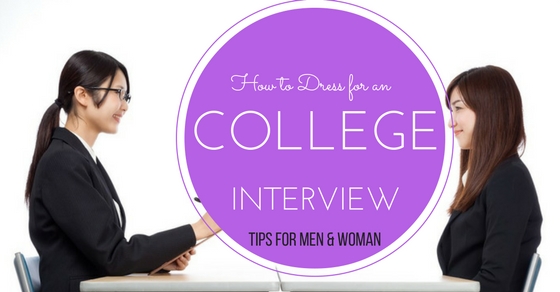 How to Dress For a College Interview: Outfits and Clothing Tips

A good dressing will show the interviewer what kind of student you are, and how serious you are about the job. A smart dressing will create a respect for you among the interviewers and will show you of as a professional person. Below are dressing tips for both genders, men (boys) and women (girls) in a college interview.
What Should Guys Wear to a College Interview?
When comes to men, in default they have very few options to be creative. And hence it is best to stick to the formal basics.
1. First step should be according to weather condition:
Dressing according to the weather is very important when it comes to a college interview. If you belong to a humid weather condition, and if you dress up very gaudy with thick shiny clothes you may end up sweating and bad odor. It is best to dress up according to weather condition as the interviewer might not expect to look very rich and posh. Hence, dress up very normal and wear clothes which supports the climate.
2. Tie or a suit should be according to personal comfort:
Most of the time, many colleges prefer their men to wear suit or a tie to make their students look professional. This is very notion as it might make them feel uncomfortable and strange. And also it gives them more stress about their appearance. Nowadays none of the corporates expects such formal suit and tie appearance with their interviewee's. Unless and until it is specifically mentioned to wear a suit and tie it is better to chose what you are confident rather than creating a false impressions.
3. Be choosy about colors:
Over all shirts and pants color plays a very important role as it sets the mind set of the interviewer about your character in a minute they meet you. For example, bright colors with shiny designs will create a impact that you are loud person and at the same time dull colors will create a impression that you try to create a sober look. So, it is better to stick to formal colors like sky blue or any mild shades of blue accompanied by right pants color like grey or black which co ordinates your shirt color well.
4. Shoes are the highlighter of your whole dressing:
According to a recent survey, it is said that the very first thing an interviewer notes from the job applicant is the kind of shoe they wear to the interview and most of them have appreciated that creates a good impression. So, it is always better to wear a neat polished black leather shoes for an interview than any other colors like tan brown or dark brown shades. The color black adds a nice decent combination to your formal attire. It gives a trust worthy appearance if you wear a formal shoes. So be smart and choose black leather shoes with a proper sole.
5. Dress according to the type of interviewer:
There are different types of interviewers who visit colleges. For example civil department dressing might totally vary from computer science department. This just means dressing expectations differ from technical department to non technical department. So make sure and do a small research or ask your seniors to give a opinion about the expectations of the interviewers. Even though sometimes it varies from individual's perspective it is better to wear according to the type of interviewer.
6. No stubble or beard any day:
There are various surveys which support beard for an interview which is popped up recently. But according to general rules it is better to have a clean shave rather than having a beard. It is just not to make them feel ask questions about it or rather create a unclean look. If you are person, who has beard as your day to day style and it is your signature look, do not shave it but at least try to trim it very neat before you appear for an interview. And there is complete no for a stubble as it creates a unclean impression in the interview.
7. Do not wear any kind shiny accessories:
Generally, all of them have a personal style for themselves right from the dress to accessories they wear. For example, few men love to wear shiny bracelets or rings to college. But when it comes to interview make sure interviewer should not think that you are a fancy adult who is very playful. So, just for a day try to avoid all fancy accessories to just not to create a irresponsible look.
These are the few tips for men for dressing for an interview. A well-dressed man is almost in for any kind of interview as it speaks before you speak up.
Best Dress For College Interview For Women?
Generally, women have plenty of options to wear for an interview. But remember there are lots of chances where you fail to create a good impression as the people's expectations varies a lot as there are many choices. So, always remember the thumb rule to stick to basics which will satisfy over all expectations. Here are the few tips to dress well for a college interview.
1. Wear a formal dress in a subtle shades:
A formal dress for women has many options like a full piece suit, a top and A lined skirt, or any kind of formal dresses which is common in your country like Salwar or a Saree. So, make sure you dress something comfortable and stick to formals. Do not wear tight clothes as it will make you feel uncomfortable and look odd when you sit on the chair. Be also choosy about colors and stick to very mild colors like sky blue, shades of peach, white, and baby pink etc. Make sure color of the bottom should stick to grey, black or any dark colors.
2. Dress your hair very neat:
One of the major things which creates a impression about over all appearance is a neat hair do. Especially for women, a neat well brushed and a clean hair will set a remark for your over all appearance you carry. Make sure you have a nice hair cut which suits you and check for dandruff too as it might show of on your shoulders if you wear a dark color. Dress your hair in way it does not disturbs you while writing as well avoid using shiny hair accessories.
3. Take care of your shoes or heels as well:
A good proper pair of shoes or heels is very important as it is a head turner to women as well. Women have plenty of options when coming to shoes. And one most common question is to wear a open toe shoes or closed toe shoes. Both are good and accepted. But when you choose to wear a open toe shoe or heels make sure you have clean nails, properly trimmed and have neutral nail color which does not carry attention. It is better to stick with black shades than any other color shoes to maintain a professional image. If you choose to wear heels make sure you practice a lot to wear it and walk straight with confidence.
4. Cleans nails are marks of your hygiene:
When you write or use your demonstrate, sometimes nails are the first thing which catches the attention. This does not mean you have to take special attention to do a manicure. But make sure you have clean trimmed nails with a neutral nail polish. Never try to incorporate your fashion sense by using trendy colors as it might create a different image.
5. Iron your clothes to avoid a negative impression:
A clean wrinkle free ironed clothes are a must irrespective of what you chose to wear. Do not crush your clothes by moving randomly around the college before you attend an interview. A well fitted dress is shown out perfectly by its clean wrinkle free ironed look. So be conscious to not to crush your clothes and try to wear properly ironed dress.
6. Be conscious about your lipstick if you choose to wear it:
There is lot of debate about whether to wear a lipstick or not to wear for an interview. Wearing lipsticks is purely personal choice. But there are few guidelines on how to choose a lipstick for an interview. The very first rule is to wear a matte lip color rather than shiny liquid gloss. Make sure you choose a neutral lipstick color which does not catch attention of the interviewer. It is good to avoid hot pinks and red shades.
7. No to shiny accessories:
Women have lots of options when coming to accessories. It is not necessarily they should not wear any kind of accessories at all. Make sure you carry yourself as a very decent person with minimal accessories like a simple watch, small ear stud which is not very shiny, delicate ring, and a simple chain to neck. These are not for compulsory looks but if you wish to wear, wear it perfectly with right choice of accessories.
There is a long list when it comes to dressing for an interview either for a women or men. But the above mentioned are very basic rules which are very commonly expected by most of the interviewers around the world. Dressing for an interview does not require so much gloss to it but all you need is to show yourself that you are best for a professional work atmosphere. Hope this post helps you to know the guidelines for how to dress for an college interview.