A resume is a document, summarizing all the details regarding education, work experience, skills, abilities and other major accomplishments of an applicant or candidate.
The major objective of a resume is to prove that the applicant is the ideal candidate applying for a particular job.
A resume is extremely helpful in providing a clear picture of who you are. This is usually accompanied by a cover letter, which highlights an applicant's qualifications and key skills.
A resume is considered to be effective when it compels the employer to choose you over the rest.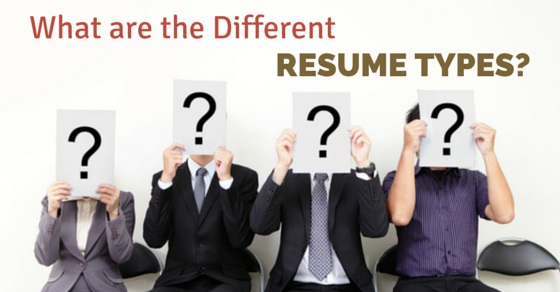 In this regard, all depends on selecting the right kind of resume for the right purpose.
As there are a number of resume types and variations, have a quick look on the different types to decide which one would be the right fit to serve your purpose.
Different Types of Resumes:
Resumes are available in different formats and it is essential that you select the right type of resume according to your personal requirements and circumstances.
Some of the popular resume formats are mentioned below. Check them out:
1. Chronological Resume:
This is considered to be one of the most popular types of resumes. The main feature of this resume is that it contains a list of the work experience of the candidate in a chronological order.
In addition to this, the candidate's education and qualifications are also mentioned in this resume as per the time of their occurrence.
Structure: The basic structure of this type of resume is given below:
Include personal details such as, your name, address, telephone number, etc.
A short profile about yourself.
Details of your work experience in a reverse chronological manner. Highlight the main accomplishments achieved by you during each of your work experiences.
Give some detail regarding your qualifications, talents and hobbies.
Advantages:
A chronological resume stand out from the other types because of the mentioned perks:
This resume is considered to be the best choice if you are planning to apply for a job in the same company because it will show how much you have progressed so far.
Chronological resume is a personal favourite of most employers because they can get a clear picture of the candidate's career from it.
A chronological resume usually has a point which provides details regarding your achievements, but, in case you don't have many achievements, you can write about each job in detail so that you don't have to make a separate achievements column, which does not contain much detail.
Disadvantages:
Even though, this resume is extremely popular, there are a few drawbacks too.
If there has been a large gap in between jobs and you do not wish to bring it to the notice of the employers, this resume will highlight that point.
In cases where you are heading for a change in the field of work, this resume will not be of much help because an employer will not be interested in your achievements in a totally different field of work.
2. Functional Resume:
A functional resume is totally different from a chronological resume owing to its main objective.
The main purpose of a functional resume is to focus on the skills and abilities of the candidate rather than the work experience.
Structure: The format of this particular type of format is outlined below:
Consists of a personal profile describing your achievements and skills.
A different section which describes each achievement and skill in detail.
You can also mention about your involvement in any voluntary work.
Mention the employers that you have worked for and also mention the employment dates.
Personal details as well as details about your talents and hobbies.
Advantages:
This resume boasts of various advantages which compel you to choose this format over the rest:
If you have gone through a series of job change or if you have had long gaps between different jobs, a functional resume is best for you as it highlights only your skills and achievements.
People planning to go in for a change in their field of work can choose functional resume as it will lay emphasis on their transferable skills rather than the change in industry.
This resume is also considered to be perfect for people who are slightly higher in age as it focusses only on skills and not your age.
Disadvantages:
This type of format also has a few disadvantages that include:
People who do not have many skills and accomplishments should not choose this resume as the main objective of this resume is to focus on the achievements and skills.
Growth in your career cannot be highlighted in a functional resume because the main emphasis of this resume is on abilities and achievements.
3. Combined Resume:
This resume is a combination of the chronological and functional resume. As a result, this resume is slightly longer than the rest.
Advantages:
The advantages of this resume will help you in making a decision whether to choose this format:
People who have had an amazing career growth with a whole lot of achievements can go in for this resume as it highlights all the details.
This is the best resume if you want to impress an employer with your strengths and experience.
Disadvantages:
This resume also has some disadvantages, which discourage you from selecting this format:
One of the major disadvantages of this type of resume is that it is slightly lengthier than a chronological or functional resume.
At times, this resume can remain unread if it is not strong enough to catch the attention of the employer at the beginning itself.
This resume is not for people who do not have many achievements or experience to boast about and it is also not beneficial for people who have had long gaps between their jobs.
4. Targeted Resume:
A targeted resume is aimed at a particular job and it is the perfect choice in cases when you need a different resume for different jobs.
One of the major advantages of this resume is that it is brief and straight forward, which makes it extremely easy to read for the employer.
The disadvantage posed by this resume is that it focuses only on one particular job and that a lot of effort is required to write this resume.
5. Keyword Resume:
A keyword resume focuses on the skills of the candidate. The advantage of this resume is that it is perfect for those situations in which the employer just scans through resumes because the skills are mentioned as keywords at the beginning.
A disadvantage of this resume is that it is not very popular with the employers and mentioning the skills in keywords at the start may give a feeling of repetition.
The best way to use this resume is to combine it with other formats of resume.
6. Mini Resume:
A mini resume is one which provides a short summary of your work experiences and qualifications.
The experiences and qualifications are mentioned in a bullet form. This resume is perfect for networking purposes and it is best when an employer just wants to get an overview of your work and does not want to go through a lengthy resume.
As such, it is not suitable for you if you want to exhibit all your knowledge, skill and experience to the employer while applying for a job that wants all your previous data in detail.
7. Inventory Resume:
If you do not have any specific objective or if you do not wish to apply for any particular job, the Inventory resume is perfect for you. This type of resume is prepared in such a way that it can be sent to a number of companies.
An inventory resume lists your skills, qualifications and achievements in a general way.
8. Non-traditional Resume:
Non-traditional resumes are gaining utmost popularity in this modern world, which is driven by technology. Some of the different types of non-traditional resumes are portfolios, infographics, video resumes, personal websites and blogs.
These resumes also help in creating a first impression on the employer. Some of the different types of non-traditional resumes are:
Infographic Resume: This type of resume is prepared by using visuals, such as graphs, images and charts, which provide details about the candidate. This is a visual way to put forward your details.
LinkedIn Profile Resume: In this modern internet era, creating a resume online is not a difficult task. The LinkedIn Profile can be used as a resume if you fill it correctly.
Portfolio Resume: A portfolio is an extremely amazing option for displaying your talents and skills. This resume will visually represent your talents and achievements. The link of your portfolio can also be attached to the traditional resumes.
Social Resume: This type of resume is gaining a lot of popularity because everyone is involved in social networking these days. You can provide the link to your account on Google+, FaceBook, Twitter and LinkedIn to the prospective employers so as to get a clear picture about you.
Video Resume: This resume contains a video prepared by the candidate to showcase his skills and experience. The candidate records a video by standing in front of the camera and describing his qualifications. You can also make use of music and animations in your video resume for making it more appealing.
Advantages:
The non-traditional resumes are perfect if you are applying for a job in any creative field.
People who wish to get a job in the field of social media can use the non-traditional resume.
This is also extremely beneficial for people who do not have enough work experience to boast about.
Disadvantages:
These types of resumes cannot be used in situations where the employer prefers the traditional resume format.
Some people consider images and graphics to be unnecessary for any resume. So, this type of resume cannot be used in such cases.
Tips for Choosing the Best Resume Format:
Selecting the perfect resume according to your job requirements is extremely essential as a resume is the document which gives the first impression of a candidate to the employer.
Some major tips you should keep in mind while making a choice of the perfect resume for you are:
Decide which resume type is best for the job which you are aiming for. After choosing the format, you should then continue with customizing the resume.
Formatting your resume is the next important step. Firstly, make a list of all the details that you wish to include in your resume and then format your resume by compiling all the details.
Check the do's and don'ts of resume writing as per each type of resume and come up with the best and most appealing one.
Customize your resume by using a template. You can personalize the template with your personal details.
Certain studies conducted have shown that 70% of the employers still prefer traditional resumes and 20% prefer the non-traditional ones.
Describing a few objectives in your resume is an extremely important process because this helps in giving the employer an idea that you are familiar with that particular company and the job requirements.
The resume objective should be written according to the job which you are applying for. Listing specific objectives will fetch you a better chance of getting selected by the employer.
As such choosing the correct format is highly essential. But other than that, arranging the contents properly in your resume is much more important because you get only a few minutes to catch the attention of the employer.
Creating an irresistible and compelling resume is the one and only means of proving that you are better than the rest and you are the ideal one for the job.
In short, a resume is the best opportunity to create a personal impression on the employer. So, make sure you frame it with utmost care and attention.