An interview process that decides your fate in your career is your pre job interview. You need to make sure that you perform well in these interviews if you have to make it good in your career. A pre job interview is extremely significant.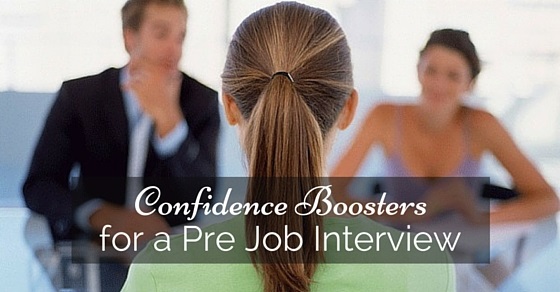 However, many of us fail in the initial interviews because we are tensed, stressed or lack self confidence. Here are some simple job interview tips and suggestions that will help you build self confidence while appearing for a pre job interview. Make sure you follow all the tips for interview, as "A fine start matters most in a career."
Job Interview Confidence Boosters:
The following mentioned are few tips for job interview on how to be more confident and boost confidence during interviews.
1. Know, What You Know:
An interview is the first time your knowledge will be put to test and hence you need to be well prepared when you head for a job interview. You need to know exactly what you know. This knowledge gives you confidence and helps you answer interview questions effectively.
People who do not know how much knowledge they actually possess tend to be vague in their answers. When interviewers hear vague answers, they understand that the candidate can easily be misled. Such individuals are not preferred in big organizations and firms.
2. Beware of Your Weaknesses:
It is your weakness that gives you away during a job interview. Everyone has some weaknesses and they all know about these. If you are aware of what are your weaknesses, you will be able to perform better in the interview.
You must also be prepared to answer questions regarding your weaknesses. Even the most confident and talented individuals shudder when they are asked questions regarding their weaknesses.
Think of what you will answer if you are asked about your failures in education or a gap in the career. Think of an answer to such questions before you head for an interview. This will help you answer the questions confidently.
3. Wear the Best Look:
Be it a pre job interview or a board meeting in your job, your dressing sense always matters. If you dress well, you are bound to create an impression that lasts That is why you need to make it a point to dress perfectly for a job interview. Women appearing for job interviews can wear skirt and shirt or trousers and shirt. Men need to stick to formal shirts and pants or trousers.
Usually, light colored plain shirts are preferred over stripes and checks during job interviews. When you speak of looks your hairstyle can also have a great impact. You need to pick a good formal hairstyle. Women may opt to tie a pony or a bun.
Men can check for shirt hair styles that best suit their face shape. Before heading to the interview, look at the mirror and make sure you are wearing the perfect look. This will help you build confidence and help you perform better in a pre job interview.
4. Keep Control of Your Body Language:
Body language often communicates things that you do not actually wish to say. For instance, you may not want to appear nervous or scared during a job interview. But if you are actually nervous, your body language will easily give the hint. You must understand what body language and gestures need to be strictly avoided.
Itching your head often reveals that you are confused. If you are fidgety, it clearly reveals you are nervous. If you have a drooping pose, it is again a clear sign of your lack of self confidence. Practice and train your mind to avoid such gestures and poses. It will help you to conceal your true mindset and will help you perform better in the interview.
5. Keep in Touch with Seniors in Your Field:
If it is your first job, you are bound to be tense. Even a high level of interview preparation will not help you get over the nervousness. This is because you have never actually experienced a job interview and do not know how they actually are.
A good way to understand more about a job interview is to ask your seniors in the same field. They will always be keen and willing to help. They will tell you about their own experience during the pre job interview.
They will also provide you tips and suggestions that will help you improvise and perform well. You may also get in touch with seniors on social networks. You may check out their blogs to know what exactly they share on these blogs. They may refer to their work experience and you may gain some vital information from there.
6. Prepare the Perfect Resume:
A resume defines you and thus plays a very significant role in getting your profile shortlisted. While there are countless resumes that apply for jobs, there are few that actually get shortlisted.
These are resumes that have been designed perfectly. So what makes a resume perfect? While all resumes include qualifications, experience and expectations regarding a career, few are actually designed to perfection. These are resumes that state the information in the right order with nothing missing.
If you are applying for a creative field like that of an interior designer or a graphic person, you may make it a point to design your resume in a visually appealing manner. There are many websites for infographics that can make this happen without much effort.
7. Get Rid of Fear of Interviews:
Fear of interview can be a matter of concern during the job seeking process. There are several individuals who are scared to face the interviewer during the interview process. These individuals may possess all the required knowledge and intelligence that qualifies them for the chosen career but interview fear prevents them from revealing this knowledge.
You can get rid of the fear of interviews by practicing interviews at home. You may practice in front of the mirror or request your friends to play the interviewer while you give the interview. It will help you get rid of the conscious feeling. It will surely help you answer wisely during interviews.
8. Hygiene Matters:
Hygiene plays a major role in your career. If you are not hygienic, it instantly creates a bad impression on people around you. This is especially true if you are appearing for a pre job interview. Hence, you need to be extremely hygienic. Here are some things you need to keep in mind while heading for a pre job interview.
Make it a point to carry your deodorant if you are excessively sweaty and suffer from smelly armpits. If you have a problem with smelly feet or stinky socks, carry an extra pair to keep your feet fresh. Women who suffer from excessive hair fall should opt to keep their hair tied to reduce the amount of hair fall.
9. Go Prepared for the Commonly Asked Questions in Pre Job Interviews:
There are several questions that are commonly asked during interview rounds. If you are aware of this list of questions and you prepare to answer them, it will surely help in your confidence building.
Individuals who do not prepare themselves even for the most expected questions create a really bad impression on the interviewers. The interviewers understand that you lack preparation from the way you answer the question. Hence, do not make this mistake in a pre job interview.
Here we have listed a few of the most commonly asked questions during the interviews. Knowing them will help you prepare better.
What is your career goal?
What is your ambition in life?
Why do you wish to join our firm?
Where do you see yourself in 5 years?
What is your greatest strength?
What are your core competencies?
What is your weakness?
What are your hobbies and interests?
Are you a team player?
Are you a good negotiator?
Are you a good leader?
What is your weakness that is not your strength?
Are you comfortable in a travelling job profile?
Are you comfortable in a shift job profile?
Is there anything else you would want us to know?
What is your career expectation?
10. Should Show Confidence when you Head for an Interview:
Inspite of preparing for a job interview thoroughly, some individuals tend to be nervous during the actual interview. It is best to understand that there could be questions you may not answer but that does not rate you less than any other candidate. What is most important is that you should be confident. Your confidence should be clearly evident in your gait, your look and the way you present yourself.
Finally:
If you walk in confidently and do not get deterred by a few challenging questions, you may get shortlisted in the very first interview that you appear. It is all a matter of the right attitude. You need to be focused and work towards your goal. Success often comes to those who dare and act and you must show courage and put in effort in the right direction.
Save