Days are over when a simple computer printed resume was all you needed to excel in your interviews. With so many user-friendly online tools, one can create many wonderful resumes within a fraction of seconds. Do not even think of using an old template which your elder brother or your seniors used for their resume.
Instead, you should already start making use creative, attention-grabbing, and at the same time maintaining the look of professionalism resume templates. The first think that your recruiter will learn to see is your resume. So make it stand out from the crowd.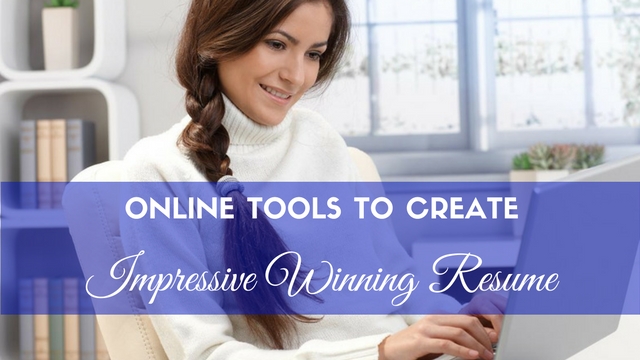 You should not get astonished when you learn this fact that on average an interviewer hardly spends 6 seconds to scan through your resume.
So, never ever think of ever grabbing the attention of your interviewer for even 1 more second with the old and common resume format typed in the same old fashioned Times New Roman, let alone reading the contents.
You need to spice up your resume that will catch the attention of your interviewer. These online tools exactly provide you with features that will help you create your dream resume that is completely modern but at the same time keeps formalities in the mind.
Free Online Resume Maker Tools:
1. LinkedIn:
Forget about facebook and twitter. Good for socializing but not so for professional networking. When it comes to building a network of professional contacts, you come to LinkedIn.
For freshers who wants to embark on the great world of the professional field, the best starting point for you is LinkedIn. If you do not have an account already then go and create one.
Fill all the required details as complete as possible. You may not be aware of but you can export your portfolio in pdf format. You can use that as your resume if you like. Even if not, you can use any other online tool and import all the information from your LinkedIn account.
2. KickResume:
For all my fellow beginners who do not want to get into a lot of hassles of making a resume by themselves, you can use this friendly little site called Kick resume. Now you can create your lovely resume in just 4 steps. You can readily import your information from a LinkedIn profile which makes it very easy and hassle free.
After completing the form, you can download it either in PDF format or in doc format. Other than that, it also provides you to make a cover letter and a personal website. It provides free template for basic needs. You can also subscribe to its premium version for a monthly payment of $4-$15.
3. Do You Buzz: 
For those who wants to add colors to their resume, keeping in mind the modern needs , and elite look of your resume, then you must definitely try do you buzz. With easy to use resume builder, it provides you with the feature to create a CV or resume according to the type of platform.
Whether you want to show your resume on a computer, mobile or on a paper, this site has it all covered up. It also promises to make the best use of your networking sites to increase your portfolio's visibility, in case you choose to share it among your friend circle for peer review.
4. Boom Essays:
While computers make it easy to compile your very own writing article, there is nothing that beats the work of a professional writer. At boom essay, you can avail a service of professional writers who can do different types of writing including effective resume writing or CV writing.
Although the work can be quite for fresh graduates, it is ideal for those looking for job change and those who do not have much time to think about creating a new resume by themselves. It comes with many other features like unlimited amendments, Plagiarism check, customer support all the time and many other features which are free to use.
5. Resume:
Resume.com has some of the best tools that make it all-in-one stop for online job search. It has user-friendly resume maker free feature that lets you build your own most impressive resume on the go. One can also upload their own resume if they wish. But that is not what is that make a resume so different. It is not only a resume builder but also a job search portal.
It has a different portal for employers where they can upload job and get recommended candidates according to the needs of the employer. Nonetheless, it still boosts to feature free resume maker platform that lets you instantly share your professional modern effective resume with rest of the world.
6. Krop:
Resumes are good for describing your job experiences but what if you want to also use a portfolio to showcase your talent in action? Then meet this site, Krop. Designed for designers it lets you create an online profile.
You can create a visually attractive portfolio at ease. Not only that, it also has a feature to apply for jobs on the site. You can not find such a platform that lets you make catchy and appealing portfolios for multi-platform devices. It also integrates Instagram which can be useful for beginners. Starting at $8.25 per month, it is a handy tool for resume creation.
7. CV Maker:
One of the most straightforward no-nonsense CV builder available online. It has a basic and simple interface where the user enters his information like personal details, work experiences, education background and other.
It features 17 language supports or you can create your resume in 17 different languages which are handy for many people. You can export you created a resume in pdf, doc or txt format as per your convenience. This site has been featured on many websites and it hauls to be one of the simplistic yet powerful professional resume builders that can help you create a shining resume.
8. Vizualize.me:
Text are boring and they do not really make any good in terms of making sense. For that reason, we use pictures and graphics because they say a picture is greater than 1000 words. Would you like to add the twist of graphs, plots, and pictures on your resume instead of using same old text format? Then you will be more than happy to find this site.
Equipped with features to fill your resume with pictures, this site is ideal who thinks that visual aid can greatly enhance their resume quality. It features, geographical maps, comparison charts, statistical bars and much more. You can download your resume either in png or in pdf format.
9. Online CV generator:
Quick and simple. These three words defines the whole concept of the website. Online CV maker or generator lets you develop your resume on the go. Unlike other feature rich sites, it does not let you import information from your LinkedIn account so you need to fill in the details. But, with fill forming format it is really convenient to fill up the format real quick.
No registration is required to use the resume services. Just fill up the form in step by step manner and generate your simple and lucid resume. The final impressive resume format will be in pdf.
10. Resume Ready Lite:
No time to sit in front of a computer and want to create an instant resume on your mobile ? Then brace yourself for here comes your handy resume generator or maker, Resume Ready lite. Packed with all the essential tools to generate a resume, this app can be really helpful for constant travelers who need to keep their resume up to date.
It also has a paid version which contains advanced features that let you create a professional looking resume on your mobile. You can even use it on your tablet if you do not like to use it on a mobile platform.
11. Resume Genius:
One of the reputed sites in the field of a resume builder, Resume Genius has some of the interesting templates to choose from. Also, it hosts a blog which provides you with many great insights that go in making a great resume. It has a simple principal in its mind, a resume should be simple, lucid to follow, explainable to the layman.
According to the saying 'If you cannot explain it to a 6-year child, then you do not understand it yourself," this quote is what defines the nature of their work. Other than resume they also write cover letters. Its a fast and simple service, you should definitely try.
12. Resumate:
A web-based resume maker, you need to register before you can use any feature. You can either upload your own resume or you can import data from your LinkedIn profile. After that, you can export it in either doc or pdf format. It provides very easy steps to instantly create your resume.
One can even evaluate the strength of the resume with their free resume strength measuring tool. You can get most of its functionality from the free version. If you want, you can also explore its paid version which comes with additional features. It is already in use, in many reputed institutes like the University of Pittsburgh and other.
13. Essel.ly:
When words seem too mainstream then you can use infographics to depict your life story. The pictorial presentation is the main attraction of the resume build on this site. The visual guide in the resume makes it easy for the viewer to follow your resume.
With so many themes to choose from stretching from road line guide to Venn diagram to graphical stats representation, you can definitely find a infographics theme that will suit your need. Registration is free and you can get plenty of themes free of cost. It is ideal for creative designers and anyone in the field of art and design.
14. Represent: 
If you are one of those who likes to keep things simple and silly, then you have come to the right place.
When everyone is busy in adding pictures and graphics in their resume, you can stay away from making your resume chaotic and instead adopt the old test fashion in modern worlds with today's professional requirement.Nothing related to old times, it delivers a perfect template that will suit your needs.
Minimalistic is what is the aim of this site and you will surely achieve the goal with this site. It offers simple price starting at $9.99 per year.
One of the few earlier sites that is still available online, this site is one of the most reputed resumes builder site. With easy to fill information layout, your resume is easily completed within few minutes.
Other than resume builder, it also features many other tabs including creating your own cover letter and finding a job. It features a blog where they post much useful insight on finding your dream job and many others. It also has a dedicated column that you can use to build a resume free in accordance with the requirement of today's recruiter.
16. Hemingway app:
This is a text correcting app which can come handy in case you are looking a way to correct your article in general. Although it does not provide any direct help in creating a resume, this site is equipped with features like reading difficulties, word count, grammar correction, better word substitute, and others that make it a useful site for correcting your resume. Other than that, you can also use it to improve your writing style and make better word selection whenever you sit down to write your resume.
There are so many sites that you can definitely get your own choice of the site that suits best according to your need. Whether you are applying in a traditional company or in a creative field, you can find a site that will suit your need and help you create your own winning resume. Collect information, select the best site, create your masterpiece and share it to rest of the world.
Save