Not everyone has what it takes to become an integral part of today, twenty first century business world. Searching for a job in this day and age can be an exceptionally daunting task especially when there is so much competition out there for any vacancy in an office. However for your benefit, here are a list of some companies that are hiring like crazy! So if you think you have the qualifications and skills required, do not hesitate to drop in your application!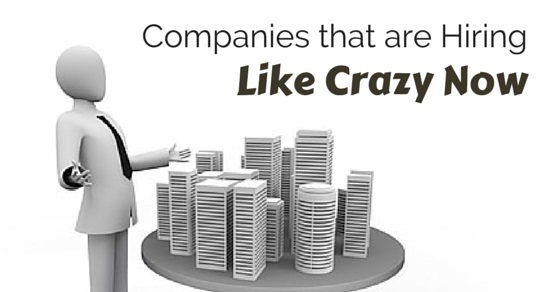 Companies that are Hiring like Crazy:
1. Google- 'Do cool things that matter':
Its no surprise when we hear that Google is one of the best companies to work for .With over seventy spectacular offices located all over the world, Google hires innumerable employees each year. The company hires the best of the best, so if you think that you are willing to give it a shot there are numerous options open to you, you can decide on which area you would like to go into, whether it is software, advertising, communication or even customer service among many other options.
2. Apple Inc- 'Think different':
If you have extensive knowledge and qualifications in handling of computer software, hardware, digital distribution as well as customer electronics then you could seriously consider applying to Apple Inc, which by virtue of its products has become a household name. As one of the world's top technology companies it would be a good idea to drop in your resume here as presently there are over 16 broad categories which you can apply under in the corporate job category as well as 3 broad retail categories.
3. Deloitte:
If it is your dream to be a part of a company that provides top business services, then you happen to be in luck as since the beginning of this year Deloitte Touche Tohmatsu Limited, has close to 2000 job openings in the United States alone! The chief services provided by the company include consulting, auditing and financial advisory. You can log on to their website and find the job that is perfect for you simply putting in your details like your field of expertise, your experience and the region which you reside in.
4. Microsoft-'Be what's next':
Microsoft is one of the leading American technological companies in the world. In addition to it being an experience of a lifetime to getting a chance to work for Microsoft, they have made it very easy for anyone to apply for a job as per their individual qualifications and skills. By simply inputting your qualifications and location they give you a huge list of jobs that you can apply for. This is indeed a company hiring a great deal of employees so do not miss out on this opportunity of a lifetime.
5. L'Oreal- 'Because you're worth it':
Contrary to what you might believe there are more than 10 broad categories under which you can apply for a job at this global beauty product franchise. No matter whether your interests lie in operations, finance, legal, communication, marketing , digital, human resources or research and innovation field you are bound to find something to suit your requirements. L'Oreal is indeed one of the companies that is hiring like crazy so do not miss out on the opportunity!
6. TripAdvisor:
At present Trip Advisor is a leading global travel site that is looking to expand itself by employing several hundred new employees in the coming year. This site provides ratings as well as information on hotels, restaurants as well as several other popular attractions to individuals and tourists even before they actually arrive at the particular place. So if you are interested in sales or engineering then make sure to apply for a job as soon as you can
7. Johnson and Johnson-"Your Druggist is More Than a Merchant":
If you are looking to be employed in the very lucrative health care industry then it would greatly benefit you to apply to a company like Johnson and Johnson which is simply hiring like crazy. There are over 20 broad categories which you can choose from as per your own qualifications and skills, these include, communication, design, engineering, finance, general administration, general management, legal, marketing or even operations.
8. BMW-'The ultimate driving machine':
Founded in the year 1916, this German automobile, engine manufacturing and Motorcycle Company has able to carve a niche for itself in the automobile industry. Every year the BMW Group employs thousands of new employees and this year is in fact no exception, so make sure to drop in your resume if your qualifications lie in the field of either engineering, production, information technology. Even if you are an arts student you can apply to be a part of the publications or press club.
10. Sony- 'make. Believe':
All you have to do is simply log on to the Sony Corporation to know just how many job opportunities that are open for you. Sony is indeed a diversified global business with its headquarters in Tokyo. Whether your location is India or the United states there are numerous corporate or administrative posts which you can apply for. So whether your qualifications lie in the software, hardware or financial unit do not miss out the opportunity of being a part of this tech workers paradise.
11. JP. Morgan- 'Giving back to America':
Whether your field of expertise lies in finance or business, you should make it a point to drop by your resume at this company which not only has such a world wide appeal significant global presence but also because it is hiring like crazy in the year 2015! At present whether you are a fresher or have some experience there are over 2000 job openings available on the website. Most of the openings are for positions in branch banking but other posts include jobs for risk management or relationship banking.
12. Amazon- "And you're done":
At present there are over 1500 job openings that are available at Amazon so whether your interest lies in Software development, Administrative Support, Audio/ Video/ photography production, Business and Merchant Development, Business intelligence or customer service. So do not miss out on the opportunity to work for this top electronic commerce company which was founded in the year 1994 and collected a revenue of nearly 90 billion in the year 2014.
13. Oracle- 'Phase. Forward':
At present a company that is certainly hiring like crazy is multinational computer technology company, Oracle Corporation. Simply browse, look through their website and you will find that there are over ten thousand job opportunities that are simply a click of a button away. With over one hundred and thirty thousand content employees worldwide, you too can be a part of this company if your skills lie in managing computer hardware and software.
14. Dell- 'The power to do more':
All you have to do is sign up for job alerts to be immediately notified when there is a job opening available that suits your profile. In addition to this you simply have to go to the dell career page to have a look at the list of job opportunities that are available for all. At present there are nearly fifteen hundred new job openings that are available at the company. So do make sure you browse through the page and apply to any post that you think you would be interested in.
15. HP (Hewlett Packard) – 'Acquire':
The HP career page gives you the opportunity to search for jobs either by field or by location. HP is a world famous company hiring like crazy this year and presently it is one of the best employers in the world! they tell you 'don't just take our word for it' as they have won various awards as well as they have been featured on Forbes list of 'Ten companies with the happiest young professionals as well as 8th position on Women Engineers' Top 50 Employment list. So apply as soon as you can to be a part of the HP family.
16. IBM (The International Business Machines Corporation) – 'I think therefore IBM':
On browsing through the IBM career page you will get an idea, to what extent IBM is hiring like crazy! At present there are over four thousand 'Hot jobs 'that you can choose from and over 1200 vacancies were posted over the last seven days. So if your field of expertise lies in IT consulting, computer hardware or even computer software you are sure to find something that will meet your requirements and interest you!
These are in fact some of the best companies that you can apply to at present. Given the present economy it would greatly benefit you to apply as soon as you can before you realize that the opportunity, to be a part of these companies has slipped right through your fingers. Now that these companies are hiring like crazy, do your best and drop by a copy of your resume and wait patiently to hear from them.
Save