Nowadays many companies focus on the employees work culture, benefits and facilities so that the employees enjoy working and stretch more support to the company.
Employers are allowing their employees live vibrantly and providing a friendly environment at their workplace.
Many of them are getting inspired by these companies and showing interest to work in these companies. They feel proud to work here, they get motivated and passionate about their work.
They get benefits like health, fitness, motivational seminars, stress buster programs etc. Here are few top companies that understand and take care of employees.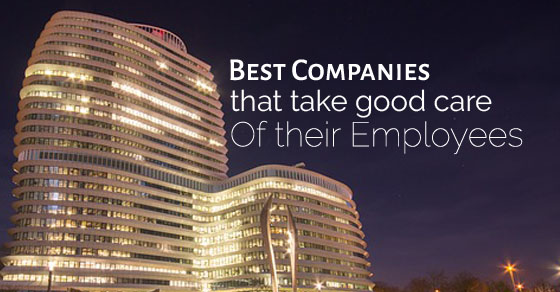 Google:
Google is one of the best companies in the world, it deals with internet related service. According to the survey, the employees working here say that Google is the best place to work, they have the utmost benefits than other companies.
1. Transportation facility:
They provide facilities like transportation, food, salon, gym, discounted tickets, personal concierge. They often have off-sites, also facilitate with parental leave to their employees.
2. Medical assistance:
They have medical services with the on-site physician, they do get leave travel allowance yearly once, they get life insurance cover.
Employees have the opportunity to get on the spot recognition in the form of cash or award.
3. Healthy working environment:
They even created the best work culture by a program called the wall of happiness, this is a platform where the employees can thank each other for the valuable work they have service to the company.
4. Personal leisure:
The interesting part is they are allowed to bring their dog to their workplace. The employers follow the quote that if we provide freedom to their employees they will amaze the company with their work.
Accenture:
Accenture is one of the MNC which provide consulting services. It serves their employees with best wellness facilities like life insurance, Accidental Death & Dismemberment Insurance (126) and vision coverage
1. Financial and legal benefits:
Also, perks with legal and personal assistance and they conduct a diversity program to unite the employees and go forward with a vision. They also have a special leave benefit called bereavement leave.
2. Childcare facility:
They provide programs that involve an employee and their families like Childcare reimbursement during business travel. Medical facilities like flu camp, free health checkups, fitness membership.
3. Maternity facility and benefits:
For women employees, they get 80 days of maternity leave. They provide the best training programs so that the employees get the opportunity to learn and develop in their career, they offer shopping discounts.
4. Family Security:
It takes care of their employee family with a brain resiliency program and employee assistance program. As per their performance, they do allow paid leaves. People balance their work and life with all these benefits.
Facebook:
Nowadays every individual is using Facebook to interact with people. The best service they get is on-site health care, they believe that employee health is the wealth of the company. The employees here enjoy the company social events with their families.
1. Employee diversity:
The most inspiring part is, that the company does not treat the employees with diversity, they do not have separate cubicles, the CEO work desk is just like every employee in the company. They have candy stores, bike repair shops, coffee shops, dry cleaners etc in their company.
2. Digital devices and stationery facility:
The best facility is they provide free computer accessory vending machine, sometimes we may forget adopters in a rush to attend the office, they just vend it and use it.
They also have a company store where they can purchase clothes, coffee mugs, notebooks, pens at subsidiary rates.
3. Complete support service:
They have 24X7 system support services in every block of the company. IT company employees usually face problems like obesity and stressed mentally.
So, they have stood up desks such that employees have blood circulation and tend to move around.
4. Healthy food offerings:
For the food lovers, they also have a micro kitchen and also enjoy playing a video games in their break time.
Unisys:
Unisys is one of the world's best IT service providers. It provides financial & the retirement facility like a charitable gift matching plan, stock investments to its employees. Also facilitates with flexible spending accounts.
1. Professional growth:
They help their employees also help in professional growth with programs like professional development. They facilitate with medical services like disability insurance. They get discounts for mobile bills.
2. Comfortable environment:
Unisys believes that if you treat your employees well they will do treat great. They provide entertainment facilities like basketball courts, a weight room, and a heated pool.
They can have nutritionist check-up, counseling. They do have a health savings account. They have discounts on hotel stay and shopping.
Flipkart:
Flipkart is one of the fastest growing online shopping websites. They have the highest number of work from home facility.
1. Flexible working hours:
They also have a good number of flexible hours. Also, women who have adopted children of age below 12 can claim the same maternal benefits.
2. Pantry facility:
A pantry with breakfast and snacks throughout all shifts. They also facilitated with broadband and mobile bill reimbursement. Even the male employees opt with paternal leaves.
3. Relocation benefits:
They provide the best relocation benefits, they give a rental deposit. Employees who wanted to have further education are assisted financially. They take care of their employees also with insurance up to 5 lakhs.
Tata Teleservices limited:
Tata Teleservices Limited is one of the biggest service providing company. They interact with their employees very well, they conduct a survey to know the employee's preferred location to work, they screen all the designations, roles and allot the employee's preferred work location.
1. Innovative:
Their idea is to be more innovative and unique than the other companies. They motivate their employees through an employee engagement program. They have freed the employees from swiping the punch machine daily so that this allows the employees to focus on productive work.
They provide special facilities for people who are physically challenged with rack for wheeled chair entry, parking bays, tactile buttons and voice synthesizers in the lifts.
2. Performance appraisal:
They do recognize their employee's performance with awards. They also have fun time playing football, cricket, and hockey.
3. Family counseling:
They also initiated children's career counseling. They do provide accidental and death insurance policy. This is how they engage their employees and balance their work and life
Marriott hotels India:
The Marriott provides lodging facilities throughout the world and manages around 100 hotels. They provide a yearly professional development program. They provide good opportunities all over the world.
1. Better allowances:
They get benefits on hotel room discounts whenever they have a trip. They enjoy the discounts on food and beverages in all Marriott hotels throughout the world. They also get paid in advance payments.
Faster growth, they have the opportunity to get promoted from entry-level to the manager if exposed excellent performance.
2. Commitment appraisal:
In case of exceptional commitment and service, they will be rewarded with great incentives or also in the form of facilities at their hotels. The employers treat as the family member of the Marriott.
They came up with the idea to represent employee ideas on a whiteboard, employees write their word for the day daily.
3. Healthy relationship:
To get bonded with their family, the company provides a facility called childcare center. This encourages women to focus on their job.
Employees can enjoy softball, cycling clubs in their leisure time. The Marriott sponsors its employees with entertainment events and sports events
Microsoft:
Microsoft is one the largest software company in the world. Microsoft cares their employees with benefits like stay fit. Also, they provide stock ownership investment.
1. Employee lodging discount:
They get discounts on food at hotels. They are provided with a large field for games like baseball, golf, volleyball. The on-site physicians to care the employees who are not well.
The greenery around the campus to allow the stressed workers to relax and find ease to back to work. Also, have a facility to play indoor games.
2. Ambiance:
They find great places like food, store, coffee shop. They even get discounts on software and hardware things.
They get home care for the employee children at the office. They get discounts on fitness brands and gyms. They do provide training to get educated and graduate.
3. Recreational programs:
They support their employees with counseling. People enjoy the big events the Microsoft conducts every year. They do recreational programs and vibrant living events to stress out their employees and enjoy working on their campus.
Microsoft stands for its social responsibility, they unite to collect money and reach their help to charity organizations. They are facilitated with showers in sight, the employee can just refresh and work
Belcorp:
Belcorp is a cosmetic marketing company. Belcorp cares for their employees and their families. They organize a special day for employee children, they come and visit the company.
1. Participation in social events:
They allow their employees to participate in social events like " Touching life program" they represent the company and help people.
They utilize women's talent to invest in their sales marketing. Belcorp says that we believe in building relationships by caring and being authentic.
2. Women empowerment:
This organization encourages women empowerment, it complies around 80% of women in their organization.
It started a program to invest money for women's education in the society out of which 2000 women are currently benefiting the funds from Belcorp.
3. Flexibility:
They allow flexitime for their female employees so that they can balance their home and work and boost their ability to heap up company sales.
Women are provided with a lot of opportunities to grab a great leadership position in the company.
SAS:
SAS is a statistical analysis system, a software company that makes data management and performs statistical analysis. They value their employees, they provide discounted services for childcare.
1. Medical counseling:
They provide work-life counseling so that the employees relax and refresh at work. They provide medical benefits like dental, vision plans and on-site nutrition and physician.
SAS provides paternal leave, compensation, leave, family and medical leave. They also contribute to disabled employees who cannot work due to illness or injury, they can claim for income and the company supports as per policy.
2. Financial advice:
The company provides an online service where he/she get financial advice and gets discounted rates on products. They get discounts on prescribed medicines.
The company organizes the work-life center where the employees and his family get benefits to discuss on stress and relationship issues.
3. Communication:
They conduct seminars and lunch and assist the people with issues. Also, enjoy the facility on-site gym. They train their employees to develop themselves in their careers and educate.
Why do Companies Take Care of Employees?
All the co-operate companies take care of their employees so that employees understand that they and their families are valued and help them when they urge for need. This brings out the best results indirectly
1. Security and benefits:
They ensure that his/her family is secured with benefits the company provides and establish a positive work culture.
They motivate employees with perks so that the organization productivity graph raises, they work with dedication and work hard to bring the company good results and stand out in this competitive world.
2. Family support:
When an employee expires, unfortunately, his family will not be on roads, the insurance policy provided by the company will help the employee family also after him.
Recreation programs dust the stress from individual and allow him to allocate more time to his work.
3. Working environment:
Employee engagement programs help the staff to engage themselves, each other and establish a good working atmosphere, this helps to unite them and serve the company.
Providing health and medical benefits directly reflects employee performance in the company.
Conclusion:
To conclude, we would say that, the company will be accepted if you love your employees. They do stand for society by volunteering/participating in social or charity events. Incentives encourage them to be more creative and competitive at work. This will also motivate new hires to show enthusiasm to work in their new organization.