The internet and the web is an immense resource for learning new skills. One must only know where to look. It is obvious one may Google to find useful and best sites to learn new skills, however, it is about saving time and choosing the best sites to learn fresh skills.
So if you are one of those people who have ample of spare time after work and feel the need to involve in something useful to set free the hidden potentials, this below list is something very beneficial for you. Below are top useful sites for learning new things and skills.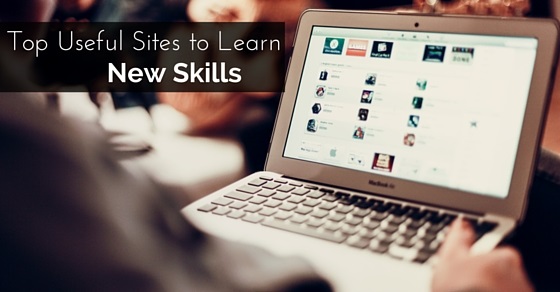 35 Best Sites to Learn New Skills Online:
The following mentioned are the few best useful sites that can help you learn something new every day.
This site gives out fresh short tutorials, also known as hacks, every day from all over the web. The front page is filled with a mix of hacks from throughout the community and their own contents. They also serve up one in-depth 'How-to' guide every week.
This site contains many Do-it-Yourself projects for all kinds of technology in one's life. It will help to optimize the technologies that you already have. It has many new things to do, available for all people, having multiple interests.
They collaborate with wired editors. They help the editors with a platform to build their own wide-ranging projects, tips and tricks and hacks. You can browse through their many how-to articles. You can add to them or completely start a new one.
It contains plenty of DIY and How-to activities. It is essentially a online community that is dedicated to serving the viewers with the ability to research, discuss solutions and share tips for carrying out everyday projects and tasks.
It is a collaborative endeavor to generate the most beneficial how-to guides for all most everything. It contains step-by-step instructions in each article, improving them until they find it to be the single most helpful guiding article.
It is an award-winning site with daily updates on tips, downloads and shortcuts that will help one to carry out things cleverly and more constructively. It taps into every aspect of life which includes technology, fitness, cooking, finance and psychology etc.
It is a web-based documentation dais wherein people who are passionate about doing new things can share what and how they do it. It is a place where one can learn and pool resources with others to handle new projects and gather new skills.
A principal and paramount skill one can learn is to communicate with written English in this ever-developing digital era. Merriam-Webster is an ideal source of countless words to enhance and develop your English.
In this site you will be able to improve your memory by fun games and cognitive training games. They have a series of games that one can play to train core cognitive abilities.
10. StumbleUpon:
It contains a shared set of recommendations from many hours of web search by users who have similar interests like you. Fundamentally it is a recommendation engine. The users add by giving out their personal recommendations as to what sites will be worthwhile. If you choose topics like 'DIY' or tags of what interests you, you will instantly learn new skills.
11. Work.com:
It is the site that is empowering innovation in marketing, sales, service, apps, analytics, community and more. It is the world's leading cloud ecosystem venture. It basically facilitates to drive sales performance. There are extensive ranges of how-to guides for budding entrepreneurs.
You will find on this site, professional how-to videos and wiki how-to tutorials. It blends the user's ideas with the proficiency of professional studio video to serve up nothing less than remarkable and informative content.
In this site, you will find video content that encompasses a number of topics, incorporating informative 'How to' as well as 'Ask the Expert' films, which will guide one with steps to do anything and everything in life.
This is a daily blog that comprises of trendy learning websites for best computer tips as well as downloads that can turn you into more productive. You will find plenty of tips and things to learn some new skills.
The site has a clear management principle which is collecting and linking to extremely great and free how-to videos. This site can usefully help you learn a new skill.
It is the best site for productivity and self-improvement. Zen habits lets all its viewers find simplicity in their everyday chaos of life. It helps in setting priorities in our life, generate some useful skills, find our bliss and much more.
This site contains online degrees and video course programs from the world's best universities. It has helped in the boom of open education. They have filtered lists of online courses that ensure that you receive the best from a particular subject area.
18. About.com:
This is another amazing how-to video tutorial resource site. You can learn everyday, how to do anything with the amazing collection of their how-to videos. DIY or learning some new skill everything can be found on this site.
This site has many useful tutorials and manuals on how to fix and modify computers or other electronic gadgets. It is known to cover every aspect of tech life.
The 43 folders site is essentially about giving the viewers inspiration to follow their career with goals. It is not about any particular skill but following through goals is also a skill which is not found in all. They improve the quality of one's career and life by prioritizing your work projects.
This site is another best productivity and self-improvement blog that hosts abundant informative content. It has many how-to articles and life hacks that can help to improve your lifestyle.
22. iTunes U:
Numerous universities dispense slide shows, PDFs, lectures, films, audiobooks, and exhibit tours via iTunes U. In the science section alone, you will find content on topics like agriculture, biology, astronomy, ecology, physics, chemistry and geography.
This site is all about just one skill, speed reading. It is focused on teaching you speed reading. Speed reading tips and focus on improvisation will help you to self improve your reading skills. It is doing a great job with handling just the aspects of this single skill.
This is a site that has helped many people with their doubts and concerns about technology through simple videos in a quick and easy way. It helps any layperson to optimize the use of technology around them. These technology training videos are free.
This is a complete site for incredible home improvement projects. It will provide answers for must-have questions about creative DIY projects for home improvement enthusiasts. Great How to and DIY is available for enthusiasts who love do-it-yourself.
This is a perfect free science library which comprises of a personal learning tool, which focuses on the study of evolution, variation, and genetics as well as the rich intricacy of living organisms. You can collaborate with other students and teachers. It also hopes for expansion on other topics of knowledge and education.
Want to learn cooking and get amazing tips related to it? This site is the ultimate manual for recipes and cooking tips. As a new skill, a person who doesn't know how to cook can easily learn from this site.
28. American sign Language browser:
Interested in learning something new then sign language could be it. From this site you can teach yourself online, the various sign languages.
Knowing more than two languages can help you in life in many ways. This is a site that will teach you new spoken language online. You will understand why to learn a language, which is the language you should learn and how to learn it. You can find courses, audio and videos, phrases and pronunciation, grammar, tests and activities, all on languages.
You will find plenty of DIY articles available online from around the web, which are bookmarked by web users. It is a social bookmarking network and the place where you can find the best of the web.
The Khan Academy site has over 1200 videos with lessons comprising of all basics in arithmetic, algebra and helps in differentiating equations, chemistry, biology, physics and finance. There are masses of educational materials available here for you to learn a skill.
Gretchen Rubin is a site which will help you learn those skills that are essential to be happy in life. They talk on habits and happiness on this blog. You will find test-driving ideas from ancient wisdom and contemporary science on building good skills to have and habits for life.
This site has another best complete how to tutorials to help you with problems in everyday life. The articles are categorized under automotive, business, family and relationships, career, education, computers and internet, food and drinks, health and fitness and many more.
34. ShowMeDo:
It contains peer generated video tutorials and screencasts site which is free and open-source software. The majority of videos are free to download too.
This site contains various courses for many topics. It can provide you with a valuable certificate and help you earn university credits; you can master in a subject and advance your career.
Conclusion:
The above-mentioned list has the best sites to learn new things and  learning a new skill amongst millions of other web users. You can go through these useful and best sites to learn and find the apt ones that will help you to develop a new skill.
Save
Save