Anxiety is probably one of the world's worst diseases. It is difficult to put up with and can often ruin your chances of living a healthy lifestyle.
People who suffer from anxiety should always stick to working in those conditions that don't stress them out too much. An environment that is calm and in peace is always best for them.
Therefore we will never suggest you or someone who has anxiety disorders to work as a lawyer or maybe even for a corporate company. Nonetheless, we have some amazing job ideas for people who are suffering from anxiety or even anxiety disorders.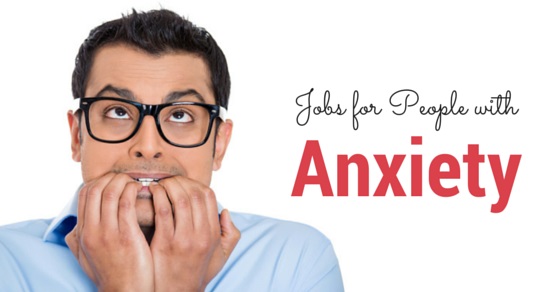 Anxiety Friendly Jobs Features:
The following are a few criteria for jobs that are anxiety friendly. People having anxiety disorder find other jobs unpleasant and get stressed. So here are few features to check when taking up any job, they are
Low-stress level
Low noise level
Fewer interruptions and distractions
Limited interaction with people around
Best Jobs for People With Generalized Anxiety Disorder:
The jobs which suit best for this type of disorder helps turn your biggest weakness as your strength.
The people who have GAD, generalized anxiety disorder have the tendency to over-analyze everything and overthink. Fortunately, these features help yours do these jobs effectively.
Some of the top job that best suits people with a generalized anxiety disorder are,
Private Investigator
Counselor/Psychologist
Emergency Room Nurse
Professor/Researcher
Massage Therapist
Plumber
Electrical Engineering
Teacher
Fitness Trainer
Wine Sommelier
Jobs for People with Anxiety Disorder:
1. Household jobs:
Household jobs are certainly less stressful. Plus the variety is endless. You could become a housekeeper, dishwasher, plumber, etc. The good part is that jobs like these actually pay you quite well apart from the dishwasher.
Plumbers and housekeepers have been making a whole lot of money these days. But if you want to go for something sophisticated, we suggest you try finance writing, infographic design, contract drafting, electronic engineers, etc. If you think you can pull off a couple of good tunes, try voice talent. There are many singers who work from a home studio and send you files online or electronically.
2. Factory Helper:
If you are too anxious or stressed out, becoming a factor helper would be absolutely ideal for you. This job will also give you a wide number of options. The only thing is that during the entry-level you might not get enough variety since most of the jobs are too repetitive. But don't worry! That will be taken care of by the time you continue to advance.
The best part about this job is that you don't have to deal with any sort of customer interaction. That would definitely keep anxiety and stress at bay. You will be spending a lot of time with your life and will be left to your own devices.
3. Cleaner:
A second career option we could recommend you to try is one of a cleaner. Now this job is quite simple. All you have to do is keep things clean and tidy. You can vacuum carpets, empty bins, clean bathrooms, and kitchens.
Even though this doesn't sound like a very glamorous job, it is good for those who are highly stressed. First of all, it will keep you several miles away from people so that you don't have to interact with them and secondly you don't have to deal with any kind of pressure that people often deal with at workplaces.
4. Managerial/Management Work:
Managerial or management related work is absolutely ideal for stressed people. You are expected to handle the general functions of a manager in order to handle an organization. Most of your work will consist of supervision, setting goals for the employees, hiring and instructing a new set of people every now and then.
You can handle the performance data and review it too. None of this will make you feel too stressed. Plus all you will really need is a bachelor's degree and some knowledge on strategic planning.
5. Computer Programmer:
A computer programmer's job is often quite simple. All of you have to do is prepare a few documentation and handle some software. That's it. You will be spending a lot of time in front of the computer and very little time with people. That gives you enough space and time of your own.
However, you will require some field of study before you finally decide to get into it. You also might have to work for long hours and even put up with deadlines. The good part is that the job gives you enough flexibility.
Being self-employed is also quite a good option to go for. You will be getting a whole lot of freedom and you can choose to do what you want to. There is no boss involved here which means you don't have to put up with a whole lot insane pressure.
However, the minus points are that there is no financial security involved. You might have to struggle quite a bit before you become successful in life. Plus there is no guarantee that you will be successful since business is always slow.
7. Writer:
A brilliant option for you could also be one of a writer. Writing has been the dream job for many people. If you work for websites online, you can literally sit at home and write as much as you like. You will be making some good money in the whole process. Plus you will have enough freedom.
There will be less interaction with people which means you won't have to deal with stress and anxiety, something that happens quite often when you are at work. Plus freelance work will always boost more confidence and help you become a published author in the future.
8. Dog trainer:
If you love dogs, then a dog trainer would be a fine job opportunity for you. Here you will only have to deal with dogs which mean less human interaction all over again. Dog trainers are those people who enjoy working with animals and they will definitely enjoy this one.
There are other options that fall under this category such as veterinary technician, kennel operator, and zookeeper. However, you need to have some training, study, and certificates if you want to become any of these. Plus the salary is quite decent which means the money is taken care of.
9. Accountant:
Another job we could definitely offer you is one of an accountant. Here all you will be expected to do is manage bookkeeping. You will have to take down financial details and take care of business. That's about it.
It doesn't matter whether you work for a company or even for a private accountant, there will be some level or some amount of work that will expect you to interact with others. So you should just continue to focus and work on your job so that your comfort level increases over time.
10. Landscapers:
Landscapers have been in the business for very long and we can assure you these guys don't have to deal with any kind of pressure. So if you know someone who loves nature and is suffering from an anxiety disorder at the time, this job would be absolutely perfect for you. Landscapers are usually expected to work with private companies or golf companies.
It doesn't require you to work in some kind of office environment either. Plus you get paid well for jobs like these. However, if you want to own a landscaping company of your own, make sure you are well versed with communications and computers.
11. Entrepreneur:
Entrepreneurs have been making a whole lot of money in the business so far and you could too. You can set your own schedules and take care of your own responsibilities. Plus you will be having total control over yourself which means no boss and no other extra problems that come when dealing with one.
The only problem is that you will have to deal with customers. If that is too stressful, you could always hire someone and manage your expenses.
12. Counsellor:
A counsellor is also known as a therapist. Even though this isn't the first job you should choose if you suffer from social anxiety, this is also a very good option. Here you will have the chance to deal and understand what other people are going through.
You can always empathize with them and pull them out of their problems. If you are receiving treatment currently to overcome social anxiety, you are definitely in a good position to help others.
13. Stay at home parent or baby sitter:
Even though some people think this is a horrible career option, we can definitely give you some reasons why it's not. Taking care of children will become much easier if you have everything planned and sorted out from before. You can plan your own schedule and work things accordingly.
You may also spend some time alone with the kids, something you usually don't get when others are around. Plus you will find flexibility here, something you definitely don't find with other jobs. However, you have to make sure you've become too isolated or stop your children from enjoying themselves because of the social fears you are currently dealing with.
Some other Best Jobs for People With Social Anxiety Disorder are
Artist
Firefighter
Software Tester
Graphic Designer
Social anxiety disorder, SAD counsellor
Blogger
Translator
Truck Driver
Security Guard
Overnight Stocker
Data Entry Operator
Online Jewelry Seller
Babysitter
Online Reviewer
Painter
Jobs For People With Depression:
As per World Health Organization (WHO), more than 300 million people in the world are suffering with depression and mental health problems.
If you are suffering from depression no matter which profession you are pursuing, you will not be able to focus on it and do it the right way. So in the professional front you start loosing your confidence and worth, that inturn burdens your mind.
Depression hampers both your professional and personal life in a negative way. The best way to deal with depression is to understand the reason that caused it and work on it to overcome effectively.
When in depression the person should work on jobs that makes them happy,syncs with them and that is compatible. This not only eases their working process but also improves their mental health.
Few important things to consider before choosing such jobs
Work from home option
Flexible work timing
Not essential to meet many people
Work that challenges you and makes you active
Helps you improve your skills
Work that makes you feel good about you
Here we also have enlisted the list of jobs which is suitable for people dealing with depression
Starting your own business
Turning your hobby as profession
Freelancing
Tutoring
Coding or programming
Driving
Small businesses
Merchandising
Security and safety executive
Transcriptionist
Postal service
Librarian
Park ranger
Horticulture
Dog walking
Low Stress Jobs for People Who Have Anxiety:
Looking for jobs for people having anxiety and making sure that they are stress free jobs is a double edged sword. Though there are many job which people having anxiety can do effortlessly but ensuring their stress level is not a easy task.
People having anxiety is a mental disorder and the best part is that it is not incurable. Jobs which have less stress when compared to others are a perfect match for them. Here we have enlisted few such low stress jobs and other details related to it for people suffering from anxiety disorder.
Social Anxiety Jobs from Home:
Actually, there is a link between working from home and jobs for anxiety. Now before moving to the list of jobs, let us clear the clouds around the link.
The best part about work from home is that they don't have to deal with the outside world.
Unfortunately, the sad part about work from home is also the same but is a boon for people having an anxiety disorder. (not connecting with outer world)
Some of the best Work from home Jobs for People with Social Anxiety are
Writing
Proof-reading/editing.
Blogging.
Photography
Software development.
Jewellery making
Design.
Conclusion:
This covers the list of jobs you could do especially if you are anxious. If you know someone suffering from social anxiety disorders, do recommend this to them. Plus you can always search online for more options. We are sure there is something out there for you so do not lose hope at all. Keep working at your goals and continue with your search and you will definitely find something. On that note, good luck.
Save