You will often hear people say, it's okay to love history, just don't pursue further studies in it, because they think a major in history would leave you jobless. Well, it is a myth.
So, hop on history lovers, these career opportunities will let you earn and stay close to your favourite subject, both at the same time.
Now when they tell you 'you don't get a real paying job just by studying history', spread the word.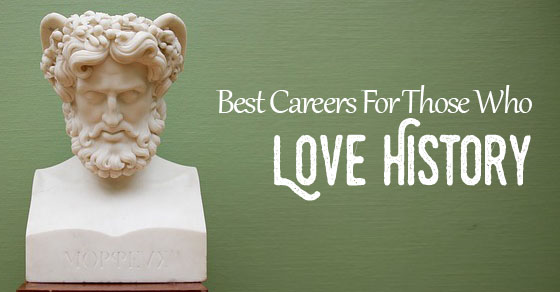 Jobs in History Field:
A person who loves history a lot will get several entry-level jobs, but to get into sectors like law, business, geography, library science one need to have a bachelor's degree. The degree would act as extra support to acquire a job.
The list of jobs mentioned below will perfectly fit for candidates who are interested in the history subject or those who have good knowledge in history.
History Careers That Pay Well:
Careers for History Majors:
Here we have enlisted careers for History majors that may require additional training,
14 Best Careers for those who Love History:
1. Archaeologist:
Archaeologists examine ancient sites and objects to learn about the past. It is a sub-field of anthropology. They may specialize in specific areas like historical periods, coins, bones, pottery, types of objects, geographical areas, etc.
Many people associate archaeologists with digging and excavations but that is only a part of what some archaeologists do. Archaeologists are generally graduates, but there are vacancies for the under-qualified workers as well.
What do they do?
Their main responsibilities are surveying sites, working on field excavations or digs, recording sites using photographs and drawings, analyzing and grouping finding, preserving finds, conducting laboratory tests, research, etc. They may also work in other settings such as local authorities, museum or heritage centres, and research organizations.
2. Genealogists:
Genealogists are the ones who study the lineage of a person or their families. Genealogists work with individuals or families to trace their backgrounds and research their ancestors, using documents like birth and marriage certificates, court records, obituaries and more.
What do they do?
Genealogy professionals may be employed by the genealogy libraries, software and online database companies, government agencies, historical societies or other firms who provide consultancy services regarding people's backgrounds. They may also work as freelance genealogists, anthropologists or geographer.
They can also find volunteering opportunities because paying jobs are highly competitive and rare. So guess what, you are unique and you can get to know more people.
3. Teacher:
Didn't you just love your history teacher? If you just happened to be inspired by him, it is likely that you can inspire your students too.
What do they do?
Teachers fulfil a variety of duties that range from instructing the students in the class to supervising them into extracurricular activities. This won't be a high paying job unless you have a proper degree or even masters in the respective fields and sometimes they also need to be licensed in order to be teaching.
Teaching is no easy job though; you need to have a lot of passion, patience, commitment and hard work to be a good teacher. You have to not only deal with parents but also bored parents at times. If you feel that you have that flair to convey your knowledge and spread the love for history, then go ahead and take the baton; because teaching is definitely an option for you.
4. Museum technician:
Love fossils or those swords? Or do you love those guns, the ones that are a hundred years old? Museum technicians are the one responsible for the display you see in the museums.
What do they do?
They work with the skeletons, fossils, artifacts, books and other things and prepare them for the exhibits. They also look after their proper storage when the collections are not on displays. They provide support to the archivists, curators and other museum staff members.
A bachelor's degree is only required if demanded by the employer or else prior experience or training in museum preservation and display is enough. Students can gain experience by participating in internships or volunteering in museums too. Some technicians also specialize in creating different types of displays, such as purely visuals or interactive displays.
5. Archivist:
Archivists are in charge of archives. They assess, organize, categorize, maintain and preserve the records that are of long term value. The records maintained by an archivist can be of any form of media such as photographs, video or sound recordings, letters, documents, records, etc.
What do they do?
Archivist's duties include collecting, arranging and describing the records, preserving them in their original forms, evaluate records for retention. They also advise the users on how to best access and use the archives, organize training sessions, catalogue collections, manage information, etc.
At more senior levels, archivists also bid for funds and manage the budgets. These jobs have long working hours and so you can also stay close to history and earn more because these are highly acclaimed and paid jobs.
Sometimes you might not work in modern offices but these jobs are spread out in different parts of the world, so you can also travel. And as long as you are a true history buff, you are going to love this job.
6. Conservation of buildings/artifacts:
Heritage is deemed to mean those buildings, artifacts, structures, areas and precincts that are of historic, aesthetic, architectural or cultural significance. Conservation means all the process of looking after a place so as to retain its significance and includes maintenance, preservation, restoration, construction and adoption or a combination of more than one of these.
What do they do?
They restore old and glorious architectures to its former state. But even without a formal degree in restoration, you have opportunities of working as painters, project estimators, accountants, and more. Even if you are an artist and historian, you are going to love bringing those historic buildings you love to full life and colour.
7. Living historian:
If you are someone who loves history, and you want history to be a major part of your life, you should seriously consider working as a living historian. The very term 'living history' refers to a method of interpreting the past through the use of a person or persons dressed in period clothing.
What do they do?
The term is applied to anyone who attempts to convey information about the past while dressed like the past. They are also called re-enactors. Living historians, on the other hand, tend to be associated with museums and historical sites that specialize in interpreting the past
Re-enacting is actually a recreational pastime, carried on by individuals with an interest in history. Dressing in period clothing and engaging in period activities allows you to experience' the past, living the history you love all over again, as it happened then. While they can reenact, not all re-enactors make good living historians. So you have to have a knack for both, acting and history.
8. Dramaturge:
A dramaturge is a professional within a theatre who mainly deals with the research and development. If you are skilled in the dramatic arts, this is going to be your strong suit. Dramaturgy involves all aspects of the theatre. It is a study of the wide and various ingredients that define what the theatre is. The form a play takes is part of the dramaturgical domain.
What do they do?
Dramaturges work with playwrights and theatre companies to research and adapt plays and ensure that they are culturally and historically correct and relevant. If you have what it takes to act and you love history, this is what you have wanted all along.
9. Underwater archaeologists:
Underwater archaeology sounds like something you'd only find in adventure movies like Indiana Jones or in the books. Turns out, it is a real-life career and it is just as enviable. It challenges researchers to carry out their investigations in a complex and often unpredictable environment and the process can be very rewarding.
What do they do?
Underwater archaeologists find and examine areas that have been affected and submerged due to natural disasters, remains of shipwrecks and crashed aircraft, and artifacts that are found underwater. You can either locate wreck sites or you can do the excavation in the deep seas. You can also recover artifacts from the sea and restore and conserve them.
As this is an underwater job, you can enjoy scuba diving as well as enjoy the underwater sceneries and explore different kinds of life in the seas.
10. The Media:
Nowadays there are various channels and shows about history. They can pursue media for jobs such as writers, journalists, documentary film-makers, creative historians. The market has been growing and flooding with such opportunities and this is a way not to only work in your favourite field but also be popular.
What do they do?
They write non-fictitious stories for shows aired for the public on televisions. They also sometimes anchor in shows that are about history or make their own show. These jobs are highly paid and you can also travel and get to see and know about more old places. Even if you don't take a job, you can grab your camera and start shooting your own film on history and chances are high, you can sell it.
11. Diplomatic Services:
Diplomatic service is the body that is maintained by the government of a country to communicate with the other countries. Even if you are not a graduate, there are certain vacancies that you can apply for. And as it seems, communicating to other countries require a fair knowledge of their respective history. This is your area of expertise, so bang on; you can ace this with your love for history.
What do they do?
They work in roles ranging from renegotiating memberships to supporting nationals affected by natural disasters or terrorist attacks. You could travel widely and work on some of the most important global issues.
However, for foreign countries, you will have to take intensive language tuition. So guess what? Your knowledge can be useful to the world and you can live and seek for a job in any part of the world. Now how does that sound? Tempting!
12. Nature Conservation:
Conserving nature is the best way you can give back to the world. If you love outdoors, landscapes and gardens, you can combine the love of history and greenery and turn it into a budding career for you and for other history lovers.
Not much people know that even plants become extinct and saving them requires a lot of knowledge about their past. And this is where historians come in. Knowing the history about where a plant grew and the conditions it grew in can save it from extinction and helps it to survive.
What do they do?
They restore historic gardens to the glory they once used to possess. They can also start their own horticulture projects. They work on many historic properties too that are under restoration.  So now when your parents or friends ask you what you do, you can proudly say you save the world, you plant and save trees from extinction. This is a really karmic rewarding job. Trust me; you are going to be satisfied every day just because you saved millions of lives just by saving one plant.
13. Librarian:
Sometimes libraries take in students from universities as part-time assistants. And if you really love working in libraries and reading history while doing so you can also take formal training.
What do they do?
They also work as volunteers from history groups and they help in setting up exhibits. They also help people to know their family history. There are also some specialist local history libraries, and major libraries also have specialist sections.
14. Military Services:
At times, the military also needs history lovers like you. They may have to deal with modern situations and ammunition, but they also have some history and sometimes old is really gold. And to have historians as helpers, they are delighted when people like you show up who have the knowledge they need and are as passionate about it as they are.
What do they do?
They provide the users with the history about the wars and strategies and arms and ammunition used to win over. They at times also require other qualifications but the range is actually huge and even if you don't have a degree, there are opportunities for training which can make you well equipped for jobs at the military.
Best Jobs for History Majors:
Finding a good job is the best thing, but if you find a job which you are passionate about would be like icing on the cake. Not everybody will be fortunate enough to get a job which they like. There are many people who do jobs which do not interest them but still do it for several reasons.
Now if you are one who loves history subject and has history majors degree then you will be glad to know that here are several career options which pay you well and even let you enjoy your work. Let us have a look at them,
History Degree Jobs in Government Sector:
Email marketing – Automation manager
Growth hacker
CMS editor
Social media manager
Content editor
Internal communications
Exhibit designer/ Content creator
Communications officer
Product marketing
Web developer
PR manager
Journalist and branded content
Business analyst
HR manager
Political campaign manager
Customer success manager
Project manager
UX designer
Content strategist
Competitive analysis
Content editor
Customer insights manager
Research analyst
Conclusion:
You can literally go in all directions possible and invent your own unique profession. So, with the love of history in your heart and a little determination to go where your heart is, pack your bags and prepare for the wagon history lovers.
Save