Today, people are willing to experiment and take up some unique career opportunities. Midwifery is a common profession choice among women. As more and more women turn to this unique profession, here are some unique facts you need to know about the profession before you take it up. We have listed these factors for your knowledge and information on how to become a midwife.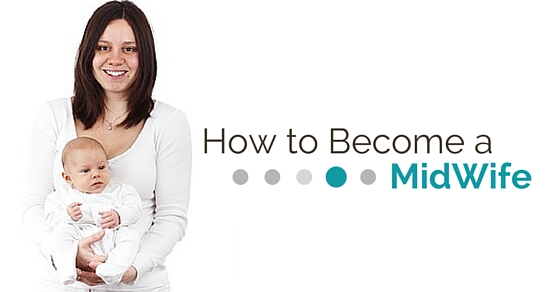 Essential Duties of a Midwife:
The duty of a midwife starts from the time a woman gets pregnant to post delivery. She assists throughout the birthing process. She evaluates the health of the mother at the different stages of pregnancy as well as after childbirth.
A midwife also monitors the various aspects of a mother's health like temperature, pulse and blood pressure to make sure that the mother is perfectly healthy. The midwife usually supervises the mother and the child till day 10 after the pregnancy. She is also responsible for the care of a newborn. Opting for a midwife during pregnancy has several benefits including reduced chances of losing a child and greater chances of a normal delivery.
This is a profession that requires compassion and commitment. While most midwives are women, these days you get to see men take up this profession too.
Qualifications You Need to Become a Midwife?
If you are planning to become a midwife, you need to know the different qualifications required to be a midwife. We have made a small list of these qualifications to be a midwife here. There could be slight variations in the list based on where you are located as the rules related to such professions are different in different places.
Basic Bachelor's Degree:
A basic bachelor's degree is a must if you wish to pursue the career of a midwife. Ideally, any bachelor's degree is equally acceptable in this field. If you have already made up your mind to be a midwife early, you may actually pursue a specialization related to the nursing or medical field and reap better profits.
Specialization in Midwifery or Nursing Program:
You may need to get a certification from American Midwifery Certification Board. A CM (Certified Midwife) Designation helps greatly when you wish to pursue a midwifery career or a degree in midwifery. A graduate midwifery program is very helpful in enhancing your midwifery skills to the next level so that you may succeed in your profession. Students who have been accredited by the Midwifery Education Accreditation Council (MEAC) can also be certified by NARM. Most of these midwifery courses provide you practical experience as well as out of the hospital alternatives such as home birthing.
Re-certification Maybe Required Every 3 or 5 Years:
Most of the midwifery degree or certifications require you to get re-certifications every 3 or 5 years. You need to abide by the guidelines stated in order to succeed in your midwifery career.
Skills Required to Become a Midwife:
Qualification is just one part of the coin. There are a vast number of skills that you need to possess if you wish to pursue the midwife career. Here we have listed down some of the essential skills to become a midwife or skills that a midwife must possess. Read along and try to inculcate these skills and qualities to be a good midwife and also understand what knowledge does a midwife need.
Patience Is a Must:
Midwifery is a career where patience can play an extremely important role. You may have to work with patients and answer their queries or doubts. In most cases, you will be in contact with would-be parents and answering their queries or solving their doubts will require a high degree of patience. You should also be able to understand their needs and cater to them. You should also have great knowledge of the different stages of development of the fetus. The role of a midwife also includes being able to monitor and also identify if there are any abnormalities.
You Need to Be a People's Person:
This is a career where you are going to be in contact with people most of the time. This means that you need to be a thorough people's person. You should be able to understand their emotions and coordinate with them effectively.
Most would-be parents are anxious and worried. Midwifes should possess the knowledge and experience to tackle such anxious parents and their unending doubts.
Learn To Be a Keen Listener:
The demands of this profession are not small. Apart from being a people's person, you also need to be a good and keen listener. You should be able to hear what people say and understand exactly what they intend to convey. Listening skills does not imply simply understanding the words. It also means understanding the context in which the words are used. You also need to possess the ability to understand and interpret the body language and tone correctly. This is actually a whole new science that you need to gain expertise in.
Flexibility Benefits:
Midwifery is not like any 9 to 5 job where you can strictly adhere to your schedule and leave office as soon as the time is up. It is a delicate profession where you have to deal with would-be parents and their needs are not time bound. If you wish for a job where there is a strict timeframe, midwifery is not the profession for you.
A successful midwife is always willing to adjust to the needs and requirements of expecting parents.
Work Well in Emotionally Charged Situations:
In midwifery, how you react to emotionally charged situations can also count greatly. There could be times when the would-be mother is extremely stressed or tensed. These are times when you need to maintain your calm and try to regain her confidence. You need to support her through words and by quoting positive examples.
During pregnancy, the emotional state of a mother counts a lot. If a mother is depressed or upset, it is going to affect the baby too. You need to make sure you use your words and your attitude to support her and regain the lost confidence. Even in stressful situations, you should be able to cheer her up and get back her lost spirits.
Be a Team Player:
It is vital that you have the ability to work in a team and be able to coordinate with people around you. Many times, you may have to work with medical representatives, nurses or other attendants. You should have the patience as well as the ability to deal with people and work in a team. These are occasions when you should not let your ego or work related jealousy prevent you from putting in your best.
Often people fail to work well in a team because negative emotions like jealousy and inferiority complex come in the way. Do not let this happen. You need to have control over your emotions and never let your personal emotions affect your professional life.
Skills and Qualities to Become a Midwife:
It is really not easy to be a midwife, there are certain qualities of a midwife. A midwife needs to possess many values that may not be required in regular medical professions. Here we have listed down the major values that count if you are working as a midwife:
Courage:
When you are taking care of an expecting mother, there is always need for courage and strength. She is going to be anxious and scared and would require you to help her at all times. She can gain strength only if you possess courage and are able to convince her that things are going well.
Motivating Ability:
It is often said that a midwife should be able to speak in a manner that motivates. This is really not easy. To be motivational in your speech, you need to possess experience. People who have a vast experience are able to quote examples from the past that are motivating and inspiring. Only people who are confident as well as possess knowledge are able to motivate.
Knowledge and Experience:
There could be different health related situations where you need to offer help to the pregnant woman. You can help them only if you have knowledge about the present health situation and know exactly how to deal with it.
People who have prior experience tackling such situations are better at dealing with these situations confidently. The greater the experience in this field, greater would be the knowledge.
Cool Head:
A cool head is a must for a midwife. Even when everyone around you is tense or worried, you need to maintain your calm. This is not going to be easy. If you have people around who are extremely anxious or hyper, it becomes your duty to regain their calm.
Maintaining a cool head in stressful situations may require great strength. There are chances that you may not have a regular sleep schedule. You may have to wake up early or sleep late depending on the situation. Maintaining a cool head in spite of all these situations is what required of a midwife.
Be Supportive:
A midwife needs to maintain her human side. While, midwifery is a profession, there is also a human aspect to it. You must remember that you need to keep that human side alive and do it not just as a profession. You need to be supportive and should provide emotional support.
Save
Save