Organizations these days face the greatest challenge of managing data that satisfy customers' requirements. The key reason for this situation is the interaction with customers that generates more data.
With the advent of state of the art technologies, there are ways to handle such scenarios and turn them into opportunities. In that manner, Artificial intelligence and CRM integration is a perfect solution. Artificial intelligence makes it easy to identify user need and behaviour. Hence its beneficial in the sales and marketing sector.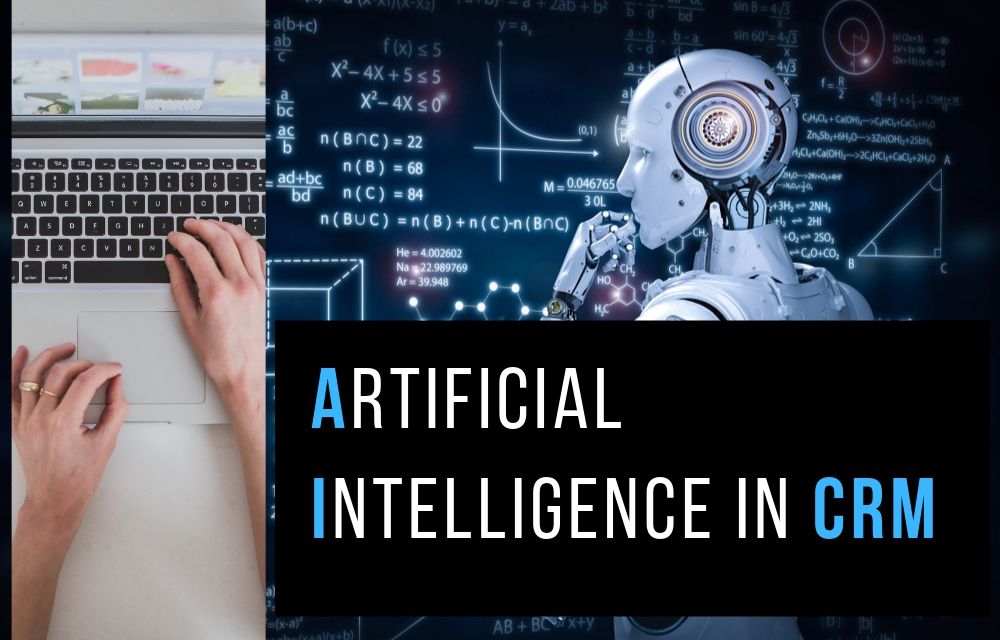 To overcome this challenge in business, CRM is already integrated with AI and is a central part of CRM. CRM's main aim is to provide valuable and customized products by understanding customers. CRM usually accomplishes its aims by using databases.
Smart navigation:
In this article, we will be discussing the below-enlisted topics,
Based on the customer's request, CRM collects stores and provides data. The volumes of data have been increasing and to handle the same AI is being adopted. There are many benefits with AI and CRM together.
What is CRM artificial intelligence?
The best and most powerful combination in the market today is the AI and CRM together. The present situation is that the internet has become the main source for marketing and sales and hence CRM needs to gather details regarding companies, customers etc.
Any employee utilizing a CRM can access the sales lead, detailed statistics, job history, social media profiles and more. Handling such huge amount of data is quite difficult. In such scenarios, the AI plays its role and overcomes such hurdles
There are many aspects the users gain by using AI powered CRM or when CRM is embedded with AI. They are
Recommendations
Predictive lead scoring
Natural language search
Forecasting
The main aim of AI in CRM is that AI takes responsibility for making appropriate recommendations and handling analysis.
With the assistance of AI, any sales individual can look through the contact record, take a look at the suggestions and contact the individual. This way the salesperson has saved time looking for clues through social media accounts.
In this manner, AI based CRM bring about several benefits. Here are a few benefits of AI and CRM combination.

Artificial intelligence in CRM Benefits:
Here are some of the advantages of inclusion of artificial intelligence in customer relationship management
1. Effective data management:
The CRM is centralized with all the data from digital interfaces and social networks so that AI can interpret and readdress them. By this way, customer management is enhanced by marketing departments and helpdesks.
2. Enhanced customer satisfaction:
Complete customer satisfaction is obtained undoubtedly with quality service and personalization. Companies can develop positive feelings about their brand only by employing a user-friendly strategy. Along with this, effective customer service plays the main role in customer satisfaction.
3. Optimized sales strategy:
Organizations can develop accurate profiles of customers who are expected to purchase products with the help of intelligent data analysis and automated data entry.
Once customer's behaviours are identified, personalized actions can be initiated by the companies where invasive advertising is avoided and real appropriate resources are provided.
By this way, the products positive perception is enhanced and sales leads are also increased.
4. Customer confidence:
Artificial intelligence makes use of biometric technologies such as facial recognition. This leads to the development of trust with the customers. The complete protection of sensitive data of the customers is securely taken care of.
5. More application development:
The AI and CRM integration along with data analysis provide results that can be used by the development team for various applications. They develop easy to use and intuitive applications that help in boosting conversion rates and also assure the customer with good experience.
CRM artificial intelligence thus has many benefits in the marketing and sales field. They are time and cost-saving where the process is automated easily with satisfactory results. AI driven CRM has more roles to play in future and change the usual routine in marketing and sales.
Artificial intelligence and the future of CRM:
The fact is that AI technologies are significant for business niche and many applications each year. With the advancement in data sets, integration, machine learning capabilities, there are high opportunities for the technology to get advanced.
The personal data is being put out more and there is a high requirement for AI technologies to sort it. Almost all technology vendors are planning AI with text analysis, machine learning, to manipulate objects, reasoning, planning, knowledge, voice-speech recognition, perception etc.
Here are a few ideas about AI and the future of CRM.
1. Virtual assistant:
With AI integrated with CRM, they represent virtual assistants for organizations and turning them towards profit route. They bring about a remote helper helping out in follow-ups, messages, client reactions, and recovery aspects.
2. Data analytics:
Simulated intelligence is used for investigating and looking for innovations. The data is used to predict results, understand designs, and guide appropriate approaches and also feed the client engagement process.
The organizations are groomed intelligently by this fact and a link is enabled with every client irrespective of the scale size.
Businesses that make use of CRM struggle when the gathered data is not utilized appropriately. Business can understand client only when the information is cleaned, organized and explored.
3. Automated data capturing:
The client details are gathered by the various intelligent CRM tools from sources such as Facebook, Whatsapp and other social media platforms. The automated data capturing do not use human intervention and hence businesses save time by discarding manual entering of details or other copy works.
By this way, they can concentrate on other leads and develop a positive view of the business.
4. Big data:
CRM and AI are used by many brands to gather data from the net and know about the customer's online behaviours, purchase history etc. With such data sales, risk assessment and customer engagement can be achieved.
Data mining and AI is a perfect combination and about 44% of executives believe that AI 's benefit is automated communication that helps in decision making. High-quality leads can be identified by marketers and fresh techniques can be found out based on AI's information.
Big data organizations can manage their relationship with CIO's and customers.
5. Sales enabling:
For sales enabling, CRM and AI are useful. AI has smart algorithms where it finds out good performers in the sales team and identifies the staff with fewer sales report. The sales strategies can be explored with the data and new marketing techniques can be followed for effective leads.
6. Customer experience:
Voice recognition and AI are linked intrinsically. Today the personal assistants in smartphones make use of voice commands for exploring the internet. Such features are available with the latest CRM. By conversing on the microphone, the sales staff or customer service can enter data.
Almost in many companies, speech recognition is the best AI technology used. This number could elevate as many CRM vendors are embedding voice recognition in their software.
Ways AI can transform CRM Software:
CRM and AI together is a powerful team that can customize the customers' requirements in the business. Data is gathered and stored in CRM but analysis, mining, and understanding isn't accomplished. AI fulfils this aspect in several ways. Here are mentioned a few ways where AI can transform CRM software.
1. Accurate prediction of customer behaviour:
Advertisements that are personally associated with the customers are represented by AI. By exploring the customer's emotional connection and response, AI understands customers' requirements.
For strategic marketing, analytic results can be used by the business. With the AI interpretation, customer engagement is enhanced using value-added data and this may lead to transformation in CRM in future. AI gives CRM perfect solution of collecting data from other devices and counting every innovation.
The gathered data is assembled beneficially so that customers are offered with insight. When any business is centred on the perception of the customer, it works perfectly. Customer loyalty is enhanced with the data being collected.
The main aspects of making strategic customer decisions are predicting customer's future behaviour and finding out patterns in customer behaviour.
2. Acts as a consultant:
Hunting for the appropriate and talented employee has been a challenge by the organizations. Employment has several choices, and it is tough for HR employees to choose the right candidate before others recruit.
The employees need to spend a lot of time investigating the applicant's information. In this scenario, the situation is managed fine with CRM.
With the involvement of AI the part played is swapped from being a basic directory to saving detailed information to a consulting software.
By this way, appropriate candidates can be identified. With AI, the recruiters are informed about the best and right candidate at that time. With the help of objective recommendations, new candidates can be identified. Hence a CRM with AI implementation can act as an advisor rather than storing only data.
3. Good assistant:
One of the powerful tools these days is automation and there has been an increase in efficiency by making use of AI for CRM.
With this, there is no requirement for input and hence messages are directed, managed and sent leading to successful marketing strategies. These strategies can be used during the promotion of services or products from an organization point of view for customer segmentation.
Every client has a varied history, spending habits and preferences. Such data is to be used by effectual marketing strategy for separating the customers for the appropriate category. In this scenario, the AI-driven CRM can assess the data quickly and efficiently and do the segmentation.
By this way, the stress of executive or sales manager is reduced. The best feature of AI with CRM is that they know who and when to call. With these assessed data, they send automatic notifications to appropriate clients. Apart from reducing the work of the staff, they help in enhancing productivity and efficiency.
4. Beyond cloud solutions:
The present-day scenario is that there is more of cloud-based workflow and this has been an effective pillar for CRM.
For a business to run successfully there should be the capability to store and assess the information and deliver them at fingertips as required. Though some various devices and platforms store data, the main advancement and requirement can be delivered with the help of AI.
Artificial intelligence is proficient with CRM and can cope up with all issues that are being faced. Improvements have been made and also cloud software also assists them. The business world is in demand for AI technology and is enhancing each year.
Though human interaction is mandatory for CRM, AI takes responsibility for handling cold and hard information. The data keeps increasing and AI takes responsibility to take input, assess it, categorize and deliver it.
5. Multi-tasking:
Any customer care service should handle all regular services such as phone calls, messages, emails, etc.
When an AI-driven system is available, it handles all main aspects specifically voice input option. It can identify new opportunities, answer queries and also solve minor issues. The system can also find out customers looking for live customer care instead of other modes of solving.
Multi-tasking is the main feature of the system and it can solve multiple issues at the same time. The AI-driven CRM is beneficial as it engages customers and finds solutions for immediate queries. It is reported that by 2020 about 85% of businesses would employ AI solutions.
Ways Companies Use AI to Enhance Their CRMs:
From business applications to consumer electronics, machine learning and AI has been the top buzz in the tech world. Machine learning in CRM features are employed by CRM companies to satisfy customer expectations.
To elevate human insights, automate time-consuming tasks, guiding inexperienced sales rep, hidden trends discerning AI solution can be used to enhance the organization's efforts in several ways as mentioned.
Several artificial intelligence tools are utilized to enhance their CRM's.
1. Assessing the emotional status of the caller:
Cogito is an artificial intelligence tool used by the services and sales team for analyzing in-call voice. This tool is beneficial as it analyses the word choice, speaking pattern, as well as other speaking dynamics.
By this way, the emotional status of the caller is identified and the agents are guided to solve the call politely. The tool guides the agents by giving instructions to allow the caller to speak, to empathize with the caller, to slow the speech etc.
With the cogito tool, the supervisors can also monitor the call and interfere to solve queries.
2. Analysing sales calls
Chorus is artificial intelligence call analytics software usually employed by the sales department to gather transcripts, to record calls or meetings, to highlight important aspects such as pricing, decision making, next process, budget etc. to gather time-stamped notes and more.
The advantage is that trackers can be added by users to get a particular time in the call after the call is ceased. With this tool, the sales team can find topical trends in phone calls, find the appropriate processes and link them with CRM data.
By this way, comparison can be made with historical data. There is an in-built integration with salesforce with chorus tool.
3. Best email tool:
Sales agent and human marketing cannot be replaced by artificial intelligence. But there are few beneficial assistants such as conversica which is an automated human-like an assistant. These conversions can follow-up, nurture, engage and also cross-sell like sales agents.
The best feature about conversica is that it can gather details such as phone number, purchase pattern, time to call and feedback. All these are achieved through emails. Many CRM's used these days are integrated with Conversica.
4. Helps in daily predictive lead scores:
The sales data and CRM store lead activity have limited actionable insights for applying enhanced analytical models.
In that manner, predictive analysis solution is offered by inside sales so that appropriate lead scores are developed based on suggestions about contacting the variables with industry data, company, geographic, and demographic.
With inside solutions you can also correctly forecast revenue, find out risk deals, sales call workflow can be enhanced, develop a timetable for closing deals etc.
5. Content production fastened:
With inbound marketing, businesses attract leads and pass through difficulties in developing appropriate, high quality as per the customer's interest.
In such cases, automated insights provide solutions such as Wordsmith for development of client reports, landing pages, news articles, reviews, natural-sounding, product descriptions added data, templates original content, personalized emails, clients reports etc.
The best feature of Wordsmith is that it can develop contents in about 15 languages and integrate with zapier for workflow in an automated manner.
6. Suggests the best response:
Redundant support requests are always more in customer service teams. The Wise.io AI  application is recommended for customer service to ease the work of help desk agents. It suggests the agent or group perfect to deal with certain tickets. GE acquires Wise.io to deepen its machine learning stack
Also, the tool helps analyze the ticket criteria and recommend canned responses. For a few tickets, response template can also be applied. To reduce data entry, case metadata is predicted by digital genius.
This digital genius tool automates or recommends responses for declining average resolution time, to enhance customer satisfaction and offer a consistent experience. The Digital genius and Wise.io are integrated with CRM for its beneficial aspects mainly in a salesforce.
7. Ticket volume reduced:
For agents handling the high ticket, the volume can opt for AI app that assesses and delivers simple solutions to usual cases and delivers appropriate results.
In that manner, Solvvy learns from ticket resolutions of the past and suggests resolutions. The tool is perfect as it readdresses challenging tickets, understands the daily language of clients and performance can also be tracked with the help of the dashboard.
8. Automated desk service operations:
All humans cannot be completely eradicated and replaced with digital service agents but common requests and simple tasks can be done by digital service agents.
In that manner Amelia is perfect at handling basic operations such as new client registration, account opening, answering queries, processing claims and emulating natural language. The knowledge is enhanced and AI benefits are clear.
9. Speech analytics reduces escalations:
Though IVR is present in customer support call centres, navigation is a bit tough for a few customers. In such cases, Akira can be employed instead of relying on static branching options. This Akira is a virtual AI assistant that can interpret natural language and offer appropriate results.
The features of Akira are that it understands 150 dialects and 25 languages, works round the clock in particular domain scenario etc. Resolution speed is enhanced by this AI assistant for call centre and also manages ticket volume.
10. The new sales rep with proven techniques:
Apart from timing and analysis, AI assistants also assist human's representatives in making informed decisions.
In that manner, Topopps is used for measuring the opportunities and health of leads depending on sales behaviour, customer profiles, new hires, and presents as a module.
The module is presented in common applications so that data entry in CRM is enhanced. Topopps is beneficial and is used with Salesforce and other CRM's.
11. Business intelligence to know opportunities and insights:
Indeed, predictions are not always exact. Companies can gain a chance to find out threats and upcoming opportunities at uncertain situations with the help of analysis and ample data points.
Machine learning, analytics and data mining can be applied to gain from public data sources to offer real-time trend, business intelligence, sentiment analysis and historical analysis.