At the end of every financial year, every employee working in the company receives a small sum of  Year End Bonus. This bonus is accumulated by the profit, company made of their gross selling.
Every company declares bonus at the end of the every year to motivate their employees and employers to work harder and also to show the gratitude towards the efforts of the employees and employers to earn such a big profit. Bonus declaration brings one to think how to spend that money wisely so that it will be helpful at the time of crisis.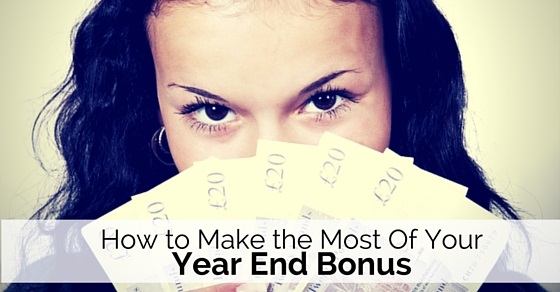 Year End Bonus Tips and Guidelines:
After working so hard the whole year, a form of gratitude is given to all the employees to motivate themselves. These motivations are demonstrated in the form of bonus declaration. And there are some ways to make the most of this end year bonus and they are
1. Fixed deposit:
An employee who receives a year end bonus needs to be wise enough to spend it on. By depositing it in a fixed deposit, one will keep it for future. This is one of the best ways to spend your year end bonus. In this way one will keep it safe and even available for one's future purpose. Fixed deposit provides a certain amount of interest added to it for some period of time.
2. Invest in payback policies:
By investing one's bonus in payback policy, one can receive monthly, quarterly or yearly return on the part of the money invested. A person who invested in such payback policy will keep their future safe out of a sudden crisis. Through this payback policies, one will receive a part of his / her invested money at the completion of the policy.
3. Personal provident fund:
By adding it to the provident funding, one will secure future requirements. By investing it in a personal provident fund one make sure that the time when he / she get retired, will lead a happy and comforting life with this personal provident fund. This kind of investment will help us to secure one's requirement after receiving retirement term.
4. Tax free savings:
There are several tax free savings in the market and choosing a good one will be a burden. But to avoid such problem one needs to find a suitable tax free savings fund where one can invest his/her year end bonus wisely. Through these tax free savings funds, your future investment income and other savings income fund would be treated tax free.
5. Loan payment:
By paying the bonus money to owe some debts will totally can be considered as smart decision and the debts by these bonus amounts, one will make smart investment in one part of the debt.
By investing it to the loan payment one will try to relieve a burden by adding the amount to the total sum of principal amount which deducted by the loan amount installment.
6. Create an emergency fund:
By creating an emergency fund one will take a step to secure unpleasant events. This emergency fund will recover all those loss made by some unpleasant activities. By keeping emergency fund one will feel secured of all the unexpected and unfavorable events. As its name suggests, this fund only will be used for the sake of emergency requirements.
7. Invest in gold:
Investing in gold is the best way to spend the year end bonus. If someone wants to spend their bonus on something which can make someone happy then this is the best way to make someone feel happy and important.
By buying gold elements through bonus you can give someone you love a piece of your gratitude towards their efforts. And this kind of investment will always be considered as the fun way of investment.
8. Bond papers:
Investment over the bond paper will also be considered as a smarter way to spend a year end bonus. These bond papers are worth some amount and by buying these bond paper one will make investment very wisely. These bond papers worth certain amounts will count as an investment for the future and can be considered as a source of income during difficult times.
9. National savings certificates:
These are also another form of bond papers. By investing in national savings certificate one will make a very secured way of investment. By these national savings certificates, one keeps on adding a certain sum of amount till the end of its maturity period and at the end of its maturity period, the holder of the certificate will receive whole sum of maturity amount.
10. Investing in children's fund:
Parents think over their children's future, so thinking of investing or spending it on children's fund will be considered a better way. Through this childrens fund plan, one's parents will make all possible needs to fulfill their child's dream.
This can be considered as the emergency cash for their childrens if they face any financial issue while their parents not being around.
11. Gift cards:
These gift cards are a certain way of showing your loved one to spend the money on things they love. These gift cards are available easily. Several banks launched such gift cards, in this the customer buys a certain amount of the gift card and receives a card with amount spent. This gift card is a form of giving someone a gift. This is an alternative source for some fancy presents or gifts.