People work hard throughout their lives and take some time off to play hard from their busy schedule. All those who are working spend around 50 to 60 hours every week, spend a little time to relax and get refreshed.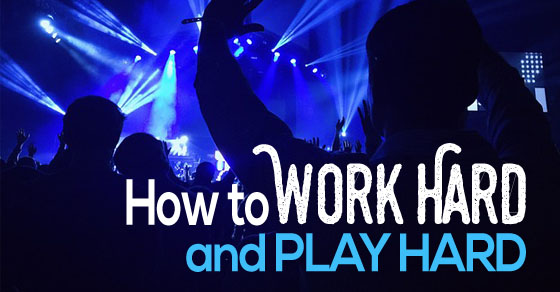 So now,
What is Hard Work? What Does it Really Mean?

It is always good to work very hard, but people should always work hard to achieve some goals. Working in a company should let you work towards the overall growth of an employee rather than working towards specific goals.
People work hard to get financial stability both for themselves and for their family. Also, some people work hard to play it hard rather than financial security. Hard work pays off well in the long run.
What Does Play Hard Mean?
Working too hard leads to stress, but people don't rely on relaxing and other cheaper sources to get themselves refreshed. What does play hard actually mean? For some people, play hard means spending more money.
For example, after a long work hard schedule, people often need some rest. For this, they will go to exotic vacations, eat at fine food outlets, shop at the best brands, go out for night outs at some famous clubs and cafes and the list is long.
But, work hard and play hard is a never-ending cycle because people work hard to earn more money so that they can do what they want to do. And when they play hard, they spend the entire money on those various recreational activities.
Work hard Play hard Meaning:

Work hard shall not be related to play hard policy which generally corporations use for their marketing strategy. Here, we are trying to earn more money to explain that working hard is the quality of those who love stability in their life. People on the other hand, shall work hard and play more, rather play hard.
People these days do believe in the policy of work hard and play hard. These days people wasting too much money on recreational facility shall build up assets which generate income. Here is the list of certain tips which can be kept in mind to maintain a healthy balance between work and play.
How to Adopt a "work hard, play hard motto " to Your Lifestyle?
"When you play, play hard; when you work, don't play at all" Theodore Roosevelt
The concept or evolution of work hard play harder was derived from this quote by Theodore Roosevelt.
Later this became a famous quote in itself and people started understanding and accepting the importance of it in the right way. But still, there are few who are hesitating in adopting this concept.
Now if you are one of them and are in a chaotic state, then read further to get a better idea about it.
Here are a few steps to adopt work hard, play hard lifestyle.
Never carry your office work home
Read a lot
Find where your time is getting wasted
Reward and appreciate yourself
Take up a hobby
Learn something new that interests you.
Tips to Work Hard and Play Hard:
Though hard work and success are relational, hard-working people should always have a goal to achieve. The following mentioned are a few tips on how to work hard, play hard
1. Easy access to an internet connection:
In today's business world where the internet is the soul of a company and a large part of the work depends on its reliability, still there are places where access to the internet is almost not possible.
So, whenever an employee plans a vacation to get himself fully charged and however he tends to work from there, in such a situation he shall make a list of those places where he can get easy access to the internet. So, he will be able to work hard and earn money to play hard.
2. Avoid distractions of any kind:
While you are working you should avoid any kind of distraction. For example, say that you are out on a short family trip, but there is an important online meeting, then you should use the,' do not disturb' tag because it will look too embarrassing when there are a continuous distraction and a whole of people are listening to you.
3. Make the best use of technology:
Today, technology has advanced to great levels where people can work from anywhere they want to. So, wherever and whenever an employee wants to work will be able to do the work, but can restrict the deductions in his salary.
Making the best use of technology will help an employee to do more than one job at a time and get more money to play hard.
4. Focus on work that you do:
While an employee is working there can be a lot of distractions which can disturb him in completing his work. Always keep complete focus on the work that the employee is doing because an employee works hard to get more money and if he gets distracted as a result the entire efforts are wasted.
There may be deadlines to meet and he will not be able to do so. In such a situation he will not be able to get that salary and spend on himself.
5. Take care of the place where you work other than the office:
If an employee is working from places other than the office, then he shall keep an eye on the place where he works. By this, we mean that he shall avoid places where there are sources of distractions.
Say, if an employee is working from a coffee shop and there is a huge group that enters, then he shall leave that place and move to a place where he can work in silence.
6. Don't mix personal and professional lives:
People work hard to get that money and enjoy life in the style they want to. But, if they mix these two, then he will not be able to concentrate on any of these and both of them will suffer.
Adopting this policy will help you to enjoy the richness of both as you will be working hard and play hard.
7. Create a list of things that you want to do:
If you create a list of all those things that you ever wish to do in your entire life, then it will be easier for you to determine how much hard work you need to put in to get that salary.
Also, by listing the things you dream of doing, you can focus on the important ones initially and keep the less important to be done later.
8. Reward yourself for your little achievements as well:
An employee works hard to play hard. So, if you reward yourself for your little achievements, then it will not only refresh you but will also motivate you to work harder.
Rewarding yourself will encourage you to work even harder and will support your aim to live a dream life. Also, by working hard you can get that salary increments whenever there is performance appraisal by the boss.
9. Divide your work according to your preference:
Whenever there is a lot of work, then list the top most one on the top and do them accordingly. This will not only help you to complete the important work well in advance but will also help you to manage your work. This way your earnings will also not suffer and you can play hard whenever you get that time off from your busy schedule.
10. Try to be creative when you are on a break:
Whenever an employee is on a break he should try hard to explore the creative side of his personality. If he does this then he will be able to identify new talent in his personality.
By doing this he will be able to get a new source of income as he can get his talent converted into business for himself. Thus he can work hard in his area of activity and can earn more money. As a result, he can play hard till he wants.
11. Be in love with what you do:
Always love the work you do and do it with full enjoyment. Never engage in activities that don't interest you. All those activities that interest will make you able to do more hard work and thus your source of income will increase.
By doing these things an employee can increase his source of income and will get him more money to spend thus playing hard.
For some people to play hard means only to spend more money. But does spending more money means that you actually get that satisfaction which you needed. So, here are certain ways which can help you to play hard to that satisfaction and break from work which you always needed.
How to Play Hard at Work and Get Satisfaction:
1. Read a lot:
Reading is one of the best stress-busters that an employee can engage in. An employee can choose from a vast variety of books that are available, whether its mystery, romance, fiction and many more. Also, it is one of the cheapest sources of recreational activity that is available to an employee.
2. Visit cafes and clubs:
These days modern culture is the latest trend in the workplace. An employee works hard the entire week and thus is the deserving candidate to take a break at the end of the week. So, an employee can visit various clubs and cafes that are located in the nearby area and get refreshed.
3. Go out for a small vacation:
People work hard to earn more money and to get financial stability for themselves. So, an employee whenever possible should always go out for a vacation with friends and family.
This can be a little harder on the employee's pocket, but it can make the employee refreshed and relaxed. This is one of the best ways to play hard. But this is what we all work for.
4. Dance your heart out:
Dancing is one of the best ways to release stress. These days there are various institutes which are offering courses in dance.
Some people take dance as their hobby and get a professional degree in dance as well. To dance is an excellent way to play hard after a long week of hard work.
5. Indulge in photography:
Photography is an excellent way to play hard and spend that hardcore earned money. Wildlife photography is easy and the best option available these days. Various wild photographers are also offering an internship program with them to those who are as passionate about photography as they are.
6. Paint the world around you:
Painting is an interesting way to express what you feel and how you want to see the world around you. To paint you need to have a visualization about the world around you. Some people take painting as the best way to release their stress and to relax.
7. Learn or play any musical instrument:
Playing any musical instrument, whether it's a guitar or sitar or tabla will give you a soulful experience. To release stress an employee has to indulge in many activities of artistic nature.
These days there are various institutes which are offering long term and short term courses from which an employee can choose from.
8. Join a yoga class near your place:
The most popular form of stress buster these days is yoga. This Indian origin form of exercise includes meditation and also some asanas which will help an employee to release the stress.
There are lots of institutes that offer yoga classes at various time slots. A person can choose from various institutes and amongst the many teachers.
9. Write your heart out:
Another interesting way of releasing stress is to write. You can write whatever you feel from romance to mystery to fiction anything. This way you can describe whatever you feel and see around you.
Sometimes there is no one to talk to, but you can always have that pen and paper with you where you can write your feelings.
10. Go out for shopping:
Another important area where you can play hard is shopping. This stress-buster is especially for women. Just go out to the mall near you and shop whatever you always wanted to buy.
After working hard for the entire month an employee wants to release stress and he can do this by spending that hard-earned cash to make yourself look good and feel good.
Conclusion:
People work hard almost all their life to earn money and to get that financial stability for themselves. So, it is ok to play hard, but at the same time, the person has to ensure that whatever path he chooses is the right way to spend that hard-earned cash.
Whatever a hard-working person does, he should never forget that it is his hard work and dedication that he is able to get that money.
Save
Save
Save