With host of graduates popping out each year, employers separate out candidates based on diverse standards.
Skills, work experience are a few aspects which are focused on deeply by the employers.
Do you recognize what skills you're proficient in?
If you're in the marketing department, then appropriate skills for the same designation should be possessed within you.
When you have the capability to bring the apt skills as well as attributes to the employers table, you're assured to get a job in the marketing arena.
Apart from other job postings, marketing jobs necessitate certain special skills in order to get acquainted with the job. Let's sail through a few points which converses about the skills, marketing employers are looking for.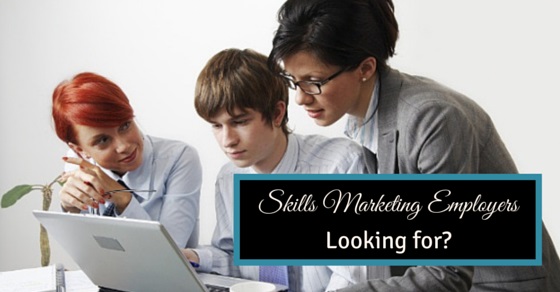 Top 18 Skills Marketing Employers are Looking While Hiring:

1. Communication, negotiation and network:
The initial skill every marketer should possess to step into the field is perfect communication.
Shrewd business operators and seamless communicators are the basic skills employers look out for. Marketing always is associated with service providers, suppliers, manufacturers and mainly with customers.
To deal with all these relationships and also maintain them good communication is mandatory. Networks are built and elevated only if a marketer possesses good communication skills.
2. Email marketing skills:
Email marketing has a number of beneficial aspects to do for the team and hence wearing email marketing skill as a badge can grab in employers attention towards you.
Email marketing is considered as one of the significant aspect for marketing effectively the products as well as their services.
Sign up boxes, and blogs are the latest trend setters and candidates skilled to elevate and delight email marketing would be preferred.
Employees who possess sound knowledge about A/B testing, about open rates as well as lead nurturing would be considered as fit for the marketing team.
3. Lead nurturing skills:
Skills and knowledge about lead nurturing is mandatory for any marketing employee. To build marketing successful, lead nurturing is being utilized as a tool these days.
It helps in developing relationship with buyers and other clients. This is considered one of the best sales solutions and hence lead nurturing is in high demand.
Applicants expert and experienced in lead nurturing can stand out of the rest and get recruited.
4. Social media tools:
For a marketer, it is important to be proficient on the various social media tools such as Facebook, Twitter, Hootsuite, Pinterest, Google +, and others .
By utilizing social media sites as tools marketers can save time, enhance their productivity and also stay planned. Sharing of articles, tracking a particular task, and posting are all possible with social media sites.
Being skilled in utilizing all social media sites or possessing accounts in the same is a special skill and beneficial too.
5. Knowledge about Productivity tools:
To present you as actuated and resourceful, possessing knowledge about productivity tools can be advantageous. There are a number of productivity tools which saves time and makes your day productive.
Few of them include freedcamp, asana, Google drive, Evernote, Google analytics and Web master tools, IFTTT, Buffer, Rescue time, and plenty more. Each of these has special and advanced features beneficial for marketing employees.
For the same, these skills are to be possessed within marketing employees to get noticed immediately.
6. Image and Design tool skills:
A marketer should remember that marketing online these days has a number of tactics involved in it.
Making use of latest application and software is important for marketers to broadcast their business.
The employee should be skilled at developing blog images and visually captivating visual content which grabs the attention of the audience.
And hence the employee should be aware and experienced in utilizing tools such as Adobe Photoshop, Piktochart, Canva, slideshare, Adobe Illustrator and many more.
7. About SEO tools:
Being an expert on the state of the art SEO tools is also a skill which employers look out for.
The job seeker should be aware of the various resources available which show the status of link building, focuses on appropriate keywords and lots more.
There are plenty of useful tools such as a Google keyword planner, Ahrefs, Open site explorer, and many more. Knowledge of all these tools will make a marketer seamless.
8. Skills on video production:
Recently video production has seen a maximum upsurge and is advantageous for marketing field.
Brands are also suggesting and stressing the importance of videos as appealing and captivating ones. This mode is used in marketing businesses and hence forth it is mandatory for employees to be skilled in video production.
Animation, video production and editing are highly desired and wanted by marketing employers.
9. Reading consumer behavior:
It is suggested that feeling and emotional prompts makes customers purchase a particular product.
For the same, advertisements should be expressive narrators and should be able to associate the brand with the customer.
So employees looking out for marketing jobs should possess the skill to know the consumer behavior and find out aspects which clicks them. Understanding consumers is mandatory for a marketing employee.
10. Coding skills:
Coders and programmers expert in HTML, CSS and various other coding languages are valuable assets as their coding assist a lot in the marketing field.
When you are experienced with the basic HTML and CSS coding you can finagle your own hiccups by self-correcting.
When you're an expert and possess knowledge on these languages beyond basic level then it's beneficial. Marketing employers are hunting for such skilled personalities.
11. Knowledge about data and interactive visualization:
Masses of data are gathered, examined and this is where data visualization comes to the scenario.
Data visualization software takes up the big responsibility and presents results in a visual manner.
By this way importance midst millions of variables can be picked, concepts and possibilities can be discussed with others.
Visual diagrams and tables help a lot and is a powerful tool to captivate others. Employees skilled in data visualization are being wanted by the employers in the marketing field.
12. Skilled about content marketing:
When digital marketing is considered, content marketing is something which plays a predominant role in the marketing field.
High quality content is the only way to grab the attention of audiences. There are abundant contents being published each day and to stand out of the rest and win the content race, you should be skilled content master.
Marketing employers are looking for such skilled content marketing professionals.
13. Content management system:
Businesses these days make use of content management system in order to publish content.
Employers of marketing are looking for skilled professionals in content management system such as Drupal and Word press. All these skills would add points to your career and help you get recruited easily.
14. About mobile marketing:
It is important to showcase to the employer that you're good at mobile marketing. Research shows that approximately 60% of mobile users use their mobile devices and narrow down the e-commerce traffic.
With such importance about mobile marketing, employees skilled in mobile marketing would be picked quickly.
15. Paid advertising through social media:
To gain a number of likes and promote a product, paid social media sites is the best choice. The competition in the social media world is at hike and going in for paid ones are best option.
Skilled employees in paid social media advertising will seize the attention of marketing employers.
16. Copywriting /publishing:
The employees should be perfect writers who are able to write messages and letters which represent the company.
Professional tone, creative style and grammatically correct sentences should be framed by them. Whether it's a website page, email, post, and article or letter good writing skills are essential.
17. Lead management and nurturing:
The employee should be skilled at nurturing as well as managing leads. This can be well achieved by communication channels such as phone, social media, website and more.
An understanding of lead nurturing is mandatory which is often demanded by marketing employers.
18. UX design:
The UX design or user experience design is one of the hottest fields where employees are in high demand.
Skilled UX designers make the products smooth and streamlined and develop a natural and excellent product experience for users. So UX design is a skill mandatory for marketing employees which employers are looking out for.
Conclusion:
Accenture which performed a recent survey opened up that 13% of respondents fail to possess the skills required for maintaining company in a bloomed state.
Another study conducted by Frost & Sullivan suggested that 44% of answerers suggested that acquiring the right people for success was a roadblock.
Many organizations are fighting the battle to get the right and skilled employees for marketing arena. These skills mentioned above are beneficial and would help organizations to elevate to greater heights.
Understanding the role of technology and updating with the latest technics being followed in the marketing filed is mandatory. Employers are looking for such skills in the marketing field and these skills get you noticed by the employers.