It is not that difficult to gel well in office and be comfortable with one and all. It is an easy task and everyone will feel completely that he or she has done something nice and wonderful.
However, it can also be very tedious at times. In office, there is an atmosphere of competition; everyone is in the mood to go ahead and do something which is different and apart.
Office brings fun, but at the same time the question of security and the time of retaining your job remain. Thus, there must be the urge and need of outperforming and doing better than the others.
You must have the thirst of reaching beyond and achieving great things.
It is not just the initial 5 or 6 months but it must be the entire time period and give better results to the company you work for. This process is to create personal niche, brand or benchmark for you.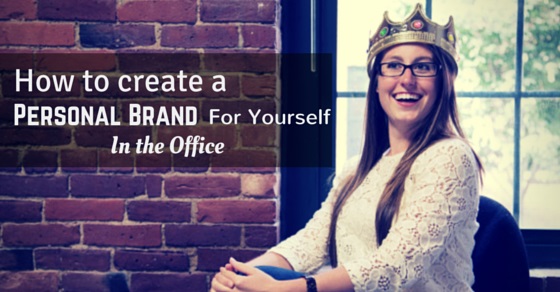 What is To Create a Personal Brand?
Creating a personal brand for you can mean a lot of things. It can mean you desire to be good at a particular niche and outperform yourself in that.
It may mean your urge to be good and better at whatever you are doing right now. Personal brand also means that your brand value, recognition is better than the others.
If any of your friends enters office and ask the direction for your desk, the other person must be in position to dictate it to others.
You must be so popular, demanding and in the eyes of all that everyone could dictate your position to anyone else. Your employer must talk good about you to others.
Your other colleagues must also stand up and say that yes you did so much good to one and all. Thus, you must be an identity in oneself. You should be the ace of all things.
If you are the best at one thing, you must then dictate terms for it and not mess with that. The personal branding is what that is going to help you with things now and later in life. Personal branding can mean many things and it is upon you how you take it.
Some people may fell they like to be under covers and not let everyone know about their presence.
However, it is also good to try something different. After all, if you are able to create that brand, you will be in a position to say that you could make your days of being an employee memorable.
If your employer can stand up and recognize your efforts and know your different personality, then you should know you have done well. However, if some people still have doubts, maybe they should run through this again.
Why Should You Create a Personal Brand for yourself?
Maybe reading about this initially may put you in double minds. You would want to think why and when this would create any difference.
You will be in the frame of mind of exactly what you should do to create a difference. Read up to see why creating a personal brand may help you in some ways or the other.
It makes you noticed:
Though shy and coy people may not be happy about this fact, it can actually lend some credibility to whatever you are doing.
Suppose you have worked on something and it is your complete input of efforts, you may still not be in a position to get anything out of it.
When you create personal brand for yourself, you have set that niche for yourself. You have completely taken over every wrong and now you have achieved doing something good and nice.
You must and should not worry about anything wrong that can or may happen. You should be completely adjudged and strong about believing about this.
So by making yourself get noticed, people will be in a position to admire and recognize the work you have done. When people will notice you, people will know you have worked. Thus in a way you can get better pay and also a better noticeably with your boss.
It makes you feel better at office:
After 5-6 years, people start feeling even bored to come at office. They feel as there is no use of turning up because no one even notices it.
Office is where you must be productive and the same place starts becoming boring and redundant after so many years.
Thus office can actually spice up your life if you think of creating a mark for yourself. Office could be good when you have thought and very well understood the fact that by making others know about you, it can save up a lot of work and ordeal.
People can actually recognize your talent and believe better in you. People will be in position to dictate the terms and know it for sure how things are going to happen. People will know it for better and will know it for sure.
Office will become yet another happening place to go because others will also treat you with same respect and appreciation you would be expecting. Thus office could be then the best place to have fun at.
It makes you feel better about yourself:
Imagine you begin working since the age of 18, you have joined a small firm and since then you have been investing so much time and money in you.
You have been actually striving to be good and best at what you do. Thus, no one on the planet earth will be able to take that responsibility from you. You will be good and you will be the best.
After you are done with 6-10 years, you will be going high up there and making a mark for yourself.
Daily when you wake up you can energetically hold the motto or the claim of doing the best Job today at work. Thus, no one actually no one can remove you from your favorite position.
People will love you, respect you and thus, job will just feel much better about being in office. It is a nice feeling to know that everybody around is happy with you. Thus everyday will be a good day when you go to office.
How to Create that Personal Brand?
There are many ways to do good work at office. But if you have selected to be the best and on the top you need to be different. This can come only after our have been a regular worker and a keen observer.
You have been good and you have been the best at what you do. It is not easy to begin with but it is also not that difficult.
You have to take every step after putting a lot of thoughts into and after investing much of your time in it. You need to make that ultimate nice for yourself so that people would not complain about the kind of work you do.
People will love you for the kind of output you have brought out. It is going to be good and nice and you will not have to worry. Thus read up on these things to know better about how people can create that rightful brand for themselves:-
Be quick and think fast:
If you have to be the best you have to also show that you have done the best. You should be in opposition to do something extravagant and nice.
You in no way can command or dictate terms saying this or this has not been good. You should command thing out of your own intellect and understanding.
You should think faster than your competitors and not allow them to take away that chance for you. This will only come when you have opened up our ears and eye to circumstances and people around. You should be smart enough to do this.
Whenever you entered the office, first thing in owning should be to tell yourself you have done good, something great and something nice. Thus, being quick and faster is going to get you brownie points which is going to just help you in every way.
Try to think of possible solutions:
It is obvious that any organization, firm or a company is bound to get innumerable problems and defects in the way they function. Things may always not be so smooth or cream in the way they behave.
Thus at such time what people need is ultimate help and solution for things. People need to understand that people need to behave in different ways whenever they are doing somethings.
See, if you have been employed in organization, it is for a specific reason. Thus wherever they face any problem or consequence they will come to you and ask you for help.They will approach you and believe in you for giving them possible help for every problem that is faced or ever faced or ever confronted.
It is not easy but you will only have to think of giving solutions. You can lay down a spree of possibilities which people think can help in solving issues. This creates a difference, good difference.
Be on good terms with everyone and especially your boss:
Sometimes people complain as to what wrong they did without which their office life always sucked.
Especially, people who eat government positions and bureaucracies, they will want to think what wrong could they have possibly done.
It may not have been so easy to decide. The one thing which people generally and normally faker at is they keep themselves away from opening up.
They may not always feel the need of showing themselves or telling others they could have acted in this way. However, when our boss has to ask who did this work, it is possible someone else can just take that credit and not enjoy the name. Thus, it is better, if you be good at what you do.
It is considered better if you thoroughly enjoy and understand what it is to have a nice tone when you're working. When you employers know you, when people around know you, it is easier sharing the camaraderie.
Know whatever you have done and believe in yourself:
Everything arises from the basic work of confidence. If you are able to portray yourself good and show you have been the master at doing something, there is going to be nothing bad about it. People will instead love you and want you more.
Believe yourself because if you do not do that then it may be difficult for others as many have put that trust in you. Love yourself otherwise how will your boss knows that you have the ability to be different.
It is an innate quality and it germinates from the seed of being different and nice. Things can get rough in the path but you need to be smart enough to know what is good for you and what is not. So just believe in the best.
Conclusion:
The ultimate thing to remember is that creating a personal brand is something which the company will also look out for.
The employers are also one lookout for someone who knows everything and is the best at something. If you go up there and show that you can do such a thing, you have achieved it totally.