Internship is the basic step for a professional career. Internship is a different world from college. It is a platform to learn practically. You can have a new experience and new tasks to seek.
Choosing a good internship will help you not only to excel in career but also get references for further growth. This might be an extra advantage that matches with company requirements while you face the interview.
You will be assigned with a new environment where you can not only learn but also implement the work. One can even earn money during his/her internship.
Employers expect minimum experience from the job applicants, so internship is very essential for a career beginner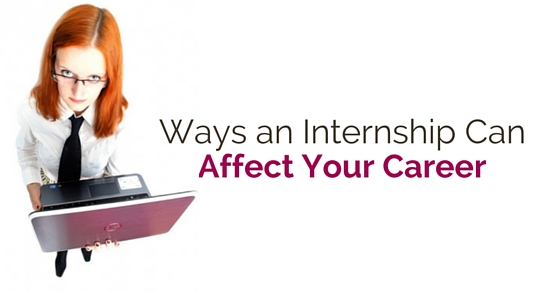 How Internships Impact Your Future Career Plans:
1. Experience counts:
Intern gets an opportunity to get trained well and improve their skills during their internship, the employers observe the candidate performance , discipline and his/her ability to get acquainted with organization work culture, his/her desperation to work and how can one challenge the new experiences, all these qualities will be noted by the management of organization.
They will provide an opportunity in their organization as a permanent employee if intern proved his/her skills or else they even provide a reference to grab the opportunity in any other organization. So do not lose the opportunity to work as an intern.
2. Knowledge gain:
It is not possible to estimate the practical situations while studying in a classroom, an internship is a platform where one can get huge stuff to learn and the best chance to handle the situation.
You can even see how an ideal company follows standards and principles. How an Organization structure works, its limitations, learn skills from each and every member that you come across through the training, inspire from the leadership how they handle the team and how they direct you to work.
You will undergo how to handle pressure and satisfy the customers with your service.
3. Opportunity to learn from failure:
During the internship you will be allocated with a trainer or a guide, they teach you and train you.
They allow you to practice and your work will be cross-checked by them so that you can try and even if you fail at something, you get the opportunity to learn from it and can improve yourself to give best.
You can ask as many queries as possible while learning. Do not let yourself down and realize your capability.
By taking feedback from employees one can understand where he/she is lagging behind in the field and plan to meet the requirements
4. Can earn your salary:
Some companies provide salary during the internship, like earn while you work. It is also one of the major benefits to students. They feel the workplace more interesting. Consider as a reward for your work, which allows you to focus more on the job.
It will help you economically to meet your immediate requirement and the first step for individual growth.
Obtain benefits and experience a real workforce nature. You can even utilize this money for project work or for further studies
5. Use of theoretical study:
Many of them would have studied a lot during their academic period, they will have an idea of how the industry works, but practically it is a bit different.
They may face certain issues while implementing them into action, the intern will have a chance to come across through that phase. They can experience the real competitive world during training, they also get to experience with new equipment, updated standards in their field.
One can study well in the field and excel their skills to break the results in the next academic year. Also, they can impress the interviewer to land a job
6. Get exposed to workforce culture:
Workforce is new to any intern. One cannot complete his/her own work and get back home, it is about engaging with colleagues , it is about team building , if you interact with others you will get to know their ideas and point of view, how a professional works in his field will be an example for you to prepare yourself in future.
One should work with the team to bring productive results to the organization. Co-ordinate with the team and maintain communication with other departments for smooth flow of work. You will be influenced by a good work culture and to operate as a team
7. Enhance your resume:
Internship will be a value added point to your resume, if you do not get an opportunity in the same organization where you have done your training, you can use this experience for your future interview purpose.
Any employer will expect the basic knowledge in the relevant field for the required vacancy, so a candidate with little experience will do a lot.
This saves time for a employer in providing training to them, they even consider you for the project report submitted by you regarding apprentice. You can stand out as a unique applicant than other candidates who came for the interview.
8. Vision of your career:
You may have a state of confusion or dilemma to choose a appropriate career, during internship you will understand the industry environment, if you feel interested or excited with the work during that period then you can choose the same path in future.
Since you have experience along with bookish knowledge in your core field you feel passionate about your career.
In case you don't feel much excited or not much relevant try to shift your plans and have a vision that makes you grow in career.
You can make choices of your career at this stage, this helps you to know what exactly you want in your career. Plan your career accordingly
9. Choice to experience different fields:
Few students like to experience two or more jobs, you can fulfill your wish by choosing an internship.
Apply for the particular job and experience the new challenge, understand the way it works, frame yourself how good you fit into the field, what limitations it has when compare to other fields.
You can notice the comfort levels with your core work and career of your option. You will have an additional skill added to your CV. It makes your career more interesting with different skills but do not mess up with more number of industries and waste your time
10. Professional behavior:
College life is quite different world from professional life. Here you will try to learn discipline like what happens if you do not attend the workplace on time, they may mark you absent which will effect at the end of your project report leading to poor attendance.
The work will be affected because of your indiscipline. If you do not speak with your co-workers, you will not learn anything during the training period, you can even develop leadership skills, culture and interpersonal skills.
You will learn respecting others and their ideas. You will have a chance to experience problem solving skills from your superiors
11. Time management skills:
Your guide or trainer will assign you a few tasks during the internship, you will be allotted time to complete the work.
If your deadline is crossed there is no use for your hard work, and you will also understand the consequences, what if you do not submit the work allotted in the given period, there will be a huge loss to the company, so you can understand in the competitive field how you will play a vital role.
It is important to be smart to manage the time and also to deliver productive work to the organization.
Not only important to deliver work in specified time also to give your best with minimum mistakes. This is how the employer will get to know how fast you can react to the situation
12. Personal development skills:
You will be equipped with enthusiasm whenever you get a new opportunity. You will start being responsible at your work since you are not individually affected by the result.
You will develop a positive attitude and get matured since this is the important quality for a professional, in case of a negative attitude you will not be respected and people will not like to work. You will clearly understand how you can handle the issues in the field.
One can learn how to raise your voice in a meeting or express their ideas regarding a project also suggest innovative methods to the team.
13. Resources for your career:
Being friendly with employees in the organization may bring you some advantages. They are experienced so they not only help with the work during training also may help you with few suggestions about career even after reliving from the internship.
They may even help you with other opportunities in the relevant field by observing your dedication towards work. They might also recommend you to higher professionals based on your work performance and skills
14. Saves your time:
If you are not being placed in any company, sitting idle at home, the best idea is to go for an internship.
This will save your time and you will also understand at which point you are failing in every interview, consider it as a mock ride for a real job.
Gain interview skills and knowledge which help you to obtain a permanent job which may settle your career. You can use this certification in future interviews that how effectively you used time, to build your career.
15. Allow you to break your limits:
If you are calm or a silent person or doubt your skills, this is an opportunity to prove yourself. This will help you to break your limits and make yourself understand at what extent you can try to balance with other competitors.
Build confidence to face any challenge. In case you fail, they allow you to talk with experts so that you can understand your concern and try to improve your ability.
Never lose an opportunity that impacts your career. You can get to know new skills by coming out of your reserved condition. If you still continue to be in timid position, you can see your career path declining
16. Can choose as a part-time work:
You can choose it as part-time work, while you are graduating, you can apply for an internship to learn things practically. This will save a lot of your time also boost up career. One can earn while studying.
Many of them choose part-time courses and if you create time to do an internship this will be a great advantage.
You can learn something from the training industry and connect with what you study
17. What happens if you choose the wrong place:
If you choose the wrong industry for an internship which is not relevant to your academic career then you will have a huge gap in your career path. The experience will not be useful for future jobs. You will not learn anything from the company.
Even if the employers are not co-operative for your existence at the company then also you will be a great loser since they are responsible to make you acknowledge with all their industrial experience.
Not only the industrial knowledge also the diversity and harmony is important in the company you choose since it will be incomplete experience without all these objectives
Conclusion:
Do not be part of an internship for the sake of mandatory semester in the college, just understand its objectives and benefits. Score high grades even in the practical knowledge apart from book knowledge.
Wind your knowledge into action. Attract the employers in placements and set the benchmark of your career. Evaluate your goals and future career plans with this experience gained. Be responsible for the place where you work for which you will be paid.
Understand your eligibility and where you stand in your professional career. Be smart to choose the place you wanted to take training.