When it comes to improving your job prospects, many people automatically think about getting experience as an intern, taking a course, or earning new responsibilities in an existing role. But did you know that there's a wide variety of volunteering roles out there that can really help to improve your attractiveness as a candidate for a new career?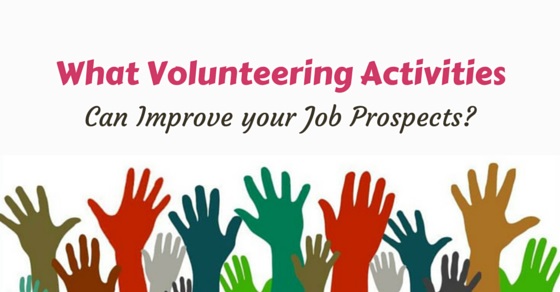 In this article, we'll take a look at a number of top volunteering activities that can improve your chances of securing your dream job, covering what you'll learn in that role, why employers value it, and how to share it on your CV and in your interview.
First Aid Volunteering:
Did you know that 66% of people are not confident that they could help someone who needs first aid treatment? Not only can volunteering as a first aider gives you the opportunity to save lives, it's also a great way to learn a number of highly valuable skills, including teamwork, leadership, and how to work under pressure.
Because the majority of people in the UK are not trained, a large part if being a first aider is to know how to lead others in an emergency, which is why first aid training involves being taught how to delegate tasks to others and identifying people to help with certain tasks.
A major part of administering first aid is being able to handle snap decisions under a high pressure situation. Others around you may be panicking, there may be distractions, yet you must be able to quickly decide what action to take to save a life. Similarly, if you're volunteering at an event such as a festival, you'll likely be working in a team, and need to decide together who will take care of what tasks.
These skills developed through first aid volunteering are highly valued by employers as they are transferrable to the business world, whether it's making quick decisions based on the evidence available, working with a team on a project or managing a group of new starters. There is also a direct benefit to many employers, particularly ones where there is a risk of injury, as employers are required to assess their first aid obligation, and have a first aider on site if necessary.
If you have already been on a first aid course in the past, make sure your certificate is still in date before you apply for a volunteering position – due to a recent rule change, there is no longer a grace period if your certificate is out of date. When it comes to your interview, be sure to consider a few talking points to cover the skills you've learnt, for example any anecdotes of how you helped people, how you led others, and how you worked as a team.
Volunteering at a Care Home:
Communication skills are very important not just for your interview, but to ensure you make an impact in your new role too. A great way to further develop these skills, as well as helping some of the more vulnerable people in society, is to volunteer in a care home.
Many care homes offer volunteering positions, for example Danushri Srinivasan volunteers each week at Admiral Court Care Home near Southend. A big part of her role here is to lead arts and crafts sessions with residents who live with dementia. These people often don't receive many visitors, so even small things like a short conversation can make a difference to their lives.
It's a great way to demonstrate to potential employers that you're able to build rapport with anyone, as well as having an interest in other people, which can help to show you'd make a good cultural fit. Similarly, it's a great way to build up confidence if you're not the most extroverted person out there, especially if you get the opportunity to lead classes or groups of people.
Since communication is a key skill you'll develop at a care home, be sure to reflect this when you mention it in your CV. Include an example of what your approach was to build rapport, and what the result was. For example, you could make it your aim to learn everyone's name and greet them personally each day you were in, resulting in the residents looking forward to your arrival and noticeably enjoying their time with you. Remember to be able to talk about such stories in detail, in case the interviewer asks about them.
Take a Leading Role in a Club or Society:
Getting involved with a club or society is a great way of showing you have a life outside of work or your course, but to take it to the next level, it's much more beneficial to take on a leading role within it. Clubs usually hold an AGM when you can run for a committee position and gain responsibility over a part of the club, such as finance or events.
Taking on such a position offers you the opportunity to learn skills that are highly relevant to the world of work, such as managing people, debating ideas with the committee, planning events and even arranging transport, depending on the type of club and your position.
This is a great role to taken on if you've not gained much work experience yet as many of the challenges you'll face will be similar to that of a small business, and a great way to show you've been successful in a role of responsibility.
When adding a role in a club or society to your CV, include a brief overview of your responsibilities, emphasizing the transferrable skills you learnt along the way. Include any achievements and value you brought to your role, such as "secured promotion for my team" or "ended my tenure as club treasurer with a budget surplus". Remember to be able to talk about these points in your interview if asked.
Work for a local Charity Office:
In the last few years, internships have been stepping stones into full-time employment for students and graduates. However, they're not the only way to learn valuable skills for the office including email etiquette and understanding the needs of business. A great way to gain exposure to these is through volunteering for a local charity in their main office.
One of the key benefits of such a role is that smaller local charities often require their staff to be multi-skilled, meaning you're likely to gain knowledge working in several different disciplines, such as marketing, PR, administration, finance and others.
This is an ideal first step for anyone who's not yet decided what sort of career they're after, allowing to tailor their volunteering experience on their CV around the full-time role they're after. For example, if you decide to get into marketing, you can emphasize your marketing experience on your CV.
Furthermore, since charities can usually benefit from volunteers all year round while many internship opportunities for students are only available during the summer months, you may be able to secure a part-time position during term time, leaving your summer free to travel or other paid work.
Career Benefits of Volunteering:
Volunteering is a noble work that not only acts as a service for others but also brings about a change in others' lives. Volunteers who are mostly into social work, serve for a non- profit organization which provides help and support to the needy.
Moreover, such volunteers would not be earning any momentary benefits or pay but receive something more precious than it i.e self-worth and are happy with their work. The activity of giving back to society is not possible for everyone. It needs sheer dedication and positivity and a good heart to serve others.
The practice of volunteering also helps you gain multiple skills and experience which can help in future job prospects. It not only helps you gain self-esteem but imbibes the purpose of life which is very much important. To conclude, it helps you build a better version of yourself as an individual.
Some of the top benefits of volunteering in terms of job prospects are
Being confident
Able to stand out among others in the competition
Your personal values impress the employers
Will have a better idea on different types of careers
Cover your professional gaps
Help you build a professional network
Develop marketing skills
Gain effective communication skills
Top 10 Best Places to Volunteer:
Volunteering is mainly done in non-profit organizations and some of the best places to spend your valuable time as a volunteer are listed below. The other best part is that for performing or working here you will not be requiring any kind of experience.
Redcross
Oldage and retirement homes
YMCA
Political campaigns
Art museums
Libraries
Women empowerment programs
Orphanage
Food canteens for the needy
Money raising campaigns
National parks
Animal rescue shelters
Serve at different NGO's
List of Community Service Examples:
Promoting community enhancement:
Cleaning up of sites after natural disasters
Fund raising for run down playground
Take up a road or highway and do some cleaning activity along it
Volunteer at a community event
Apply to community officials regarding more public restrooms and clean drinking water facilities
Form a group in your society to help welcome new people in
Work in order to form more new street lights
Process a society newspaper
Clear up vacant space
Organize or participate in community parade
Raise funds for nearby park or playground equipment
Try planting
Paint community gates and fences
Become a local tour guide to help visitors
Volunteer and gather books for local public library
Repaint park benches and trash bins
Promoting safety and reducing crime:
Work for an elementary school as a cross guard
Be CPR certified
Create public awareness against drug and alcohol use
Educate kids home alone safety class
Organize emergency hotlines for people who need help
Start a societal watch program
Organize a drug free event
Create a drug free post-prom event
Plan a self defense workshop
Craft a graffiti in your society
Act as a volunteer at a local beach or pool
Volunteer at a fire force station
Volunteer at a police station
Serving the hungry and homeless:
Make first aid kits and distribute
Organize winter camp to distribute hot clothes for poor
Create flower boxes for humanity houses
Try baking and distribute to soup kitchens
Volunteer on serving homeless kids to outings
Visit children at orphanage
Babysitting is also a service for working parents
Make donations to homeless houses
Distribute art supplies to children at homeless shelter
Make repairing for homeless houses
Paint homeless shelters if required
Purchase and supply groceries to food bank
Prepare and distribute food to homeless shelter people
Create care kits and provide it to homeless house people
Become a nanny if required
Organize thanksgiving dinner for the people who cant afford it
Provide blankets to people in homeless shelters
Distribute non perishable food wherever required
Donate eye glasses to people who need it
Work at a soup kitchen
Give away your old used clothes
Build a shelter habitat to humanity
Serving the environment and animals:
Try planting inline with highways
Test the quality of water of a nearby lake or pond
Educate children about environment
Work at a natural camp as volunteer
Campaign for getting wider roads and more lanes
Try out car pools to commute
Construct a bird house
Train your pet and make it therapy animal
Take sponsorship of an animal at a zoo
Take care of others pet when they are not at place
Plan a neuter and spay program
Adopt animals which do not have any shelter
Clean up a neighborhood pond or lake
Train service dogs
Take care of an acre of rainforest
Update the signs of natural trail
Create a new walking trail at a society park
Visit hospitals with home grown flowers
Organize a recycling contest
Build a butterfly garden in your society
Set up a bird feeder and essential water fountain for birds in your backyard
Try planting for arbor day
Fund raising for providing police dogs bullet proof vests
Set up cleaning program at a nearby park
Visit animal shelter regularly
Serving senior citizens:
Visit homebound senior citizen with some snacks
Help the senior citizen with their works
Aid old people clean and maintain their homes
Organize fun program at oldage home
Deliver essential medicine for an elderly neighbor
Spend enough time with senior citizens
Plan a family day at a retirement home
Set up a Christmas tree at a nursing home
Make hand made birthday cards for the people at oldage homes
Organize a holiday meal for senior citizens
Plan a bingo night
Help an elderly neighbor with their lawn work
Drive elderly people for regular medical checkups
Educate computer skills to senior citizens
Buy essential groceries to senior citizens
Read out newspapers and other books to people at nursing homes
Serving schools and children:
Organize vacation religious camps
Plan for a free vaccination camp for kids to fight against diseases
Give away old kids books to children who need it
Make kids visit local library
Habituate a reading habit in them
Take care of children during PTA meetings
Plan events for kids to meet and making new friends
Introduce them new games
Plan for easter egg hunt for your society children
Organize a summer reading event for kids
Work as a teen crisis counselor
Teach kids learn music and musical instruments
Plan some fun activities for kids in hospitals
Organize a sports coaching at your society
Take sponsorship of a kid living abroad
Plan summer camps for kids at an orphanage
Distribute sports equipment for kids who cannot afford it
Organize a bike a thon
Provide essential equipment like helmets and safety gears
Educate children about road rules
Plan a olympic event for children
Provide baby clothes and essential things to new parents
Donate baby blankets for people who are homeless
Plan fun activities for children who are hospitalized
Give away gifts to kids at hospitals
Provide tuition for kids after school
Common community services:
Script articles or educate people about financial advocacy
Provide meals to people at hospitals
Plan a car wash program and donate the money earned as charity
Educate people about the importance of voting
Collect and donate unused cosmetics and perfumes to a charity center for girls
Set up Christmas tress at hospitals and nursing homes
Celebrate national youth service day
Volunteer at a charity function
Plan a event or parade for memorial day
Organize a charity race
Build a wheelchair basketball team
Read out newspaper to visually impaired people
Organize a book fair and donate the money to charity
Give away your birthday gifts to people who are in need
Send greeting cards to soldiers at occasion who are serving our nation
Organize a blood donation camp
Raise funds for local red cross
Summary:
As you have seen, volunteering is a great way to improve your job prospects not just because it's a way to show off your well-rounded character, there's actually a wide range of transferrable skills to learn which are relevant to most graduate-level roles.
Has volunteering made a difference to your CV and job interview? How did you present your experience to demonstrate its relevance to the role you'd applied for? Let us know in the comments below.
Author Bio: This is a guest post by Seb Atkinson from Selesti Limited
Save