Many job applicants wonder if they can put volunteer work on resume while applying for jobs. Volunteer work can be an excellent way to showcase your talent and skills such as event planning, fundraising or patient care. These kinds of experiences should certainly be integrated with other work experiences based on your resume and the type of jobs that you are applying to.
Try to understand how much relevance is there between your volunteer experience and the target job that you are applying to. Following mentioned is a guide about how to include volunteer work on resume.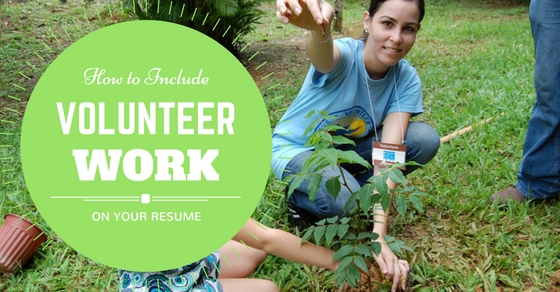 Volunteer Experience Meaning:
Volunteering has a positive impact on society and also to the well-being of your personal self. Most people see volunteering as an easy method to score marks and credits to look good on their resume and many fail to recognize the main purpose for doing such charitable deeds.
Learning or developing a new skill:

Volunteering is a really good way to explore a skill that you already have and develop it into an even more useful skill which can be useful for many people. These skills not only enhance the career of the volunteer but also builds a positive character and personality in him/her.

Being part of the community:

Volunteering is eventually about helping and creating a positive presence on the lives of others and helping them to achieve their well-being. Many of us take our present societies for granted. Volunteering is a great way to give back to society some of the benefits that it has given to us.

Motivation and a sense of achievement:

In an ideal sense, volunteering is about giving your own money, time and skill for the betterment of the society. Unlike other jobs, there is an option for choice present in volunteering. You do not necessarily have to take up a volunteering job because of the pressure from your peers and colleagues. Many volunteers having completed their volunteer tasks, expresses a sense of motivation, satisfaction. This also boosts your enthusiasm and desire to help others and do well for others.

Meeting diversified people:

Volunteering is a great platform to bring together unifying people from various walks of life and from varying backgrounds. Volunteering is a great chance to deepen interpersonal skills and be an inspiration to others. Not only you get to meet varied diversity of people but also learn from them, their situations and also strengthen professional relationships. You can never know what kind of people you will meet and what kind of impact it will have in your life.

New experiences:

Volunteering is a great method to get your life experience and also change your mindset in how you see things. Volunteers can virtually do anything in the name of volunteering and creating awareness. There are a wide variety of activities present such as skydiving for charity, fundraising for a good cause, organizing a flash mob, taking care of the elders and so on. The possibilities are endless for volunteering purposes.

Sending a positive signal to your friends, family, colleagues, and peers:

Volunteering supports and paints a complete picture of you and gives a real-life example of your achievements. Show people what you are really made of and they will be inspired by you.
Examples of Volunteer Work:
In the professional sector:
These types of volunteer activities are present for professionals who are retired or are credentiated and want to do well for the society and help the people in need. There are various types of volunteer work for professionals depending on their job type. They are:
1. Doctors, nurses and other certified medical specialists:
If you work in the medical field, you might already know about the various needs that many people face in terms of healthcare. There are many places that are in need of quality medical attention.
One great way that you can volunteer as a medical professional is lending your expertise and knowledge to society by engaging in free community service for a few hours for free. Places where you can do community services include:
Your own hospital where you work and have privileges
Volunteering in a non-profit organization or a medical charity.
A local health clinic or dispensary
A scout group or a helper association
2. Teachers and childcare experts:
If you are a certified teacher and is willing to spend some time for teaching the underprivileged children, examples of doing such volunteer work include:
Doing an after school program for the kids
Tutoring for free
Working in an underdeveloped and less privileged area
Working overseas teaching English and literacy
3. Other professional volunteer organizations:
If you cannot find any locations that you can utilize your skills and abilities, then try using the help of volunteering organizations that will help you to volunteer. For example, there are organizations such as the Red Cross and the Scout Organisation that helps you to utilize your skills for the betterment of society.
Should you include volunteer work on a resume?
When adding an unpaid social service in the resume, add your volunteer work under the title "volunteer experience" and state what all activities you have done.
The common dilemma that most candidates face is to decide whether or mot it is necessary to include volunteer work as a part of their work experience.
Why should you add a volunteering experience?
Adding volunteering experiences is a great way of showing your managerial and event planning experience. When adding a volunteering experience, try to mention the scale of the event that you were planning so as to show them that you had a substantial amount of responsibility. Adding volunteer work acts as an advantage for the candidate and makes his/her resume stand out from the others.
A recent LinkedIn study shows that more than 89% of the candidates have experienced volunteer work but only 49% add them to their resumes. They think that volunteering is not a legitimate form of work. If they have volunteered in activities that are outside from their field of work, then they won't even bother to mention. Mentioning something that is outside your area of the study shows the commitment and character that you have in helping others.
On the other side, this does not mean that you should fill your resume with every good deed that you have done. Try to mention a few activities that you have felt proud in accomplishing and is worth mentioning to others.
Where does volunteer work go on a resume?
Where you list your volunteer work depends on how relevant the volunteer work is to your career.
For instance, if you have worked for a marketing and consulting agency for a non-profit organisation, then state your volunteer work under the title "work history". Don't just use the title "volunteer", which can minimize your role. Instead, use the title "marketing consultant".
If the volunteering work you have done is completely unrelated and is irrelevant to your career, then mention your volunteer work under the title "community involvement", towards the end of the resume.
How should you treat a volunteer work?
Treat it as any other paid work that you have done. Explain the skills that were used, the purpose of the volunteering work, and the result of the work. Also mention the name of the organization and also the dates you were working with the volunteering group. Try to mention the place where you have volunteered, if possible.
Why should you include volunteer work?
As a working employee, your volunteer work shows what kind of character and personality you have, and also shows how much you have done to make the society a better place. It can also be beneficial for the various types of workers when applying for a job. These include:
i. For entry-level workers:
Shows the experiences and knowledge that you have acquired beyond the classroom.
ii. For people returning to the workforce:
It shows how much interest you have in doing your work and staying sharp and diligent.
iii. For laid-off workers:
Volunteer works help you to stay busy, and fills in the employment gap and also increases your personal and professional network during the job search.
Why Volunteering is Important in Resume?
Mentioning volunteer work in a resume can help in many ways. It makes you stand out among other applicants when applying for a job. You can also lay a good impression on your recruiter.
As per a survey done by LinkedIn, around 41% of hiring managers have accepted that they give preference to candidates who has volunteering on a resume.
Few important traits that volunteer work conveys to the employer are,
Interpersonal Skills
Leadership
Honesty
Specific Job Skills
Customer Service
Compassion
Teamwork
Dependability
Physical Fitness
Self-Motivation
Passion
Service Mindset
How to Put Church Volunteer Work on Resume:
Volunteer church services can be an excellent way to add volunteer experiences when you do not have any other relevant volunteering experiences to mention. A few things to be noted when mentioning best volunteer work for resume,
1. Include only experiences in your resume that are relevant to your goal or to the position that you are applying for.
2. Word your descriptions in such a way that it is easily understood by people who are not much familiar with churches and their organizations.
3. When using the name of the church, it should be spelled out correctly, neatly and completely. Appropriate colons and commas should be added.
4. There are cases, where the title may be a bit misleading. Try to use titles and descriptions that are easily understood and convey what you did. Also, be friendly while explaining to people who are not familiar with the terms.
Church Volunteer Work on Resume Example:
Was a Volunteer administrator for 5 years at Lewiston Baptist Church.
Managed 3 building projects each worth $20,000+ and successfully completed with 10% marginal profit.
Worked for Dodge County Animal Shelter as a volunteer board member
Responsible for organizing 3 IT projects for local Red Cross society
Volunteered for the local Habitat for Humanity chapter and actively participated for renovating 2 houses of risk families in Atlanta, GA
How to Include Volunteer Work in your Resume:
Many candidates often face the dilemma of how you can include volunteer work on resume. Often a question arises, "how can I add my volunteer work in my resume to get maximum benefit?" For this, the solution lies in how much relevance does your volunteer work has with the position that you are applying for.
Relevant proposal work:
Related proposal work can be associated with the relevant work experience, under a title such as "related experience". If the enlisted work that you have done consists of a demanding skill area, it can be arranged inside a functional category, under a descriptive heading such as "fundraising experience" or "event planning experience" to show what type of volunteering work you have done.
In any way, the volunteer work should be treated in the same way as one would treat a paid job.
Unrelated work:
If you have done a job, that bears no relevance or relation to the job that you are applying for, link it within a different heading such as "community service" or "volunteer experience".
Keep in mind that most organizations look for staff who commit in a specific way to that community and also has a positive impact on the lives of others.
Many organizations see such individuals as great opportunities to strengthen the civil affiliation between the organization and the people and also a great method to chain and meet with likely good clients for the organization.
Tips:
Community services and volunteering experiences are great things to add in one's resume. They can act as a saving grace, if you do not have much work experiences or if you do not have much-paid job opportunities. How you mention the volunteering organizations depends on how much time you have spent with them and also how relevant it is to your job that you are applying to.
If you have volunteered for an organization for a long period of time, then you can include a more expanded section of volunteer experience in your resume. If you intend to use this method, try to explain how long you have been volunteering for the organizations and include the list of volunteering activities that you have done for the organization under the title "volunteer experiences"
This section looks similar to that of the normal "work experience" section, but the only difference is that it lists only unpaid work and activities.
Conclusion:
Volunteering can help you to acquire your dream job and it also develops and hones your present skills and abilities. It also acts as an opportunity to explore new experiences and helps you to see things in a different light. It also shows the employer that, you have the grit and the determination needed for delivering the results and that you have the ability to take an initiative and work in ambiguity.