As employees, everyone wants to work under cooperative managers, who are supportive and are helpful. But unfortunately, that is often not the case.
You may have to work under a manager who is tough with you, even if you have completed your tasks with perfection. The following mentioned are few things about how to deal with horrible bosses.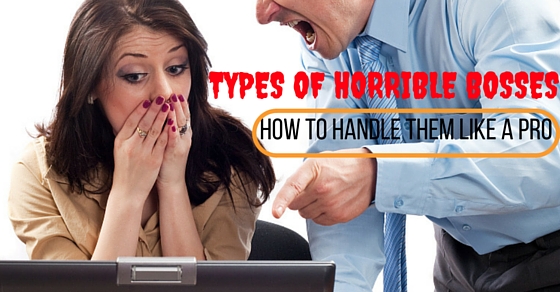 Types of Horrible Bosses at Work and What to do About Them:
1. Fault Finding Boss – Ensure that you are doing everything perfectly:
One of the first thing that you need to do is to analyze your own actions and behavior with clarity. Be clear about how you are handling your work, have you done your job honestly, or have you back-stabbed people, gossiped or under-performed? It might be that your performance has been affected by a bad boss. Therefore, you should ignore all types of distractions and focus on your work.
Find out whether it changes things or not. Also, look for other types of positive reinforcement so that you can do your job in the best way possible. This will ensure that you remain in the good books of your boss. No questions will be raised about your performance as a result.
2. Bully Boss – Don't let your boss' behavior affect your work:
Even if your boss behaves badly or bullies you, make sure that it doesn't affect your work. You need to stay on good terms with other members of the high management of the company. There is no point in settling scores by working slowly or taking too many leaves. It will rather increase your workload and give your boss the chance to have you sacked.
Bad bosses usually make use of your weakness and try to lower your confidence by pinpointing at your follies. The best solution to this is to never give your boss a chance. When you know that your boss' nature won't change, you should try and adapt to your bully boss and never let him get a chance to complain.
3. Unpredictable and Moody Boss – Create a list of bad behaviors of your boss:
Many times moody bosses are not aware of their rude or bad behaviour. Prepare a list of all things that your boss does to drive you crazy. Review the list well and add or remove activities post scrutiny.
Pick out the worst offenses and suggest how he could react differently in those circumstances. Edit those suggestions to make sure that there is no sarcasm. Show the list to a trusted friend. Edit them once again. When you feel that your suggestions would be useful, schedule a meeting with your boss. It could be done outside the office. Don't express your emotions.
However, you can expect an emotional reaction from your boss. He may be unaware of his actions and the meeting can ensure a positive outcome. However, it may also be possible that the meeting ends abruptly.
You need to assess your position properly before you take this stance. Some bosses take constructive criticism in a negative way. Be prepared for the worst outcome if you are planning to take this stance.
4. Unethical Boss – Find a person who can be your mentor within the organization
It is impossible to look up to a boss who is unethical. If you are dedicated to your company but hate your boss, look for mentorship with another boss in another department.
Having a mentor can be advantageous in many ways as he can offer you good suggestions and also suggest for your promotion.
A mentor can help you cope up with a bad boss and will have the power to deal with your bad boss.
The mentor need not be at a higher designation always. It may even be one of your senior colleagues who is inept in handling tough bosses and who is devoted to the organisation just like you. A senior person who has spent a couple of years under your boss will know better how to handle a bad boss. You can learn some people skills from him.
5. Bosses Who Do Not Stick To Their Word – Document all conversations:
Make it a point to document all interactions that you have with your boss. You can refer to them in case he contradicts himself. Once your boss asks for anything, give it to him in writing.
Document details of all work you do and all conversations that take place with your boss. If your boss gives directions verbally most of the time, note them down on an email and point out the major points discussed. You can use these details as documented proof if your boss questions your productivity.
It is also a good habit to keep one of your senior colleagues in CC. Even when your boss counters his own statement, a witness can save you from the situation.
6. Stress Maker Boss – Maintain a journal of the incidents that have taken place:
Don't be too judgmental or write with emotion. You only need to document the situation you faced and the way in which his behavior had an impact on your and your peers performance.
It may help you get over the stress that you have been dealing with. If you know when your boss gets stressed and help him look at his situation more casually, it may help him get back his composure.
7. Over Expecting Boss – Don't lose your health or self-esteem:
Many bosses look at their juniors as machines who can slog day and night without interruptions. You can't work that way and let your health deteriorate. No problem gets resolved on its own and you must be willing to take action. No job is worth more than your health, peace of mind and self-esteem.
If you don't find a way to solve the problem and your boss doesn't change his attitude, then start looking for a new job immediately. A lowered self esteem or a lack of confidence can prevent you from progressing in your profession. Hence you need to do the needful at the right time.
It may be within or outside the company. If you are deeply attached to the company, asking for a transfer might be a good option. But keep one thing in mind, if your boss doesn't get well along with you, he might stop you from getting a transfer. Make sure that you don't quit before finding a new job. But make sure to get another job before it becomes unbearable.
8. Abusive Boss – Report against your boss:
This is the last thing that you can possibly do if the attitude of your boss is unbearable, or if he behaves in an abusive or immoral manner.
A company wouldn't want to have a manager who is affecting performance and productivity in a negative manner.
It is best to have proof or witnesses for the action so that the company takes the required action sooner.
Make sure you are not biased and are providing useful feedback to your company. Otherwise, it may eventually affect your reputation.
9. Indecisive Boss – Be proactive and work as a leader:
When you have to work under an incompetent boss, occasionally it's wise to take leadership decisions on your own. If you know the domain well, there is enough reason for you to pursue a direction which will prove to be beneficial for the company.
People who have such an approach towards work are regarded as leaders by their peers. The management will surely notice the initiatives that you have taken. As you wouldn't want to undermine your boss in any way, try to keep him in the loop.
The greater the initiatives you take regarding your work, the more valued you will be for the company.
If the company really cares for its employees and wishes to function effectively, it may even make you a manager if you are better than your boss and liked by your peers.
Things You Must Never Do Even When You Have a Bad Boss:
Dealing with a bad boss can be quite a challenge. You still need to be careful that you do not take wrong decisions just because of a bad boss. Here are some things you should never do inspite of a bad boss:
Neglect work or avoid important meetings because your boss is a part of it.
Blindly follow boss' instructions even when you are aware of the negative possibilities.
Not keep the boss informed just because he may add hurdles to the task you are doing.
Lose your confidence in work simply because your boss criticises you excessively.
Get stressed because of your boss' bad behaviour.
Criticise your boss while conversing with your peers and colleagues.
Understand that your boss is just another human being. Do not give him undue importance. Yet, be aware that any complain or negative comment from his end may ruin your career.
If you have a boss who simply takes pleasure in criticising, do not give him a chance to criticise you. No organisation wishes to lose a good employee. Make sure your efforts are understood by others in the organisation.
When you learn to tackle horrible bosses, you can easily climb the success ladder without much difficulties. That is the reason why many of the top executives are people with best skills.
Save
Save