Most people like to believe that a good resume will get you the job of your dreams. Though it is important in order to score a decent good job but towards the end, it is not anything else but your performance and skills that matter the most. This actually helps in telling whether you should get the job you are willing to land or not. There are several employees all over the globe who choose to call a job interview something similar to an audition. And if you are someone who cannot wow the interviewers, you will never be able to get what you are really in search of.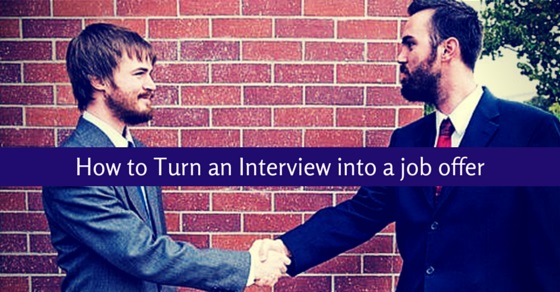 Interview to Job Offer?
So the next time you are shortlisted for a job interview and it's still confusing to think of excellent ways in which you can turn the interview into an offer, this article is a must for you! It is described in detail just for your benefit and understanding. Keep reading to discover more.
1. Have an idea about the requirement of the job and the situation:
In case you do not possess any copy or don't have an idea on the description of the job, then feel free to ask for it when the interview is being conducted. Once you are done with that, go through it very carefully. Make sure you are reading every word, sentence and paragraph.
If you have a couple of questions in mind after doing so, get hold of notes so that you can get all doubts and questions clarified during the interview. Not just that, you should also ask about the people who are about to take your interview. Get to know their names if you can. You will get some idea if you use social media sources such as Twitter and LinkedIn. Please don't feel like you are spying. They are doing the same about you!
2. Rehearse before you appear for the interview:
Apart from the general questions such as where do you see yourself in terms of success within the next 5 years and about your strengths and weaknesses; try to prepare yourself some real interview questions such as what are you keen on knowing about us, what other qualities do you have apart from the ones stated in your resume, tell us something interesting and unique about yourself, what makes you suitable enough for us to hire you etc.
If the answers to some of the questions are negative, always make sure to speak about it in a simple way. Speak about your weaknesses and say how hard you are trying to improve this quality. That will certainly help you make a better impression. No matter what you do, please don't memorize your answers. You can write a few points down to remember
3. Boost Confidence Level:
You can always improve your confidence level by practicing a couple of power poses. According to most experts, power poses not just improve your confidence but also change the hormone levels in your blood. This research was conducted by a professor of Harvard Business School and her colleagues. This technique does sound a little funny, but you will definitely reap some benefits.
4. Be Radiant:
Before you attend an interview, it is very important to stay well dressed. You should also keep a constant track of what your employer is up to through his website. Don't forget to use LinkedIn. If you happen to know an employee who works with the company you are about to apply to or in case you have some time in your hands, try to get in touch with and start learning about the organization altogether.
Try to know the process which is regularly used for hiring. A good way to start off is by using Google. Also search on Google News to see whether you can learn more. If you already know the names of the people who will be taking your interview, use your LinkedIn profile to look them up.
If you find something common, feel free to share in the interview. Also remember when you are attending an interview; you might not want to keep your cell phone switched on. That could not only distract you but create a horrible impression.
5. Don't forget to trade business cards with people who interview you:
You should always keep your business cards ready if you are keen on turning the job interview into a job offer. Your business card should contain details such as email id and phone number. There is no need to have a job title on the card. But basic information should be available.
If you collect business cards from the people you are interviewing, it will definitely be a better idea to send them thank you post cards now and then. You may keep in touch or speak to them often. Not just that, it will allow you to address the problem when the interview is being conducted.
6. Take all important notes:
Do not hope to have such a sharp memory that everything that has been spoken will be remembered. Some of the recruiters are given offers if they refrain from asking questions and take simple notes instead. However, before you start taking the notes down, remember to jot down with what is said. Unless and until you are at vault, jotting down a few notes should be absolutely fine.
7. Don't forget to answer all the questions:
Yes you are preparing answers to all questions that are about to be asked, but make sure to listen to all the questions before you say something. All your answers should be very simple and short. Do not make the mistake of constantly speaking or filling in unnecessary and unwanted details of yourself. Also please refrain from trashing or talking filth.
8. Keep the questions ready:
Another thing you must remember to do is keep all questions ready. Do not be so immersed into creating a good impression that you begin to forget that the interview occurs between two people. Also make sure to take a close look at the environment so that you know whether the environment is suitable or not. Some of the questions you must forget to ask include
Is the job you are looking to fill a replacement for someone else?
How is a typical day at work?
How does the team usually work?
What are the necessary qualifications for the job in order to become successful?
Please feel free to ask questions if you have any.
9. Do not think twice before asking for sale:
When the interview has come to an end, do ask them about your performance and the rank awarded to you in comparison with the people who have already interviewed before you. If you are looking forward to landing a job in sales, this should definitely be expected.
10. Always know your value:
Most interviewers will ask candidates questions like what sort of salary are they expecting from the new company. This question can be quite a problem for some of the candidates if they have way too much of an expectation or don't know how to even appreciate the value of their own market.
If you aren't even sure how much money you should be asking for, make sure you consult a few professionals at first… If you end up asking double the money candidates are usually offered, there is hardly any chance of getting the job. And if you ask for a salary that is below the current rate, you will nail it but your money will be much lesser than your other friends. If you didn't know, this can actually come back and haunt you!
11. What should you do after the interview?
Once the interview has come to an end, you can actually increase your chances of improving your impression by simply sending thank you notes or simply getting in touch through email. This will also show how well mannered and capable you are. If your manager is wondering whom should they finally hand the job over to, this will definitely swing it!
Tips to Turn Your Job Interview Into a Job Offer:
Applying for job and getting a call for job interview does not guarantee you a job offer. The call for job interview is the basic process that is done by the hiring department to many of the job applicants who they feel eligible for the job role.
Though the first step of our resume getting selected is successful in the recruitment process but there are several other stages ahead to get the job offer. The recruitment process of any organization differs from others and also is based upon the job designation.
Now the path from a job interview to a job offer comprises of several stages, so to get through this in a victorious manner, here we have enlisted few important tips which one needs to follow.
Essential Job Interview Tips:
Tips to follow before an interview:
Research well about the company and job role
Contact the alumni for feedback
Provide a good view about you through your social media profiles
Try mock interview
Make all your documents ready a night before
Interview attire is important, so plan accordingly
Get a relaxed and good night sleep
Tips to follow during an interview:
Arrive the interview venue 15 minutes early
Be good with the staff
Answer the questions asked confidently
Ask right kind of questions to interviewer (if any)
Maintain a good body language
Impress your interviewer
Never speak ill about previous employers
Tips to follow after a interview:
Request for a office tour (if possible)
Plan your next steps
Send a thank you note to your interviewer
Follow up after a week
Average Amount of Time to Get a Job Offer:
Employment or getting a job offer is very important part of life. Moreover the time taken from the interview to a call from the employer is very crucial for any job seeker.
Any candidate who attends an interview would be having a rough idea of how the interview was and would he be getting a job or not. There are few signs which specially hints about the possibility of getting a job offer.
Now the hiring process of one organization differs from others, so does the final selection process of the candidate. Also there are many factors that need to be considered before finalizing the candidate.
As per National Association of Colleges and Employers (NACE) Recruiting Benchmarks Survey, the average time for hiring fresher college graduates or sending out a job offer can be 24.5 days from the date of interview.
It is very important to understand that average time for getting a job offer differs from one organization to other, also industry too holds a vital factor here.
There are many reports out there which showcases several cases, but as per Glassdoor reviews, the common average time to get a job offer can be from 8 days to 25 days. Though this is not definite but has a fair chance of being true irrespective of organization or niche industry. Moreover our sincere advice to all job seekers is to keep trying and attending other interviews too as it can broaden your chances of getting employed.
Steps in the Job Interview Process:
The interview is a vital step in the recruitment and selection process. In this competitive market, employers always wish to hire best talent for their organization.
So in order to make it possible, they lay out different levels of recruitment stages to filter the best candidates among others. The screening and hiring process of candidates differs from one organization to other but some of the steps would be common in every interview process.
Here we have listed the different and possible steps involved in the job interview process. It is not mandatory that all organizations follow the same process step by step but some of the stages can be blanked out by the hiring manager depending upon the job position and niche industry.
Screening of candidate resumes
Telephonic interview
First stage interview
Second stage interview
Third stage interview
Dining interview
Final stage interview
General HR interview (where you can ask questions to interviewer as well)
Following up after each interview
Background verification
Reference check
Conclusion:
Turning a job interview into an offer is no joke! Only professionals can handle this. But if you aren't, you can always become one by following some of these well described tips and ideas.
Not everyone starts off as a professional!Everyone has to put up with some struggle or the other in order to get hold of something they are so desirous of. Even though the post here doesn't promise you hundred percent successes, it definitely will help you out in some ways or the other. On that note, here's hoping that you earn great success in your upcoming job ventures and may you secure the job of your dreams!