In today's technological age there is hardly anyone who does not use a smart phone. Everyday there are numerous new apps that are coming up in order to assist us in whatever work we do.
Given here is a list of some of the most popular and useful apps that employees make use of while they are at work. Since in the work place, time means money and employees rarely have time even to take a deep breath, so here are few apps  for employees that help them, simply by the click of a button.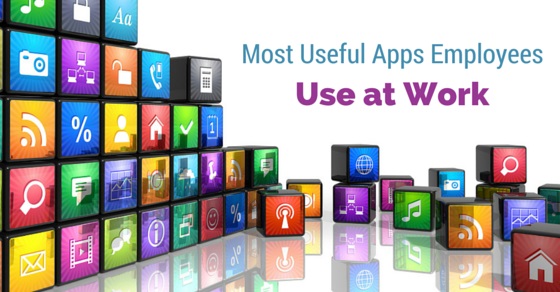 Best Apps for Working Employees:
1. Facebook:
Almost 70% of all individuals who use internet are active on atleast one social media site. Facebook is an app which almost everyone has downloaded on their smart phone.
Though many companies do not allow their employees to browse though their account during work hours, yet there are several companies which encourage employees to make use of Facebook as a powerful advertising tool to help in marketing some goods, or even get feedback about some product they recently launched.
2. WhatsApp:
An app which is used across the globe is WhatsApp, In addition to the fact that we can communicate to our friends via this app, when at work we can also make use of it to send and receive images, voice notes as well as videos.
One of the newest features that WhatsApp has introduced is the whatsapp calling feature which has received a lot of positive feedback. In addition to this a whatsapp group or a broadcast message could really help a group leader or a boss easily communicate with employees.
3. Gmail:
Previously there were many sites like yahoo or even hotmail through which people would send mails to one another. However now most people prefer to make use of gmail, since it is available as an app and in addition to this employees are able to send files and attachments containing huge amounts of data to one another without any sort of trouble at all.
Once you make a gmail account you can access Google Hangouts and chat or video conference with any co workers or clients.
4. Skype:
One of the most reliable apps which people make use of when they need to have a video chat with their clients or co workers is Skype. Much of the services which Skype provides are free of cost, except if you would like to call a landline or mobile number.
In addition to doing a video call, Skype allows you to send instant messages to and fro, send videos or files and even conduct video conferences involving more than two people. The initial release of Skype was in 2003 and till date it continues to be incredibly popular.
5. Microsoft Office:
The Microsoft Office consisting of Microsoft Office Access, Excel, Groove, InfoPath, One Note, Outlook, Power point, Publisher and Word can be downloaded on any normal desktop or computer and is used widely by companies across the world whether they need to draft letters or make special power point presentations.
These tools are not difficult to master and once you get accustomed to it , your work will be completed in no time at all.
6. YouTube:
Youtube too is an app which many employees are not allowed to use at the work place, however in advertising or marketing companies, YouTube is a very powerful and important app which they need use of in order to upload their newest ad campaign.
As opposed to making huge bill board advertisements or buying television ad time, YouTube serves as an inexpensive medium through which even new companies can gain immense popularity for themselves.
7. Zomato:
While at work it might often happen that employees may not get the time to go out and grab a meal during lunch time. So what they prefer to do is call up a restaurant nearby and order food for themselves and have it delivered to their work place.
Zomato is a free of cost, user friendly app that provides all kinds of information on any and every restaurant no matter how small or big. So whether you want to view menu, get delivery details, location or price range, it's all there for you, just a click of a button away.
8. Google Drive:
In recent times Google Drive has gone so far as to serve as an alternative to the Microsoft office. One of the best parts about Google Drive is that it allows you to maintain a comprehensive track sheet and even saves information immediately.
In addition to this it also allows you to share viewership with other co workers and clients that might like to take a look at the track sheet. If two people are working on the same track sheet, from different locations both can edit or make changes to it, without any trouble.
9. Time Doctor:
One of the best ways to ensure that your employees are not whiling away their time in an unprofessional manner is by making sure that you get them to download an app called Time Doctor which really helps increasing the efficiency of all the employees.
In addition to providing information about employees on screen activities it also allows bosses or senior to monitor how much time an employee is taking to do each task no matter how big or small it is. This is a useful app that is used globally.
10. GoToMyPC:
GoToMyPC is a remote control service of sorts that simply allows you to access files on your computer from another computer. Since this app can be easily downloaded on ipads, iphones or even android devices it is widely made use of.
So even if you do not wish to carry your heavy laptop to work, all you have to make use of this user friendly app to help you access any presentation, videos, documents or files which you might be needing in the course of your day.
11. Wunderlist:
Any employee has to make a strict work life balance in order to ensure that he or she is missing out on nothing. In addition to having a number of professional responsibilities every person also has a number of personal chores to take care of.
Wunderlist is an app which many employees make use of to help them make a comprehensive list of things that they need to do in the course of a day. This helps them ensure that they forget nothing!
12. Cisco WebEx:
The major products offered by WebEx include, WebEx AIM Pro Business Edition, WebEx WebOffice, WebEx Connect, Meeting Center, Training Center, Event Center, Support Center, Sales Center, MeetMeNow, and PC now.
All these products come under the CISCO collaboration portfolio umbrella. This company established in 1995 continues to remain relevant and widely in use even today, when employees need to conduct video conferences, web conferencing or even web conferencing.
13. Twitter:
In addition to making twitter accounts for personal reasons, there are numerous employees that make use of twitter accounts in order to promote or market any particular product.
Twitter is a great way to interact with clients and even receive feedback on some project recently launched. When it comes to launching new products everyone wants maximum viewership and Twitter really helps companies to reach out to many across the globe.
14. Apple iCloud:
Needless to say that Apple products are much sought after across the globe and what companies do is that they back up all their information and documents of their Apple computers and devices to iCloud so that even in case of a technical glitch none of their precious information or database is lost.
The fact that iCloud has over 300 million users (In a survey conducted in 2013) is a testimony and validation of the fact that it is so useful and user friendly.
15. Linkedln:
Linkedln in layman's terms is the Facebook of the business world. With over 20 million users across the globe, what Linkedln does is that it is a great way to promote professional networking.
All employees in any big company make use of this app in order to expand their contacts and interact with their contemporaries in the business world.
16. Evernote:
Owing to the fact that this application is supported by a number of operating systems like Chrome, Microsoft, iOS, Windows and Blackberry points to the fact that it can be downloaded on any desktop or even mobile device.
What this app does is that it allows you to create a note which can be in the form of a picture, a text, or even a voice note. Once you have made 'note 'of your idea you can edit it or even attach files to it.
Final Words:
So these are the most useful apps which employees frequently use in their work place so as to get their jobs done faster. Since most of these apps are free and can be downloaded to any computer or mobile phone, they have gained immense popularity across the globe.
If you work in a company and have not heard of some of these apps then you should download them on your phone and see whether or not the app suits your needs and wants.
Save
Save