For starting a business the top most or one of top three priorities for every businessman has been innovation. In a survey performed by Boston Consulting Group almost 79% of the respondents counted on innovation as most important priority. Importance of speed, well managed, good R&D culture, and use of proper technological factors being the other priorities, innovation in product or service has been fetching the top most position in the success of a business in long run. In various categories there are several companies that have made innovation as one of the strongest agendas to stand straight in the competition market and have consistently recorded success. Consistent winners to name a few are Google, Microsoft, Apple, Samsung, Toyota, Amazon, BMW, IBM, Hewlett Packard, Nike, Sony, General Electric, Sony, Intel, Proctor & Gamble and many more. Below mentioned are the few top companies who took innovation as their main mantra to stand still in the long run competition and ranked the most innovative companies in the world.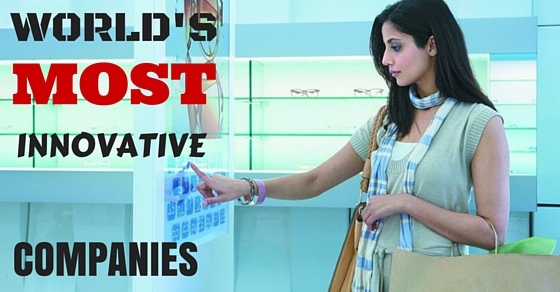 List of World's Most Innovative Companies:
1. Apple:
Apple is a multinational company based in America which is popularly engaged in the designing, developing and selling of consumer electronics, software and other various online services. It has its headquarters in Cupertino, California. The company software products include the iPhone series of smartphone, the iPad tablets and computers, the Mac personal computers, the iPod media player range and the Apple Watch. The world's largest company by revenue, it was founded Steve Wozniak, Steve Jobs, and Ronald Wayne on April 1, 1976, purpose was to develop and sell personal computers. In the mid 80's when most of the users were still working via a single command line, Apple went ahead with the introduction of the original Mac, thus thereby popularizing the idea of using a mouse to interact with the computer. Other innovations like multitouch function, laptop trackpads, fingerprint sensors, Graphical user interface, 3D touch add more stars to the world's most popular innovative company Apple.
2. Instagram:
Another most innovative service provider company in today's world is the Instagram. Instagram is basically a service that gives opportunity of mobile photo & video sharing as well a social – networking service that helps its users to click pictures & videos followed by sharing it in public or privately on the app. It also enables them to share via a number of social networking sites namely Facebook, Twitter, Flickr and many more. Created by Kevin Systrom and Mike Krieger Instagram originally confines the clicks into square shapes just like Kodak Instamatic and Polaroid pictures. It demolishes the concept of photo ratio uploading by innovating its latest version 7.5 allowing the users capture and post photos in any aspect ratio.
3. Google:
Another most popular and high striking innovative company is Google. An American multinational technology company dealing with internet related products & services. Its services include a vast arena from online advertising technology, search engine, cloud computing and other software. It achieves its maximum popularity and revenue from the Adwords, producing advertising results as well near to the search results. Carrying the mission statement "to organize the world's information and make it universally accessible and useful," Larry Page and Sergey Brin , founded the company in 1998. Since then it continues to create innovations in the field of internet search. With a number of innovative services like Google Docs, Google Drive, Gmail, Google search, Google +, Google photos, Hangouts it ranks higher in the field of innovation.
4. Tesla Motors:
Conservation of energy and introduction of power run electric cars has made Tesla Motors its way to one of the world's most innovative companies. Tesla Motors, an American automotive and energy recycling company that is the designer at the same time manufacturer and seller of electric cars, vehicles, power trained components and battery products. Headquartered at Palo Alto, California, Tesla Motors was founded in the year 2003 by Martin Eberhard, Marc Tarpenning, Elon Musk, JB Straubel, Ian Wright. Unlike other automotive companies Tesla uses large numbers of lithium-ion 18650 commodity cells. These cells are smaller in size cylindrical shaped battery cells mostly used in laptop and other consumer electronic products. These cells make the manufacturing process cost effective and also help in making the vehicle light weight. Tesla also decides to remove some safety measures which as per them is no longer useful, thus making the vehicle light weight and a cost effective manufacture. Tesla motors instead uses an advanced thermal management system and a protective chemical in the battery pack that prevents battery fire.
5. Samsung Group:
Today's largest South Korean business conglomerate is Samsung. Headquartered in Samsung Town, Seoul, Samsung comprises of a number of subsidiaries and affiliated businesses those are mostly united under the brand Samsung. Founded by Lee Byung-chul in 1938 as a trading company it diversifies with decades into food processing, insurance textiles securities and textiles. In the late 1960s Samsung entered into the electronics industry, particularly mobile phones and semiconductors have become most fluent source of its revenue. Measured by 2012 revenues Samsung acquires the position of World's largest information technology company and in market value ranked as 4th in world. One very promising area by Samsung is the Samsung Strategy & Innovation Centre which focuses mainly on discovering & nurturing of new technology in new areas such as mobile health & wellness, cloud computing, data centre, human computer interface technologies, security & privacy and many more. Headquartered in Silicon Valley, SSIC's main motto is to develop & accelerate innovative technologies to enhance human lives and give chance to new possibilities in partnership with entrepreneurs. Samsung's innovation and advancement in technology has made life easier and comfortable giving a new edge to tomorrow's life and lifestyle.
6. BMW:
BMW, basically a German company, is one of World's highest selling luxury auto makers. It has marked its position in the World's most innovative by manufacturing Luxury motorcycles, vehicles & engine. With its headquarters in Munich, Bavaria, Germany, BMW was founded in the year 1916. Along with its innovation with the invention of the manufacturing of Rolls-Royce Motor cars it also owns & manufactures Mini cars. After World War 1 BMW also expanded its manufacturing to Motorcycles & motorcycle engines.
7. IBM:
An American based multinational technology and consultancy corporation that holds higher position in world's innovative companies is the International Business Machines Corporation commonly known by its abbreviation IBM Corp. Headquartered in Armonk, New York, IBM extends its business from manufacturing and marketing of computer hardware, middleware and software to offering infrastructure, hosting & consulting services in vast areas like mainframe computers to nanotechnology. The company started its functioning in 1911 as a CTR (Computing-Tabulating-Recording) company. It was renamed IBM in 1924. After entering into a swap agreement IBM and the World Bank first introduced the financial swapping publicly in 1981. The famous inventions and innovations by the company include ATM, Magnetic Stripe, UPC (Universal Product Code), SABRE the airline reservation system and many more in the field of electronic innovations.
8. Unilever:
An Anglo Dutch multinational consumer goods company Unilever is co-headquartered in Rotterdam, Netherlands & London, UK. Measured by 2012 revenue Unilever stands as the world's third largest consumer goods manufacturing company which engages itself in the production of food products, beverages, cleaning agents & personal care goods. Focusing on 14 most important brands Unilever owns around 400 brands. Organized into four segments: Foods, refreshments, home care & personal care, Unilever competes with World's other two high ranking companies namely Proctor &Gamble and Nestle. Unilever has marked its footprints by promoting its environmental impact from its origin and also by helping 1 billion lives in improving their healthy being.
9. Microsoft Corp:
Microsoft Corp. widely known as Microsoft, is an America based multinational Information Technology Company who makes its mark in the manufacturing, development, licensing of services, sells and support of software, consumer electronics and personal computers & services. Few of the most renowned innovations of the Microsoft Corp. are the Microsoft Windows series of Operating systems, Internet Explorer and Edge web browser. Being one of the world's most valuable companies Microsoft also ranks as the world's largest software maker by revenue. In the mid 1980's its innovation of the personal computer operating system MS-DOS it started leading the market. The company's acquisition of Skype technologies marks the peak point of acquisitions till date. Side by side of its manufacturing of a wide range of software for desktops & servers, it also plays an active role in the Gaming Industry, internet search, digital services and mobile phones as well.
10. Biogen:
An American global biotechnological company with its Headquarters in Cambridge, Massachusetts, U.S. marks its very firm foot prints in the discovery, innovation, development & delivery of Therapies to the treatment of patients who are suffering from Neurodegenerative disease, Hematologic & autoimmune diseases worldwide. Biogen founded in 1978, focuses its discoveries and innovations in the field of treatments of patients with neurological, haematological and immunological unmet medical needs. Biogen's discoveries range to antisense technology in the advanced treatment of neurological disorders. Biogen adds another star in the field of innovation by entering into a joint venture with Samsung to utilize the Biogen expertise and capabilities in protein engineering, cell line development and many more.
11. Facebook:
Facebook, an America based corporation on online social networking with headquarters in Menlo Park, California, in the US marks its obvious position in the list of world's most innovative companies. Founded on Feb, 2004 by Mark Zuckerberg and few of his Harvard college roommates, it was first confined to registering only Harvard students, slowly expanding its registration with Boston and 2006 onwards anyone who attended 13yrs of age can register and create profile to network. Now the number of active users counts to 1.59 billion monthly. As per an announcement made by Facebook in 2015, it has reached two million active advertisers. Facebook's constant innovative character introduces a number of facilities to its users every now & then. To name a few are: Notes, Chats, Gifts, marketplace, messaging, voice Calling, video Calling, Video Viewing, User timeline, News feed, like button, following and many more.
12. Johnson & Johnson:
Johnson & Johnson, an American multinational company founded in 1886, marks its presence by manufacturing medical equipments, pharmaceutical and packaged consumer products.With its headquarters in New Brunswick, New Jersey, Johnson & Johnson operates in more than 57 countries and sells products worldwide of $65 billion in the year 2011. Its brand excels in the manufacturing of consumer products like Band-Aid along with a line of first aid products. Its monopoly in Baby products has made its name to the list of most innovative companies in the world.
Conclusion:
When a company discovers something unique and off the track utility product or service, it is innovative. Here are mentioned a few essential check list that could make a company innovative from in & out.
Clear & Unique work strategy: A company may not be globally renowned always but it should be clear and unique in formulating its work strategy. If a business does not possess a well defined strategy it cannot stand the test of innovation in the market.
Innovation should not be treated as GOAL but STRATEGY.
Innovators are the trend setters. They may not always turn up to be very profitable, but innovation should not stop.
A culture of innovation should be always maintained.
Big innovators believe in doing both, invest in brand new products as well improve existing ones. They prefer to learn while they do.
Innovation should be associated with trust. Failure or fear should not interrupt with the erg to innovate.
An Innovative company should always be engaged in extensive research and experimenting. Any question rising in the mind should not be let go. It should be researched and experimented till a new clue emits from it. Leaving back a question is always treated as a sin for companies those who innovate.
Save