Usually, most of the day we spend at office revolves around using skills that are honed by us and completing all those tasks that excite us. We would then have to delegate the stuff to another person (ideally someone for whom the task would be exciting) i.e., outsource tasks to someone to save our time.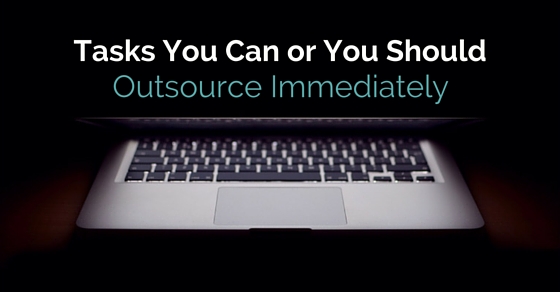 Even though this does look like a lofty goal, the truth is that you are able to outsource far more than you think. You can use several delivery services and help from virtual assistants. Once you have dabbed the practice for over the next 18 months, there are some tips we have discovered which will boost your productivity. Don't believe us? Just keep reading this post and all your doubts will be taken care of.
And so on that very note, let us look at some of the basic tasks you can ask someone else to take care of at the office.
Five Things to Consider Before You Outsource Tasks:
Though outsourcing can be done for most of the job roles but you need to connect and network with the right kind of people. Your virtual team will play a major role to succeed in your tasks.
Now before you outsource tasks one needs to consider these 5 criteria.
Time
Repetition
Procrastination
Lack of Knowledge
Worry about
Outsource these Tasks to Virtual Staff:
1. Book keeping:
Bookkeeping happens to be full of responsibility and can be quite time-consuming. But you really don't have to take care of it. You could ask or hire a skilled person to handle a job like this. This will help you focus on other things that are far more important. Some of them include accounting and invoicing. A lot of burden will also be reduced from your shoulders. So outsource bookkeeping right away to someone else, who know the job better than you.
2. Email:
Think about the amount of time you spend on managing all emails and taking care of important files. If you can get hold of a virtual assistant to do that, someone will be present to screen your messages. In that way you will be handling those emails that are important or need some kind of urgent response. Not just that, a lot of time will be saved so that you can focus on doing other important things.
3. Social media marketing:
Now social media marketing is also something that could be given to someone else. You don't have to take out a lot of time in order to get it done. Effective social media marketing will need you to handle consistent and long term engagement. If you don't have several hours to spend on something like this, then you might as well outsource it. Someone else needs to learn about your stuff so they can post things regularly online and respond to comments on Twitter, Facebook and other social media.
4. Writing and presentations:
Now writing and presentations are something that takes up a lot of space and time. And they can definitely be outsourced because there are several other things you need to handle alongside. And these jobs are all crucial so you cannot leave any of them behind. You can try to employ professional writers who can create new blogs and newsletters, promotional flyers and marketing communications. People who can handle power point presentations like professionals are also good enough to take care of it. There should be others who can handle thank you notes and goodbye cards. You need someone to do it. So why not hire people who can do both.
5. Research:
Research is also something that needs you to stay focused. You might have to spend quite a bit of time on a regular basis if you want to keep everything up to date. So make sure to outsource this. Hire someone who can assist you in stuff like this and keep you informed of new things happening all around you.
6. Managing websites:
Managing websites are also important. This could be outsourced instead of doing it alone since this also will take up a lot of time and energy. There are plenty of professionals and web engineers out there who are capable of handling things like this. Also remember that the job is technical and will require outsourcing so you just can't do it alone. Even if you are a professional, do know it will need some time.
7. Travel:
You don't have to take care of the traveling part if you own a company. There should be someone else to take care of that. Let one of your juniors take care fixing dates and schedules. Not just that, they should be handling tickets, booking them and taking care of all the other stuff that fall under travel. In that way, you will be employing someone and at the same time reducing your load.
8. Proofreading:
Proofreading is something that takes energy and needs a professional. You cannot do it on your own, especially if you don't know the stuff too well on your own. So we would definitely recommend you to outsource this. Hire a virtual assistant maybe and ask them to check all the graphics and communications. There are people who belong to the freelance sector and are willing to do stuff like this.
9. Data entry:
Data entry will also need someone else to handle. All the business cards you have collected from the last meeting you had, needs to be kept safely with someone else. And nobody can do a better job than someone who is capable of handling stuff like this. Make sure the person is mature and responsible enough to handle it.
10. Calendar:
You could use a cloud-based or even a shared calendar which one of your virtual assistants can manage. You may schedule and confirm your appointments at the same time. This will again help you manage time and pay attention to other important things at office.
11. Appointments and Reservations:
Business meetings are often conducted outside, somewhere like a decent restaurant or a fancy and less noisy pub. And that happens quite often. So there has to be someone in your department or office that has enough time to devote to stuff like appointments and reservations. Because busy professionals hardly have the time for things like these!
So make sure to hire someone who will handle things like these for you. Appointments also include booking the dentists or doctor's appointment, booking a show with new business clients, booking a hotel for the next trip etc. All these things cannot be handled alone. So find someone to do it.
12. Translation:
We have all used Google Translator at some point, especially when we use a website that is not in English. But if you are in need of something that is far more accurate than Google Translate, then go to freelance websites or look for freelancers who can do it for you. There are plenty of people out there willing to do it with a bit of monetary websites. It will take a couple of minutes to set up an account. Do this and half your problems related to translation will be solved.
13. Answering the phone:
Your virtual assistant will not be able to answer the phone. So look for someone who can do it. A receptionist should be present in every office who can handle all important calls and take care of other important things. This will help you attend all those phone calls that are important. There are other tools like Voice Cloud and My Receptionist who are willing to offer you with receptionists… especially virtual ones. They will pick your phone calls all the time and take care of your office burden.
14. Meal Cooking:
People like to think that meal cooking is just for celebrity chefs but that is not the case. In every office there is someone who handles the food. The cafeteria needs good food so you will need someone who can handle cooking well. Our recommendation would be to get someone who has some degree in cooking and can help you with the food. In that way your budget will also be reduced and meal problems will never occur again.
15. Task Outsourcing Tips:
Always remember to be clear and concise with your tips and instructions. You should create a document that has all the instructions on how you should get the work done. This means your assistant will be able to refer it to anytime they are not sure about something.
Secondly, learn to be fair. Don't hire someone just because they are going to charge you with less money. That is just a very unrealistic expectation. Be fair and keep things fair. This also includes money. You will be paying for the quality of work so remember that.
107 Tasks to Outsource to Virtual Staff to Grow Your Business:
The success of any business truly relies on the employees they hire for the work. But not every organization would be able to hire full-time employees for all the works. As an alternative, they outsource some virtual people for their work
When a team works together towards a goal, nothing can stop them from achieving it. Also, employers need to hire a virtual team for the work and not for specific tasks. Now to make your company succeed here I have segmented few jobs that can be outsourced to virtual employees.Some of the types are,
Web Developer
Graphic / Web Designer
SEO / Web Marketer
Content Writer
Audio / Video Editor
General Virtual Assistant (GVA)
Here we will be discussing specific tasks that come under each job role mentioned above
1. Web Developer Job Role:
Some of the major tasks that a web developer needs to handle being a virtual employee are
Install and Support an Email Ticketing System
Payment Gateway Integration
Social Media Integration and CRM Integration
Site Maintenance / Security and Troubleshooting
WordPress Functionality and PlugIn Enhancement
WordPress Theme Customization
Install WordPress Plugins and Themes
Support and Develop WordPress (PHP) Websites
2. Graphic/ Web Designer Job Role:
Some of the major tasks that a Graphic/web designer needs to handle being a virtual employee are
Basic Video Editing
Designing Landing / Sales / Opt-In Pages
Designing Websites, Creating Mock-Ups
Designing Infographics Images
Designing Logos, Banners, Icons, eBook Covers and Headers
3. SEO / Web Marketer Job Role:
Some of the major tasks that an SEO / WEB MARKETER needs to handle being a virtual employee are
Monthly Keyword Ranking Reports
Weekly / Monthly Google Analytics & Traffic Reports
Link Building/ Creating Backlinks
Forum Participation / Moderation
Blog Commenting – Off-Page Optimization
Creating a Social Bookmarking Tracking Sheet
Social Bookmarking
Off-page optimization for a post / page
On-page optimization for a post / page
Sitemap Submissions
WebMaster Submission
Landing Page Set-up/Creation
Competitor Analysis
Keyword Research for Blog Content
Site Analysis
4. Content Writer Job Role:
Some of the major tasks that a CONTENT WRITER needs to handle being a virtual employee are
Article Marketing
Article Spinning
Directory Submission
Copywriting
Newsletter Writing
Press Release Writing
SEO Writing
Guest Blogging
Content / Blog Post Creation
5. Audio / Video Editor Job Role:
Some of the major tasks that an AUDIO / VIDEO EDITOR needs to handle being a virtual employee are
Podcast Insertion on Blogpost
Podcast Setup on iTunes
Powerpress (Podcasting WP Plugin) Installation
Basic Photoshop / Image Editing
Adding Intro's and Outro's to Videos
Removing Background Noise from Audio and Video
Basic Editing of Audio Files
6. General Virtual Assistant (GVA) Job Role:
Email Marketing:
Editing / Proofreading Emails
Creating Email Newsletters
Editing Follow-up Emails and Auto-responders
Creating and Scheduling Broadcast Emails to Promote Content
Adding and Removing Subscribers from Lists
Creating a New List in Email Marketing Software
Blogging & Administrative Tasks:
Create Slideshare Presentations
Answer inquiries and Messages on All Channel & Profiles
Uploading Videos to other Video Sharing Sites / Social Media
Moderating YouTube Comments
Upload Videos on YouTube
Create and Manage YouTube Account
Scheduling and Tracking Pins
Create Pinnable Images on Pinterest
Create and Manage LinkedIn Account / Profile
Schedule Tweets and Track Mentions and Hashtags
Managing and Increasing Your Twitter Following
Creating a Twitter Account
Collating and Interpreting Facebook Insights
Promoting Facebook Pages
Posting and Scheduling Facebook Insights
Creating Facebook Fan Pages / Groups
Social Media Management Tasks
Deadline / Deliverables Tracking
Training of New Virtual Staff
Preparation of Training Materials
Project Management Between You and Team members
Project Management & Training Tasks
Personal Errands
Basic Bookkeeping
Sending Client Invoices
Voicemail Checking
Receptionist Duties
Adding Tags & Images to Blog Posts
Moderating Blog Comments
Blog Publishing Management
Lead Generation/Data Mining & Development
Online Research
Document Template Creation
Forms Creation
Report Creation
Preparing Online Meeting Minutes
Formatting/ Simple eBook Layout
Transcription of Video and Audio Files
Organization and file storage Tasks:
PDF Conversion, Splitting and Merging
Keynote Presentations/Preparing Powerpoint
Creating / Managing Spreadsheets
Data Entry in Word, or Google Docs
Dropbox / Google Drive Organization
Email & Schedule Management Tasks:
Reminder Services
Travel Arrangement and Planning
Appointment Scheduling
Calendar Management
Sending of Greetings eCards, Event Invitations, etc.
Answering Customer Service Emails /Tickets / Chat Support
Database Building / Updating Contacts or CRM
Filtering Emails / Managing Spam
Conclusion:
This brings us to the end of the list. Hopefully, the article has helped you to outsource tasks to virtual assistants. In case you aren't satisfied with the article and have a couple of questions in mind, feel free to ask us. Also, we are waiting for your feedback. Let us know how useful this post was for you. On that note, good luck, and here's hoping you have carried something worthwhile after reading this post.
Save