We all want the job and make lots of efforts to land one but your job become your worst nightmare when you have a bad employer. There are many cases where people got stuck in bad jobs and face many problems as well as suffer unnecessary stress and anxiety which cause many other problems as well. There are organizations and bosses who treat their employees with bad manners and make them work more than what they are paying and doesn't allow any holidays and vacations as well. Now the question is how to spot bad employers?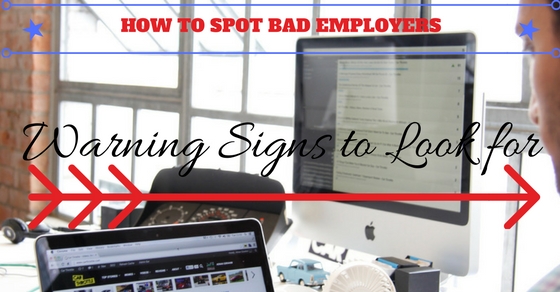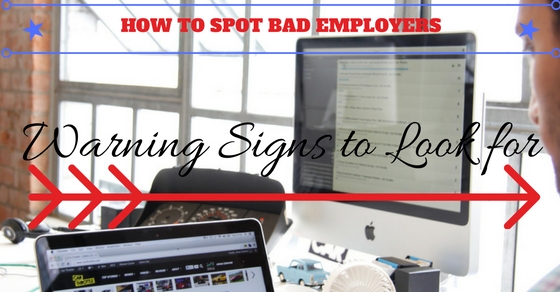 In this article, we are going to discuss that how can someone spot bad employers and get rid of them before engaging further. Read this article to know more about bad employers and how to spot them because it is good to be safe than sorry.
Toxic Traits of a Bad Employer:
1. First interaction, first impression:
It is said that your first impression is your last impression. Same goes when you have your very first interaction with HR manager or someone from recruitment department when you apply for the job and this present you very first opportunity to check whether you had applied for the right job with the right organization. Notice how they are behaving with you, way of speaking and how they address you etc can give you your first clue about the recruiting organization. If they are behaving strangely in your very first interaction whether face to face or call then reconsider your application of job with the organization.
2. Lack of creativity in advertisement:
When a company starts recruitment to hire staff or to fill a vacant position they create advertisement so that they can attract potential employees for an interview and can select best out of many. There advertisement shows what kind of people work with the organization, if the advertisement is too catchy or too dull then be alert. Check how much information they are providing in their advertisement. Companies advertisement play an important role in telling you if there is something wrong, if the advertisement doesn't give clear message what company want then don't apply for the job.
3. Workplace:
Company's workplace tells a lot about what type of a company it is. Check the workplace when you go to the interview and notice small details like how people are working there, if they are laughing and talking or the workplace seems dull. You can apply restaurant theory which says a good restaurant always have sounds of laughter, chatter and full of colors similarly a workplace is something where people do interact with each other as well as smile, laugh also. Check your potential workplace for all these signs and if you notice something out of place then avoid working there because this sign may be the warning bell for you.
4. Environment:
The good working environment is necessary for a company to fulfill and grow as well as it increases employee's productivity because they are happy and satisfied in a good environment. If the company you apply for doesn't have a good working environment for the employees then do not apply for the job. You will never get to grow in such companies who make their employees work hard in the shitty environment and it will also make you depressed as well. There are some good companies who cater every need of their employees and provide an environment to grow personally and professionally, look for this type of working environment when you try for the new job.
5. Staff behavior:
Just like happy family represent happy family members, the same way a good organization has happy staff that love working there and work to take the organization to new heights. Check out how the staff of your potential company behaving while interacting with each other and with you, they are smiling when welcoming you or they have frowned on their face? If an organization have unhappy staff then it is the sign for you to take the hint and avoid engaging with this organization because if the staff is not happy then their top level of organization doesn't cater their need properly.
6. Surroundings:
Successful organizations always have workplace somewhere decent and easy to accessible with good surroundings. Checks the surroundings of the organization and where its main office is when you apply for the job. If the surroundings and location are somewhere very far from marketplace and civilization which is hard to get then be aware of fraud or something. Noticing these little sign can help you from getting in trouble. Make sure it is safe there when you go for an interview or check beforehand.
7. Lack of response from staff:
As we said in the previous point good staff is the sign of good organization. Check the response of staff when you ask questions about the organization, working strategy and other common details, if they are avoiding eye contact and fidgeting then they are hiding something or not telling you the truth. If the staff working there is not happy with management or don't like working there and giving you false information or indirect answers, then it's a direct sign for you to go and don't come back.
8. Hiding information:
Most organizations share information about their goals, future, clients and what they are working for and do hiring as per the demand of vacant post but if the organization you are giving interview doesn't give a clear answer of the question and hide information that there is something fishy. Ask yourself what is the need of hiding basic information which encourages people to apply and work with them, you will get your answer that why you should stay away from such organization. If you have already done interview part then don't accept offer letter before making sure you are working with right one.
9. No direct question answer:
If the manager doing an interview is not asking a direct question and answers then be alert, if he is asking irrelevant questions and doesn't ask things related to the job then do not accept offer letter. Each and every organization have many interview rounds, ask thousand question and give the right answer to your question but if there is something missing then this is the time you say goodbye and leave because this is not the right place to do the job.
10. No clear strategies, policies:
You make strategies to do a certain task and have policies to keep your life on track. Same thing happens with the organizations and companies; they make strategies and have policies for their worker and to do the work. A well defined structure followed to do the task and if a company doesn't have clear strategies and policies how they will work? What will be the criteria of work and growth of organization and employees if they don't know what their goals are? How will you grow in such type of organization? No chance of moving forward for you if you working with such organization.
11. Company's reputation:
You know what Microsoft is? You are well aware of what Microsoft does and its reputation in the market, you don't need any introduction for Microsoft but the organizations you are applying have a good market reputation? It doesn't matter how big or small is the organization you are applying for but what depends on is the reputation of that organization in the market. If the organization you are applying doesn't have a good reputation, satisfied client, and good public image then don't go to work there as it will tarnish your image as well when you associate with such organization.
12. Direct hiring without interview:
Which organizations do hiring without any round of interview or without doing a background check? No one right? Hiring right candidate is very important for any organization because it cost very high to have an unqualified candidate and take more money and time in replacing that candidate. If the organization you applied for giving you a job without any interview then don't accept the proposal. There is something fishy in their otherwise no organization want unnecessary loss. This kind of proposal look good at first but they are just traps to catch innocent people.
13. Lack of trust:
Trust is very important to build any relationship whether it is personal or professional. Most organization do a necessary background check before hiring final candidates for the job and if organization work with something confidential and important then background checks is done more strictly but trust is necessary. If the organization you apply for is not trusting you and information you provide then do not work there. They will not trust you in the case of any problem and can blame you for the fault, or maybe they are something else. Don't take a chance and if you're going to take a chance then you too do a background check on a personal level.
14. Colleagues behavior:
Working in healthy environment increase productivity ten times and if you enjoy working with your colleagues then you do your job in a much better way. It is important that you enjoy your job and have good relationship with your colleagues and office staff as well as your boss, but if you can't work with your boss and colleagues and have issues then do not work there as you will be unhappy there and you can't work your best when you are not even happy with your work.
15. No feedback:
Feedback from both sides is important but feedback from the organization regarding your job and interview play more important role. If the organization you applied for doesn't give feedback then dont work for them. Feedback is important and they show the importance of the job to employer and candidate to the interviewee. Feedback from organization also shows that they were serious about the job.
16. Ask questions:
Ask questions to your potential manager, interviewer, and other office staff and if you don't get a satisfied answer then this is the sign that something is wrong in here and it is not good to work here especially when it is your first job. The asking question shows that you are interested in your interviewer and answering those questions shows that they want someone good to hire. So ask questions, whatever is in your mind and clear your doubt.
Conclusion:
Getting a right job is one of the most important things to have a successful career. People do make lots of effort to land a right job and work hard to get successful. Just like the right candidate is important for the successful organization, the right organization is necessary to be successful otherwise no matter how hard you work. there are frauds and cheater at every next corner you turn.
We have discussed the way you can detect if the organization you apply for the job is right one or not. Follow these simple steps to keep yourself safe from organizations that are like evil from hell. We are not saying that every organization is bad, we are just saying there are frauds more than genuine organizations which can harm you in more way you can imagine, and it is good if you keep your eyes and ears open.
Trust your gut feelings, listen to your heart and use these points to keep yourself safe and to move ahead in your professional life. There are organizations that make sure to keep their employee healthy and happy so work where you can learn and grow without any problem. We wish you all the best for your future and hope that these points can help you in spotting bad employer.