In this fast paced world, it is essential for us to be organised, prepared and up to date. Competition is everywhere, and while everyone wants to reach the top, it is only the handpicked ones who are able to win this rat race, which we call work.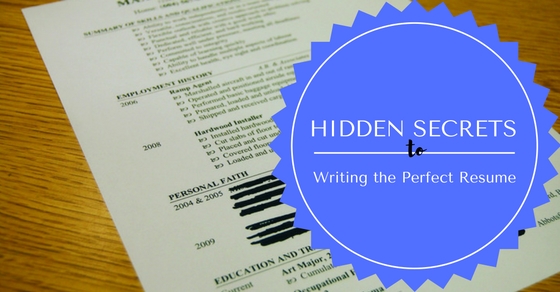 One of the most important things you have to do in order to snag that dream job is to put yourself out there in front of your recruiters. Personal grooming, speaking skills, talents, hard work are only secondary when you are trying to get yourself noticed by your recruiters. The first step of getting to know you, will be the impression they get of you through your resume. Hence, in order to make yourself stand out there with the 'Perfect resume',
How to Write a Perfect Winning Resume:
1. Simple Font and Wordings:
While it is obviously of utmost importance for your resume to contain impressive but accurate information of your skills and talents, the first thing that will catch your recruiter's eyes will be the presentation of your resume.
You must avoid using fancy fonts which could turn out difficult to read or even illegible. If you want your resume to be read, make it readable! Simple font such as Times New Roman, printed out in a good font size (size 12-14 is recommended), would make it easier for them to read, as well as make your resume look neat and presentable.
While you might be under the impression that writing in fancy language or using big words, using jargon might impress your recruiters, the case might turn out to be completely opposite. Complicated word usage would make them feel irritated and think that you are not writing to the point information. Always write in simple words which are easy for everyone to understand.
2. Follow A Proper Format:
You don't have to go all creative on your resume! You can showcase your creativity elsewhere, but your resume should always be neat, clean, and pleasing to the eye. Follow a certain structured format. Write your name on the top in bold, preferably using font size of 12 or larger. Then write down your contact information, and then details of your work experience. Ideally use a 1 inch margin all around, so that it doesn't look too cramped up, or hiring recruiters might reject it at first go.
3. Pay Attention To Spelling And Grammar:
After you are done building up your resume, always give it a proof reading. If required, get it read by someone else who can point out any minor mistakes or changes to be made. Use the "Spell Check" option available to ensure there are no embarrassing spelling errors.
4. Be Transparent:
Nowadays, transparency is one of the most important factors recruiters and companies will be looking forward to, from potential employees. Make sure your resume is designed in a manner that all your information and past work is transparent, there is nothing to hide. This will give your employers the trust that you have nothing to hide, and can be trusted in the company as well, as an individual. Include all contact information and social profiles ( do not include Facebook and social media profiles unless you are working in a digital job, such as for a social media role, etc).
5. Tailor Your Resume:
Another winning step that you can do, is tailor your resume to fit in to the jobs that you are applying for. It is not uncommon for people to be applying to different jobs or different roles at the same time. You want to always keep your options wide open and build up as much experience as possible.
But even if you are applying to varied jobs, one important thing to keep in mind would be to design slightly different resumes which would fit in with the job or role you are applying for. For example, if you are applying for two jobs at the same time- one for a banking job and another for a writing job, make sure both resumes don't carry additional, irrelevant information. Your resume for your banking job should contain your skills and talents required for that particular job, such as a background in commerce, etc, while your resume for your writing job should contain information relevant to that job. Adding irrelevant information will not be a plus point in this case, as it will be over looked by the hiring managers.
6. Length Of Your Resume:
The length of your resume should reflect your years of experience. A resume is not supposed to be treated as an essay writing contest, so if you are in your 20s and do not have a great amount of work experience, a one page resume would be the best. It should be short and precise.
On the other hand, if you have 10 years or more of experience, you can add this in a two page resume. But keep in mind, if your resume is too long, it might just be rejected by the recruiters, as they have hundreds of resumes to go through. It is always preferable to be specific in any information you are providing.
7. Be Specific:
As mentioned in the previous point, your resume should not be a piece of paper for you to showcase your writing skills on. Include to the point information about yourself, and do not give elaborate details on these points. Your face to face interview will provide you with the opportunity to elaborate on the points you have included. Your resume should have short, crisp points which will give your hiring manager enough information about you to judge if you qualify for the next round or not.
8. Education and Work Experience:
These are one of the most important and relevant sections of your resume. Add bullet points of each and every educational background and achievements you have got. The higher the educational background, the better you look.
When you are adding your work experience, make sure to add details of the company and past employers details so there is full transparency.
9. Keep White Space:
This is a simple psychological technique used to make sure the important points on your resume are noticed. Do not clutter your resume with too many words. Be sure to keep some amount of white space in and around your resume so that the eye is drawn to the details inside the resume. Too cluttered, and the recruiter may be too put off to read through the rest of the resume.
10. Use Bold And Italics:
Another technique you can use to draw attention to important points in your resume is to use Bold or Italics in certain words. This will create emphasis on those points, which will create a more lasting impression of your words in their minds. Be sure not to get too carried away though, as using too many of these would create an impression of your resume being untidy or disorganised. The impact of the emphasis you wanted to create on certain words would also become invalid.
11. Use Keywords:
It is a well-known fact that many companies use computer recruitment tools to sift through resumes. Be sure to add important keywords pertaining to the job in your resume, or else it might be looked over by the computer which chooses relevant resumes.
12. "Work experience" and "Education" sections:
Certain things to keep in mind while adding your "Work Experience" and "Education" sections in your profile are, the order in which you are putting them.
If you are currently working somewhere, you must be aware to add your 'Work Experience" section first, and then the "Education" section. This way your resume would be more precise and up to date. Most of the time the recruiters would just scan over the resumes with the eyes, while paying more attention to the top sections of your resume.
Your current work experience would serve of more importance to your recruiters than your past education.
In case you are not currently working, the reverse order of this should be implemented.
13. Use Bullet Points:
The recruiters and hiring managers have the immense task of going through dozens, sometimes even hundreds of resumes. In today's hiring world, detailed resumes are simply too tiresome to read.
You should not leave out any of your work, responsibilities or achievements in your resume, but be sure to add them in crisp bullet points which will be easier to read.
When you list your past work places, be sure to add the list of responsibilities and relevant achievements under the companies' names.
14. Quantify:
In order to show accuracy and honesty in your accomplishments, always quantify them. Some departments work with 10 workers, while some have 500 workers. Specify. Your resume should not be filled with subjective traits, such as 'good leadership skills' and 'good communication skills'. Your resume should list your experiences and accomplishments.
When adding points such as "managed a department", a more promising resume would be on point, saying "managed a department of 500 staff" or "Managed a budget of INR 5 Crore" etc.
Try and link your accomplishments to the company's sales, as this would create a more definite impression of your skills.
15. Don't List Your Interest and Hobbies:
While it might seem like a good idea to add your interest and hobbies in your profile to give a better idea of yourself to your recruiters, honestly, they are not interested in this information. Save space on your resume and add actual information which will be of use to the hiring company, as recruiters are not interested what you do in your own free time.
16. Don't Reveal Everything:
The main aim of your resume is for you to get an interview with the company. While you must be transparent, don't include all information about yourself. Just add enough information to get the recruiters attention so that they would want to know more.
17. Language Skills:
If you are multilingual, be sure to add that in your resume. List all the languages you can speak, read and write. You never know how it might turn out to be an added advantage in the company.
18. Use Power Keywords:
Certain "power keywords' can be added in your resume to give it that extra weightage. It has also been noted that adding these keywords can increase the chances of your resume of being selected by 70%. These power keywords are-
Experience
Management
Project
Development
Business
Skill
Professional
Knowledge
Year
Team
Leadership
But whatever you decide to add, make sure it is relevant to your job profile.
19. Say Thank- You:
The last and most looked over point is, to be considerate, courteous, and always add a "Thank You for your consideration" after your resume. Not only will it leave a good impression about you, but also create an instant soft touch to your resume.