There are times when we get so busy while working that the last thing we want is extra or additional responsibility. Of course we don't have enough time for things like that. There is so much on our shoulders already.
But there are some who like to take on a whole load of responsibility. For these guys, more work means more excitement. They feel like it's a fun challenge. Plus the good thing about taking up a responsibility is that you make yourself prone to getting a promotion. And if you are someone who feels just like this but aren't getting enough work, then this post will surely help you.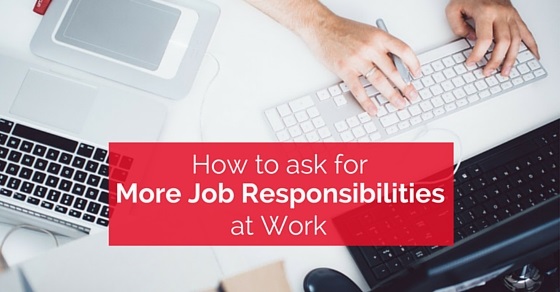 If you want to get more responsibilities at work, you must work hard enough to earn it. Bigger work responsibility always doesn't have to mean that you won't have time for yourself. This could be a great opportunity for you to show your leadership qualities. And on that note, here are some ways you can prove your worth at office.
10 Best Ways To Take More Responsibilities At Work:
1. Speak to your boss more:
If you want more responsibility at work, you need to speak to your boss a bit more than usual. This is so that you can gather more information and check if there are new projects you can participate in. You should have a discussion with him or her instead of just going up to them and asking a serious question.
Instead talk about your career goals and if there are places in your company where you can show what you are capable of. When you are in search of new opportunities, you should talk about the skills or the knowledge that you would like to build in the future. And if it is possible, give him some really interesting ideas or speak of those areas where you could be more involved.
2. Be in search:
A second thing you should do is be in search of those workers who are probably stressed out with their work load and probably cannot handle anymore. There are so many people who need help always. You could reduce their burden by taking some of their work.
Make sure that you aren't becoming some kind of victim in the process because there are several who would like to dump their work on you. Also remember not to work yourself up because someone else can't finish their assignments. Your job is to help and take up responsibility and not worry yourself.
3. Improve all your skills:
A third step that will help is working on all your skills. Brush them up and build some new ones too. You have to learn to be a multi tasker if you want to show your boss you are responsible person. There are some job duties that need some more skills in certain kinds of project. You will not be able to do them if you do not possess the skills that are needed.
There are many seniors who are impressed when they see some of their employees taking up classes so that they can learn something new. Another thing you can do is volunteering and attending more conferences. Earn some certificates too. If you don't have enough time at the moment, at least try to learn something new from your friends and co workers.
4. Show some expertise:
It is also important to gather some important knowledge all the time and stay right on top of the trends. If you have some idea or skills related to a particular subject, there are chances you will be needed for them when new projects come up under the same category.
And this could be a good chance to meet all your team members, direct and take care of them, update them with all the news. It will give you enough credibility. But also remember that when you are sending an article to your team, do know there will be questions on your way and you should be ready to answer all.
5. Improve your relationships with others:
You should also get along with your co workers very well if you want more responsibilities at work. This is very important in any career situation. But this is very important if you would like to become a manager or even a supervisor. Your seniors need to know that you may be able to speak to all your co workers in a much pleasant manner.
It is also important that you should have some really good qualities such as the ability to handle projects and acquire leadership roles. Most importantly you should be a friendly person so that people feel that you are safe enough to speak and discuss things with. This will make a good impression and your boss will want to give you more work.
6. Choose those things that are fun:
Another thing you can do is start off with those things that are full of fun. In fact, you should go for them first. There are many workplaces that have co curricular activities where you can get yourself involved.
Here you can show some of your leadership abilities once again and get to know more people at work. This could be a great way to make a good impression. It will also let your boss know that you are capable of taking up new responsibility.
7. Show some genuine signs of interest:
Companies don't want someone who will show very little interest in the job that they are doing. Nobody can become a good leader if they aren't keen on doing what they have in front of them. Plus if you want to show you are capable of responsibility, you have to show that you are interested.
And you may be able to do this in many ways. You should first of all have a good idea about the company. This also includes learning about the clients and other people who are working with you. You should be aware of what is happening in the company too.
If it is possible for you, then speak to the boss and ask him or her to help you prepare some of the presentations coming up next week. You could also improve your relationships with some of the clients by speaking to them more often.
8. Try to be a little proactive:
There are times when we just wait for a new opportunity to just walk into your lives. You should take some initiative here and do what needs to be done before anyone else approaches you to finish it. You can start off by looking at some of the tasks that urgently need help. Finish them before you go for something else.
If some of your activities also include going to other clients and members who are not a part of the company, then just make sure that you have been given enough approval to do them. You should also confirm things from beforehand so that everyone knows you are covering the project/task.
9. Prove your worth:
If you have been consistent all this while at the office and have managed to do a great job, then you will be able to prove your worth to your boss. But in case you havent, then you could have a very difficult time while trying to convince them that you are capable of handling more responsibility.
In case your boss does not think that you are ready to take up something like that, then its time you start working so hard that they can consider you. Make sure your work is perfect. In most cases, you will be able to take care of all kinds of work. So put in some effort and take on more responsibility.
10. Think of the good things you can do:
Before you go to your boss, imagine all the good things you can do for your company. See the qualities your company usually needs and come up with a list of qualities you posses that can help the company. If there is a solution you have for a persisting problem, speak about it to your boss. That would make them believe you are good enough to take new responsibilities.
Never be afraid to ask your boss for a job responsibility. But before you do that, you should develop some skills. The ideas enlisted above are good enough to get you going. It will get you prepared and ready enough to ask for new responsibilities. And with that note, we would call it an off. If you have enjoyed reading this post and found some help, please let us know by commenting below. We are waiting for your feedback. Some questions, ideas and experiences are also appreciated.
Save