Organizations interview many candidates for the open position, but in the end only one is selected. Recruiters reject candidates more than they hire. Well, that's a sad truth of the recruitment industry. With so many open positions to work upon, intimating the rejected candidates falls last on the priority list of the recruiters.
Often they assume that ignoring the rejected candidates will give them the answer. But the fact is one should never let the candidates without any clarification. Now in this article we are going to discuss about how to reject a candidate.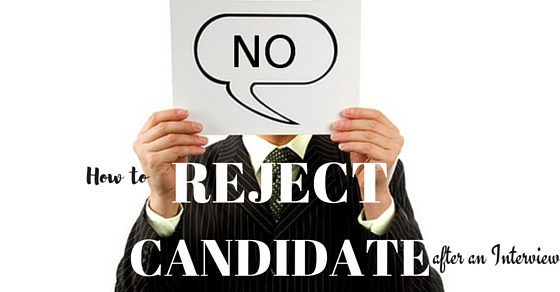 No one likes rejection, but communicating the bad news that one has been rejected seems much more awful. Though it is not that uncomfortable, it is an essential process. If you are calling people for interview and not finding them fit for the role, just simply ignoring them and not letting them is a bad thing to do.
Candidate who are rejected must know about it and if possible also the reason for the rejection. In professional life one must always complete the loop of communication. Here are the ways you can do it well and will see why it is important and how it helps the organization.
Giving Candidate Feedback – Why is it Important?
One might question that, what is the need to let the candidate know that he is rejected. Communicating a bad thing is never pleasing. But it is necessary and here are the reasons why.
1. To communicate positive brand image to masses:
Neglecting the rejected candidates may make them harbor negative feelings against the organizations. He may communicate the same to the masses and ultimately people will have bad image of company.
Moreover, the candidate thinks he gave his interview well, (and yes most of us will think that way) and yet he is not selected, then he may start making negative assumptions. A perfect closure and politely telling the candidate will help establish a good relationship with people at large.
2. Polite gesture and right thing to do:
No one is free, the way interviewer prepared a lot for the process, and candidate has taken efforts too. If he is working, he had to take a leave, prepare for interview, Dress up well, reach the interview place, Narrate and answer questions effectively and so on.
It is a lot of mental and physical effort that candidate takes, thus intimating the candidate is the right thing to do and is a polite gesture against the efforts taken by the candidate.
3. Keeping the candidature in database for other suitable positions:
Suppose a candidate was rejected once, and after several months another position opens, you find his candidature to be suitable for the open position. You look at the past interview history in your recruitment ATS but sadly he was rejected and not intimated about it. Do you think it will be easy to approach him again? Off course no, it will be awkward.
An upfront and disappointed employee may even say to the recruiter that he was not intimated once when he appeared for an interview. So the conclusion is that you are losing the candidate, even when you know he fits for the role. The candidate himself will not be that willing to re-apply.
Whereas if the recruiter would have been intimated the rejection on time, then next time the recruiter may began his conversion on a positive note. Recruiter may say- 'Hey john, how are you? It's been long I haven't contacted you, we met lastly before 2-3 months, I have an excellent opportunity for you which will match well with your skill set, would you like to discuss upon it further' .
Now that's some good networking and relationship building. Isn't it? Who can say no to such approach? An earlier rejected candidate may have felt bad when he came to knew about the rejection, but when approached again, he would certainly be delighted and feel valued.
A good relationship building is a key to all businesses. Hence the reason why closing the loop becomes an essential step.
So now that we know it is a essential step, but how do we say it? How do we communicate the feeling 'thanks, but no thanks' to the rejected candidates? We want to be polite but upfront as well and also want to communicate the best impression of the organization. Seems an uphill task to do, isn't it. So, let's look at the ways and tips to do it wisely.
How to Reject a Candidate after an Interview?
1. Let candidates know as early as possible:
How many times do you check your home or email when you are waiting for something? It makes you anxious and irritated. The same way the candidate feels when he is awaiting for the result.
Many recruiters wait very long to inform the candidates, most of the times everything works fine, and then suddenly they receive the rejection mail from you. It does not have positive impact at all. It makes a negative impact on the company image. Thus it is necessary to inform candidates as soon as you know that he does not fit the role well.
Candidates will be free to look for other opportunities and will also have positive image of company in his mind.
2. Inform on call:
The people with whom you have been in touch several times, deserves to know the news over phone. Though it might feel little disheartening but it is the key step to have long term relationship with the candidate.
When you call, thank them for the time and effort they took to come for interview. Thereafter, state that you have offered the other candidate the job .Direct on call conversation states transparency.
3. Be direct and Precise:
For filling up the open position, companies at time find some person better qualified, or has better experience. At times the position is closed by internal restructuring or maybe the position went on hold. Whatever be the reason, be very clear to the candidate and give useful and precise feedback.
It helps them to improve themselves further and you communicate that your company is honest and transparent. In short don't beat around the bush, be very precise but make sure not to go overboard, Divulging confidential information may harm the recruiters employment with the company.
4. Avoid lengthy discussion:
You are supposed to tell the reason for rejection to the candidate. Hence avoid having lengthy discussions which the candidate does not need to know. Discussion about the person who is hired, his qualification and expertise are strictly a no- no. If the candidate probes in, provide him with vague replies and end the conversation.
5. Write personalize Email:
Avoid sending the basic email templates starting with Dear Sir, Ma'am or Dear candidate, the candidate has taken out time to appear for interview, he deserves to get at least a personalized mail. You are making him disheartened due to rejection have some consideration and respect for him. Duly thank the candidate for his time and efforts.
6. Don't give false hopes:
Inspite of strenuous screening, recruiters do find the candidates which may not fit the role and culture of the organization ever. If you know very well that if the candidate is not a suitable match, don't say that you will contact him in future for other position or he may reapply for other positions.
7. End on a positive note:
One needs to communicate the message subtly and politely. Have courtesy and end with a smile. If you can help them with anything, do not hesitate, you may give the number of other recruiter that they can refer.
Lastly wish them well for the job search. Make sure you are boiling a positive relationship with them. People may forget your words but they will always remember how you made them feel.
Various Instances Post Interview and the Proper Way To Reply:
1. When an internal employee is rejected:
Many a times, the position is closed internally, many employees apply for it, but only one will be eligible for the post. The best way to let the internal employee know about the rejection is to have open and honest face-to-face conversation with him. You cannot afford to disappoint the internal employee and ensure he works best in his current position.
2. General rejection mail:
Many a time giving a specific feedback to employee is not possible; hence the general email can be in the following format
We appreciate your interest for working with us and Thank you for taking out time for interview.
While we are impressed with your skills and experience, we regret to tell you that we will not be able to move your application forward.
You have our wishes for successfully locating the career opportunity you deserve.
We will maintain your resume in our database and contact you when position opens up.
Again thank you for applying.
3. Rejection with specific feedback:
This is the most time consuming email one can send, one has to communicate message in very subtle way, give precise feedback without making the candidate feel insulted. The personalized email with suitable feedback should often be used while dealing with crucial and senior positions.
Example of Email:
Dear James,
I want to thank you for your interest in 'Xyz' position and for all the efforts you took to appear for the interview. It was great to be acquitted with you because of the interview. Although your experience and qualification are impressive, currently we will not be able to move forward with your candidature. We have chosen someone with more hands on experience with similar profile.
We will be keeping your resume in database and will contact you when a suitable position opens up to match your skill sets.
Once again, thank you and best luck for your future endeavors.
In case of any query, don't hesitate to call- (Phone no)
Various Instances Pre Interview and the Proper Way To Reply:
Recruiters also need to reject few candidates even before they appear for the interview. Few of those instances and suitable replies for them are jotted below.
1. When people apply and there is no vacancy:
You may get several applications for various jobs, but not necessary that it is always vacant. Recruiters make database of the resumes they receive, (they are advised to do so), and if you cannot process the candidature ahead one needs to inform the candidate.
You may write mail in following format:
We regret to tell you that inspite your great experience and qualification, we will currently not be able to process your candidature ahead, as there is no vacancy.
We will contact you once a suitable position opens up.
2. When people apply but he does not match the requirement:
The key here is to be précise, one set standard in human resources and recruitment helps a lot, stick to the eligibility criteria and skill set matching as per job description, if the candidate does not have required qualifications or experience. Once must politely communicate the reason of rejection.
A good way to do is as follows:
Although your experience and qualification is impressive, it does not match the requirement we are looking for. We would consider your candidature for some other position and contact you accordingly.
3. When candidate applies and his resume is not shortlisted:
Recruiters often forget this step, it is though not expected from candidates, but if received, it is well appreciated.
Ideal Reply-
Thank you for your interest in the 'abc' position, we regret to tell you that, after careful evaluation of all the received resumes, yours is not shortlisted for further rounds.
In conclusion, the best way to reject a candidate is to be honest and straightforward. If time permits a phone call is the best medium to communicate the news, otherwise a mail can also suffice. What are your views and ways to communicate the bad news, if you have some creative ways to soften the blow, kindly share amongst us?