If there's someone who is a certified captivating communicator, among other best speakers around the globe, it would be the co-founder of Apple, the one who revolutionized overall technology design, purpose and the industry itself — Steve Jobs.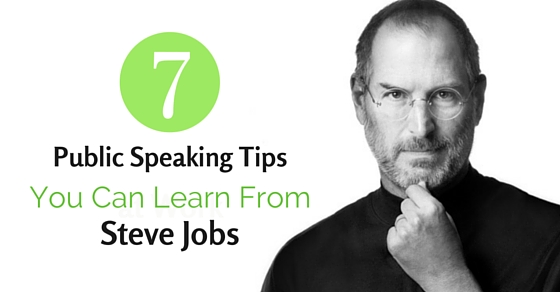 Public Speaking Lessons from Steve Jobs:
Steve Jobs not only saw the breakthrough in the technological industry but has also taken up a notch the way speakers deliver their corporate presentations. He is still probably the greatest spellbinding storyteller in the industry.
One enchanting thing about him is that whenever he presents, he doesn't sell his products and services whenever he launches them. Instead, he sells people their dreams. Did you ever hear or come across an article entailing Steve Jobs begging or persuading the people/customers to purchase Apple products? No. He makes his products personal. As per the man himself, "You just have to change the perspective. Make your brand personal."
Itching to know how to become a great communicator like Steve Jobs? Perhaps you have an upcoming presentation the reason why you stumbled upon this article, yes? To help you with that, here are public speaking techniques you can learn from the legendary and inspirational businessman:
Keep a short yet crisp headline:
This is your title and the summary of what you are about to discuss. It should be accurate, concise and should apprehend the primary message you are to declare. Combine all these factors and create a twitter-friendly headline — 140 characters long. In his 2007 keynote, the launching the first and original iPhone, his slide revealed: "Apple reinvents the phone."
Incorporate a quote or statement:
A question perhaps? It could be anything that would catch your audience's attention before you begin your slides. This tip isn't new. It is advised that before you even begin your presentation, have an ice breaker first in order to establish a connection with your listeners.
And as you go on with your presentation, tickle your audience's' curiosity. Observe how Steve Jobs demonstrated that in his 12007 keynote. Before he present the iPhone, he stated:
"… in 1984, we introduced Macintosh, It didn't just change Apple, it changed the whole computer industry… in 2001, we introduced the first iPod… and it didn't just change the way we listened to music. It changed the entire music industry. Well, today, we are introducing 3 revolutionary products."
So, did it occur to you that the "3 revolutionary products" he was referring to was in fact the iPhone? Brilliant introduction, isn't it? Let your audience wonder, have them guessing and puzzle over your skillful tricks.
Create simple visual slides:
Your goal should be to have the audience focus on you, not on your presentation. Your presentation should only include the necessary visuals that would support your claims and make your viewers understand furthermore what you're discussing. Don't give away too much on your slides and just read what is already there, you're there to elaborate on what is being shown in each slides.
Present the villain or the "con" in your presentation:
You may not realize it but a presentation is a story. And like many other stories, it has its own antagonist and protagonist or the downside and upside. In Steve Jobs' 2007 keynote, the launching of iPhone, he stated:
"Regular cell phones are not so smart and they are not so easy to use. Smartphones are a little smarter, but are harder to use.."
The problem or the villain here was the regular cellphones, how it's not convenient and does so little for the consumers. How it is not providing ease and comfort for them.
Launch the hero:
And once you introduced the problem, launch the hero. Here, Steve Jobs continued:
"..They are really complicated…we want to make a leapfrog product, way smarter than any mobile device has ever been and super easy to use. This is what iPhone is."
See what he did there? He presented the iPhone as somewhat the solution to a less convenient smartphone. He declared it as a smartphone that will live up to the consumer's expectations and greater even.
Tell the story:
Your presentation may discuss a broad and complicated topic which includes complicated terms. Worry not, my friend. Don't stress yourself too much. Instead, present your slides like how you tell stories, don't stand like a robot dictating what is stated in the slides and only explaining a bit of it. Study your presentation and practice it. Once you've got your full grip on it, you'll be able to explain it in ease as if it's just a story you're sharing.
Furthermore, sharing stories works as well when delivering a speech. If you have a relevant story which you can connect to what you're tackling, go on and share it. Demonstrate how it correlates.
Inspire your audience:
If Steve Jobs can inspire and uplift his audience in his keynotes, why can't you? There's no excuse for that. Steve Jobs ended his 2007 presentation with these words:
"I didn't sleep a wink last night. I've been so excited about today…There's an old Wayne Gretzky quote that I love. 'I skate to where the puck is going to be, not where it has been.' We've always tried to do that at Apple since the very, very beginning. And we always will."
If you are to present in a class and got your topic randomly; the topic which you don't really like, we're not pushing you to pretend to like it. But surely as you go on researching and building your presentation, you will most certainly increase your interest in it. To put it simply, show enthusiasm and demonstrate how much you know about what you're discussing. Create a positive atmosphere and establish connection with your audience.
If you want to excel in public speaking and be like Steve Jobs every time you present, the key ingredient is: Stop using meaningless terms. Be simple and use simple language that anyone can and will understand. Observe clarity and consistency when it comes to delivering information. To better educate yourself in terms of public speaking ala Steve Jobs, watch him present and launch iPhone in his 2007 keynote: Youtube
About Chie Suarez: Aside from providing tips and hacks in personal and career development, Chie Suarez is also a resident writer for The Fordham Company — one of Australia's top celebrity management companies and a major celebrity speakers bureau.
Save