One of the common behavior and nature of work that every employer expect from their candidates attending interview is their positive approach towards any type of situations.
Maintaining a positive approach during interview session is a common element that each and every employer expects. Therefore, there might be some situations in the middle of the interview session where an employer tries to bring negativity inside the candidate, but maintaining positivity and answering questions with complete honesty is very much important.
These are some hiring for attitude interview questions and answers asked during interview sessions that completely bring out the candidate's positive approach towards personal and professional life. And the list of attitude questions examples are as follows,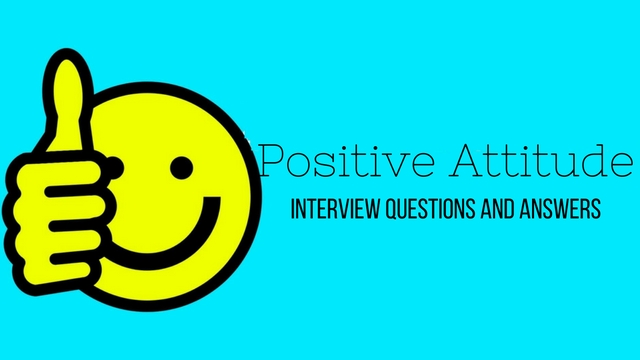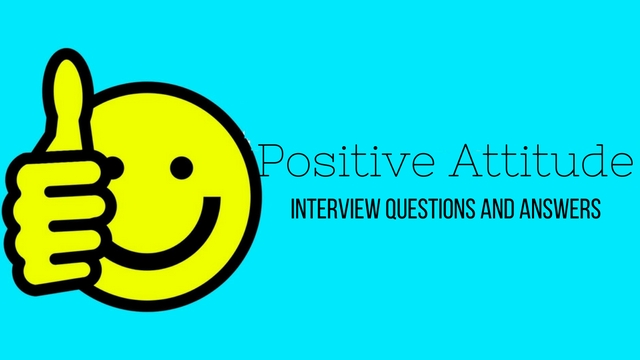 Positive Mental Attitude Interview Questions And Answers:
1. Why do you think that you can handle this position?
In this question asked in an interview, employer tries to examine the level of confidence and knowledge about a field or work in a candidate, if a candidate is really sure of his part in this particular field of work and explains all the necessary elements related to the work, then it shows his positive energy regarding his work. Therefore, if a candidate is not sure of the field of his work, then there is a possibility that he might end up in a negative zone using the wrong career path for him.
2. Introduce yourself:
It is one of the common start of every interview process where in which the employer wants the candidate to introduce themselves to the interviewing panel. With the help of this question in an interview, an employer judges the confidence level of the candidate. Sometimes it is possible that some of the candidates are over confident about themselves and make mistakes at the end of the interview. Therefore, confidence brings in positive energy in one's life where in, over confidence doesn't bring anything in their life. This is one of the best examples of positive attitude towards life.
3. Why should we hire you of all the rest:
There is a possibility that with this type of question an employer checks a candidate's ability to convince the interviewers. Most of the time some of the employers provide a chance for a candidate, where they can take that chance and convince the employers to hire them for the job. Therefore, it is necessary to encourage positivity among people and when it comes to this question an employer provides a chance of making a point in favor of themselves.
4. What are your strength and weaknesses?
Every person is aware of their own strengths and weaknesses. Some people believe that they don't have any strength and weakness in them. But this important interview question is mostly asked in the interview sessions, why because the employer tries to know the candidate better.
If a candidate is aware of their strength and weakness, then they can handle any type of situation without making any mistakes. Perhaps, if they don't explain their strength and weakness, then it declares their negative approach towards their selection process .
5. What is your greatest failure?
This great attitude question tries to identify how you describe your bad times and in which manner you overcome the situation. Try to identify the situation which had some unforeseen consequence which spirals down to a great failure. Then explain to the interviewer how you solved the problem and what lessons did you learn from it.
Many interviewees might be tempted to throw the cause of the failure on some other person or a thing, but one should not give in to such behavior. Your interviewer might label as someone who runs away from responsibility and blames others for failure.
6. What are you most passionate about?
This question seems simple than it is. You can restate this question as what motivates you? Or in other words, the interviewer is looking for factors that keep you engaged in your job. Now, many people may start wondering about their favorite sports club or some other activity that they feel passionate about. But that is not what they actually want to learn about. Rather, you should stick your answer within the realms of working world. Mentioning about outside activity might put your interviewer in doubt as to whether you are interested in your job or not.
7. Are you a reliable person?
It is just as simple as saying yes and yes. I mean there is no person who will ever say no to that. Then what can be the objective behind asking such behavior interview question? Your interviewer wants to know if you are ready to work overtime or not or if you can handle key responsibilities at the time of need. So according to the nature of job, answer should vary.
If the job requires strict timing and punctuality then you should affirm your interviewer about your punctuality and your willingness to do overtime in case of requirement. Or, if your job holds a key position then you should mention about you previous experiences where you hold responsibility.
8. How good are you in managing your time?
Time management is the key to being successful in any job. Here you need to explain your interviewer how you will be managing your time at the job. The main thing to focus on is prioritizing your time according to urgency and importance of work. You can explain as to how you prioritize your time according to its urgency and importance level and in case your job gets pending, you take the help of your colleagues. You can even mention about an example which shows your commitment to the time limit and dedication to your work like how you stayed overnight when your job was incomplete in time and so on.
9. How do you adapt to changes?
Flexible persons are an asset to any company. Everyone wants to have that Mr. expandable in their working team as in the time of crisis; they are the ones who drive the company out of bad times. In this question, you want to showcase how you can readily adapt to changes and in some cases how you can even excel in those circumstances.
Again, refer to you previous experiences where you had the opportunity to expand yourself or change your nature of work when your former company adopted some new policies. Such answer can really impress your interviewer with a feeling of assurance in regards to giving you the job.
10. On the scale of 10, how much would you rate yourself?
This question can put many candidates in dilemma. Rating oneself as 10 on 10 can send a message of arrogance to the interviewer while giving a low score can be looked at someone who is not confident about himself or herself. You must be able to give yourself a legitimate score along with a good anecdote which satisfies your marking.
Everyone who will be facing the interview will be boasting about their rating and so you should take this as an opportunity to sell yourself rather than let modesty or arrogance come into your way.
11. How do you take orders from your authorities?
Depending on the position of the job, and for which organization you will be working for your answer will vary. If you are applying in a company which is more traditional and hierarchical in order, they would expect to hear an answer which shows that you are good at taking order or carrying out your duty. And in the case of any responsibility you always take the review of your superiors. But if the company is progressive in nature you must demonstrate that you believe in the right decision rather than randomly following anyone's order.
12. Tell me something interesting about yourself?
Here, you can play with your interest. The aim of this question is to identify how well do you fit into the community and whether you are an all round person who values both work and fun or is a just lame workaholic.
Nobody is interested in working with a person who has nothing to say except work. You must give real life example of how you can start a conversation on some topic of interest. Show them how interesting you are and how capable you are of joining a group and having fun, if not being the limelight of the show.
13. What do you think about your former colleagues?
This question tests about your opinion about your former colleagues. This question indicates your tolerance level towards other people. Many interviewees start to vent out their anger or frustration about their former colleagues but that is not what you should actually be doing.
Venting out your anger can show you in a bad light as someone who is not compatible with others. You do not necessarily need to praise your former colleagues but you can at least show them in a neutral light and explain how you had a good relationship with everyone.
14. How well can you handle stressful situations:
In the list of interview process, some of the company undertakes stress interview for all their candidates attending an interview. In this stress interview, all the candidate goes through a stress event which is designed by the employer and in this situation the employer tries to understand the positive side of the candidate. If the candidate loses his calm and behaves unprofessionally, then his chances of getting that job will be very low.
15. What is your life goal?
Asking about one's life objective and goals helps to understand that person's future expectation with their life. When an employer present this question to the candidates, the employer is trying to understand their expectations with their professional life not with personal life. And that is why most of the candidates come up very clean with this type of question. Therefore, it is necessary for all the candidates that, while answering this question they need to present their positive side of thinking.
16. What is the salary expectation?
If the candidate applying for the job is well experienced in his field of work and try to get a better career for him, then it is quite clear that the employer need to bring him in the company for the level of his work experience and knowledge. Expecting salary question is presented for the sake of the candidate's skill and ability towards the task completion. Therefore, it is necessary to understand this question in a positive manner otherwise being silent can take away their chance of earning equal to their ability.
17. Do you want to work on long term or short term basis:
This question emphasis more on the mind frame of the candidate. While asking this question the employer determines the actual plan of the candidate. Some of the candidates answer this question in an experience based way and that means they just want to work there for the sake of the experience. At the same time, some candidates seem pretty clear about working in that company for a long term basis. Moreover, most of the employers prefer people with long term working intentions.
18. Do you have any questions or doubts:
Some of the candidates never ask any questions to the employer who took their time of interviewing them, but some of the candidates utilize this opportunity in a completely positive way. Therefore, it is necessary to understand that when an employer asks them to clear out all the doubts they have about the interview and the company, then the candidate should take benefit out of this opportunity and show their interest towards their job in that company. This is one of the positive interview answers.
Finally, the bottom line is that at the end of this discussion over the positive attitude interview questions and answers, one can figure out the intention behind these listed questions asked in interview. Therefore, if anyone is interested in understanding these hidden intentions behind common job interview questions and answers, then they should follow all the above mentioned points to indulge positivity among themselves.
Save