A big congratulations to all those girls, who are planning for the most important day of their life. But, to manage it with another full time job is a tough thing to do. A wedding means a long to do list, including catering, makeup, decorations, gifts, and whatnot.
Doing all these things without any professional help can be a real tiresome job. A wedding means to enjoy the time of your life, but to manage it well is a difficult job which requires a little planning.
Here is the list of a few things which need to be done while managing a full time job along with the preparations of the wedding.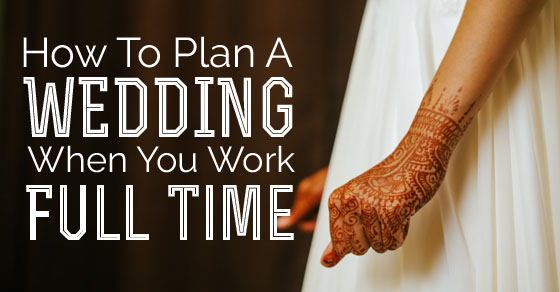 How to Plan Your Wedding at Work?
1. Get your work to organize:
The first and the most important thing is to organize the work about the wedding just like you do in the office. The most important thing is to make a list of all those things, including the venue for the wedding and the caterers so that these things get your first attention.
Both you and your fiance should, make their lists and set your priorities first. Once this is done, you can move on with further proceedings.
2. Organize your financial status:
Finance is the most important thing to plan any event. An event like a wedding needs huge amounts of money. Discussing the finances before planning things further is the most advisable thing to do.
You should talk about the money, that can arrange by family and friends. Also, some amount can keep aside every month from the salary to help in planning the various arrangements for the wedding. Once the financial structure cleared, it will easier to manage other things.
3. Start time management:
Both job and planning for a wedding are work which requires full commitment from you. To meet the commitments in both, start time management as soon as possible. This can be done by listing the things which require your prior attention.
Also, schedule your meetings, according to the time available both at the office and at home. Start dividing work between weekdays and weekends, this way you can make full utilization of the available time.
4. Complete work by dividing it:
Work at the office needs to meet larger goals in a fixed time. So, divide your work into smaller sections and try to achieve the goals in the set time limit. The same goes for planning for a wedding.
It involves a lot of things to take care of, so try and divide your work into smaller sections either month wise or area wise. This will help you to save both money and time and will complete work on time.
5. Keep a check on wedding websites:
These days a lot of wedding sites are providing various services. You can check on these sites and can get great help in planning the work. These sites offer information from honeymoon destination to the caterers, from decorations to gifts for the relatives.
These sites can help find new trends. They can also provide information on deciding venues, costumes, and many other things. So, make use of these sites and lessen the burden of planning.
6. Communicate more with other people:
Being more communicative will help to manage your work for planning for the wedding. This will help you to avoid any miscommunication between you and those others going out with you. You can set the time at which you can be available for others.
This will help you to focus more on your work at the office and thus helps you to relax from the ongoing stress of the preparations for the wedding.
7. Spend time with your fiancé:
The time that flies byes never comes again. So, it is always better to spend as much time with your fiancé as possible. Just go out shopping, watch the movie, or just relax and spend quality time over dinner dates.
This will not only relax you from the ongoing chitchat of marriage but also help you to understand your partner better. You can talk about your likes and dislikes and what else you have always dreamt about your marriage.
8. Delegate work to subordinates:
While you are planning for the most important day of your life, it is always advisable to delegate work to your subordinates. This will not only lessen your burden but will also help you to complete the work on time.
This way the work at the office will also not suffer and the deadlines would be met. Your boss will appreciate your spirit of working.
9. Apply for a holiday in advance:
The first thing that should do once the date fixed, is to apply for the leave for the time needed. In this way, important projects can complete in time or the important projects can give to others in the company. This will help the company to plan its future actions well in advance without affecting the sales and the profits of the company.
10. Search for all in one venue for a wedding:
To avoid wastage of time goes in for a simple wedding. Instead of different venues for different functions search for a venue where all the functions can organize. These days, many hotels are organizing a wedding in one place and also provide various other facilities like catering, decorations, music, and many others.
This will not only save your time but will also help you to enjoy your wedding instead of traveling from one place to another. Guests will also enjoy more as they don't have to move from one place to another.
11. Book an event manager:
Today life is so busy, but everyone wants to ensure the best for them at the best possible cost. So, here are the event managers who do everything from the venue to catering, decoration all of them.
To get the best deals, make sure to hire the best you can at a reasonable price. Also, these event managers get booked very early. So, hurry up or you have to repent later.
12. Plan the budget:
The most important thing in planning any event is its budget. Before planning about various aspects of a wedding, decide the budget that you have to spend on various aspects.
Plan in the individual categories like how much to spend on the venue, how much to spend on catering and so on. This will help you to know if things going according to the budget or are there any changes required.
13. Limit the choices:
The best way to keep away from confusion is to limit the choices. For example, if you are deciding on your wedding dress, then instead of searching the entire market just select it from two or three outlets which you like the most.
This will not only save your time but will also save you from the confusion. One of the most important things is to limit the choices in every aspect to avoid confusion in every way.
14. Surf the net, but in limit:
Shopping online is a great trend these days. Search for various things on the net, but do it in limits. If you search the net beyond limits the entire purpose of shopping online will be defeated. People shop online to save time and to avoid confusion.
But, searching too much online will not be able to save any of these problems. Choose from popular online brands in the respective fields. For this, you can inquire with your friends and relatives.
15. Ask your boss to avoid overtime at the office:
Once the date fixed ask your boss to avoid any overtime require to done by you. This will help the boss to delegate the work to other employees in the office without any loss to the official work. The boss will not only appreciate this quality of yours but will offer you any help if required.
16. Ask relatives and friends to research in their areas:
You can always ask your friends and relatives to do the research work for various things like caterers, decorations, boutiques for designer wear and many other things.
This will help you to save on time and will, also help you to get the best of that area as your friends will have good knowledge of the area in which they reside.
17. Get the bookings done in the beauty parlor and the makeup artist:
The most important thing for any bride to be is to look at her best. For this get the bookings done well in advance to avoid any confusion later. You should also take trial makeup sessions to avoid any confusion later.
Also, finalize the makeup artist that you want because if on the final day they not available, then the entire money spent will wast and your mood will also spoilt.
18. Divide the responsibility to your friends and relatives:
Like you have delegated the work at the office same rule also applies here. Divide the responsibility either area wise or time wise to avoid any delay in their completion.
Fix a time and place where you can get the details from all your friends and relatives to get them completed on time. Also, if there are any changes required, then they can be done within the available time.
19. Get smart enough to utilize lunch hours:
While you are in the office you get an hour free for lunch. Become smart enough to utilize this time to its best. In this free time, you can complete the market work near to your office or you can make some important phone calls.
Also, you can ask the retailers to make those important deliveries in your office so that you can check them. This way a lot of your work will complete and office work will also not suffer.
20. Follow the rules and regulations of the office:
Every office has its own rules and regulations that need to be followed by every employee working in the office. It's nice that you are getting married, but you are working in an organization for a reason.
So, you need to do everything within the limits to avoid any misunderstanding. As the wedding favor will get over, you always have to return to your job. So, be careful in choosing the ways you adopt to complete the wedding related work.
21. Invite the relatives living far well in advance:
The most common regret after all the weddings is to forget to invite relatives living far off or informing them later. You should first invite them well in advance so that they can get the necessary bookings well in advance.
Getting reservations these days is a tiresome job and also costs more, if not done well in advance. Some of your relatives might even cancel to attend the wedding because of the unavailability of tickets.
22. Plan for unexpected events at marriage:
Weather these days unexpected. There are storms or even rains when we are least expecting them. So while deciding the venue for the wedding, make sure to take care of such unexpected events. Always try to keep the second option ready in case of any emergency.
23. Decide the honeymoon destination in advance:
Every couple dreams of this golden period just after marriage where they can spend some time alone and understand each other. Deciding the honeymoon destination in advance and doing all the required bookings will help to save you some extra money and will also help you to escape from the crowd.
A wedding is an important decision in everyone's life. Some planning in advance will not only help you to enjoy the most but will also help you to avoid any extra money being spent. So, just go and enjoy your big day.
Save