Being a young girl is cool, yet it isn't for the most parts basically! Girls are always looked down as weak and incompetent even in this era. This is practiced not only in one sector but in all sectors.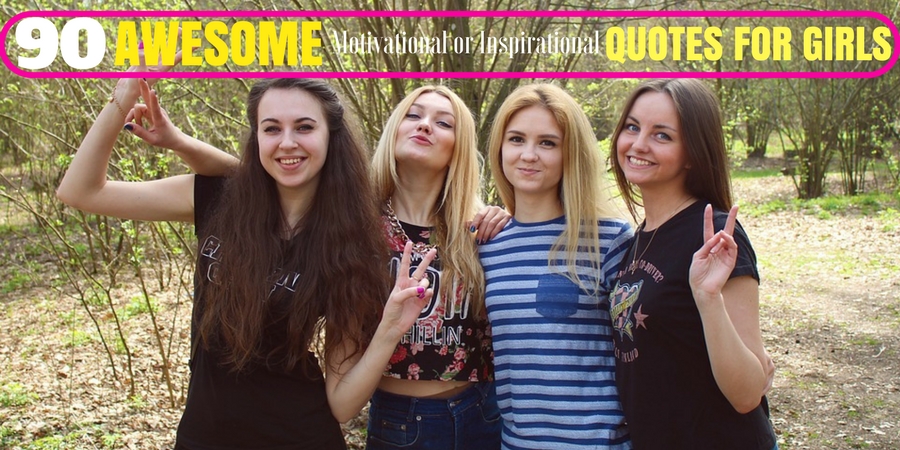 One other way that young girls are frequently restricted is the manner by which television and the media regularly concentrate on excellence as a young girl's outward or physical appearance. But their genuine magnificence should be seen and honored that may be anything without any bias or partiality. This should begin from within us.
Here are some inspiring quotes for Girls, may these be the wellspring of motivation and glisten in your life.
Best Quotes for Girls:
1. "You have what it takes to be a victorious, independent, fearless woman." –
Tyra Banks
2. "Believe in yourself and you can do unbelievable things." — Unknown
3. "Having a soft heart is the cruel world is courage, not weakness."
4. "Be who you are and say how you feel, because those who mind don't matter, and those that matter don't mind." – Dr. Seuss
5. "You will never have this day again, so make it count."
6. "Don't be afraid to speak up for yourself. Keep fighting for your dreams!" – Gabby Douglas
7. "No one can make you feel inferior without your consent." – Eleanor Roosevelt
8. "She knew that she was formed, dreamed up in his heart and placed in this world for a purpose."
9. "Whatever you decide to do. Make sure it makes you happy."
10. "If you really want to fly, just harness your power to your passion." – Oprah 
11. "We cannot all succeed when half of us are held back. We call upon our sisters around the world to be brave – to embrace the strength within themselves and realize their full potential." – Malala Yousafzai
12. "You are amazing to remember that."
13. "No matter how plain a woman may be, if truth and honesty are written across her face, she will be beautiful."- Eleanor Roosevelt
14. "If at first you don't succeed fix ponytail and try again."
15. "The question isn't who's going to let me; it's who is going to stop me." – Ayn Rand
16. "If you want something said, ask a man; if you want something done, ask a woman." – Margaret Thatcher
17. "All you need is faith, trust and a little pixie-dust."
18. "Those who dare to fail miserably can achieve greatly." – John F. Kennedy
19. "Be a Girl with a mind, a Woman with attitude, and a Lady with class."
20. "Be That Strong Girl That Everyone Knew Would Make It Through The Worst. Be that Fearless Girl."
21. "I hope you know you're capable and brave and significant. Even when it feels like you're not."
22. "I Figure, If A Girl Wants To Be A Legend, She Should Go Ahead And Be One."
23. "Attract what you Expect. Reflect what you desire. Become what you respect. And mirror what you admire."
24. "Everything is life is easier when you don't concern yourself with everybody else doing."
25. "I Am Not What Happened To Me. I Am What I Choose To Become."
26. "Doubt kills more dreams than failure ever will." – Suzy Kassem
27. "I Don't Want You To Save Me. I Want You To Stand By My Side As I Save Myself."
28. "Being Deeply Loved Gives You Strength; Loving Deeply Gives You Courage." – Lao Tzu
29. "You Attract What You Are, Not What You Want If You Want Great, Then Be Great."
30. "You Can Become Strong And Powerful And Beautiful." 
31. "If you're not willing to risk the usual, you will have to settle for the ordinary."
32. "She Builds Others Up Because She Knows What It's like to be torn down."
33. "Character. Intelligence. Strength. Style. That Makes Beauty." – Diane Von Furstenberg
34. "Being Both Soft And Strong Is A Combination Very Few Have Mastered.
35. "We All Have An Unsuspected Reserve Of Strength Inside That emerges When Life Puts Us To The Test." – Isabel Allende
36. "Never do the envy, jealousy, and insecure stuff. Be the hustler, the well-wisher, and the go-getter."
37. "Nothing Can Dim The Light That Shines From Within." – Maya Angelou
38. "Nothing Is More Impressive Than A person Who Is Secure In The Unique Way God Made Her.
39. "Smile And Let Everyone Know That Today, You're A Lot Stronger Than You Were Yesterday."
40. "You Are Stronger Than You Think." 
41. "Above All, Be the Heroine Of Your Life, Not The Victim." – Nora Ephron
42. "We can do no great things, only small things with great love." – Mother Teresa
43. "Be a warrior not worrier."
44. "Happiness and confidence are the prettiest things you can wear." – Taylor Swift
45. "I'm not afraid of storms, for I'm learning to sail my ship." – Louisa May Alcott
46. "You are more powerful than you know; you are beautiful just as you are." – Melissa Etheridge
47. "No matter what you look like or think you look like, you're special, and loved, and perfect just the way you are." – Ariel Winter
48. "Life is tough, my darling, but so are you." – Stephanie Bennett Henry
49. "The most effective way to do it is to do it." – Amelia Earhart
50. "Difficult roads often lead to beautiful destinations. "

51. "I never dreamed about success. I worked for it." – Estée Lauder
52. "And though she is but little, she is fierce." – William Shakespeare
53. "Real girls are never perfect and perfect girls are never real."
54. "There are two ways of spreading light. To be the candle or the mirror that reflects it." – Edith Wharton
55. "For what it's worth: It's never too late to be whoever you want to be. I hope you live a life you're proud of, and if you find that you're not, I hope you have the strength to start over" – F. Scott Fitzgerald
56. "Unique and different is the next generation of beautiful." – Taylor Swift
57. "Be your own kind of beautiful."
58. "Beauty begins the moment you decide to be yourself." – Coco Chanel
59. "I am a girl, I am Smart and I am strong and I can do anything."
60. "When someone tells you that you can't, turn around and say 'watch me.'" – Anonymous
61. "If you are always trying to be normal, you'll never know how amazing you can be." – Maya Angelou
62. "Imperfections are beauty, madness is genius, and it's better to be absolutely ridiculous than absolutely boring." – Marilyn Monroe
63. "Be who you are not who the world wants you to be."
64. "You don't want to be the best kept secret." – Lane Odle
65. "Never get so busy making a living that you forget to make a life."
66. "Do Not Judge You Don't Know What Storm I've Asked Her To Walk Trough."
67. "Stay Strong, Make Them Wonder How You're Still Smiling."
68. "Smile And Let Everyone Know That Today, You're A Lot Stronger Than You Were."
69. "Never Apologize For Being Sensitive Or Emotional. Let This Be A Sign That You've Got A Big Heart "And Aren't Afraid To Let Others See It. Showing Your Emotions Is A Sign Of Strength." – Brigitte Nicole
70. "Go Ahead Tell Me That I'm Not Good Enough Tell Me I Can't Do It Because I Will Show You Over & Over That I Can!" 
71. "Cinderella never asked for a prince. She asked for a night off and a dress." – Kiera Cass
72. "Everything you do now is for your future. Think about that." – Kushandwizdom
73. "I think beauty come from knowing who you actually are. That's real beauty to me." – Ellen DeGeneres
74. "A girl should be two things: classy and fabulous." – Coco Chanel
75. "The most important thing a girl wears is her confidence."
76. "The power you have is to be the best version of yourself you can be, so you can create a better world." – Ashley Rickards
77. "You're allowed to scream, you're allowed to cry, but do not give up."
78. "Beautiful people are not always good but good people are always beautiful." – Imam Ali
79. "Don't be the girl who needs a man. Be the girl a man needs."
80. "Beauty isn't about having a pretty face. It's about having a pretty mind, pretty heart, and a pretty soul." 
81. "She believed, she could, so she did."
82. "The future belongs to those who believe in the beauty of their dreams." – Eleanor Roosevelt.
83. "She is clothed in strength and dignity, and she laughs without fear of the future."
84. "I can't think of any better representation of beauty than someone who is unafraid to be herself." – Emma Stone
85. "Let your smile change the world but don't let the world change your smile."
86. "You Hate When People See You Cry Because You Want To Be That Strong Girl. At The Same Time, Though, You Hate How Nobody Notices How Torn Apart And Broken You Are."
87. "I Am Not A One In A Million Kind Of Girl. I Am One In A Lifetime Kind Of Woman."
88. "You've Always Had The Power My Dear, Your Just Had To Learn It For Yourself." – Glinda- Wizard of Oz
89. "She's got that whole purpose driven warrior princess save the word type of vibe."
90. "Anyone Can Give Up, It's The Easiest Thing In The World To Do. But To Hold It Together When "Everyone Else Would Understand If You Fell Apart, That's True Strength." –Anonymous 
Save