What is a Mobile Office?
A mobile office is a form of a temporary office that utilizes makeshift, moveable, and temporary buildings. Also, these types of an office can be created in a virtual environment through mediums like mobile phones and computers and the employee is not confined in the square cubicle space. These are used to create a business environment while not using a small space for an office.
Disorganization can cause a dramatic loss in productivity, efficiency and ultimately profitability. If an employee travels a lot for work and is also untidy, then organizing a mobile office is very much helpful.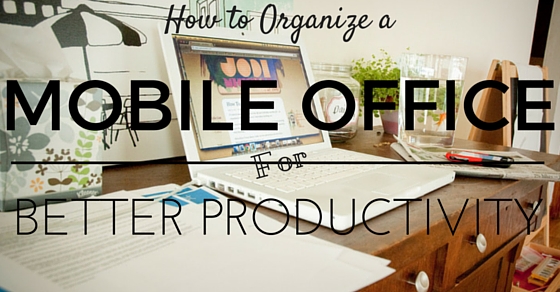 The first basic factor to keep in mind while organizing a mobile office is to get to know what kind of work you are going for. This will helps you organize and take stuff that is only needed for the work required. Hence, this can reduce a lot of clutter and unwanted baggage for an employee on the go.
Try to list what kind of supplies and things that you want to bring and what all should be left behind back. Also, keep the list handy as this will help the individual to carefully pack everything back when going back. This will prevent and avoid leaving things behind, hence loss of objects can be reduced.
Advanced planning can help you decide whether the trip is required or helpful or it can be merged with another trip in the future. To prevent getting misguided or stray away from the target, try to write all your goals and requirements on a notepad and constantly check if everything is done. Try to refer to this note whenever you are doing your work.
A mobile office can vary from each individual depending on the work that he or she does. For example, people who travel a lot tend to work from their cars, carry a lot of briefcases and so on. The following are the tips that are necessary for organizing such office workers.
People who use Cars as a Form of Office:
This can be highly applied for people who work as sales representatives and spend those spend most of their working hours i.e. 7-8 hours traveling in cars. This helps them organize files and documents and makes it easily accessible for them when in a hurry.
It is better to keep the files and documents ready rather than searching for them in the trunk of the car. To keep the wasteful searches at a minimum, try to follow the following steps. This include:
1. Storing important files in a portable box:
Try to make sure that the box is large and that it can hold file folders of various sizes. This can help select files suddenly and when in a hurry. These portable boxes can be placed in the trunk of the car and keep a towel or a mat underneath to prevent it from sliding.
2. Keep the demonstration products and samples in a crate:
If you are a sales employee traveling a car, try to store the different products and other items inside a perishable crate and store it in the trunk of the car. Moreover, keep in mind that the documents and the samples should be kept in different storage boxes for easy access.
3. Hang out:
Try to keep pocket organizers that are kept at the back of the car seat. These pocket organizers can contain emergency items such as maps, business cards, flyers for the business, etc. Hence, easy access for the user when on the go.
4. Holder:
Since most of the employees are in a hurry, they do not have the time to physically attend a phone call while driving. The best method to overcome this difficulty is using a cell phone holder that can easily use and can give hand free access to the user.
Hence, this makes the driving safer and the employee can be more focused on reaching the destination.
5. Emergency Care:
Always try to have an emergency kit stored safely within the car. This also means safekeeping a small first aid kit and also keeping a kit that contains necessary items such as flashlights, batteries, energy bars, energy drinks or bottled water, staplers, a blanket, jumper cables, robe, etc.
This is for any serious emergency purposes like when the car breaks down or when there is a flat tire. Also, try to keep a spare tire and gas ready in case if there is no availability for these things.
Try to organize smaller things:
Try to reduce bad briefcase habits. Instead of jamming all the documents and papers into one briefcase. Try to utilize the pockets and the spaces within the briefcase. Try using a pocket holder to organize the cards and maps. Also, try to keep the documents and papers in an expandable folder like a three ring folder or try using strong paper files.
Also, try to organize the various stationary present, such as pens, pencils, erasers, staples, and staplers inside a transparent pouch. This helps in easy and quick access to stationary when in a hurry.
Moreover, not much time wasted when searching for such stuff like on the contrary when kept in big bags along with papers and other important items.
Carry bags:
Employees who often use airlines as a mode of communication know that there is always a high chance of losing luggage when boarding from the airport. This leads to a loss of important work and documents and also clothing and other essentials.
To solve this problem, try to always carry a carry bag with you at all times. The carry bag can contain important documents, cash, phone and associated electronic devices and also essentials like an extra pair of clothing and underwear and such. This helps you to survive even if your luggage takes time to be received.
Within this carry bag also try to store essentials such as toiletries, which includes soaps, toothbrush, toothpaste, deodorants, razors, hairspray, etc. these should be kept differently from the ones that you use normally. Also, this helps you to use your toiletries wherever you are. Try to store these essentials inside a clear Ziploc or a clear transparent pouch.
Also, inside the carry bag, is to include a "to do" list of documents. This should file in such a way that they could be easily read and done while you are waiting in a queue or a similar situation. This ensures that you are doing something productive while waiting. Moreover, this will keep you busy and occupied.
Bring Essential Electronics:
Always try to bring essential electronics that aid you in the job that you are doing. This does not mean that you should be completely dependent on them.
In case something happens to the electronics, such as loss of information in a CD or a broken laptop, always try to keep a hard copy which can be used as a backup for presentations and other purposes. The essential electronics include:
Laptop:
It uses to store important works and allows you to edit and make the information portable.
Handheld devices: lets you do most of the work, this includes organizing data and portability and most of the editing that done on the laptop can do on devices like mobiles and tablets. For example, documents like word and excel sheets can do using handheld devices.
CD-ROMs, USB drives and diskettes:
These devices help you store information and redundant copies of your work in a portable device.
Travel alarm:
Used as a backup for hotel clocks or mobile alarms, or a wake-up call.
Cell phone holder:
Use a hands-free phone or a charger when the employee is driving.
Portable surge protector:
Protects your data against data loss due to a sudden change in input voltage.
Voice recorders:
To record any happenings or any new ideas that occur suddenly. Many of the handheld devices now have an inbuilt voice recorder as such.
Make Contacts and Prepare Back-ups:
In addition to confirming to the client and making sure about the venues and equipment, try to always take back up electronic with you. This includes a portable multimedia projector, extra USB cables or even a portable charger and a portable printer.
Also try to find out if the venue has good resources such as copier/scanners, and also try to find out if they provide a secure internet connection.
If possible, try to visit more than one client on the same trip. This helps you to save time and money.
There is also another important that you should take care of when using a mobile office. The introduction of laptops and portable devices initiated the trend of telecommuting and mobile office spots. The growing trend increased freelancing and other telecommuting ventures.
In this day and age, the heart and brain of the mobile office are either the laptop or the portable handheld devices such as mobiles, phablets or tablets. Laptops are given more priority than the other three since it gets the most of the work done. To manage such new and developing certain measures are to be taken. This include:
1. Keep your PC current:
Try to take care of your laptop since this is the backbone of your mobile office. Some points to keep in mind while handling such portable devices are:
The smaller and compact your device is the more mobile your workspace will be. Thus, try to think properly about the type of work and the mobile space that you intend to keep while trading or buying new equipment.
Try to make your device as secure as possible. To ensure that a good antivirus installs on your device and that software update correctly.
Try to ensure that all the electronic devices including mobiles, laptops, scanners, printers are suitable for providing a user-friendly environment.
2. Create a paperless filing environment:
There is various proprietary and freeware software that helps the users to create and produce documents online. Users have the option to save the documents online in so-called "cloud" storage.
This protects the document from being corrupted or stolen due to malfunctions in the devices and due to theft.
Software and apps such as Evernote and Springpad can be used to note down ideas whenever necessary and these can be referenced at a later date and place. Try to store files such as audio and videos, pictures and other multimedia files in cloud storage such as Dropbox or Google Drive.
Since these are protected and only accessible by the user, there is less chance of theft and these can be accessed anywhere when there is an internet connection.
3. Manage your time effectively:
One of the main disadvantages of maintaining a mobile office is that there is no supervisor to observe how much work you have done in the prescribed amount of time. Hence, managing your time is one's responsibility when it comes to maintaining a mobile working environment.
Try to utilize time as productively as possible. Try to follow these suggestions when trying to maintain time under such types of jobs.
Use an electronic diary or a timer, to keep track of various schedules and plans.
Try to keep a specific time and set aside that time to have various discussions with the clients and trying to meet the colleagues and creating a good relationship with them.
Set a clear and realistic time to your clients when the work will be done. For example, the time taken to view emails from clients or the time taken to give the promised results.
Track your progress on specific projects by keeping milestones and performance indicators that help you to strive forward towards the goal.
In this form of office, try to remember that you are both the manager and the employee. Try to accept the fact that each person is responsible for his actions. The driving force is to achieve the results rather than simply just completing the task. Time management should more result oriented, this means that time should manage in such a way that it should produce satisfactory results.