All job seekers try to optimize their LinkedIn profile to make sure that it appeals to the recruiters. They try to summarize their career achievements in best words as possible. They are aware of the significance of the LinkedIn profile for a job seeker. Yet, many people fail to achieve the perfect LinkedIn summary. This is because they do not know the tricks of the SEO trade.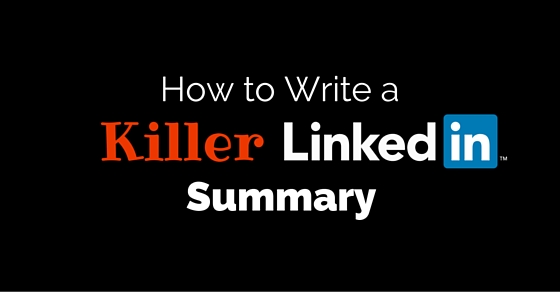 Here are few tips to write a LinkedIn summary and some simple ways to make sure your LinkedIn profile stands out from the rest and draws the right kind of attention.
Powerful Tips to Write a LinkedIn Summary:
1. Make the Best Use of 2000 Characters:
LinkedIn provides you an option to write a 2000 characters summary. You need to make the best use of these characters. You need to summarize your qualifications, achievements, skills and abilities in the best way possible in the 2000 characters available to you.
There are a few candidates who simply write the highlights of their career in the LinkedIn summary and do not make the best use of the space provided to them on LinkedIn. Writing a proper summary will help you optimize your profile on the professional networks.
2. Update your Contact Details:
You must remember the purpose of the LinkedIn profile and fill in your details accordingly. The main aim of most candidates who prepare a LinkedIn profile is to ensure that recruiters view their professional details. In this way they improve their career prospects. Updating your contact details like phone number and email id in your LinkedIn profile will help recruiters contact you.
Providing these contact details ensures that the right opportunities knock at your doorstep without much delay.
3. Arrange Facts in Chronological Order:
An organized and story like summary on professional networks easily attract recruiters. Everyone likes stories and when the facts regarding your career are organized in a proper chronological manner, it is no less interesting than a story. You need to mention all your achievements in a career in the proper order.
If there are special awards or accolades that you have achieved during your work life, make sure you mention these in your LinkedIn profile summary.
4. Impress with the Right Format:
Presentation is another factor that matters greatly when it comes to LinkedIn profiles. If you present all the data in a reader-friendly format, the visitors will enjoy visiting your profile. This is sure to increase your chances in getting the right job.
You must arrange the summary in paragraphs. If the content of the summary flows like a story, it will interest the visitors. You may use subheadings, graphics and similar other tools to make the summary more impressive. On the contrary, if the entire information is presented in a haphazard manner, it will hamper your profile.
5. Have an Effective Summary:
The effectiveness of the LinkedIn summary greatly depends on the language you use. You need to make sure that you use grammatically correct language while summing up your qualifications and creating the profile.
Use the vocabulary that is used commonly in professional circles. Avoid the use of idioms and phrases as they may seem out of context and unnecessary. Instead, use precise words to reveal your qualifications and achievements.
Sample Summaries and What Makes Them Impressive:
Summary 1- For Web Content Writer:
As a web content writer I am creative, enthusiastic, innovative and reliable. I enjoy writing on the different genre like home decor, interior designing, fashion, clothing, recruitment and online marketing.
I adhere to the rules of web content writing and always provide content that is 100% unique. I pursue writing because it is my field of interest.
In my free time, I enjoy writing poems, short stories, songs and impressive quotes. I take a special interest in different styles of English language like American English and British English.
I am a fast writer and have managed to cope with close deadlines and yet provide high quality content. I have also worked for academic content requirements.
My ambition is to have a prominent travel blog in future. I enjoy traveling and writing on the go.
What is impressive about Summary 1?
There are several facts that make the summary 1 apt for attracting recruiters. The information has been organized and divided into small paragraphs. The organized look of the summary makes it extremely reader friendly.
The writer has mentioned clearly the different genre in which he or she is comfortable writing. Recruiters who are looking for writers for a particular genre can easily shortlist the writer if he or she fulfills the requirement.
The writer also reveals his or knowledge regarding American and British styles of English. This adds another point to shortlist the right candidate. The precisement of the LinkedIn summary makes it the perfect summary.
Summary 2- For an Interior Designer:
I have been in the field of interior designing for the past two years. I am enthusiastic, innovative, creative and have a superior aesthetic sense that helps me decorate the interiors of homes in the most pleasant manner.
I have done my Interior Designing course from XYZ college. I worked as an assistant to the famous interior designer in Mumbai and that is where I gained infield knowledge regarding interior designing.
My ambition is to set up an office of my own and start an independent interior designing business.
I am looking for a job that allows me to acquire further knowledge and experience that will help me achieve my goal.
The Beauty of Summary 2:
The summary includes all the vital facts regarding qualification and ambition of the candidate. It is precise and yet has all the information that may be important to the recruiter.
In simple words, the candidate has expressed his/her innovativeness and creativity. He/She has also spoken of ambitions, experience and other reasons that the recruiter may wish to know while checking the candidate's profile. The person has made use of LinkedIn summary in a great way that too within the limited space.
The above mentioned simple tactics help you get more recruiters to view your LinkedIn summary. The ways are helpful and reliable. Yet you need to remember that as more and more people view or visit your LinkedIn profile, you get more traffic from reliable sources.
Though the summary is quite an important aspect of your LinkedIn profile, do not make it your focus. Instead, try to make sure that your LinkedIn profile is fully complete and has all the necessary information.
Additional tips you should focus on:
A Blogpost to Reveal Your Knowledge:
You may write a blog post discussing the latest trends in your field. If the blogs you post on LinkedIn are informative and useful, your readers may regard you as a reliable person in the field. Only after you achieve this credibility will people refer your profile for big companies. It is thus vital that you fill in all the important information.
You need to follow certain rules of content writing while creating a blog post. Make sure that your post is not too wordy. Divide the content into subheadings and short paragraphs so that readers find it easy to read. Justify the content so that it appears properly aligned.
You may use charts and graphs to present the information more effectively. You may also use images and link to other content so that the reader finds it helpful.
Stay Active on social networks:
Very often, people create an id on LinkedIn or similar other social networks and then forget everything about it. This is really a poor tendency. You must remember the old saying that says 'Out of Sight, Out of Mind'. This applies even in a case of social networks.
If you create a profile and then neglect it completely, search engines reduce traffic to such profiles and finally you are at a loss. The best approach would be to stay active every day for a limited period. This will help you get more traffic to your profile.
Stay Away From Frauds:
There are many fraud companies and firms that misuse the social network to get work done for free. You need to be careful and cautious not to land up in their trap. When you build your contacts, make sure you ask for all the important details. Check the contact information and verify that it is working. Once you are sure that the contacts are genuine only should you agree to work with them.
Conclusion:
The summary in LinkedIn is one of the most effective tools to impress recruiters. If you make the right use of this channel, you are bound to get the right opportunity at your doorstep. If you are still not sure how to write a LinkedIn summary, you may check the high ranking LinkedIn summaries and understand what makes them most impressive.
Save