Job seekers today have countless opportunities posted on social platforms like LinkedIn, job sites, and other channels, thus making the recruitment world highly competitive. According to ERE Recruiting Intelligence, the top candidates are gone within 10 days!
So, if you aren't engaging prospective job candidates, you are likely to lose out on a talented pool of people. In 2019 alone, there was a 20 percent increase in quality job seekers dropping off from the hiring process. You don't want to lose out on a qualified pool of candidates.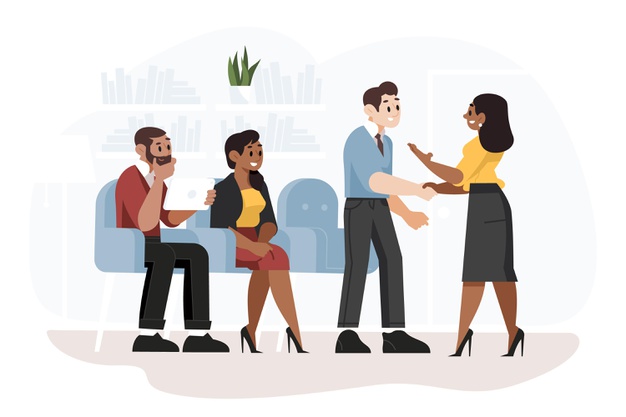 Candidates are like prospective customers who are researching the best brand they can associate themselves with. Therefore, it's important to plan and implement a robust candidate-centric talent acquisition strategy that'll ensure a positive hiring experience. This will not just fetch you the top talent but also improve the chances of rejected candidates reapplying.
Just like they would for a prospective customer through a buyer journey, businesses should consider engaging candidates through their job-seeking journey. This will ensure a positive hiring experience, speed up the time to fill, and build a pool of interested and engaged candidates.
Invest in Recruitment Marketing:
A candidate's experience of employer brand begins from the time they research the company to see if any role fits their skills and career goals. Therefore, it's important to plan a robust strategy to find, attract, engage, and nurture talent even before they apply for a job.
Use the tips shared below to attract the right candidates to your company and inspire them to choose you over your competitors.
1. Create Engaging Ads:
First impressions count! The job advertisement you post is the first point of contact for a candidate who will likely be your employee someday.  Don't just list the benefits of the role and the perks it offers. Give your audience a peek into your brand identity and what's it like to work with your firm.
Regardless of the content format or channel you use, make sure you communicate the core requirements and responsibilities of a role using engaging content. Your job ad should cultivate a strong brand identity and stand out amongst hundreds of competing employers.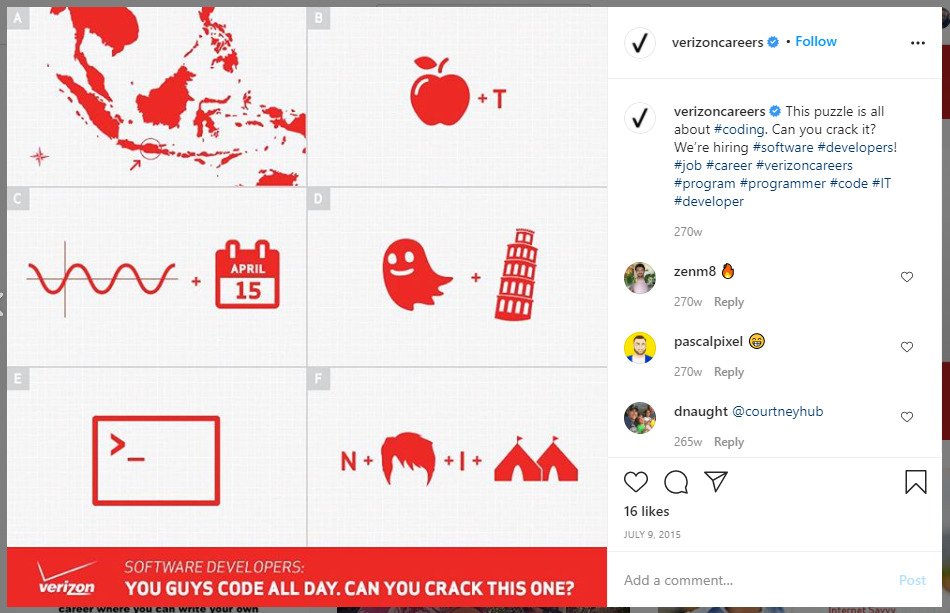 source: instagram
Check out how Verizon gamified their job ad by turning it into a contest for their target audience, namely coders and developers.
Also, use industry-specific terminology that helps candidates understand the role; however, refrain from using too much jargon.
2. Focus on Employer Branding:
Job seekers expect employers to be creative with their messaging as it gives them an insight into the company culture and an idea of their career progression. Employer branding is a process of positioning your brand as the most suitable employer for a target group of candidates.
80 percent of the talent acquisition managers believe that a strong employer branding can positively affect a firm's ability to hire the top talent in the industry. Take a look at your company culture and craft a meaningful brand story that helps potential candidates connect with your brand.
Think about your employee value proposition. What's your value proposition for potential candidates? Are there any unique benefits you offer employees? Weave a story around this and share it through videos or posts on your career page and on social media.
Keep it simple and honest like Kone, the escalators and elevators brand. The company communicates its vision, mission, and what its brand stands for through a series of promotional videos targeted towards potential candidates.
3. Highlight Your Company Culture:
One of the top questions on the minds of candidates when considering a new job is, 'Would I fit in or enjoy working here?' Sadly, this is also one of the top reasons why companies lose talent – the employee feels they don't fit in the firm's culture and environment.
An organization's reputation has a lot to do with how well it lives up to its core values. Make sure you share videos and posts that talk about why your company culture is unique. You could even use VR and live videos to show people around the workplace. Remember to share what do you do and your mission, values, and goals.
Check out how Gant, an American Swedish clothing brand, uses a series of employee videos to show what it is to work with them.
Working on your company's employer brand image will get potential candidates excited about working for you even before they get to the application stage.
Don't Ignore the Company Website:
You may have an awesome company website that wows your customers. But what about your potential candidates? A website's role as an employer branding and a recruiting tool is often forgotten.
Candidates expect to be treated like customers. Ensure that all the relevant pages, namely the Careers page, the About Us page, and the Contact Us page among others are built for candidate engagement.
For instance, candidates are most likely to turn to your careers page to know more about the opportunities and the organization. Spark interest in prospective job seekers by creating an impressive company careers page.
Check out how Medallia, a customer experience management company, has extended CX to its prospective candidates. The page is all about the company culture, its people, and why Medallia is a great place to work. They've also added a CTA in the end, asking candidates to go through the open positions.
Design an Engaging Pre-Selection Process:
A corporate job posting normally receives 250 resumes and if it's high-volume hiring, it's next to impossible to manually screen all the candidates. Also, if you attempt browsing through each profile, you run the risk of losing qualified candidates (10 days, remember?). Therefore, you should optimize your pre-selection process.
An online assessment can buy you time to assess the candidate's skills while helping them learn more about your organization. For instance, a gamified assessment, a personality assessment questionnaire, or a situational judgment test can help you narrow down your search while keeping the candidates engaged.
Notice how Kimberly-Clark launched a new BuzzFeed-style career personality test on its company career site called Welcome Original Thinkers.
Similarly, tests like the Caliper Profile and the Hogan Personality Inventory (HPI) can help you measure how a candidate's personality traits correlate to a job role, thus allowing you to predict job performance. Include such assessments as a part of your pre-selection process to improve the candidate experience and optimize the hiring process.
Further, engaging the services of a reputed staffing agency can help you screen the candidates who are the right match for the job and your enterprise. These agencies have a strong network and dedicated resources for finding and securing great hires. Use their services to save time and money while optimizing your pre-selection process.
Make the Application Process a Breeze:
A complicated and lengthy job application process is often a major source of frustration among candidates, causing them to abandon the process. Nearly 20 percent of candidates drop out of an application process that takes more than 10 minutes to complete.
No candidate would look forward to key in their experience or academic background when they've already shared it on their resume. Take a look at your existing application process and work towards shortening and streamlining it.
Here are four things you can do to improve the application process and ensure that qualified candidates make it to the end.
1. Share Clear Instructions:
Offering clear instructions helps candidates know what to expect and how long the process will take. Give them an overview of the entire process. For instance, share how many questions they need to answer or what information you are seeking.
Also, review your current set of questions and classify them as –
Important questions
Questions that can be asked later during the personal interview
Questions that can be taken off the list
This will help you shorten the process and get you the relevant information while improving the candidate experience.
Mention how you want them to apply. Do they have to apply through an online application form? Include a link or share a clear call to action to direct them to that page. Similarly, if you want them to get in touch with you via email, share your contact information.
2. Optimize for Mobiles:
Nearly 60 percent of Glassdoor users are looking for jobs on their mobile devices. This is the age of mobile job seekers and employers need to recognize this trend and optimize their application process accordingly.
Candidates want a seamless experience when searching, applying, and uploading their resumes on mobile phones. Make sure your pages are aptly formatted for a range of devices and easy to read. Reduce the number of actions on each page. Also, allow users to upload their resume by connecting to their profile on LinkedIn or Google Drive.
3. Focus on the Overall UX:
Simple features like sharing a progress bar, allowing users to save their application form midway, and letting them see a preview of their attachments can go a long way in improving a candidate's experience.

Get your design team involved in the process to know your possibilities.
4. Keep the Process Transparent:
Candidates deserve to know where they stand in the process. Lack of communication on your behalf can lead to a negative experience for candidates, causing them to not just look for options but also carry a poor image of the company.
Keep the candidate updated on the status of their application and the time scale for processing it. Ensure that they receive a personalized message or email, making them feel valued and appreciated.
Moreover, if the candidate doesn't match your expectations, communicate it to them. Provide personalized feedback and if possible share their assessment results. This will help them learn about their strengths and weaknesses. They'll be happy that you contributed to their professional development.
Recruitment technologies like Ideal, Textio, and HackerRank allow recruiters to screen and grade candidates and rank them as per the job requirements. Count on them to manage candidate feedback during high-volume hiring.
Be There to Address Their Concerns:
Candidates have several questions that need to be answered in time. This will not only improve your image but also help them know their prospective workplace better.
In high-volume hiring, you may find it tough to respond to all these questions in person. Consider employing a chatbot that can effectively take care of the common queries while preventing candidates from losing touch with the organization. A survey by Allegis revealed that 66 percent of candidates were comfortable interacting with chatbots during the hiring process. Today's AI-powered chatbots use a natural voice when interacting with candidates, thus improving their experience with the organization.
Most candidates have similar questions about what to expect during the screening process. Work with your team to enlist the commonly-encountered candidate questions and craft answers that can be delivered using the chatbot. That way your team is left to respond to concerns that haven't been satisfactorily addressed by the bot.
You can also work on creating a central hub of resources for candidates similar to what DigitalOcean's recruiting team did.
Ask for Feedback:
Seeking candidate feedback will not only showcase you as a company that makes people-centric decisions but also allow you to sharpen your future recruitment strategy. Create a short survey to understand what job hunters think of you as an organization and whether or not they found the recruiting process engaging enough.
DocuSign, the American e-signature company, understands and values the relationship between recruiters and candidates. They have a standardized candidate experience survey that allows candidates to share feedback and helps the firm get better at what they do.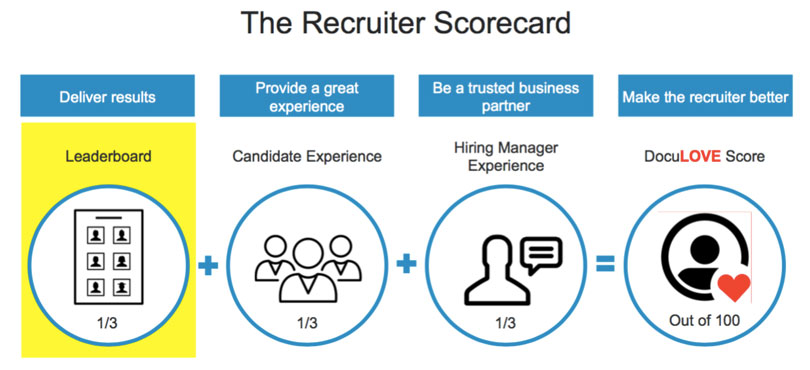 source: linkedin
The insights derived from such surveys will help you optimize the process for the next generation of candidates. If you fail to ask for feedback, candidates have plenty of platforms to voice their opinions. Remember, 60 percent of candidates share a negative candidate experience with their families and friends and 35 percent share it online. Hence, it's wiser to hear out what they have to say about you through candidate experience surveys!
Summing Up:
A candidate is like your customer. They not just seek value but also add value. Whether they get selected or rejected, they'll carry the experience they had with you for life. And if it's a positive one, they'll likely become your brand advocates, reapply in the future and also refer others. Thus, a positive candidate experience can give you a serious competitive advantage.
Therefore, it's critical to devise a strategy to engage and delight candidates and grow your talent pool. Use the tips and insights shared in this post to craft your candidate journey in a way that keeps them engaged through the hiring process.