Every employer always wants to develop winning recruitment strategies that can build a fantastic team and bring the company a competitive edge. However, whether you are a small business owner, an HR manager, or a CEO of a company, you'd know how challenging it is to do so.
Therefore, more and more employers and recruiting teams left no stone unturned in searching for the most-fit, better quality candidates for the open positions they offer. The recruitment process mostly relies on job postings on social media or job boards and crossing your fingers to get the most skillful and experienced ones to apply.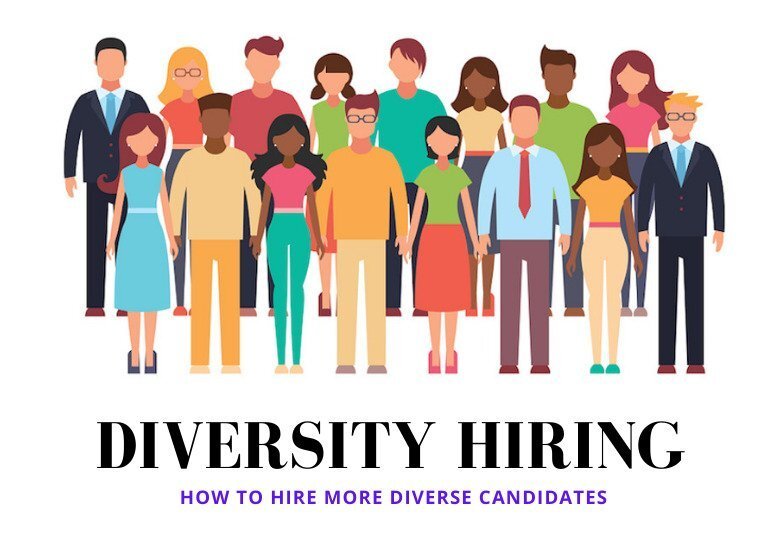 In this case, the candidates' quality is indeed crucial, but it isn't everything. There's another mostly-overlooked yet powerful strategy when it comes to recruitment: diversity.
Diversity hiring has become a hot button issue and a top priority for savvy recruitment departments. More than 57% of them say their talent acquisition or recruitment strategies are designed to attract diverse candidates.
To keep your company relevant in this fast-paced world, you must take steps to ensure diverse candidates are part of your recruitment strategies. Research shows that companies with more diverse workforces are most likely to outperform and out-innovate those that don't.
So, why's diversity hiring even a thing in recruitment strategies, and why should you care? Let's find out!
What Is Diversity Recruiting?
When people refer to diversity, they often think of differences among demographic groups like ethnicity, race, or gender. In fact, it's a much broader and more inclusive concept than that.
The basic concept is actually quite simple: diversity hiring or diversity recruiting is a process to build a strong, solid team that celebrates different thoughts, ideas, backgrounds, experiences, and being encouraged to bring that all together to create more value to our peers.
In this case, diversity goes beyond diversity. The inclusion and sense of belonging can bring out the best in every person on the teams.
Diversity recruiting is all about not overtly biased in the methods to attract new employees. All that matters is choosing the top candidates free from biases for or against any individual or group.
Of course, in recruiting new talents, it still is merit-based recruitment to find the best candidates. But, the recruitment process should be designed to give all applicants, regardless of background, ethnicity, gender, and values, an equal opportunity.
Why Diversity Hiring Is Important?
Diversity hiring can contribute to more effective business overall performance, productivity, and innovation in your industry. Moreover, these staggering numbers from the latest statistics can convince you how crucial it is to have diverse people in your company:
See? Those fascinating numbers speak for themselves. It gives you reasons why diversity hiring matters and why you should consider implementing it within your company.
To give you more insights about the perks of diversity hiring, here are some points or benefits of having a strong recruiting strategy for more diversity candidates:
1. Growing Talent Pool
A company that incorporates diversity hiring benefits from a larger pool compared to those who don't. Their vacancies will gain interests from a broader range of potential candidates. That's because more people from various backgrounds can relate and build a more personal relationship with them.
2. Improve Employees' Retention and Productivity
Diversity hiring allows all candidates to feel welcome and accepted in the company environment. And the employees who feel appreciated for who they are, no matter their age, gender, or ethnicity, are much happier and enjoy working in your company.
If you can make your employees happy doing their work, it won't only lead to more productivity, but also much less likely to leave your company anytime soon. In other words, they'll become the loyal employees that you can hunt on for such a long period of time.
3. Increase Innovation and Creativity
Having a diverse team, where people of all walks of life come together, makes creativity and innovation are much easier to reach. The combination of different experiences, cultural backgrounds, and working styles sparks new ideas smoothly and straighten teamwork. A study shows that 87% of the time, gender, age, and geographic diversity can result in better decision making.
4. Strengthen Employer Brand
If your company is well-known for its diversity, chances are more candidates will get more convinced in applying. That's because they think that your company is the right and an ideal place to work. Remember that many candidates consider workplace diversity is a crucial factor when they're looking for jobs?
5. Boost Workforce Skills
Diversity hiring can also increase your workforce range of skills, talents, and experiences. With the collaboration of ideas and thoughts from different employees, you can better understand your customers' needs and preferences.
It makes it easier for you to cater to individual customers' needs. And that's how you can grow your business constantly.
Steps for Attracting Diverse Candidates:
Now, the question is: how to make your recruitment process more inclusive to attract a diverse team?
Despite all the benefits you'll have in having a diverse team in your business, hiring a diverse set of people isn't smooth sailing — no matter how much you want to embrace diversity in your workplace.
More often than not, many recruiters or employers get stuck in a rut to find the kind of people that align with their company goals and simply hire more of the same.
That's why we've listed some of the best practices you can implement to build a recruitment strategy that can make your hiring process more inclusive to attract a more diverse team:
1. Set Clear Diversity Hiring Goals
First of all, make sure you know what you expect from your diversity hiring by defining clear and measurable goals. These goals can help you focus on your strategies.
Try to plan ahead and measure everything before you start recruiting more diverse talents. For instance, if you want to recruit more female employees, then make sure you prescribe a number.
Don't forget about the timescale too. Give the recruiting process a deadline so you can build a new diverse team time-savingly.
2. Strengthen Your Inclusive Employer Brand
Your employer brand is extremely crucial to making your diverse candidates convinced that your company is a great place to work. Your employer brand can translate into your online reputation. When you have such a diverse workplace, and you show it, then it can attract more candidates.
Diverse candidates are most likely looking for a company where they can feel welcomed and appreciated. In other words, they don't have to worry about their backgrounds, their gender, their race, and more.
Building such a strong, inclusive employer brand can give them comfort in the first place so they can gain their confidence in applying for your open positions.
3. Build Diverse Workplace Policies
It's absolutely critical to have such diverse workplace policies. Everyone in your company (from employees to hiring managers) should be on the same page and be reliable for their part to play in the diversity hiring process.
With diverse workplace policies, everyone can understand and embrace more diversity. You should include the company stances on religious holidays or other time-off and flexibility for diverse employees.
Also, try to get your current teams or employees involved in building diverse workplace policies. It helps give everyone opportunities to achieve their personal values. That way, all of them can feel understood and supported in their work environment. In return, your company will benefit from much higher employee retention.
4 Ways To Improve Diversity Hiring Practices
Now that you understand how to attract more diverse candidates, the next thing is to perfect your diversity hiring strategy. In this case, one thing you should bear in mind is that diversity hiring isn't all about practicing inclusive recruitment, but also to make your stand out and outperform your competitors' job postings, so you get the best diverse applicants.
Here are a few inclusive recruitment best practices to improve your diversity hiring performance and its results:
1. Train and Educate Your Current Teams
Focusing on training and informing your existing employees about workplace diversity is essential to developing a diverse culture. Even the best diversity hiring efforts will fail if you don't breed a current workforce that invites and supports diversity.
You can anticipate your business demands, so your employees don't feel overwhelmed. Try using workforce management software to unlock your workforce's potential and harness the true power of your organization's greatest asset.
Cultural diversity in the workplace is an ideal way to start a diversity since everyone on the team understands and is ready to embrace the differences and focus on their peers' inclusivity.
It's crucial to make the new employees feel welcome and get along with them in no time — so they don't have any problem adapting to their new office. This way, you won't only be able to attract more applicants but also help a company build sustainable growth.
2. Use Social Media to Spread The Word 
Social media platforms are such an ideal place to showcase the diversity of your company. Since more than 79% of candidates use social media in their job search, it's always better to try to create content showing your workplace's diversity.
It can strengthen your company's diversity branding, so more people know that your working environment is ideal and fun with a lot of different employees from different backgrounds.
You can share pictures from any diversity events or any content that shows what kind of efforts the company is making to make the workplace diverse.
A strong and solid social media presence can help you strengthen your employer brand and give potential candidates a grasp about your company through your social media content. The more you include diversity values on your social media, the more candidates will get convinced in applying to fill your open positions. You can make use of different social media scheduling tools present in the market to manage your social media presence effectively.
3. Create Recruitment Videos
Another handy way to attract more diverse candidates is by creating recruitment videos that also show your diverse employees. You can get your employees sharing their experience of working in your company and highlights the workplace's diversity.
These videos help potential candidates gain their confidence in applying for your diverse workplace. It creates a warm, welcoming environment where diversity is celebrated, and every employee in your company is treated all the same with dignity and respect.
You can then post the recruitment videos on your job boards or your Career page on your website. You can also post it on social media such as LinkedIn, YouTube, Twitter, and more. The more platforms you use, the more exposure you'll get for the video. This content can bring you up to a 34% greater application rate.
Look at this diversity recruitment video from Apple to help you get some inspirations:
https://www.youtube.com/watch?v=xnHeu0aK3Eg
4. Expand Your Candidates Reach
If you want to reach out to more diverse people, it means that you need to widen your candidates' reach. Candidates with similar backgrounds, education, experience, and skill levels can use the same channels to apply to jobs.
Therefore, you need to expand your candidate search by looking for candidates at different platforms. Using social media alone isn't enough. Meanwhile, relying only on job boards also won't do the trick.
So, it's essential to leverage different digital channels to attract diverse talent. It helps you reach applicants who may have missed your open job position in the previous recruitment.
Final Thoughts:
Having a workforce comprising different backgrounds, skills, gender, and perspectives can create more robust and rounded teams. With everyone feeling that they're included, it ensures that there's a wide spectrum of ideas, experience, and skill sets in the office. All of it then boils down to better working performance and improved company innovation.
Diversity hiring is key to creating a diverse workforce, which helps create a more welcoming environment. In this matter, this kind of hiring won't only help you increase your application rates but also increase your company's online reputation as well.
About Author: This is a guest post from Andre Oentoro. He is the founder of Breadnbeyond, an award-winning explainer video company. He helps businesses increase conversion rates, close more sales, and get positive ROI from explainer videos (in that order). Twitter | LinkedIn