In this day and age maintaining a proper work-life balance is rather important. If you overwork yourself then sooner or later this is going to tell on your health and you will come in for all kind of health issues. These health issues include heart ailments, stress, and high blood pressure. It is for this reason that many people prefer to opt for jobs with flexible hours so that they do not feel pressurized in any way at all.
Here are some of the best jobs with flexible schedules, based on your educational qualifications and interests you should opt for one.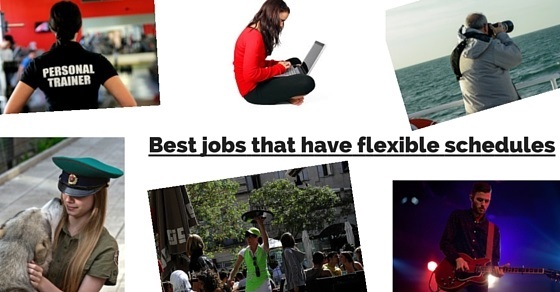 High Paying Jobs with Flexible Hours or Schedules:
1. Freelance writer:
There are many people who believe that it is impossible to get a job with a high salary along with a flexible schedule. They think that they have to opt for one of the two. But this is certainly not the case when you choose to become a freelance writer. Most often, not only are you allowed to work from the comfort of your own home, but you are also permitted to work as per your own convenience. This having been mentioned you ought to know that freelance writers get a high salary which allows them to maintain a very high standard of living indeed. If you are a good writer then be sure to opt for this career.
2. A professional photographer:
One of the best parts about being a professional photographer is that you need not have high degrees to back you up. If you are talented behind the lens then you will be able to make quite a mark for yourself in this field. This is one profession where practice makes perfect, so as long as you keep trying to improve on your skills, you need not worry about anything else. This is one job which is very rewarding indeed. That having been stated, not only does the profession allow you to pursue your hobby but it also pays rather handsomely along with giving you a flexible schedule.
3. Web designer:
No one says that being a web designer is an easy job. Being a good web designer is both an art and science. It takes great skill and expertise to create a website which not only looks good but is rather functional. If the website is not user-friendly, then it will fail to attract the attention of people. There are many people who master the art of web designing on their own. They combine their creative bend of mind as well as their technical ability to try and come up with web designs which are unique as well as highly appealing to the masses. This is not merely a well-paying job, but it gives you flexible work hours.
4. Telenurse:
It is not often that we hear of people who are 'telenurses'. This is indeed a profession which came into being not many years ago. Over the last few years or so there has been a sharp rise in the number of telenurses, this is owing to the fact that the job is very well paying and it allows the individuals to enjoy a flexible schedule.
Telenurses are just normal nurses who make use of different communication devices in order to give medical advice and help to those people who are physically away from them. This job helps to keep people out of the hospital and more importantly it saves precious time when it comes to attending to an ailing individual.
5. Graphic designer:
In this day and age all companies know the importance of both marketing as well as advertisements. If the advertisement of a particular product is done well, then that is half the job done in itself. A good graphic designer is able to enjoy flexible schedules and along with this, enjoys a handsome salary. Whether it is to design a billboard, make a brochure or even design the company logo, the services of a good graphic designer are indeed much sought after. Such an individual must be rather imaginative and creative in order to come up with good and attractive ideas.
6. Film editor:
Being a film editor indeed is rather time-consuming but it does allow you to work as per your own convenience. If you are someone who dreams of making it big in the film industry as an editor, then you should not think twice about taking the plunge. A film editor must have the ability to not merely put together random shots, but they also must put it all together in a coherent form. The success of a film to a large extent depends on the editing which is done. A professional film editor earns a very handsome salary indeed.
7. Personal Trainer:
To become a personal trainer, it is vital that you work on your own fitness levels as well. If your body is out of shape, then how can you consider helping others to train hard in order to reach their ideal body weight and shape? Nowadays everyone wants to attain that 'size zero' figure which they see in magazines and on television and they are willing to do whatever it takes in order to achieve this. In addition to that, such people are also willing to pay a lot of money in order to get what they want. So being a personal trainer allows you to work with a flexible schedule as per your own convenience and that of the person you are training.
8. Financial planner:
Not everyone has what it takes to become a good and successful financial planner. In order to make it big in this line you naturally need to have a way with numbers. A good and registered financial planner usually has his own set of clients and he works as per a flexible schedule, based on when both parties are free and available. The job does require a great deal of thinking and analysis, but you can be rest assured that such an individual takes home a hefty paycheck at the end of the month which allows him to live a luxurious life.
9. Author:
The hallmark of a good author is that he or she has the ability to create magic with words. An author must have the ability to capture the attention of the person who is reading the work. Capturing the attention of the person is not merely enough; he or she must take it a point to grip on to the people's attention up until the last page of the book. A good author does not take on too many projects at one go but simply works when he feels inspired. Not merely does this job come with a rather flexible schedule but it does pay immensely well, especially if you are someone who has a way with words.
Part Time Jobs with Flexible Schedules:
1. A tutor:
The skills of tutors are much in demand. Rather than going to expensive academies or coaching centers, many people prefer to avail the services of a tutor. One of the best parts about engaging a tutor is that he or she will usually come right to your house and give you undivided attention which you would otherwise not receive in any big training centre. Whether you are good at math, English, some foreign language or even in an instrument, there is always someone who will be willing to pay high sums in order to avail of your assistance. This job is part time and allows you to enjoy a flexible schedule as well.
2. Being a dog sitter:
All pet owners will tell you that they do not trust their dearest pets with any and everyone. They are very careful about who they trust their pets with. If you are someone who simply adores dogs, then you should seriously consider taking up being a dog sitter as a part time job. This job not merely gives one immense job satisfaction, but it also allows you to enjoy a flexible schedule based on the time you say that you are free to come by. Once you go home after walking or staying with the dog you are sure to feel a lot lighter and happier. This job functions as a great stress buster.
3. Becoming a blogger:
In this technological age all of us spend countless hours before the computer screen or with our mobile phones. Rather than wasting your time scrolling and down your news feed, it is a better idea if you were to start blogging. A blogger not merely has the liberty to work as per his own convenience but he can also post articles on whatever he feels like or wherever his interests lie. Many people take this up as a part time job and make quite a big sum through this medium.
4. Baby sitter:
If you are someone who loves babies then this is an ideal job for you. Not merely is it a great part-time job, but it does not feel like a burden at all especially if you are able to forge a relationship with the child. Parents and guardians are willing to pay a lot of money in order to ensure that their young ones are well taken care of. So if you are someone who is rather homely and with a patient nature then do consider taking up this job as it is very rewarding indeed.
5. Musician:
Many people have a musical bend of mind, but they usually do not take up music as their career because others convince them that the job would be rather undependable. So if you are someone who may not be willing to take up being a musician as a full time job, then you should consider taking it up as a part-time job. The schedule is flexible and you can pick up a gig or two as per your own convenience. You can even consider posting videos online and having people pay to view it. In this way you can make some money through it.
Summer Jobs with Flexible Schedules:
1. Paid internship:
Rather than wasting your summer, doing nothing at all, you can always consider taking up some kind of paid internship which is bound to look very impressive on your resume. There are many companies which are more than willing to offer individuals jobs over the summer, especially young college students. This serves as a great way to keep youths out of trouble and to teach them responsibility from a young age, so that they learn to value money and save up for their future.
2. Waitress:
Based on your free time you can opt to pick up a shift as a waitress in any restaurant during the summer. This kind of job may not pay the best, but it is sure to give you some amount of pocket money which will help to see you through the month. To be a waitress you require no minimum education, you only need to be polite when dealing with customers and you are bound to keep your boss rather happy.
Jobs With Flexible Hours:
Many organizations offer extra benefits and facilities as part of employee engagement. Although there are many types of perks, flexible work hours is one of the favorite ones for most of the employees. This help employees prioritize their work and give enough time to their families as well in this busy life.
Employers now are even respecting their employees' personal life and helping them maintain a healthy work-life balance. All this is a part of the employee engagement program, as happy employees perform better at work when compared to unhappy ones.
Though getting flexible hours is not possible for every job, here we have enlisted a few of the jobs with flexible hours. For better understanding, we have segmented the jobs as per their niche.
​Communications/ Media Jobs:
Translator​
Email Marketing Manager
Content Marketer
Content Writer
Blogger
Brand Strategist
Copy editor
Copywriter
Marketing Consultant
PR Representative
Business Jobs:
Virtual Assistant​
Account Executive/ Manager
Customer Service Representative
Sales Representative
Business Researcher
Business Analyst
Administrative Assistant
Actuary
Marketing Consultant
Management Consultant
Medical/Science Jobs:
Telepharmacist
Personal Trainer
Teleradiologist
Dietitian
Massage Therapist
Research Associate
Medical Transcriptionist
Telecommuting Nurse
Telecommuting Physician
Home-Care Provider
Online Education Jobs:
Substitute Teacher
Therapist/Speech-Language Pathologist
Education Software Technical Trainer
Curriculum Designer
Curriculum Writer
Remote Elementary School Teacher
Online College Professor/Telecommuting
Online English Instructor
Tutor
ACT/SAT Instructor
Trade Jobs:
Tow Truck Operator
Security Guard
Locksmith
Dispatch/ Field Manager
Carpenter
Handyman
Mechanic
Delivery Driver
Electrician
Plumber
Technical Jobs:
IT/Server Administrator
Project Manager
Product Marketer
Software Consultant
User Experience Designer
Graphic Designer
Software Engineer
Web Developer
Web Designer
Quality Assurance Engineer
Miscellaneous​:
Film Editor
Phone Operator
Photographer
Merchandiser
Direct Seller
Interior Designer
Food Delivery Person
Housekeeper
Bike Delivery Person
Rideshare Driver
Courier
TV/Film Production Assistant
Nanny/Babysitter
Pet Sitter/ Dog walker
Online Survey Taker
Conclusion:
After going through the list you might be shocked at the number of opportunities which are open for you to explore. Many people succumb to the pressure from their families and choose a career which they are not really interested in. If you do not opt for a career which you are genuinely interested in then you will never be able to prosper on the professional front.
Choose a line in which you are really interested and the quality of work which you deliver is sure to be top-notch. No matter what, you must try and improve yourself with each passing day so that you are able to remain head and shoulders above your competition.
Save