Implementing change in workplace is not easy. If you have tried doing this before, you can understand how hard it could be. Nonetheless, we are here to help you with some effective ideas and strategies. Making changes in the workplace can only happen when you understand the environment and that is what this post will discuss. Whether it is about making policy changes or any cultural changes, we can help you with all. Just keep reading the post to understand.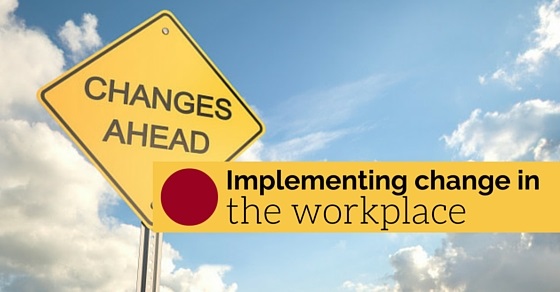 Implementing Cultural Change in the Workplace:
Implementing cultural changes in the workplace is not always that easy. However you can make things simpler for yourself by understanding the cultural hurdles managers face and how they can be overcome.
1. What are some of the major culture related hurdles managers face?
The first reason is cognitive. People should have some understanding of why the change is needed in the present culture. The second is called limited resources- inevitably, changing an organization will need shifting away the resources from a few areas and towards others. The third hurdle is called motivation. Ultimately the workers will want to make the changes. And the final one is called institutional politics.
2. How can you overcome such hurdles?
In order to overcome such hurdles, you have to use the tipping point approach to management. You should also recognize that you will not be able to covert people at once. You will have to begin with those who don't have a good influence all over the organization. You should get them committed to the change, failing that to get them out. And once they are committed to these changes, you can shine some spotlight on their accomplishments so that others can get the message.
3. Let people experience the truth:
Instead of speaking to the members about workplace change and how important it is, you must also look for a few ways to get these people experience the harsh realities that make it necessary. Bill Bratton who made a top brass back in the 90s would ride the subways all the time to understand what frightened the citizens that had come to call it as the electric sewer. There are other companies who have taken a very similar approach which requires the managers to take a few calls from customers who are disgruntled.
4. How can you boost the creativity at workplace?
If you want to boost the creativity at your workplace, do remember to evaluate the personnel of the structure of the company. Managers usually tend to tap a very small portion of the workers capacity. You have to identify the strengths of your employees, consider having better and new groups that comes with a tailored mix of talents. In case you have a project in hand, create some task force. Mix the employees with different levels of experience. The younger members of the team could provide high levels of optimism and energy: veterans could also provide with some insight from the previous experience. At the same time, we will also recommend you to have a green room where the workers can spend one hour every week and write their thoughts down on a piece of paper.
Implementing Policy Change in the Workplace:
The following mentioned are few tips on managing change in the workplace.
a. How can you maintain politics or policy change in your work place?
Here are some points that can help you maintain politics and policy change at work place. First of all, you have to pay close attention to who has better power in the organization and who has more influence. Secondly, you have to understand who will control all these resources. Third, you should have a detailed list of all the key stakeholders. Fourth, have a good network of all the allies all over the company. Finally you should create a good social plan which consists of all the influence strategies that can affect the organization.
b. Managing Strategic Change in the workplace examples:
A common change noticed in workplaces include reduction of workforce. This happens when the companies face a shortfall in income. Because of having less income, the costs are cut and sales are increased. Cost cutting however can be controlled by using alternatives. Reducing the expenses could be reducing the workforce. It could also lead to eliminating a whole department and outsourcing the work and or even letting the senior employees to go over the board. After it is complete, the employees who have got through could feel a bit anxious about their work and begin looking in other places for employment.
c. Litigation:
Another change includes litigation. Lawsuits can really effect some of your employees. The lawsuit from defects of the product could put an extra strain on the supervision of manufacturing as well as on the quality personal. Lawsuits which are based on sexual harassment could set off this requirement that most of the employees have to go through during the process of training. The pending litigation could also bring the company before the world which could result in unnecessary embarrassment for the members.
Strategies and Steps to Implementing Change in  Workplace:
Here are a few workplace strategies and steps you can use in order to make important changes at work.
1. Get all your managers ready before the change is implemented:
Managers have to be trained so that they can deal with the change at ease. One of the biggest misconceptions that exist in most work places is that people who are currently in management positions have all the experience in the world and have dealt with drastic organizational changes throughout the course of history. Even because of unprecedented organizational change in the way of closures, divestitures, layoffs, there are a few managers who havent seen any sort of change in the past. In addition to that, they might also have to change their own feelings so that they can adapt to the change. Therefore it is important to train all your managers on how they can handle the transitions for their staff and themselves.
2. Communicate openly and as frequently as you can:
There is literally no magic trick you can use to bring out the best plans. Always remember to communicate the changes often, make those changes and understand why they need to occur and what does all of this mean to the employee. The biggest detriment to the company is not being able to communicate frequently. As a result of this you could lose out on a few good employees. Once the good employees hear that the opportunities in the future are probably not available, they will be the first one in order to update their resumes.
3. Use all channels of communication:
One of the biggest mistakes most of us make in our workplace is to ignore those parts of creating change in every organization and how you can use the mediums of communication and the methods of communicating. Mediums will include voice mail, email as well as visual aids when the presentation is being conducted. The methods also include having regular meetings face to face and communicating even after the meeting is over. The reason why you should want to mix a few mediums and methods is that people get this information in several ways and think about the information in several ways. There are some people who need to see graphs as well as tangible items. Some people would like to get more information face to face and also have a dialog regarding it when others have to think about it and most importantly process it.
4. Get more support:
Next you should garner more support so that they can help in the process of change. This you can begin by simply identifying some of the key stakeholder groups, especially those people who can help you gain something in the future. Also keep a track of those who will not help you in any way. You should also include a few internal decision makers as well as a couple of program implementers such as technology staff as well as information. They also have a good communication plan which will tailor the content of communication and style to all of the preferences of the stakeholder. You have to make sure that the lines of communication with all the groups are open through the whole process.
4. Have goals that are articulate:
This step means you will have to define the desired outcome of the organization in terms that are measurable and specific. By doing this you will easily be able to remove the ambiguity of purpose and also be able to draw a clear picture of where would you like your organization to be towards the end of the program. You should not have any wishy washy goals. Instead, involve your stakeholders by simply coming up with meaningful outcomes that are vericable. You should also break down the goals into chunks that are manageable and may also set a baseline for comparison. Most importantly, you must also have a measurement regime that will help you keep a track of the progress.
5. Roles of nomination:
Once you have clarified all the roles, now you will have to assign the responsibility so that the individuals of the organization are secure. You also have to make sure that the tasks are well done and the responsibilities that you assign everyone are helpful for the company. Some of the categories we suggest you should consider include the change drivers, change enablers, changing recipients etc. You must also make sure that everyone who is involved has all the needed skill for fulfilling their responsibilities and implementing the training where skill gaps have been identified.
How Can you Embrace Change in the Workplace?
Finally here are three points that can help you embrace change at work or dealing with change at work!
1. Become more versatile as an employee:
In order to embrace the changing workplace, you have to become more versatile. You should be able to demonstrate your skills as well as your ability to keep up with the work and the assignments. Not just that, you have to know how to deal with superiors as well as co workers. With the very few resources that we get to see in the economy of today's world, the employees must learn to adapt to accomplish with all the changes made at work. Even though it is hard, it can definitely be improved with time.
2. Communicate the right way:
Moreover, you should also know how to read your co workers and the supervisors so that you can communicate in a good way and suit the preferences of the individual. There are some people who dislike speaking on the phone while there are others who prefer a communication that is face to face. You must take note and adapt to all these differences that will make the co workers feel like you are worried about them.
3. Be positive all the time:p
A third and final way you can try in order to embrace change at work place is by being more positive. It is also important that you maintain a good and positive attitude through a few changes that are not foreseen. You should express yourself and be critical when the need arises but make sure to stay positive, have a bright smile on your face and stay enthusiastic all the time. You should be fearless so that you can assist your company when the need arises.
This brings the post to an end. If you have liked reading our ideas and suggestions and have feedback to share, do drop a comment below. We would like to hear everything from you. On that note, good luck an here's hoping you will now be able to make changes in workplace as easily as possible.
Save
Save
Save