In a constantly evolving industry, one of the toughest challenges that almost each company operating on varying scales experience is hiring a great marketing manager. If there is need of hiring an accounts person or someone who can be categorised and analysed on the basis of his skills and qualifications, then the task becomes very easy. But very rare, a marketing person is identified with a relative degree in marketing. So, you have to look for certain qualities or traits to ensure that you hire a marketing manager for your product and company.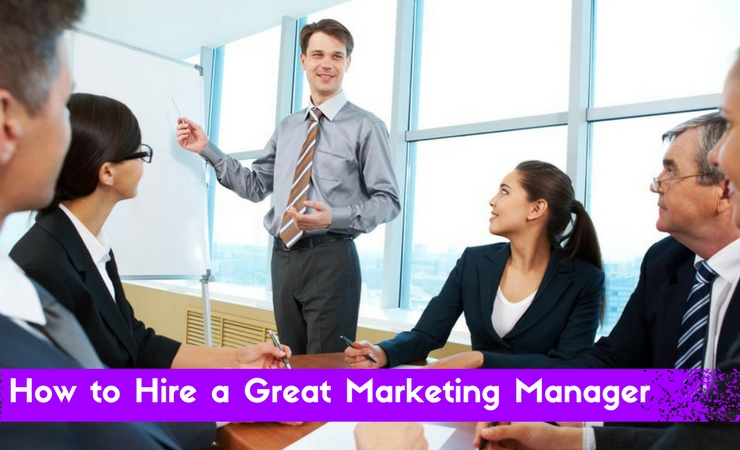 The role of a Marketing Manager:
Marketing professionals analyze and estimate the demand for services and goods that are served under their company's brand. They introduce and execute a plan to enhance the interest in those products. Marketing experts determine potential buyers and strike a perfect balance that is competitive and profitable. They track trends of products to identify demands for novel goods. They are experts in advertising including supervising and hiring the relative staff, negotiating contracts, select ad portals and signing off ads. A marketing manager of a big brand might be even responsible for the overall brand image of the company, while a smaller organisation may look after marketing support and handle new product related queries.
Qualities of a marketing manager:
Marketing managers need to possess couple of characteristics that can help them succeed in their profession.
1. Strong decision making skills:
A marketing manager has to organize and manage his entire team. He must possess the ability to come out as a winner under all circumstances. For this reason, the manager must possess strong decision making skills so that he can take a fair decision under any situation. Moreover, there are chances that the manager has to take a fair decision on behalf of his entire team.
2. Analytical Skills:
It is another set of skill required by a marketing manager. Such a person must be able to make logical decision under varying situations. Logical thinking is very much essential for selecting suitable media and mode of marketing the business.
3. Creative thinking ability:
Creative thinking is highly important in the field of marketing. The marketing manager is expected to think out-of-the-box and deliver solutions that can help organization to win over its competitors and target suitable set of audience.
4. Robust Interpersonal Skills:
Since, the marketing manager has to deal with different set of people, so it is essential for him to possess robust interpersonal skills. Such skills can help him to deal well with people of varying personalities and bring out the best for his company. With such set of skills, the marketing manager can help him engage with his team members as well as work seamlessly with senior authorities.
5. Effective communication skills:
The marketing manager has to handle the entire team and also he is the link between top authority and his team members. The role of marketing manager is not just to generate productive results for the company but also to ensure that each member of his team is able to deliver to the best possible level. To ensure that the team is able to work in a hassle-free environment and that there is no line of confusion drawn between junior and senior levels, the marketing manager is required to possess effective communication skills.
6. Efficient Listening Skills:
Possessing listening skills is another major necessity of a marketing professional so that he can well comprehend the requirements of clients as well as other team members. Such professionals are expected to have better understanding of customer psychology and must also be aware of different metrics used to analyse their business.
7. Sincerity and authenticity:
These are other essential characteristics of a marketing manager who aims to be successful and intends to bring great work to his company. Absolute dedication towards the company as well as work is necessary for the marketing manager, as only then he can work out ways that can generate productive results for the organization.
What Makes an Exceptional Marketing Manager?
While the above characteristics might have offered you a fair idea of personality and skills that a marketing manager must possess, still there are numerous other qualities or traits that you must consider when making a hiring decision for this profession.
1. Enduring Enthusiasm:
Passion and enthusiasm are essentials for a great marketing manager. They must possess the ooze to do a task and bring value to their company or brand. As it is an exciting and evolving profession so you cannot expect a marketing person saying that his work is so boring!
2. Creativity:
A creative bend of mind is another essential quality to look in a marketing manager. Successful marketers do not perform a task the way it is always done. They try to reinvent things and do it in a way that no one else has done. Marketing professionals must have confidence on their practices and must be willing to take some risk. A successful manager is one who is not afraid of failures and must possess the quality to create and connect innovative ideas with current business scenario.
3. Sincerity:
Sincerity and loyalty towards the brand or company for which the marketing person is working is of utmost importance. Such professionals must try to drink their competitor on daily basis and must live the brand for which they are hired. The services or products offered from their brand must be a part of their daily lives.
4. Know the Target Audience:
For a marketing professional, not just understanding the services and products will do, but it is also essential to have a deep knowledge of the target audience that they intend to cover. Understanding the demands and requirements of the audience is very much essential as only then it would be possible to serve them better. So for a marketing expert it is ideal to have a fair idea of the market and its related audience and then target them with products, services and creative ideas to transform maximum possible number into potential buyers.
5. Adaptable to novel ideas:
No matter how efficient you are on one technology, surely it will change, new plans would be formed and new guidelines would be underlined. A great marketing expert is one who can adapt and pivot and shift their focus from one point to other in less time. Also adapting to new marketing techniques and ideas is also essential. A successful manager is one that welcomes the change with open hands.
6. Such experts must be great listeners:
Marketers must be able enough to listen and understand the core needs of their customers. Listening skills are also essential for a smooth functioning within the department and down the hierarchy. They must be aware of questions to ask for clients and ways to drag them and create their interest in products and services offered by their company.
7. Marketing persons must also be Sales Expert:
Marketing professionals must not be limited to just advertising and promoting the products and introducing novel strategies as per target audience. They must also possess sales skill as only then they would be able to better understand the mind status of customers. A successful marketing expert brings the sales even before the sales team hits that area. It is because, such expert is aware of techniques and ways to clearly communicate and show clients why their service or product would be ideal for them.
8. Must be able to view the big picture:
When hiring a marketing manager, you must also check that the person must be able to view all the images in the big picture. It implies that he must be able to analyse who needs to go where and how much focus is essential on a specific thing. It might be difficult to take a step further, but he must create plans that can smooth the process. The ultimate goals of the company must always be on top of his mind and he must be able to decide between things that need to be stopped and things that need to be upgraded or pass on.
9. Team Player:
Just like any other profession, even this profession demands a person to be strong team player. The Logistics, Finance, Sales and Marketing departments are all dependent on each other. So the managers of all departments must work well under all conditions and divisions. Teamwork is very much essential and the key to great marketing.
10. Expertise in storytelling:
A person with good knowledge and skills in storytelling can definitely be a successful marketing professional. Such skill is essential not just to attract customers but also to relate the product to it. Innovative ideas with detailed explanation of the product impress customers as they feel that they are deeply connected with the stories that the professional is narrating. If there are people who are already using your products or services, then you may even include their real life experiences in your stories.
11. Future Thinking:
A successful marketing manager must also possess future thinking skills. He must be able to visualize the future demands of his company and what can be done to achieve such objectives. The marketing professional must be able to communicate its vision to others and also inspire them to share ideas. He must be capable enough of driving the entire company towards winning strategy and common plans and goals.
12. Focus on building relationships:
Another quality that you must look when hiring a marketing manager is that he must be focused on developing new relationships and maintain the existing ones. It is because, it is the most vital aspect in the corporate arena. Good networking is the key to win over others and avail contacts that are of use to the business. Necessary support from customers, levels within the company and people is a necessary feature of marketing.
13. Diversity in various functions:
A person with knowledge and experience in range of functions, such as operations, sales and finance is expected to be more successful in marketing, in comparison to those who possess experience only in marketing. A holistic work approach is required to win over issues that may occur with a span of time, among different functional departments.
14. Straightforward Personality:
Customers expect that a marketing expert is well presented and is a person with a straightforward personality. It is because most of the customers prefer honest marketers who promise them things that can be delivered. The marketer must be convincing and strategic and must always be on people's mind.
15. Able to Deliver:
Finally, you must check and hire a marketing manager who is able to deliver, always, even under worse conditions. These experts are hired to enhance the company's sales revenue and if they do not deliver close to or as per the company's goals, then there is no point hiring them. So for a successful manager, it is essential to deliver always so that the company grows on its revenue and is always blessed with positive numbers.
Marketing Manager Compensation and Job Security:
Successful marketing professionals can earn a handsome salary and are always in demand from big corporates to multinational organisations. They might be even the highest earning professionals among various departments as these experts directly affect the overall company's revenue. For this reason, they even possess the highest job security than another manager. Such experts are even required to work under tight deadlines and therefore must possess the stamina to work well even under the trickiest conditions.
Marketing managers are also required to travel a lot. They even have to travel not just to national but even international boundaries to search for new markets and increase their customer base. Their job may even involve regular transfers. But, it is sought after job with intense competition and hence a candidate needs to be out-of-the-box to gain success in this field. A competitive edge is offered to marketing managers who are well-versed with internet marketing strategies.