Getting a job at Fortune 500 company can surely be one of the incredible things for an individual's career. Fortune 500 are the biggest, although not always the largest employers, with their names famous almost across  the entire globe. Due to massive turnover ratio, renowned identity, and elite work atmosphere, working with such companies can be rewarding for your career.
But what exactly Fortune 500 means?
To be more precise in this answer, the Fortune 500 is a yearly list compiled and introduced by the famous magazine Fortune. It ranks the top 500 companies of U.S. both private and public, as ranked according to their gross revenue.
The amount of excise taxes that such companies pay is excluded from this ranking calculation. The concept was first introduced in 1955 when first the foremost Fortune 500 list was published.
From service, information technology, banks, utilities, to life insurance, manufacturing entities, construction divisions, and more, this list comprises of top-notch names belonging to different industries.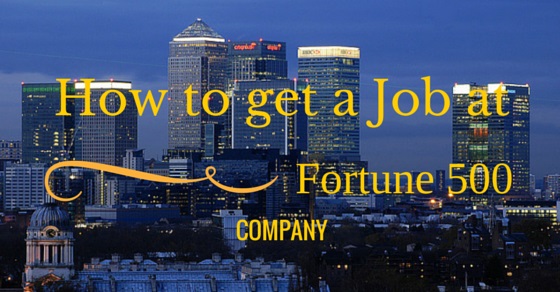 Why Working at Fortune 500 Company is so Rewarding?
Getting an opportunity to work at Fortune 500 Company can be a worthwhile option for your career, whether you are a novel graduate or an experienced professional.
It is because such companies can not only offer you with lucrative work exposure but can help you enhance your personality and skills, also can even polish the X-factor within you. Companies on the list of Fortune 500 are important for job seekers due to primary reasons like:
Location:
Most of these entities have locations all across the United States. These sites can largely contribute to employment opportunities in small regions and can also act as an excellent source of employment.
Employees while working in such companies can relocate themselves while working within the same entity. Moreover, it is also feasible to change career paths within such organizations and add dynamism and potentials to your skill's list.
Employment
Figures:
With giant employment figures, these companies can offer different positions to individuals belonging to various backgrounds. It is because this is something very much important to make a Fortune 500 company work actively.
For instance, Walmart hosts an employment figure of 1.3 million employees working in the USA and almost 2.2 million employees working worldwide. So, with such great employment data, failing or letting fail are entirely opposite aspects to these firms.
Advantage
on the Resume:
Having one of the company names from the Fortune 500 list is often perceived as a great benefit to the resume. It is a clear indication that you are not only extremely potential, but you have even played and worked successfully in the giant leagues.
It is because, most of the positions in such companies are specialized and offer more sophisticated work status as compared to other entities.
Also, employees working in such firms are benefitted with the fact that they are given a chance to work with the most advanced technologies, which might not be possible when working with smaller organizations.
Finest
Companies to Work for:
Most of the organizations in the Fortune 500 list are consistent with their annual figures and understand that their qualitative workforce is their core key to success. Each company in the list has its mission, culture and being a part of such entities can give you an opportunity always to get surrounded by the talented, intelligent pool.
So all this can be extremely rewarding and fruitful for your company both fiscally, skillfully and mentally.
It is now disclosed to you that why working at Fortune 500 company is so rewarding and preferred. You can too have a bright future if you can find a reputable position within such companies.
Although, getting a job in such firms is not that much easy! It is because most of the times they prefer employees with not only 'skills', but with 'unmatched skills, potentials, and unbeatable intelligence'.
So, if you think that you possess such countless qualities then surely you can follow the below ways to get a job in any of the entity in the list. In case you lack in any of the quality, still you can give it a try, maybe your luck works it out for you!
Best Ways to Get a Job at Fortune 500 Company:
Search for Company's website and Post your resume:

 
Unlike other companies across the world, the work style and approach is thoroughly professional within these entities. If you have tried posting your resume to numerous companies on the board but still didn't gain any success, still don't worry!
Maybe you may get lucky this time! Enterprises on the Fortune 500 list make sure to check their career page on a regular basis so that they do not miss on employing a talented individual.
Hence, you can look for top 10 or 20 companies with whom you want to work for. Check out for their lifestyle and job criteria. If everything suits you, then don't take more time to post your resume. Do it right there!
Look for training programs offered by such organizations:

 
There are plenty of such companies that offer training programs in several niches. You just need to look for training programs offered by them in different areas and who all are selected in these programs.
It is an easy way to get a job for those who are fresh graduates. After securing complete information, you can then start your education in the similar field, in which they impart training sessions.
Contact the services department of your college

:
If you are looking forward to securing training in any specialized field then you can confirm with the specialists. Some specialists may have tie-ups or cooperation with companies listed in the Fortune 500 category. This can be the simplest way to get hired for your dream job in one of the finest businesses in the world.
Most of the tie-ups and internships lead to hiring. Once such a name is added to your resume, your career can then be always winning.
Make most of your internship program:

 
Most companies listed in the Fortune 500 category often organize internal recruiting only. You may not hear any job opening for the external individuals, and may even not able to get a job conveniently if you are not working with them.
So, in case you are among the lucky ones who are recruited within such entities, then make best use of the given opportunity. Make contacts with individuals who can help you become a permanent employee of the company. It is because only winning interns can get easy access to internal job openings.
Contact respectable recruiting firms:

 
There are some external and well recognized recruiting companies that are chosen by companies of Fortune 500 to fulfill their vacant positions.
So make sure that you outline an excellent resume that can impress the recruiter and they can, therefore, help you in finding a suitable job in such firms. Let them find an appropriate job for you.
Start from the ground floor even if you are little much experienced:
If you are dying to work with organizations and they are offering you with less pay initially, then don't let it be a constraint. Allow yourself and grab the opportunity right away. Maybe they just wish to judge your potentials and will assign you with a high monetary sum once they find out beneficial for the company.
You can even talk with your seniors and Human Resource department within the company, and let them know that you are thinking about the future of the company and your future with the enterprise. It might impress the Human Resource, as they are always searching for employees who are looking for long-term relationships with the firm.
Show you Passion towards the firm:
In case you get a chance to get interviewed for an opening within such companies, then make sure you clearly inform the employees about how passionate and interested you are to work with them. Showing your enthusiasm and trust towards the business can make you get through the interview.
Portray your unique skills:
Companies on the Fortune 500 list not only like to talent employees with peer qualifications, but also those who are extremely smart and can think intelligently under all state of affairs.
So, if you are given a chance to showcase your set of skills, strengths and knowledge then try to portray each and every element of yours intelligently. Also, remember that such organizations look not only for great scholars, but even for excellent learners.
Conclusion:
Getting a job at such companies is pretty much difficult, but once you are through to it, then this might be the beginning of your sparkling career ahead. But remember, that once you are appointed with any of such organization then you are not expected to work hard, but also to work smart, and fulfill all responsibilities timely.
Also, this can broaden your career scope to a great extent. Working with such companies can be highly beneficial, but also they may come with some limitations as well.
So, if you are sure to work with organizations on the Fortune 500 company list then no issue, in case you are unsure then you may clear all your doubts during the time of interview before you actually join them.