When asked about the hobby, people come up with things like reading books, swimming, surfing the internet, cycling, photography and many other common things.
A hobby is an activity which we do in our leisure time to de-stress ourselves. Being the source of happiness, we generally don't hesitate to spend on our hobbies.
But now come out of the box and think big, the hobbies for which you have to spend lavishly amounting to thousands of dollars.
Would you still engage in those hobbies?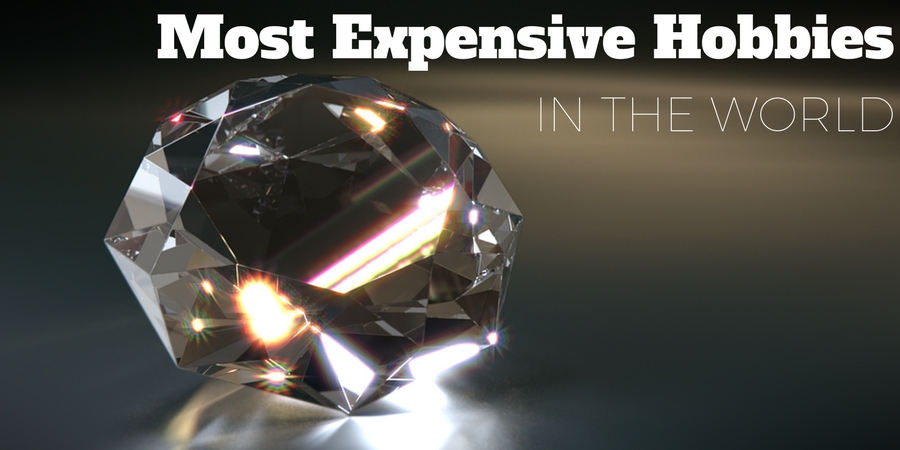 We would explore in this article the hobbies on which you would never spend, though you would yearn to be rich to have such majestic hobbies.
Expensive Hobbies:
1. Flying an RC Airplane:
How amazing would it be to build your own airplane which can be controlled by remote control? This hobby has all the segments which one looks to entertain oneself.
Firstly, it requires creativity and understanding to build a plane, which could actually fly. Then, when you successfully fly it, you feel just like the wright brothers when they first flew the plane, overwhelmed with happiness.
Hearing about this hobby if you feel excited and want to try your hands on it, you may spend around $100 to $200 and fly a ready-to-fly RC airplane. But for building your own plane the expenditure keeps on growing to start from $700 for a basic one.
As you become skilled in developing the advance RC airplane, the cost becomes relatively high. Famous actor Tyler Perry has a big and expensive collection of RC plane, which cost thousands of dollars.
2. Traveling around the world:
Though we hear many stories which tell how to travel around the world with a few bucks, it is practically less possible.
Also, if you travel as guided by some, you will end up staying at below-average rooms, restricted food options and commuting within the places via walking.
Was this the travel plan you wished? No. This is the reason that traveling around the world is a hobby which only the rich can follow.
As traveling is not only being at the place but it includes everything from wallowing in the luxuries of the hotel to eating the famous lip-smacking gastronomies of the destination and from doing the adventure activities to commuting in ease to all sightseeing places.
Additionally, for taking a tour around the world requires a long break, which is hardest to afford and very pricey.
If we give you a rough estimation for traveling around the world can be between $20,000 but the exact amount would depend on personal choices.
3. Car Racing:
Do not get influenced by the fast and furious movie series and take car racing as an easily bearable expense. Especially, if you are looking to make car racing as your hobby, be ready to part with a huge sum of money.
Apart from the various expenses done to accessorize your car with speeding options, you will also need to have the best safety equipment as car racing is a dangerous endeavor.
You can get your dream racing cars with the necessary equipment from $10,000 to $100,000.
This cost excludes the price of the life insurance under which an extreme car racer can be covered, that is, $566.34 per month. On the whole, this is the costly affair than it seems
4. Flying a Plane:
In our childhood days, the airplane has fanaticized most of us and listening to the very voice of a plane approaching we just ran to see it. But some of us carry that fantasy for life and love to fly like a free bird.
For flying a plane you have to take an aviation lesson which can cost around $7000 and can help you avail private pilot rating. After which you can take your family anywhere in the world in the single-engine plane.
But for covering longer distances you will need extra pilot rating and a faster flying option like a jet.
The most important element of this hobby, a plane, can be bought between $15000 and $200,000. Additionally $5000 needs to be paid for the license.
5. Collector:
While some of us love to collect stamps or coins or books or some miniature art pieces, the opulent lot may collect the following and make the collection an expensive hobby:
Art:
Paintings and other art pieces are quite expensive to collect, especially if some big name is associated with it like Pablo Picasso, Leonardo Da Vinci, Raphael, and Vincent Van Gogh.
The art pieces of these artists are worth millions. The art collector has hunger of all kinds of arts, especially of the painters who were the heroes of their time.
Collecting art is a hobby for which even if you won millions in a lottery then too, you may be able to buy only a few of these atypical paintings.
For your record, the most expensive purchase list includes an art piece for $250 million by Paul Cezanne, an art piece for $179.4 million by Picasso and an art piece for $142 million by Francis Bacon.
Cars:
Collecting cars as a hobby is also a million affair. People collect the rare pieces of the vintage car, muscle car or sports car.
Car collection is not only expensive to buy but to maintain and store. To give you a bird's view of the expense incurred in collecting the car, the following is the cost of three rare cars
• 1937 Bugatti Type 57S – $4.4 million
• 1961 Ferrari California- $10.8 million
• 1954 Mercedes Formula 1 Racing Car- $29.6 million
6. Ballroom Dancing:
The TV shows and movies may make Ballroom dancing quite easy to approach, learn and complete. But the story most of the time is different than it looks.
It is not easy, especially on your pocket and engaging in Ballroom Dancing as a hobby means you must be all set to spend big bucks.
This intense dance performance is a blend of both physical movements and emotional storytelling. Though learning this art form is not exorbitant and you can learn it by spending $50-$200 on the private sessions.
The tricky part, however, is making it a hobby and engaging in a different competition to suffice your love for ballroom dancing.
Participating in a competition can tax your balance sheet with a cost ranging from $30,000 to $100,000 depending upon the theme and the accessories required for the dance.
For example, only the dress or a tuxedo can cost around $1000 and ballroom dancing shoes can cost $150.
7. Diving:
Sky Diving:
Skydiving is an experience which most of us dream to have at least once in life. Leaving oneself free in the air much above the world we know and flying like a bird is a magical experience.
The adrenaline rush felt in jumping from the plane is what makes some people intoxicated to feel it again and again. Thus many of the rich people make it a hobby and they don't mind shelling out dollars for every second they engage in sky diving.
Comparing the time one gets to the cost incurred, it is highly expensive and cost approximately $2.5 for every second, which can accumulate to $150 to $250 per minute.
This means that even if you jump twice a week it will cost you approximately $24,000 every year. However, if you get yourself certified by incurring a cost of $1500, you may reduce the expense per year.
Scuba Diving:
Exploring the world beneath you has its charm. The aquatic life can captivate you with its colors and tranquility. You can easily engage in scuba diving when you go on a vacation.
Making it a hobby can cost you just 800 dollar, which includes $500 for equipment and $300 for certification, but this cost is only applicable if you live near a scuba diving site.
So, if have to travel or you want to get enthralled by the scuba diving experience from distant places as well then it may cost around $3000 per trip.
8. Exotic Pets:
Gone are the days when rich people had only dogs as pets. To raise the level of their status quo rich people now engage in having exotic pets as a hobby. By exotic pets, we intend to point on a white lion cub or a cheetah or an octopus.
Passion to have exotic pets is taking over many of the international celebrities and they are spending big on it. Nicolas Cage was in news for buying an octopus for $150,000 to develop an understanding of other forms of life and thereby become a better actor.
Apart from the celebs, the well-heeled people are spending huge on this hobby. If you wish to have a white lion cub, it can cost you about $140,000 and similarly a cheetah cub can cost around $314,500.
This is not the only expense you have to bear. For having many of the exotic animals as pets you also need to get a license.
Once you are done with all this, then comes the price which is to be paid to professionals for taking care of these animals that can range between $40,000-$50,000, along with the ongoing cost of upholding these pets.
Considering the danger to the owner and pet the cost seems even higher.
9. Yacht Racing:
So do you want to take over the water world? Well, this can be the feeling after winning a yacht race. The yacht is an expensive affair and when you have one then definitely have a pocket of gold.
A yacht can be bought from $ 2 million to $800 million depending on the luxuries it has. When you want to have a yacht race which is quite in rage as a hobby among the loaded people an additional cost of $8 to $10 million has to be incurred to make it race-ready. While the maintenance of a yacht for the purpose costs $100,000 every month.
Now just calculate the cost because Yacht does crash while racing. This hobby is not for the faint-hearted people who are rich but cannot sink their money like that.
10. Mountain Climbing:
This hobby is actually for both the worlds. While the ones who are not rich need to be experienced to engage in mountain climbing, rich can assess this as an adventure sport and even with less experience they can be guided to climb the top and experience the thrill and the scenery which is incomparable to any of the joys which city gives.
If you want to make mountain climbing as a hobby and calculate all the prerequisites including the guide, permits, clothing, equipment and other travel expenses, it is not a cheap hobby at all.
So, along with guides if you engage yourself in climbing the seven summits the total cost can touch the whopping $170,000. Plus, the time you give to it as this hobby will make you call off from work for many days together.
11. Polo:
The sport of the upper class, Polo, has been the hobby of wealthy people from a long time. The reason why it is called their sport is that playing polo doesn't only involve the skill to play it but $8000 per year to be a member of the Polo Cub.
Then, buying a Polo horse costs around $20,000 and again keeping a Polo Horse amount to an extra expense of $1500 per month.
Totaling all this would make a grand figure and making the polo a hobby which cannot be everybody's affair.
Most Entertaining But Expensive Hobbies:
Hobbies are a great way to spend your past time productively. A person's hidden passion or talent can be identified with their respective hobbies.
As for a few people, their hobby is not an activity done in free time but their strong emotion which they feel toward it, be it related to art or sport.
An expensive hobby is mostly described as a waste of money, but some people do not mind it and are more than happy to spend on their hobby.
Some of the topmost expensive hobbies only the rich can afford are
12. Ice Sculpting:
Ice sculpting is nothing but crafting a sculpture out of ice. Though this is something not very usual it is one of the favorite hobbies of many people. Moreover, it is a bit expensive as the courses and tools it requires costs a lot.
13. Model Railroading:
Model Railroading without a doubt is a very expensive hobby. The pieces of things required for it alone can cost up to $300 per piece of the set. So imagine what would the whole set cost you.
14. Drag Racing:
Drag racing is a type of car racing which looks exciting but can burn your pockets completely. The cars used in drag racing can cost you in a range of $3k to $20k. Along with it comes the cost of maintenance, fuel and also car racing fees.
15. Collecting Cars:
Car collecting is an expensive hobby which few rich people have. Though it sounds strange surprisingly it is true. They not only collect the latest cars but also cover all type of car models.
16. Sailing:
Sailing truly is an enjoyable activity but can cost you more, as a sailboat alone can cost you around $2k
17. Blackjack:
Blackjack is one of the attractive game in casinos. Unfortunately, not all people can enjoy this game as the minimum wages required for this game to play is high. Truly an expensive hobby which only the rich can afford
18. Cigarette Boat Racing:
The cigarette boat gives you a flying experience over water as it moves at a speed of 100 miles per hour. This thrilling hobby is an expensive one, as the average price of such a boat is around $1.2 million
19. Hot Air Balloon:
If you are afraid of height then definitely this is not for you. But if you are ready to pay any amount for this wonderful experience then a single ballon can cost you $45,000.
Also, you need to attend a flight institute for about $3,500. Additionally, you also need to pay for the crew who help you enjoy your hobby safely.
20. High Stakes Poker:
Gambling is a fun game but your winning also depends on your luck. This can turn out to be an expensive hobby if you are playing in high amounts or without limits.
21. Traveling Around the World:
This is one of the biggest dreams of many people. But for some this a hobby which can cost a lot of money. Though you can make it possible with little adjustments, if you want to travel with better comfort then it turns out to be expensive.
22. Antique Collection:
Antique collection is a great hobby and is practiced by many. Also, the products they gather are not only antique but also rare that is the reason the price tag attached to them are very expensive.
23. RC Planes:
Rc planes are typically small planes. Though the average type plane can be easy on the pocket, if you go for a high-end one then this can turn out to be a very expensive hobby
24. Equestrianism:
Equestrianism or horseriding is a typical hobby which most rich people practice. An average horse can range from $5000 to $100000. Such a hobby can be maintained only by rich people.
25. Country Clubbing:
Though clubbing is a great way to destress and enjoy yourself but is an expensive affair. The membership charges of country clubbing come in a range of $5000 to $250000 per year. Not all can afford it.
26. Motor Gliding:
Motor gliding is a fun activity and hobby for many but owning an own glider can be quite expensive as the price of it can be around half a million dollars
27. Home Aquaria:
Many people love to have an aquarium at their home. Moreover, a decent-sized aquarium can set up easily at about $600. Now a few people desire for more and them their hobby is important no matter how much it costs.
If you go for the high end like rare fishes, Dinosaur Gold Aquarium then it can cost you around a whopping 4.8 Million dollars. Now, this is something very expensive which only rich people can afford.