Gone are the days when we used to take a million printouts of the resume and visit one office door from another asking for the HR team, whom we could only reach if our luck was by our side. And when we did reach them, the chance of them paying a heed to the document was even rarer. Today, we send the application to our probable future managers through the internet and depending on our Internet Service Provider find out if they opened the resume, all in real time.But just like giving handouts, sending the resume over email is also a once it is done, it is done deal. And unlike handouts where you can make the last minute changes upon the recruiter's list, such privilege is not there in case of e-resume. You need to extremely careful before emailing your Resume. The changes are not very dramatic; they are pretty easy to follow.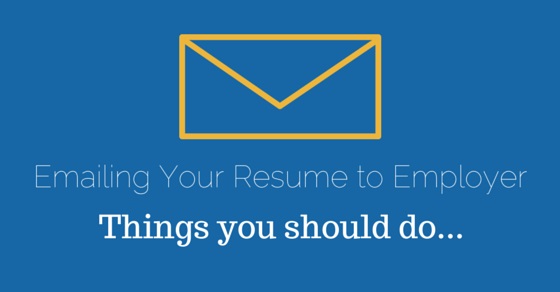 Here is a little help…
Assuming that you have a draft ready, this short guide is divided into three parts; what should you do before sending the life altering job application mail, what should you pay attention to while drafting the mail, and last what should you do after it is done and you have sent it.
Tips to Follow Before Emailing Your Resume:
1. Check all the information:
Crosscheck all the information mentioned in the draft. Along with the information, pay a close look to the font size, placement of text, tables, etc. Make the modifications if needed so that all the latest information is there in the document.
2. Choose a format:
It is often debated which format should be used to send as an email attachment – MS Word or PDF file. Well it hardly matters until the data you have mentioned is concise and understandable.
When you send the file in the PDF form, there is zero chance of editing. So make sure the file is error free. In case of a Word document, you can make the changes but the page content's format might change depending on the recruiter's device.
To ensure it does not happen, do the next step.
3. Send the mail to your friends using different ISP:
Before you relax yourself, send the resume to your friends on a different ISP and/or device. This will give you an idea what the document looks like on other computer and give you enough time to make changes if needed.
Tips to Follow While Sending Email to Employer:
1. The subject line, signature and everything in between:
While drafting the mail, be on your toes. In the subject line write Application for XYZ (whatever position you are applying for).
With that handled, in the part where you address the recipient, write Dear ABC (First name of the person). Writing Respected has become an old way of writing. You can also write Hello, it has been widely accepted since some years.
In signature, write Regards followed by your name and contact number.
2. Decide where you want the cover letter – Mail body or attachment:
Giving a resume is never sufficient. It is also important to write a cover letter to the recruiter. A cover letter is nothing but a synopsis of your work experience (if you have any) otherwise basic description of what you do in college/ school.
3. Give contact number in the mail body:
It is obvious that you have mention the email id and contact number in the resume. But that is not enough. You also should mention your contact number (just the number) in the email body, just after your name in the signature.
4. Make sure you attach the file:
Before sending, please make sure you attach the resume. You may forget to add the file in mail. Once you add it, go through the attachment once and check for any last minute editing.
After Sending Email to Employer:
1. Enquire through the same chain mail:
If you do not hear back from the recruiter for a week, drop them a mail exactly on the 7th working day. This time, write 'Enquiry about the job application for the ABC (the post you applied for) position'.
Address the recruiter as Hello this time around. In the body mentioned the date you applied. Do not ask them why they did not reply, ever! Say that you want to know the next step in the process. If you still do not hear back, move one.
See. It was not that difficult right.
But really you have to know the intensity of consequences here. You cannot take it lightly; one mistake and you are doomed. To be on a safe side, use an online resume and cover letter making service to get a custom made document. Then decide which one you want to use.
Remember that even the shortest, superficially insignificant mail between the HR and you gets into your record. In most cases, these can also have a major impact on the evaluation than your resume and cover letter. And since emails are mostly less formal, the employers see it as a blunt version of who you really are – and theoretically how you will be as their company's employee.
Author Bio: This is a Guest post written by Tripti Rai who writes on the behalf of resume.naukri.com, she advises fresher and professionals on right career choices, job opportunities, professional advices etc.