Before you are invited for an interview, you should always check the CV properly and thoroughly. A lot of people tend to make CV mistakes while creating a resume because of which they kill their chances of landing a job. But don't let yourself fall in the same situation.
Simple and ignorant mistakes can prevent the chances of your resume being shortlisted. In this article, we are going to show you 39 popular mistakes that people make while writing their CV. If you make note of them, you can surely land the job of your dreams.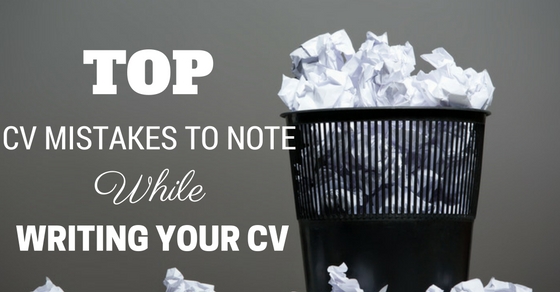 Don't Make These CV Mistakes When Writing a Resume:
1. Spelling mistakes and errors:
The first mistake you should avoid when it comes to writing a CV is that is keeping it far away from mistakes and errors. If your resume is full of grammatical errors, the recruiting manager will not want to hire you.
2. Try to use professional tools while creating a CV:
When preparing your CV using a word processing software, you will find that most of the word software has spelling and grammar correction tools. Try to use those, while editing and proofreading the document. Also, do not be completely dependent on those correction tools too.
3. Make sure to proofread it thoroughly:
Try to read the whole document at least more than twice. Make sure to find errors that are hard to find and correct them immediately. If you find this step hard, then ask a friend for help and ask them to read your CV and help you in finding any relevant mistakes. A CV having too many mistakes and errors will give a wrong impression about the candidate and the employer will be reluctant to shortlist the candidate who submitted with CV mistakes.
4. Full of sloppy formats:
Another thing you should be mindful of is having sloppy and stupid formats. If you want to have a good resume, then you must ensure to avoid this mistake. A sloppy format means having too many different formats inside one resume. It would ruin the whole look of it.
5. Make sure the CV is intuitive:
One of the most important advantages of a well written and edited CV is that it should be easy to read and should be easily understandable.
6. Follow the standard formats:
Since your CV is a document that is handled by many employers, recruiters, and interviewers, try to follow the standard fonts and the formats. While you are trying varying fonts and formats, with the idea of making your CV more attractive and eye catching, in reality, the output is the opposite.
7. Do not use varying fonts:
Having varying fonts and formats will make the CV hard to read and the employer will seem uninterested in further developments. Do not try to give recruiters a headache by not following the standard style of font and format for the document.
8. Has an ugly look:
It would suck to have a resume that looks ugly. If you want to create a good impression, make sure to avoid that. When we talk about an ugly resume, we mean one that doesn't have any weird colors or too much glitter and clipart. Also if your resume is stained with coffee or has a dingy mark, then nobody would want to read your resume.
9. Be careful while personalizing:
Adding colors and a drop of personalization is a common trend that is seen in many CV nowadays. Be sure that you are customizing your CV with colors when you are applying to friendlier and less corporate companies, for example, a small start-up. If you are really adamant about adding colors, then try using safe colors that are really subtle and try to use them only for titles and headings.
10. Do not add too much colors:
Do not go too wild with colors and try to paint the whole document with eye catching colors. Having too much color is a big let-down for many employers and recruiters and they would get the notion that the candidate is not serious in their job applications and as a result, they wouldn't bother reading the CV.
11. Having a short resume:
Next comes having a short resume. If you have a short resume, you will not be able to create a good CV. You have to mention all the details and make sure it is at least 2-3 pages long. Having a good resume means keeping it at least two pages long.
12. Expand your resume:
A resume is a description of your skills and abilities and is a huge deciding factor for your selection. If the resume is too short, then try to beef it up by adding other non-work experiences such as volunteering or church activities. This will show you how productive you are in person.
13. Show that you are a team player:
Every organization needs a team player, this is the best chance to show that. Also, add specialized skills that you have so as to impress the employer. If a resume is too short, the employer might think that you do not have the relevant experience and qualifications to apply for the job.
14. Making it too long:
Another problem is making the CV too long. If it's way too long, the recruiter will not show any interest in reading it or have a good impression of you. Yes, you have to mention what you have been doing all this while and all the experiences you've had but don't make it so long that people won't have the time to read it.
15. Omit irrelevant information:
Also, avoid unnecessary information. Nobody wants to read a seven-page CV when they have a restricted time schedule and they have to evaluate the rest of the candidate's CVs and resumes. Try to understand that many recruiters and employers have to review through a large number of CVs and resume every day, so if you present a long CV, naturally they won't even bother to look at it.
16. Lying:
The worst thing you can do is lying in your resume. Don't ever lie when it comes to getting a CV ready because if your boss spots it, you will immediately be thrown out of the job. It is not advisable to lie about your various skills and abilities to make yourself as a likely candidate for the job position. If the lies are found out, then the trust between you and the employer is collapsed and whatever you do, you won't be able to get that trust back.
17. Make sure the facts are right:
First things first, many recruiters will do an occasional background check on their list of a selected list of candidates, just to make sure that all the information that they presented on their resumes are valid and true.
Also, if you do bag the job based off on your lies, then it is an inevitable fact that you are bound to struggle through your job every day and eventually your employers will know about the lie. Try to be as honest as possible about your skills, abilities, and experiences. Lying is not the risk worth taken.
18. Job gaps:
Another mistake you should give up on is the unexplained job gaps. If there is a gap, make sure to mention the reason why because if there isn't, you will NOT get the job at all. Keep this in mind.
19. Do not leave too many gaps:
Leaving too many unexplained gaps will make employers doubt about your performance during these years. Try to include activities such as learning and traveling in your CV, if you were spending time in such a manner. Make sure to include the reason for the gap.
20. Add valid reasons:
If you were contracted with a disease and you were not able to work and hard to take a work gap, then also try to mention that. A seasoned and a professional will not exploit your chances of getting the job because of a work gap due to a disease or any illnesses or will discriminate you for this reason.
21. Not giving the objective:
Another thing to keep in mind while writing a CV is writing the objective. You have to mention that right at the start or else it would not create a fine impression. An objective really matters a lot.
22. Be original with your objectives:
Do not add clichéd and overused objectives. A seasoned recruiter will eventually know that you have used an overused objective and that you didn't even bother to make a personalized objective for your resume.
23. Having too much information:
Irrelevant information is one of the common resume mistakes a lot of people make. You shouldn't do that at all. Mention those things that have led to progressive development and have helped you improve at work.
24. Do not be over-descriptive:
Try not to be too descriptive about the various positions and experiences you have had over the years. These kinds of questions will be asked in the interview following the selection process. Also, do not add any information that is irrelevant to the job position that you have applied for.
25. Red flag info:
Having red flag info on the resume is the worst thing you could have. If something doesn't flatter you or your personality, then don't mention that at all. You should add info that highlights your best and what you are capable of. Adding the red flag information creates a negative image of the candidate. This might also affect the chances of your resume being selected for further developments.
26. Do not be negative:
Most candidates tend to include work on a minimum basis. This should not be done. If you are not sure whether or not you have the required work experience, add different kinds of volunteering examples. This makes a good impression of you.
27. Very general information:
Also, make sure to keep miles away from information that is too general. Recruiters are tired of seeing that in most resumes. Avoid that completely.
28. Poor contact information:
Having poor contact information is also something that makes no sense. If your name is John and your email id is sillyjohn@gmail.com, then obviously you will not create a good impression. So make sure the information you give is good enough to read.
29. Mentioning personal information:
Another mistake to avoid is mentioning information that is personal. You shouldn't talk about information that makes no sense or talks about your hobbies and personal life.
30. Try to be formal:
Keep things professional as much as possible. Always maintain a formal and professional relationship with the interviewer. Do not include your personal opinions about the company in your CV.
31. Religion:
Another thing you should do is keep your personal beliefs and religion away from the resume. The CV is definitely not the place where you should mention what you believe in or what your faith is.
32. Stuffing too many keywords in one place:
There is no need to keep too many keywords in your resume. Avoid that as much as possible. Otherwise, your CV will look very clustered. Stuffing is one thing that ruins most resumes. Make sure to avoid them.
33. Adding vague information:
Don't add information that is vague. Most employers want to see information as much as they can in a proper font. They want you to highlight all accomplishments. If you have saved some money, you can mention that in a proper figure.
34. Add clear and discrete information:
Make sure that all the information that you have presented in the resume is clear and discrete. This makes it easier for them to evaluate your skills and abilities.
35. Being wrong with the dates:
Never be wrong with the dates. Try to be as exact as possible. When you omit the exact dates, you end up losing your chances of making a good impression. So when you are writing your resume, don't miss out on this point.
36. Giving all clients the same resume:
Also, make sure not to give all your clients the same old resume. Obviously it will become too obvious when the person sees it. You should keep the CV simple and save the file using your name only.
37. Fit the resume according to the job:
Try to tailor each resume based on the company and the job description. One resume does not fit all the jobs out there.
38. Not writing your responsibilities properly:
The worst thing you can do is not writing down your responsibilities properly. You need to jot them down in the best way possible and in a very crisp way too so that the recruiter is impressed with you.
39. Prioritize your work:
Try to take your time and prioritize your responsibilities in an orderly manner. This will show the employer that you took the time and effort into creating the resume.
With that, we bring the post to an end. There happen to be some of the biggest mistakes most people make when it comes to writing a resume. If you have liked the article and have some feedback for us, do let us know in the comment box below. We also look forward to your questions if you have any.