Getting a job right after your graduation can be difficult, but if you have an internship degree in hand, then it can help you land to a premium job opportunity.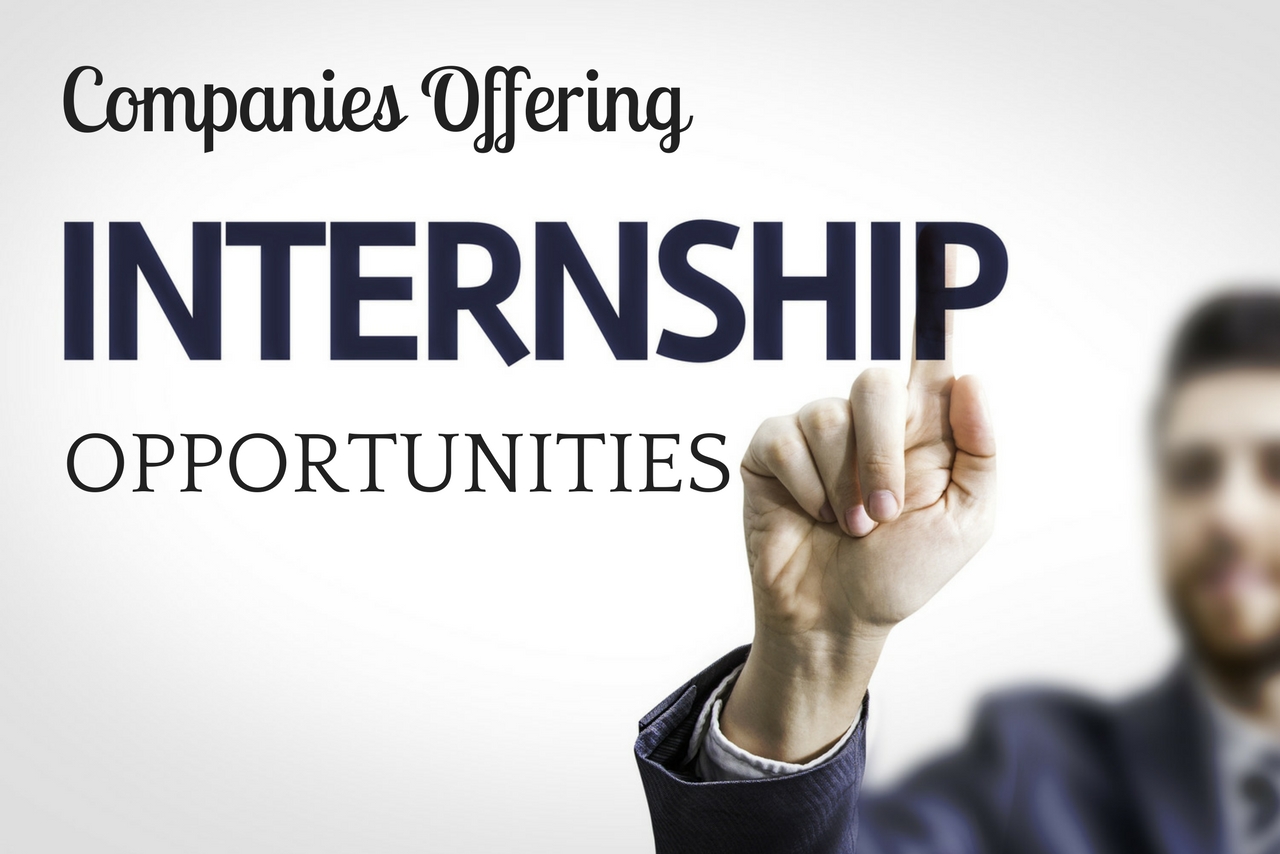 Being a new graduate you lack the skills and experience that most of the companies expect as basics from their employees. This makes finding a promising job in a reputed organization, struggling and intricate for the new graduates. Despite being qualified you may not be able to land to a suitable job or a position.
If presently, you are hunting for the top-notch companies across the globe offering lucrative internship programs, then here we have jotted down the comprehensive list for you. These internships are mostly paid and may last from 3 months to 12 months. After the successful completion of these internships, you would avail great insights about your desired profession and the work culture.
Internship Opportunities:
Have a quick glance at the list of employers providing internships to see if any of these might interest you!
Facebook is an excellent platform to give a kick start to your career. Facebook is one of the giant employers having intense competition with other similar social networking platforms.
Large numbers of university students and graduates compete hard to get through the internship program from Facebook. If you succeed to get through the competition then it will allow you to work in a creative environment alongside some of the best mentors and intellectual professionals in the world.
Stipend – Average stipend for 12 months is $96,000.
It is another spectacular company offering numerous internship opportunities to those who aspire to be a part of their professional team.
You can go for a summer internship or a winter internship in this company. It even offers an industrial placement option that can help you land to respectable positions in departments of consulting, tax, and technology. You can check the details of various internship programs from Ernst and Young through its website.
Salary – INR 11267 – INR 16386 for one month
Getting through the Deloitte's internship program can be a great step towards a successful career.
It is one of the famous companies in the financial sector. You will be able to learn a lot through the internship program of this company. If you are interested in finance, tax, accounting, business development, consulting, management, and risk management, then considering an internship in Deloitte is a perfect option for you.
Salary – Average salary $9,098 per month
Another famous company on the list is Cisco. The internship from Cisco is ideal for those who intend to start a dynamic career in the engineering sector, supply chain, sales, IT, and marketing.
You may seek the details of the internship program from Cisco through its website, depending on your choice of subject. Before you are hired for the position you would be asked to present your academic credentials as well as go through a small interview session. The internship with Cisco is mainly full-time and is a rich journey on its own.
Salary – INR 32,000 to INR 35,000 per month
If you are a passionate and creative person who have a deep interest in the field of wireless communication then interning in Blackberry is an excellent choice.
The internship with Blackberry may last for 3 months. It involves lots of traveling to distinct locations and even attending special events. Blackberry offers an internship in various domains ranging from engineering, humanities, science, law, business, and consulting.
Salary – INR 11,000 to 12,000 per month
Another global leader offering an internship to fresh creative and intellectual minds is Apple. It offers excellent opportunities to young interns along with paying high stipends.
Getting an internship with Apple might be very difficult as the competition is very high. But once you will be able to get through it, you will realize that it is actually worth it. You need to present your portfolio and also possess excellent communication, creative, and problem-solving skills, which are the basics to get interned with Apple.
Salary – $6.700 per month
If you want to get an internship in the global arena, like UK or US then you must try to get through the internship of American Express.
It is an excellent company, training interns in the field of technology, finance, operations, and marketing. The work culture in American Express is great. The work procedure here is supportive and dynamic. After completing your internship, you will end with valuable experience, excellent connections, and great expertise in your desired field.
Salary – INR 25,000 to INR 30,000 per month
Amazon is a globally renowned company where every individual dream to work with. But there are limited opportunities and unless you attempt to get an internship with the company, it will be really very difficult to land a job there.
Amazon is a demanding employer in terms of skills and communications. There are an array of opportunities offered by Amazon to hire interns and train them in specialized fields. Also, it pays a decent salary to the interns. Hence, interning with Amazon can be an amazing experience as a whole.
Salary – $6549 per month
Accenture is another eminent company offering assortments of internships for graduates who are interested in working with the company.
There are total of 11 distinct programs offered by Accenture. You can select your preferred subject to get an internship with Accenture. Software engineering, information security, human resource, and operations are some of the top-notch fields for getting the internship. Whether you are a university student or a school pass, if you have the desired set of skills then you can make through the internship program with Accenture.
Salary – $3621 per month
Another spectacular choice to get the internship opportunity for a prestigious position is CarMax. You can apply for the internship with CarMax through the school recruiting procedure or through the college recruiting process.
During your internship with CarMax, you will be able to gain expertise in various skills necessary to explore your potential to the fullest and have a successful career ahead. Also, it will help you enhance your customer service skills, teamwork, and be more responsible towards your role.
Salary – $2347 per month
If you have a passion in the world of media and news, then pursuing your career in Channel 4 will be an excellent option for your career.
It is a popular employer that can offer you a rich lifetime experience. In fact, it can offer you with deep insights about this field and the selected profession. Channel 4 offers internship placement to students as well as graduates preferably those who have a scholarship or apprenticeship program in hand.
Salary – £30,000 per month
Another ideal platform to work in the media industry is Discovery Communications.
Being an intern, you will get the chance to work closely with a creative and supportive team. The environment of Discovery Communications is highly learning and socializing. It can help you stay involved in various events and activities. The internship program will offer you deep insights about the field as well as help you make some vital connections that might be promising for your future career.
Salary – $3617 per month
FactSet offers a positive and encouraging work environment to its intern. This will make you feel part of the company. As a result, you will love getting an internship in this company.
Besides a positive and healthy environment to work, FactSet offers all its interns the opportunity to enjoy all the perks offered by the company including TVs, luxury events, admission in various events and occasions. Hence, if you wish to avail a promising and lucrative career in the field of engineering, then this company will offer you with some of the best options across the world.
Salary – $5,088 per month
Another prominent company that values its interns and considers them almost equal to their employees is Ford.
Interning in Ford is great and offers immense chances to network with others. At the same time, it allows you to participate in numerous educational activities. If you have an intelligent mind possessing good leadership skills, effective communication skills, and self-motivated expertise then you can get through Ford's internship program. Ford even hires full-time employees from the interns. Hence, you never know that the internship program might land you working with one of the top automobile companies in the world.
Salary – $4,656 per month
The team at General Mills is highly supportive. It can help you gain better insights as well as rich experience about the company.
You can select working in various domains, like sourcing, manufacturing, business, and marketing. In addition to this, you can begin networking with talented pools of the industry. The internship program with General Mills usually lasts up to 3 months and can be a great experience for your entire life.
Salary – $3,257 per month
Just like numerous giant brands and big employers, even Google accepts numerous applications from graduates and students who have that different zing in them.
Getting an internship with Google can be very difficult as there are thousands of students competing each year from different corners of the world. The internship with Google will help you to select from a range of options. You can select the internship program depending on your preferred subject.
If you have a personality and strong sense of knowledge that can overshadow all others then you can apply for the various internship programs from Google belonging to various sectors like product management, technical field, and user experience.
Salary – $5,678 per month
Hyatt hotels and group is a prestigious brand in the hospitality industry. Besides helping you build rich practical work experience, the training at Hyatt will help you groom your professional skills to a great extent.
Starting your career with Hyatt will be a big breakthrough for your overall career. You can search the necessary details about the Hyatt internship program through its website.
Salary – $12 per hour
If you belong to science, business or engineering background then you can look to Intel's training program.
This company offers an amazing internship program and welcomes creative minds who have excellent leadership, communication, and teamwork skills. There are large numbers of students competing for the internship of Intel. If you work hard and are able to stand out of the crowd then you can land up with a full-time office job in Intel right after completion of your intern duration.
Salary – $5,940 per month
If you get the opportunity to intern with LinkedIn, then this can be one of the best learning experiences of your life. It is because LinkedIn offer its interns to deal with real-time projects, participate in all social activities, and events as well as make healthy connections with some of the great leaders of the world.
As a LinkedIn intern, you can work alongside a manager, mentor, and experts who will guide you through the entire process of work. With timely feedback and professional support, you can learn a lot by getting an internship with LinkedIn.
Salary – INR 30,000 per month
KPMG offers a world-wide internship program in advisory, tax, and auditing. The internship program with KPMG will offer you the opportunity to work with a customer base across the world on real cases.
Successful completion of the internship with KPMG can offer your career a significant boost. At the same time, it can offer you with a full-time job position in its company.
Salary – INR 15,000 to INR 20,000 per month
The internship with Marriot International is a high-standard experience that is just spectacular for your career.
The internship program offers all the tools required to kick-start the career within the hospitality sector. It is one of the best and biggest companies in the hospitality sector. It provides the best Voyage program including numerous graduates and professionals. The internship program will teach you the significance of confidence, leadership, and help you build a strong professional career in this domain.
Salary – $35,000 per year
If you desire to involve in something big and huge then the internship with YouTube is a perfect option for you.
It is one of the biggest platforms where large numbers of people compete from all around the world to get hired and be a part of. You can select to work in the operations, business, creative and engineering sections of the company.
You see, there are numerous options to select from these and more other companies offering internship programs to fresh school students and graduates. So, just select your preferred company and prepare yourself well for the upcoming internship course!
Salary – $72,000 per year