Certificate courses are considered to be the best for those who wish to study less but complete within less time. Those students who wish to earn early opt for the certificate courses and why not to go? One can move as per the choice. So, there is nothing wrong in going for the certificate courses to build up a great future. So, have a look at some of the vital information related to the certificate courses.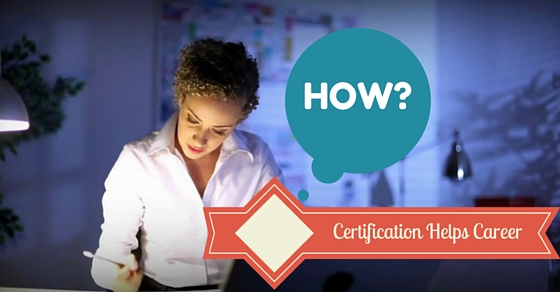 Will a Certification Really Help me Get a Better Job?
Well, certification courses are now in a great demand as many people are moving towards that as it saves time as well as energy. Certification certainly helps in getting a better job because of the following points:
1. These are not for very long period:
The certification courses are not for three or four years just like the graduate and the post graduate courses. The certifications courses just take few months say six months or maximum a year, but not more than that. So, these are good for those who want to study less and at the same time get settle as early as possible. Once you are done with the course, you get more knowledge within few months which otherwise you may not get.
2. It enhances your skills:
The three or four year graduate courses also enhances your skills, no doubt in that but if we talk about the certification courses, those, help in improving your skills more as they focus more on the practice thing and less on theory. This does not exactly goes with the other regular long term courses. So, if you have more practical knowledge then it is good for you as the scope of getting job increases to larger extent.
3. Boost your potential for the career advancement:
These courses boost your potential in the manner that you work a lot while doing the course. But this certainly is not there in other courses. The other courses are more concerned about the theory work which makes you more of a potato couch than a smart practical person. So, this way, it helps in boosting your potential for the career advancement.
4. Facilitate the skill development:
This is obvious that the certification courses will help in development of the skills as you are manually doing everything rather than being dependent on the books. So, if you want more of practical knowledge then better to go for the certification courses.
5. Serve as a quick gateway:
The certification courses help in moving ahead in fast manner as you complete the first step of education and knowledge early and you get a gateway towards your higher education. Otherwise, it takes years to complete the education and even more years to get a job. So, for this reason too it is better to opt for the certification courses in order to have a good career.
So, above are some of the reasons which will make you opt for the certification courses in order to get a better job.
Value of Certificate Programs:
The certificate programs are more popular now days because they offer more advance skills without spending more time and you obtain a degree. Here are some of the points which explain us about the value of the certificate courses:
1. The cost is too low:
The certificate courses are of great value not just by the way of providing knowledge but from the financial aspect too. The overall cost of the certificate course is very low and it can be done by anyone who cannot afford the fee of long term courses.
2. Excellent options for those who are more concerned about the jobs:
The people who directly want job should move for the certificate courses as the certificate course consumes less time and immediately after you are done with the course, you get a job wherever you apply. So, what else is needed? Nothing; after all, the main aim of studying hard is to earn afterwards.
3. No regrets even if you move to another country:
If you do a certificate course and you somehow have to move to some other place and it does not support your course, then you will not have to regret as the certificate course would not have taken much time and energy. So, you can opt and do another course at the new place without feeling bad about the past. So, for this reason too, it is better to opt for the certificate course than the regular long term courses.
4. You are specialized in one thing:
When you do a certificate course, you get specialized in one thing as the courses themselves specialize in one thing and make you learn the same. When you get specialized in something, no person, no organization would reject you ever for the job as the companies need the specialist who could focus on one thing in a perfect manner.
5. You become professional:
You are the professional when you have specialization in one thing. But if you are doing a three year degree, you are not a professional as most of the graduate degrees teach about all the aspects in brief and do not focus on one thing specifically. So, this way by opting for the certificate course, you become a professional.
So, above are some of the points which help know about the value of the certificate courses, also tells about its importance and the reasons why one must opt for these courses to make a future bright and awarding.
Most Valuable Certifications in Business:
Some of the most valuable certifications related to business are as follows:
1. Project management professional:
This is one of the most opted certificate business course. You will find as many as 100+ countries where people mostly opt for the project management professional certificate course. This certificate basically tests the five main areas like initiation, planning, execution, monitor and then closing. In order to complete this course, one has to complete the total of 35 rounds of training.
2. Certified information security manager:
The certified information security manager course mainly aims at the management by accessing the systems in proper place. As per the data, more than 27000 people have been benifited with this course and it has got a boom since year 2002. To get enrolled and get a certificate, you just need to give the exam three times in a year. For this, you will have to have at least an experience of five years, out of which three years' experience as a security manager is important for you. You should have an experience within ten years before enrolling for the exam. Not just this, you will also have to continue education credits every year in order to obtain the certification. Passing this course require proper efforts and effective planning.
3. Certified scrum master:
This certification is related to the project management which primarily focus on the software development. Now days every company has their websites and also they need the software developers in order to update the new software, bring changes, developing or creating novelty etc. So, for this purpose, they might need experts or just say professionals. This course mainly focuses on handling the changes in the different IT projects with some management approach. Also, it is used when the customer wants some changes during the development process.
4. Comp TIA Project +:
The entry level certification is at par with other but still in this course, the credentials are less strict and rigid. This CompTIAProject+ demands feedback from the whole computing system, the government representatives and also the research institutes, independent experts and so on. For such a course, one year of experience in the directing, managing, participating in every project like right from small to the medium sized.
5. Master project manager:
This certification has been modelled by the American Academy of Project Management. This has been modelled after the professional licensure required for many professions like doctor, pilots, and lawyers and so on. It focuses on the project managers and also includes some of the business and other technical management responsibilities. The basic requirements are the three years of basic project management experience. The total cost would go around $300 for the application, reviewing, processing and finally certification.
So, these are some of the courses which are best and provide you surety of succeeding once you have finished with these courses as per your choice.
6 Top Paying Certifications for 2016:
Some of the top paying certifications are as follows:
1. Cisco certified networking professional (CCNP) security:
These certification exams mainly focus on the management, which also includes radius issues, threat defense, also including the Ciscosec architecture which also uses a wide variety of the products right from switches and wireless routers. These courses pay more as they are more technical and is pursued by less number of people.
2. Citrix certified professional – visualization (CCP-V):
This is a new certification, which replaced the previous certification (CCEE) which got retired in November 2014. Before enrolling in this certificate, it is required that the candidates must have earned the citrix certified associate virtualization (CCA-V) certification. CCA-V certification covers the basic things like troubleshooting, managing, monitoring and maintaining whereas CCP –V can deploy applications and some aspects of NetScaler and Xenserver. This certification is valid for three years but pays a good amount within those three years only.
3. Six sigma green belt:
It is a process of analysing the defects which is anything specifically outside the customer's specification like in production process or the manufacturing process. This course teaches the basic idea of measuring the defect, knowing the reason why they occurred and also how to fix them up. Unlike other courses, it is not IT specific . Rather it is primarily focussed on the production of better quality products. This is not owned by any standard organization. Neither it has any exams. Many universities or institute offer training for such certification.
4. Certified ethical hacker (CEH):
This is created by international council of e commerce consultants, which aims at the security officers, site administrators and others who are responsible for the security of data and the network. This exam is designed to test the abilities of the candidate. The basic difference between the hacker and CEH is that the hacker wants to cause some damage while the CEH will try to fix the deficiencies which are found. The topics for this exam could include malware threats, session hijacking, cloud computing, cryptography, hacking mobile platforms, hacking wireless networks and so on.
5. Cisco certified design professional (CCDP):
It is a professional level certification which shows the greater depth and specialization in few topics than those of associate level ones. This certification is designed for the senior level architects who aims to design the more advanced network services. For this certification three exams are required. Also for the CCNP, the certification of routing and switching is needed. This certification is a combination of design and implementation, so this is why it is unique and more challenging to achieve.
6. Cisco certified network associate data centre (CCNA):
This certification has been there in the market for longer period of time. This type of data center certification includes the tracks like CCNP, CCIE which were initiated in 2012. This track aims at data centeric technologies like networking, storage and traffic on websites, virtualization and so on. If you want to achieve this certification, you need to pass two exams. The first exam focuses more on the networking aspect while the second one focuses on unified computing process and also the storage networking.
So, these are some of highest paying certified courses which you can opt for. No matter what course you opt, basically it is the hard work and the dedication which helps a person grow and succeed in his or her life.
Save