Career is a platform to build your desires castle. Every individual either famous or common run from pillar to pole for their better career. The gorgeous blonds and handsome hunks of the lime light also did hard work. Every famous person has done struggle in life to get name and fame even if they were born with a silver spoon in their mouth. The celebs are not always engaged in Starbucks and doing gym, they also have a particular career to focus on. Here are few celebs who shared their views about career on different occasions.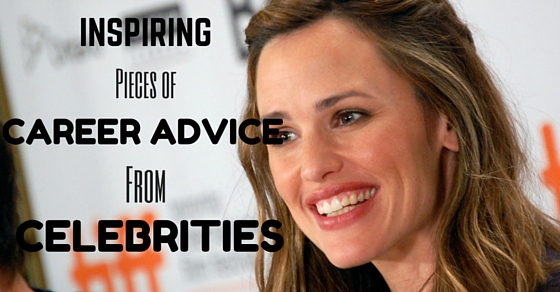 14 Best Career Lessons from Celebrity Women:
1. A lesson of self-dependency from Beyonce:
Self-dependency is a gem for human life. People who consider others view more important in their decisions, usually are not having trust on their capabilities. They neglect their own thoughts as according to family, friends, and society they are amateur. Beyoncé made correction in this concept, according to her no one ever has a right on the life of an individual except himself/herself. She promotes self-dependence because the career is yours then why the hell your boss will decide about your work chart? Why your family and friends stop you from having experience of risk? All in all, society is not a considerable barrier on dream path. The society is a two sided sword which cuts you either the person is good or bad.
2. "Let's figure it out" are the words of Justin Timberlake:
Justin always acts as a beginner, he takes initial step towards a new task without any hesitation. He defines that "people think he is crazy whereas he says this is my style to create something new". Let's take the example of different innovators who faced multiple failures before attaining success. If you are indeed to develop a new thing then you should keep in mind the positive attitude which boost up your stamina to achieve that unique position of your dreams. If you have firm determination to figure out the result by bearing all problems and facing all risks, then you are the master of your soul.
3. Act according to your heart for real feel of happiness:
Leonardo DiCaprio believes in attaining happiness which can never be bought by materialist wealth of the world. He is one of the most successful Hollywood celebrities as he has many renowned awards in his kitty. Similarly, if you want to be successful then do what your heart says as materialist things can't buy happiness. Without happiness life is just a burden on shoulders which a human being bears whole life till their death. As well said by ancestors in the form of an adage" Give an ear to all, but always follow your heart". This can be considered silly but somewhere its correct. The natural glow only comes in the performance of that person who has adopted his passion as profession or even has added passion to his profession.
4. Failures are the concrete steps on success path:
Thomas Edison was a great scientist, for him failures were only defining him that he was lacking in his desire. He never considered failures as hurdle in his way; hurdles were a situation where he lacked determination. Thomas Edison dreamt of seeing twinkling world, a place with artificial light. It might have assumed as an impossible task in that century but now without light, survival is extremely difficult. He achieved what he desired with a firm thought in mind. He fulfilled his dream without repenting on failures.
5. A popular cliché 'Never give up':
Oprah Winfrey has a spirit of living on by overcoming all odds. She is a celeb now but her past life was full of problems and hardships. She faced enormous cruelties of people, society even nature but she never lose her heart. Instead of all odd conditions she fulfilled her desires. She was molested and sexually abused in her young age and she became a mother at the tender age of 14. And, her child survived for only two weeks. She even became the victim of racism; all the hardships never let her moral down and that's the only reason she is most successful women. She has overcome all the obstacles of her life to be on the present position.
6. Lose thousand times than a master:
Many people are there in world who got many reasons to fight with odd and jinx behavior sticked with their life. Colonel Harland Sanders the man behind spicy chicken recipe sold under the brand KFC was fired from a variety of jobs. He did various odd jobs but didn't get any success then finally he started selling chicken specially made from his secret recipe. He worked on the recipe for next ten years just to make it perfect. He got slight success when time turned turtle again. He was forced to close his business and he was not a man of small heart so he searched for a partner who could pay a nickel to him for each sold piece. After a lot of struggle he got success and finally people got the delicious chicken. Many years after the death of Colonel, his recipe still has the spice and people are crazy about KFC.
7. Overcome your own fear:
A Hollywood blond who did leading roles in many movies was a stutter in her school days. Emily Blunt a nominee of Golden Globes was although a smart kid but she had great fear of stage, even she hesitates to communicate with her school mates. It was a big problem for her in the way of her career but an encouragement she got at her junior high school changed her. A teacher of her school encouraged her to work on her stuttering by making her a part of a school play. She is very grateful to her teacher for showing a path which is a reason for her success now. It's never being impossible to overcome fear you just need a determination. A well said notion is there "A drop can fill an ocean."
8. Learn from rejections:
Rejections are common process in selection, if one will be rejected then only other will have an opportunity to perform. J.K Rowling a divorced single mother was on government aid and struggling to get a life. She was totally out of money that she couldn't even afford photocopy of her book and computer was definitely out of her reach. She typed each copy herself for sending it as sample to publishing house. She was rejected multiple times for her work but one day a publisher's eight year daughter liked the script and she got her first book published. The script she wrote after that became the series of famous movie "Harry Potter". She got a lot of popularity as a writer and even she earned a royalty for scripting movie. After that there was no look back.
A list of Common Suggestions by Celebs:
Celebrities are well aware that their words and comments leave a remarkable impression on their fans and followers. They also have a view how their fans react on their words and action. So, most of the famous personalities from different fields mainly focus that they should leave a good comment on their communication accounts or say something motivational as they are the role model of coming generation. Most of personalities define few common quotes and disciplines to be followed.
1. Be sincere and punctual:
Sincerity and punctuality are the two base pillars of a grooming stable career. If a person is dedicated towards his/her profession and format a professional life-style without leaving generosity, then the success follows him/her. All the people work for making their life better, but it's important to maintain a balance in between profession and personal life. Whereas celebs usually define that if there is a need to select one, then opt for personal life because career can be formed with ability but family once got sore relations, it will be a hard nut to crack.
2. Run for perfection not for success:
A common notion is there, "Slow and steady wins the race". Every person is a competitor in the race of success, but only those get success that learns a lesson from their failure. Even, try to bring perfection in their work instead of making multiple mistakes continuously. The celebrities also do many mistakes in their life. Some learn a lesson from those mistakes and reach the pinnacle, whereas few due to stubborn behavior fall badly. Sometimes the haughtiness put people in the hell of debt so badly that they are not able to come out of that forever and ruin their life.
3. Money is need, not necessity:
Money is a way to fulfill the desires but becoming crazy about money is not worth at all. Money is just a source of purchasing materialistic things, but if you will destroy your life in gathering it, then you are the biggest fool. "Health is wealth" is considered as most well versed quote by ancestors. In early ages, money was a source of exchange and most valuable thing was health and family. In present, the condition has turned turtle now money has taken the prior position instead of precious entities of life. The celebs definitely have huge heap of bucks, but for them their family always come first. Similarly, they suggest to their fans.
4. Be unique:
Celebrities get name and fame on the base of their unique skills. They are different in every aspect of their life from others. Some celebs are expert comedians, some has good dancing skills, some can be put in category of good performers, and few are all-rounder. All in all they are keeping some quality in themselves. They promote the uniqueness in an individual because every individual is different in his own. The famous persons make a statement to encourage others and try to be better in their profession because that is the way of their earning.
5. Being Human is essential:
Its an essential content to be a human and promote humanity. All the popular persons always become a good example of humanity by doing charity, adopting orphans, and many other social works. This is a way of all popular stars to thank God for the generosity he has shown to them. They just return that generosity's small portion back to society by being a helping hand to the needy. Money is just a matter of leisure for many but for real gems of the studded world, it is mandatory to heal the wound of the poor. Most of the celebrities have started charitable trusts which help all people who are in need. And in this way they spread the message of humanity and brotherhood.
6. Inner Beauty is must:
Inner beauty is that concept which all famous people consider as important. They all feel that outer beauty lasts for few days but inner beauty remains with us till death. Even people remember you after your death only because of your tender and loving heart not for the charming beauty which you had for few years of adolescence. It's defined by a personality in his interview that he will appreciate a cluster of limited people who have a golden heart instead of a mass with selfish thoughts.
All in all, it is more worthy to define here that celebrities are also common human being as like you but they have adopted few things in their life for attaining success. If you have a desire to be successful as your favorite star then instead of being flaunter, focus on brushing up your skills. The skills and capabilities are the pathway towards stagnant success, because early success leaves no ground for you to fall. The celebrities specifically have done a lot of struggle to be on this position. And they are still doing more hard work to remain forever in your heart.
Save