Smart job seekers know how to write a good resume and fancy cover letters. But is that enough? Of course not ! If you want to land a good job, you must also know there is a right time for it. And contrary to popular belief the last month of the year is a great time for hiring and preparing yourself for a new job. Here are a few reasons why!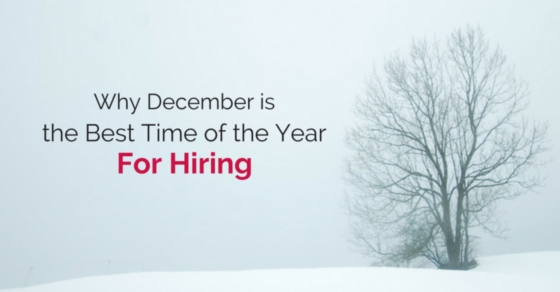 Best Time Of The Year – Seasonal Hiring Trends:

1. There is very little competition:
December is that time of the year when competition is surprisingly very less. People during the last few weeks of the year like to spend time on getting their work done, baking cakes and cookies, last minute shopping etc. This time most people are not looking for jobs. So, the position will be open. There are very few people who are applying for jobs so it is easier to step out of the crowd. So please do not even think of making the mistake that December is that time of the month when people are careless. Instead imagine the number of benefits you would reap.
2. Most companies have more money:
Most companies during the month of December tend to have a little extra money left in the yearly budgets. It is common and they have extra spending money that is left over the yearly budgets. What this could mean is that most of the new companies are now in search of positions being filled. There are more people who are willing to hire at this point. The others will have no idea until the year has come to an end so obviously the right time is December to get people posted. In case you have a list of companies, it would be a great time right now to check up with some of the job listings.
3. It could be the right time to start networking:
As you all know the holidays are a great time to begin with networking. It doesn't matter if you are just hanging out with your friend to their company's biggest holiday party or talking to a relative you haven't met in a lot time. There are so many chances where you can meet and greet new people and let the existing network know about career plans etc. And considering your current network, it would now be a great time to be speaking to your old college friends, professors and seniors. Even though there might not be much to catch up on, you could at least send them a note saying you are thinking of them and would like to get in touch especially since your career needs some solid advice. The holidays could be a great time to take a break and so many people do. But if you would like to stand out, we would suggest you to take the road that has been travelled less.
4. You will get to speak to more recruiters:
The best thing about applying for jobs during the last month of the year is that you get a whole lot of attention. Recruiters during this point tend to feel a slowdown in candidates and are most of the time very keen and would get far more excited when a better person comes along. This would have to mean that you'll need to spend a whole lot of time checking out resumes, conducting interviews that are long and have a hiring process that is responsive. All knowledge and information will now be in your hands.
5. No hiring after New Year:
Even though interviewing for people looking for full time jobs takes a tip in December, the months of January and February always happen to be the biggest and the best hiring period of the year. Around this time most of the organizations begin new projects, budgets and some initiatives are also started. There is also a staff that is needed to carry out some of the plans of the company. So if you are keen on making most of the opportunities during the holidays, you can be the first candidate to line up in January and for that the search would begin in December. And to make sure that happens, there are a few steps you need to adopt:
6. Get in touch with the old contacts:
Holiday cards are expected and most welcome during the month of December. If it is done the right way, it could be a great opportunity to get hold of new leads and fine opportunities. Also after sharing the news with your family and friends, you may also mention this and add a couple of companies you are hoping to target. After that, in a very low key manner, you may also let some of your friends know that you would appreciate any suggestion or contacts they could have. You may also send some holiday cards and greetings to some of the companies you have worked for the past. Get in touch with them and let them know you are looking for a job. Recruiters as we all know are very busy people and can forget candidates at the drop of a hat. So make things easy for them and create a good impression by greeting them. And in case you are very lucky, they could have an ideal job you can land very soon!
7. Know everything about seasonal schmoozing:
December is a holiday month which means you can expect a whole lot of parties, gatherings and some community events as well. There are also some great opportunities to mix, hang out and share some of your stories. Be careful around this time and don't dampen the chance of having fun by trying way too much. Control the temptation of giving away a big speech that is well rehearsed unless you are attending a formal industry event where such kind of introductions is needed. Even then you should make sure you can sense the mood of those around you before you can come across as too stiff. When gatherings are informal, a light touch is always great. If you are asked what you do for a living you may say something that will pique their curiosity.
The holidays are a great time to take a break and many people do in fact. But if you would like to stand out in the job search, choose the road that has been travelled less. This will bring you closer to your dreams. And if case you have any questions, comments or queries in mind, please feel free to comment below. We are always eager to hear from you. Till then, have fun and keep looking for those jobs this year end. We are sure you will find something worthwhile if you keep trying for it.