Interior designers are professionals who work to create internal spaces that are appealing and practical both visually and financially.
Such individuals require an innate sense of artistic creativity.
Usually, interviewers ask to bring the candidates samples or portfolios of their work prior to coming to the interview.
This provides the interviewer to ask about the various aspects of the projects that the candidate has done. This includes the various difficulties that they have encountered during the project and how they tackled the issue.
Interviewers can also give assignments to the candidates on a site so as to see how they handle difficult situations. This can help them as a good method to find the right individual who is fit for the position.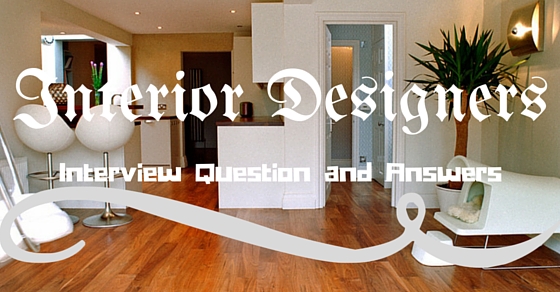 The skill set of interior designers includes a wide range of capabilities.
This includes good rapport and communication skills, teamwork and willingness to constantly upgrade yourself with the coming trends. These type of interviews also include behavioral or situational questions.
Interior Designer Interview Examples:
1. Operational and situational type of questions:
If a client asks you to design a room that is visually pleasing and non-practical, how would you react and what would you do?
What would you do as an interior designer, if a client keeps rejecting your projects?
2. Role-specific questions:
What kind of works in your portfolio are you most proud of and why?
What kind of works do you usually prefer?
Explain one of your works that required the most technical expertise.
What interior design job was the most difficult for you and why?
How did you tackle a difficult job?
How is your experience in AutoCAD/3D-Max/In-design etc.?
How do you prioritize your tasks on a daily basis?
What all factors do you prioritize during a project?
What do you need to consider before designing?
What do you know about green technology and sustainable designs?
What are the basic questions that you ask to all of your clients before starting a project?
Is there any style of work that you like/prefer to work with and why?
How well adapted are you with the industry changes?
Do you try to keep up with the change in technology?
Which aspect attracts you most in a design? Appeal or practicality?
3. Behavioural questions:
If by chance you are behind your schedule, what will you do?
As a follow up with the above question, are there any instances in your work life that you have been behind a schedule? How did you overcome the situation?
Was there any case where you had exceeded the limit of the client budget?
Describe a time when a client didn't like your designs. What all measures did you do to change the clients' mind?
Describe a time where you and your teammates had a discord over a design. What did you do to get the situation handled?
What are your main concerns as a designer?
Why do you want to work here?
Do you prefer commercial or non-commercial projects?
Interior decorators combine a knowledge for design and an eye for style to create most efficient projects possible for clients.
One of the most sorted out moves that an interior decorator could do is, sort out the job and join a famous and reputable architecture firm.
These kinds of companies hire interior designers on a fixed basis. Hence, providing a stable income and a steady flow of projects.
The first step for such a result is to constantly be ready and try to prove yourself and your values and ideas that reflect in your behavior, personality, work, portfolios and projects.
There are certain factors that the interviewer stresses while asking questions to the candidate.
Becoming an Interior Designer:
1. Education:
The formal education and prior knowledge in handling projects help the interviewer to get a better impression of the candidate. This will certainly apply to someone who has been or is studying. Example, college graduates.
Often, interviewers try to ask open-ended questions based on your portfolio, resume, work and discuss about other alternative ways in which the project could've have been more useful.
Interviewers also tend to ask you about the subject that you have been selected for and why?
The questions can get more and more detailed and can be focused on areas such as
What kind of questions did you dislike the most?
Why did you select that school for learning interior designing?
Did you have any kind of leadership activities or were you enrolled in some group activities in college/school?
2. Portfolio:
The interviewer will want to assess your designing skills so they will look into your portfolio and ask you various doubts.
Portfolios are generally works, that the candidate has done during his/her academic year or through various other activities like projects, group work or internships.
The doubts include:
What is considered as the most fulfilling work in your portfolio?
Which piece in your portfolio has used the most technological resources?
What is considered as the most difficult project from your portfolio and why?
Be sure to answer any questions related to the portfolio and try to answer with more confidence and surety.
3. Work style:
Questions regarding the respondents' work life and how he sees his work is also a deciding factor in the organization hiring the clients.
The interviewer can ask various questions such as,
How do you describe your work style as?
The interviewer tries to assess the employee's communication skill, rapport and logical thinking while tackling a problem.
Other types of questions can also be asked such as,
What will you do if a client keeps on rejecting your designs?
How did you encounter an unwanted problem during a project and what were its results?
What do you think about taking up projects that are outside your comfort zone and skill level?
4. Company fit:
The main purpose of an interview is finding the right person for the job. Here, the interviewer tries to assess you as an individual if you could fit into the working environment of the office and the company.
Many questions can be asked such as:
Why do you think you are fit for the company?
Are you confident that you will fit in the work culture in the company?
What does your former peers and colleagues describe you?
How do you see yourself after five years?
Do you have any plans to improve your skill set and why?
The main purpose of asking such questions is that the employer is trying to find out whether the person is the best suited for the company.
As the creativity within a person increases, they become harder and harder to work with since they think differently from the rest of the crowd.
Interior Designer Interview Question and Answers
1. Tell me a suggestion that you have made, which has been implemented during a project or a technical field?
How to answer:
Stress on the word "implemented". Here, the interviewer is trying to find out your contribution to the project, not the teams'.
Try to add instances where your suggestions have led to a successful project and not the contrary. Do not try to stress about suggestions in which it has been a disastrous result.
2. What experience do you have in this industry? Any notable examples or experiences?
How to answer:
Try to answer the question as it is. Do not try to beat around the bush.
Hopefully while answering this you might have had a lot of experience to talk about.
If not, do try to tell the interviewer that you do not have any prior experiences in the field and that you are still a novice.
Do not try to bluff or lie about your experiences under any circumstances. Do not try to add any false information about your work just to impress your interviewer. This might prove to be a grave mistake and might eliminate you out of the selection process.
Just stress on the fact that how your skill set can prove to be beneficial for the company and how it can help in the company's development.
3. What is your greatest weakness?
How to answer:
This is a challenging question. Do not lie and say that you have no weakness.
Everybody has a weak point and the success lies in how well you overcome that weakness and transform it into a strength.
Try to be realistic and mention a flaw that you have noticed in your work. Emphasise how you could overcome this and try to improve yourself.
Such self-learning questions are usually used to assess you how you are improving as a person and how you evaluate yourself.
Do not try to disguise a strength and point it out as a weakness. If the interviewer is a seasoned professional and is experienced, there is a high chance that you will be removed from the selected list.
4. What challenges are you looking for in the position?
How to answer:
This type of interview question basically measures what the candidate looks for in a certain job and why he is opting for the given position.
The best method to answer this question is to carefully think about your skillset and how you will improve and utilize them so as to prove that you are an asset to the company.
You can also add that you are motivated by your challenges and are constantly trying to improve yourself under any circumstance possible.
This will give the interviewer the impression that you are an individual that always tries new challenges. This can also show the flexibility and adaptability that you have for the job.
You can also add certain other factors such as certain real life and recent problems or challenges that you had met and explained how you tried to overcome them.
5. Have you ever had a conflict with your boss or professor? How was it solved
How to answer:
Do not try to ignore this topic. If you say no, then the interviewer will understand that you are lying.
The solution is to state a minor conflict and explain how well you tried to resolve the disagreement.
Focus your answer on how you prioritized the problems faced and tried to resolve in each step.
For example:
"I've never had any major conflicts in the past. But I have had certain small ones.
The main process that I try to follow is that I prioritize the issues faced or the errors that the client sees and try to talk with them.
I listen to their suggestions carefully and try to analyze how this problem could be solved."
6. Why do you want to work with us?
How to answer:
The interviewers wishes you to see how likely you are going to fit into the work culture and how well you will fit in the company.
They are trying to find an individual who will recognize and reflect the company's values and views and will state how well the company is suited for you.
Every company has its own set of strong points and values.
Try to emphasize on those points and try to see how well you fit in the company as a working individual.
Try to assure the interviewer that you are well suited for the job because of this.
Try to be honest about yourself and try to state the facts that you might see goes well with the work culture of the organization. Try to be as truthful as possible to the interviewer.
7. What kind of salary do you need?
How to answer:
This is a loaded and a tricky question. Do not try to tell specifically about the salary, instead try to ask the interviewer about the range of the salary of the job.
Just do not seem to be taken off guard or surprised. Try to be cool and composed and give a good detail about your expectations.
Also, do not try to overload your expectations.
Questions to Ask an Interior Designer About their Job:
1. What is the procedure to design smaller spaces?
2. What do you mean by Practice Act for Interior Designer?
3. Which factor is vital while designing a room ?
4. How can you attach bookshelves in smaller spaces?
5. Which kind of lighting do interior designers mostly use?
6. Which wood type do you prefer most?
7. What kind of countertop materials you use for kitchen designing
8. How do you plan to use lights in a room?
9. What plan do you have for using balcony as a garden
10. What do you mean by professional liability insurance?
11. Differentiate between interior decoration and interior design?
12. What are the types of modern glass types used in interior designing
13. What questions would you ask for getting the requirements of the client?
14. What do you mean by permitting statue for Interior design?
15. Name few tools that help in interior designing?
16. Explain a kitchen designer's role
17. What do you mean by quick book accounting?
18. What are the popular software used for interior designing?
19. Name the top apps available for interior designing?
20. Specify few things to look for before designing?
21. What are the other sectors in which you can apply your interior designing skills
22. Name few magazines which help your as a professional in interior designing
23. Do you have any idea about the skills where you can use your interior designing skills
Interview Questions for Interior Designers:
Interview designers are the people who are responsible to make the interiors beautiful. Being an interior designer, you need to be very creative and be updated all the time. So when you are conducting an interview of interior designer, you need to ask few questions which help in understanding the candidate better on their skills and abilities.
Here are a few questions which help us to assess the candidates well,
Where do you wish to see yourself 5 years from now?
Ever had any disagreements with design ideas among your team
Explain some of your previous design projects
What is the best part about being an interior designer
Working alone or working in an interior design team, which one do you find better?
Explain any situation when the client was unhappy with your work and how did you dealt with the situation?
What is your ideal job
When was the moment that you decided to become an interior designer?
How is your style unique from others
Did you ever face any disagreements with someone in your team, how did you deal with it?
What made you step in a leadership role?
Can you face pressure at work?
Explain how you deal with a difficult client
How good are you when communicating with your team on strategies
How did you get the idea to become an interior designer?
How do you deal with your client while getting a project from them?
Tell me about your career goals
Do you dislike any kind of interior design style?
How many years of sales experience do you have
Explain any of your team project?
Have you ever worked with a difficult co-worker? How was your experience?
Explain how you manage stressful situations
How do you keep urself updated to market trends
Have you bought your portfolio with you?
Tell me something interesting and unique in your portfolio
How you will be a good contribution to our organization
How would you market yourself
How will your skills and abilities help our company to grow