Becoming a model at the age of 18 is a challenge. There are so many things you have to be mindful of. From having the right eating habits to working your way up in the industry, every step counts! If you want to switch careers and give modelling a shot, here are some essential tips and ideas that should help.
In this article, we have suggestions for both boys and girls. So you won't have to miss out on anything. Keep reading the article to find out everything about the lucrative profession.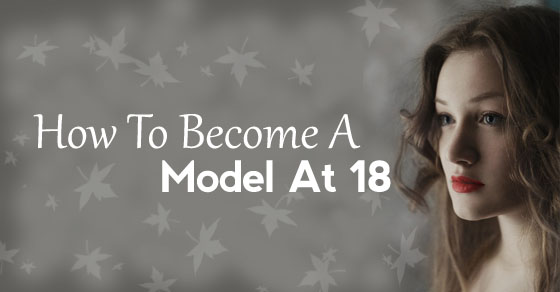 Basic Modelling Tips for both Men and Women:
Before you step into the world of modelling, there a few things that both men and women must keep in mind.
Since you are only eighteen, there are chances you don't know much about the profession. Therefore, make a note of all the points. You will definitely find some help we promise!
1. Being healthy on the outside:
If you want to become a model, you have to look good first and foremost. For that we suggest you take care of your appearance. To look good on the outside, you must give fitness high importance.
Consider working with a trainer and hitting the gym at least five times a week. Tell your trainer about the goals you have and what you would like to look like. Your trainer can actually give you some really good tips and ideas to stay fit.
Eating right is very important. Live mostly on vegetables, fruits, healthy fats and whole grains. Give up on sugars, starches, empty carbs and deep fried foods. Also give up on sugary foods, sodas and try not to dine outside often.
2. Take better care of your appearance:
As shallow as this sounds, modelling has a lot to do with your appearance. You should take care of yourself, be as healthy as possible and keep yourself well groomed. What you wear and how you are carrying yourself in public is very important. Your skin should glow and hair should shine.
So keep a separate routine for that. When you wash your face in the morning, do scrub and exfoliate once or twice a week.
Don't wear your makeup before going to sleep and use face masks three times a week. Also you must keep your hair shiny. So you use the right shampoo and conditioner.
How to Become a Female Model at 18:
If you want to get straight into the industry, here are a few points that can definitely help you!
1. Take pictures and photographs:
Before you become a model, it is important to take pictures of yourself to show how talented and capable you are of becoming a model.
For this, you must add a few professional head shots. You will require a professional makeup artist or someone who has a good idea of camera and lighting.
You should not shoot when it is too dark. Use natural lighting instead. Make sure there is no distraction when you are shooting. And don't forget to be confident. That sells a lot.
2. Professional photos could really help:
For female modelling, it is advisable to get a couple of professional pictures taken. Though professional photography is slightly expensive, it could make a huge difference between being passed over and landing an interview.
You should definitely consider getting professional photography done, as it can really help your career in a lot of ways. Getting professional shots means getting it printed in 8x10s. You can save them in case you are expected to leave any photograph before the interview or after it.
If the agency likes your professional pictures, you can actually consider piling them into one portfolio. You can bring them for casting as well.
3. Try freelance modelling:
Freelance modelling is a good option for people like you. Since you are young and don't know whether this would be a good opportunity for you or not, go ahead and give freelance modelling a shot.
There are plenty of agencies that want models once in a while for jewellery modelling or shoe modelling. You could be a part of that. Just go ahead and audition for it. Who knows where it can take you?
4. Look at modelling as if it is a real job:
People who don't take their jobs seriously have to make smaller changes in order to succeed in the field of modelling. Do you realize how hard it will be when you actually become a part of the glamour world? There is so much competition out there after all!
Modelling can definitely be considered as a full time job that will need your constant attention. A week away from it and your whole career will come crashing down. Also do remember that modelling only is a small window and once you take a break from it, you might never get it back.
Models usually tend to work here for a shorter period of time, especially the ladies. They can only extend the business if they become famous.
5. Hang out with people who know modelling:
Another thing you can do is hang out with those who have a good idea about the profession. Your fellow model friends could help.
In case you don't know an eighteen year old female model, it is advisable to speak to a senior about it. Only then can tell you how to get better and improve yourself from here.
Modelling will definitely become much more fun an easy to do if you hang out with the right people, don't you think?
6. Don't give up on school:
Never give up on your education for modelling. Even if you are Gigi Hadid or Kendall Jenner, you must still continue pursuing your education. Since modelling doesn't give you a guaranteed time, it is best to study in the morning and work on assignments in the evening. In that way you will be able to become a model at the age of 18 and at the same time pursue your education.
There are plenty of people out there who have missed out on their education because of modelling and have regretted majorly later on.
7. Prepare yourself for a beauty pageant:
Beauty pageants are a quick and easy way to climb the stairs of success. But it all depends on luck and hard work. If you don't want to enter a beauty pageant at this point, you can at least prepare yourself one.
You can actually hire a coach who can teach you how to walk in heels, be more lady like etc. Plus beauty pageants focus a lot of confidence and your skills so its time to build on that as well.
Plenty of girls have become successful models today because of beauty pageant and they all started off at the age of eighteen. It could be a good start for you too.
8. Give your appearance top priority:
There are some things you should add to your routine right from the start if you want to survive in the industry as a model.
First of all, give up on all junk food you like to eat. You have to survive mostly on fruits, vegetables and lean meat if you want to have a flat tummy and kill it during that bikini shoot.
Second, get some good sleep at night so that you don't end up with dark circles. And most importantly, drink water and work out with a trainer.
How to Become a Male Model at 18:
1. Join a modelling competition:
Though it can be slightly hard to win, you should definitely join a modelling competition if you want a career in modelling. However you need to make sure that the contest is reputable and is run by a proper establishment.
You don't have to pay any ridiculous entry fee for this one and in case someone asks you, say no to them.
Also before you go for one, make sure you have matched all the requirements which are needed for entering a modelling competition. And even if you don't win, it doesn't matter. At least you put yourself out there.
2. Set yourself up with an agent:
Once you have jumped through all the hoops and found an agent who is appreciative of your looks, it will be a good time to sign the contract. Again you will have to make sure in case the agent doesn't ask for any cash up front.
Every real agent will only make some money if he or she has been able to make some money. And even if you think the agent is legitimate, you have to make sure there is an attorney who can go over the contract with you and to make sure that the agreement is a fair ones. Again you also make sure that the agent doesn't end up asking you for any money.
The real agent should only be interested in making money after he or she has made you money. And in case the agent seems legitimate, you must make sure that there is an attorney who goes over the contract and makes sure that your agreement is fair. In case you have signed up with a top agent, there is still some chance you have of making money.
3. Start searching for work immediately:
Once you have met with an agent, signed a contract with them, you can easily build a portfolio which may help you get a good job. Plus they also shed more limelight and also help you get a good chance of going to modelling interviews.
So what you should do in cases like these is go to the go-sees, act all professional and don't get frustrated at all if you don't get a huge gig immediately.
4. Be professional:
Whether you have already made it big or are simply starting out as a model, you don't really want to develop a reputation for becoming ungrateful, rude or late. If you don't want to stay in the industry, here are a few things you will have to do in order to meet all the standards of the profession just like you would be in any other career.
When there are appointments, be there on time. Always be courteous, professional to people you meet and come in contact with. Third, you must always consider spending some money on a personal trainer who can help you maintain a good diet and reach all goals so that your muscles are toned.
Finally, you must take a meticulous approach for the grooming regimen and skin care. Finally, get some good sleep that can help you avoid dark circles and let you rest with a healthier appearance.
Don't Quit that Day Job:
Never quit that day job. Always remember that even though modelling pays a lot of money, you have to become very successful until and unless you have become a day time model. This also means that unless you have really made enough money, it really makes no sense to quit your job.
You should keep doing that day job so that the money keeps coming. In case you want to change your career, you are free to do that as well.
For modelling you have to be very lucky at times. Even the most good looking men have ended up choosing different careers. Therefore you have to be careful.
Conclusion:
This brings the post to an end. Hopefully you have learnt enough about how to become a model at the age of eighteen. We know its hard but that doesn't mean you cant become successful.
Make a note of all the points, follow them carefully and do share some of your personal tips and ideas with us.
Also if you have a few suggestions regarding the article or have some feedback to give, do let us know in the comment box below. We are waiting to hear more from you. On that note, good luck!
Save