Making travel arrangements for your boss is a responsible and stressful job. It is actually an art where your boss is made happy with the travel arrangements you make. It is a part of the job that executives and employees need to make arrangements for their boss frequently.
The key factor in arranging business trip for your boss is to pick the right agents whether it's through airways, online travel packages or through best travel sites.
The executives should make sure they compare and get the best practices that are available.
Here are a few tips to make travel arrangement for your boss.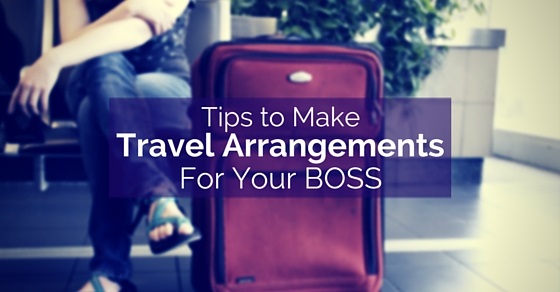 How to Make Business Travel Arrangements For Your Boss?
1. Knowing bosses preferences:
It is mandatory to know bosses preferences before getting started for a travel plan. Certain few aspects that need to be known for arrangements are the seating arrangement if your boss prefers an aisle or a window seat, preferences regarding meals, and seating arrangement at the front or back of the plane.
The other aspects are to find out if your boss wants to arrive early to the destination or at the last minute to achieve the chore, would they prefer utilizing credit card airline rewards or specific airlines, and their choice of hotels or ones with specific credit cards.
The amenities in the hotels need to be checked out if they possess mini-bar, Wi-Fi, gym, and good beds for the boss to relish.
2. Understand the travel agents:
Some important aspects to be concentrated before booking a travel through travel agents are the availability at dates of meetings or schedules.
It is also important to find out if the flight would arrive early so that the boss can relax and rejuvenate or would he be directed directly to the meeting.
The main aspects while booking a flight for your boss is to find out if the flight would arrive early so that the boss can have a night's rest at the hotel. Also looking out for direct flights would make your boss happy.
In case there is a need to fly through connecting flight, look for flights with a short layover. Your boss would be pleasured if he is provided with open Wi-Fi so that he can work while travelling.
3. Research prior booking:
Check out if your boss has preferences for flying, hotels, travelling and more, if not then it is your duty to make proper research in order to arrange a travel with all amenities and comfort. Hotels, flight services, car rental bookings and more aspects should be researched well before booking.
Make a comparison with the top travel sites for hotels, flights and other services that are offered at discounted rates.This is the best way to cut business travel costs.
There are number of sites that are available for airlines and hotels which can be researched and compared for better options.
There are many sites that offer packages and deals along with hotels booking, rental cars and other services, though your boss arrives late. Hence researching is important to make your trip the best trip with comfort.
4. Sources for research:
There are a number of sites to research and compare when it's especially for booking flights, care services, hotels and more. Few sites are Travelocity, Hipmunk, Kayak, Priceline, YahooFarechase, booking.com, expedia and more.
Comparison amongst flights can be achieved with Kayak which includes Priceline, expedia, bookit.com, Virgin America, Travelocity, with Kayak prices are compared so that the lowest offerings can be narrowed down.
When the trip has only day trips where hotel stay isn't required the official page of the airline can be accessed directly where flights cost can be compared.
5. Develop a travel plan:
Your bosses travel can be simplified and made easy by preparing a travel plan. Since you have gathered all details regarding travel, preparing a travel plan is never a tough job.
There are few formats that need to be added to the travel guide so that the travel planner is made perfect and impresses the boss.
The date heading must be bold specifically when multiple flights are to be boarded. Many cities may have more than one airport; hence the name of the airport from and to fly must be included in the travel guide.
The driving direction from the airport to hotels and vice versa must be included in the travel guide for easy access when they lack online maps.
The hotel contact numbers should be provided to the boss in case the boss or their spouse needs it for many reasons.
Added information for your boss can be to mention a few best restaurants by the hotel so that your boss would enjoy.
The main events and meetings that need to be accomplished during the trip must be mentioned in the travel guide too.
When such a travel guide is formulated, your boss would be happy and satisfied with his travel.
6. Updating and informing your boss:
Though it may be difficult to keep your boss informed about the flight delays or any other updates, you really need to be on top of it.
Your boss can be updated to download and use apps like Flight track on their phone so that they can keep track of their baggage claim locations, flight delays, gate changes and seat availability.
Your boss should also be updated with the events, meetings to attend, future flight changes as they are on their trip.
In case there are any delays or cancellation of flights due to major weather conditions, your boss should be updated.
7. Opting for package trip:
It would be beneficial when package trips are opted than purchasing each service separately. When airline tickets, car and hotels are purchased as a package, executives are able to share an 5% to 25% of trip amenities rather than purchasing separately.
8. Avoiding travel clutter:
Triplt are excellent apps that makes travel easy without travel materials in hand such as restaurant reservoirs, flight confirmation numbers, hotel confirmation numbers and any other paper based materials.
Instead of carrying all travel confirmation numbers they can be forwarded to Triplt account. The boss smart phones or tablet can be loaded with date, times of flight, hotel, and more details which is an easy itinerary and is easy to carry around too.
9. Check Bosses requirements:
Make sure that the travel documents are up-to-date especially during international tours as they require visas for certain countries to enter. The date, time of reservation along with the time zones must be made clear for the boss.
In case the boss requires cash in advance make sure proper arrangements are made and cash is provided for your boss. Find out if your boss is travelling with a business contact and needs to sit beside him, if he requires a meeting room, if he is about to do a conference then make preparations accordingly.
10. Confirming the day before:
Make sure that you confirm every aspect the day before travel. Check for the confirmation email from airline, confirmation for baggage fee and flight reservation, confirmation for restaurant and reservation for the number of people and more.
Call up your boss and other business contacts that are about to travel and double check with all the details so that they have a happy journey without issues.
11. Vaccination and health check up:
If your boss is travelling across the sea to another continent make sure to provide him a health checkup and vaccinate and inoculations required by the country. The international certificate for vaccination can also be obtained from travel agents, passport offices or local health department if required by certain countries.
The arrangement made for your boss to meet clients out of town is a great responsibility as your boss needs to be satisfied and happy with the journey. It can be said that planning for a trip can be a great opportunity to present your skills, capabilities, confidence to your superiors and impress them.
Conclusion:
While planning a trip make sure not to assume things and communicate well with your boss so that you get to know his comfort level and make travel arrangements accordingly. Since business travel information or details are important, make sure you make preparations and list them down before proceeding with work.
Each and every step in preparation for a business trip should be taken by keeping your boss in mind. Your boss comfort and pleasure is something important in the trip. Apart from travel detailing the other aspects that is the purpose of travel should also be cared for.
All arrangements for meeting, conference etc. must be well prepared by the executives. Hence executives who are responsible for arranging travel trips for your boss make sure to follow these tips as your boss can have a hassle free travel to any country without chaos
Save
Save