How do you feel when you have no one to talk to you?
Alone, depressed and isolated, right?
Well, such a feeling can conquer you to the fullest, if you are not social at work.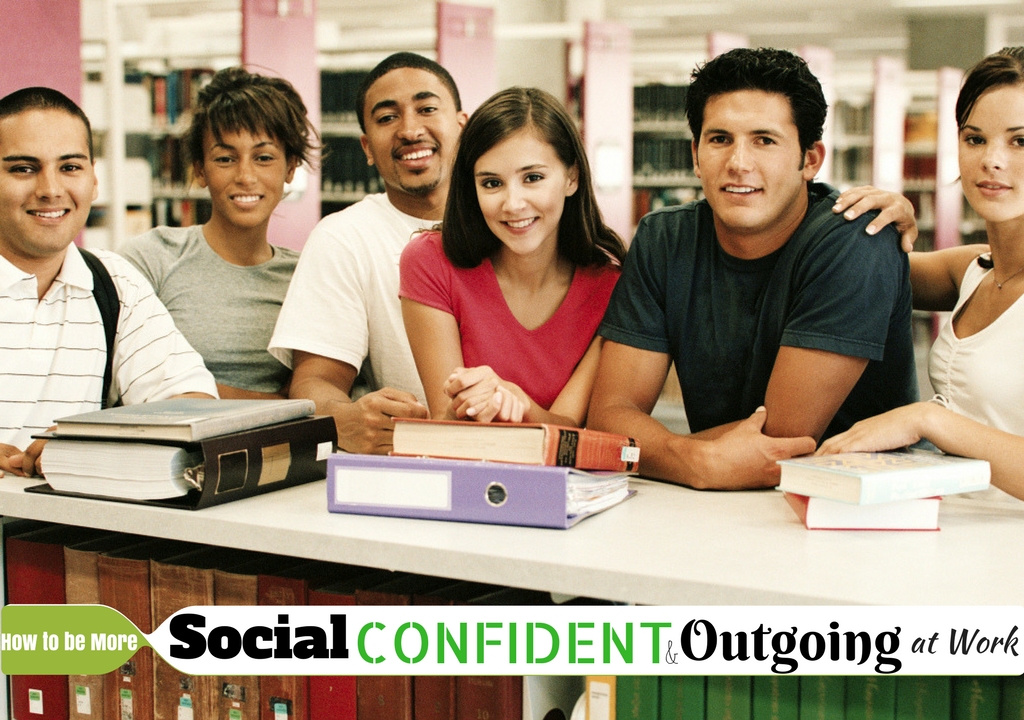 Why Being Social at Work is Important?
You must be an online social bird, making the best use of online platforms like Facebook, Twitter, and Instagram, etc.
If you are not socializing at work, then the biggest disadvantage would be feeling neglected and isolated from the social circle at work.
Being social at work is a great opportunity to know more about others and get that special personal touch, which is needed to stay motivated and happy at work. When you are social at work then you can develop a healthy work environment filled with positivity and healthy competition. Eventually, it can help you engage with other members to a great extent. Which might even be great for your career.
Hence, if you are social at work then you can lead others, learn more, gain more knowledge, and most importantly enjoy at work with a more friendlier and positive environment. So, if you want to know the perfect way to be social at work without disturbing your professional space then here I am listing the best ways to do so!
Ways To Be More Social at Work:
1. Make an Impressive Impact in the First Meeting:
Your body language tells a lot about your personality. So, if you can make an impressive first impression on others, then this is something that others will remember for a much longer time.
Hence, whenever you approach someone you may begin with a kick start. Act friendly and be open and receptive to a decent conversation. This way, others will consider you impressive, friendly, and social.
Make appropriate facial expressions and extend your palm to shake hands and greet someone. This will help you get involved easily in the social circle.
2. Start Small on the Initial Ground:
Don't have a mindset that you already have tons of friends! This will never allow you to make new friends at work and other places. Being friendlier to people at work and greeting them morning and evening is the simplest way to be social at work.
This small beginning can create a huge difference to others. If you are not able to greet everyone then you can begin with being friendlier with at least the maximum of them. This will help you to connect well with others. Also, this will create a positive image in the workplace.
3. Make At Least Few Good Friends:
Another way to be Confident at Work is to make at least a few good friends.
If this is not coming naturally to you, then you can set an aim to engage with one person every week. With a new friend, you will always have the opportunity to explore more of yourself as well as to learn and grow.
Also, if you have friends and social support all around, then this will create a hugely beneficial impact on your health. With supporting hands near you, it will become easier to execute tough tasks and even easier to manage various intricate situations. Just talk to a person for more than a minute and soon you will be able to make new friends at work.
4. Identify a Common Topic for Discussion:
If you want to act more social at work then identify a common topic for discussion.
You can select any topic to discuss like music, movies, theatre, sports, news, or anything else that is of interest to even the other person. If there is nothing common to discuss then you can always talk about the weather and the well-being of the other person.
Select some natural topics to discuss but if you are not discussing any common topic then make sure that the interactions are shorter. Even small text messages and emails related to something interesting can be shared within your team or group so that you appear to be social animal even at work.
5. Chat on a Balanced Conversational Scale:
Whether you are a chatty type or a silent type make sure you communicate with others on a balanced scale.
For this, you need to keep a check of your words as well as your tone. You can practice the same with your friends out there so that you can deliver a balanced conversational scale at the workplace.
For example, if someone tells you that she or he had a great time at the weekend then instead of saying that even you too had a blast at the weekend you must ask how was it and why it was so awesome. Once the other side is done with his saying, then you can share your thoughts or experiences on the same.
6. Make Sure You Socialize at the Correct Spot at the Work:
By this, we mean that you must begin chatting at the workplace, but not every time especially when someone is working or when an important meeting is going on or going to happen. Rather select a perfect place and situation to begin talking to others.
This can be the cafeteria, during the tea break, or a small festive break at the workplace. Pick up situations where socialization and talking are allowed at the workplace and then you can begin with your work. Otherwise, you would end up appearing annoying and disturbing.
7. Stop Making Excuses for Yourself:
For most of the individuals being introvert comes with making lots of excuses for themselves. It is because they feel discomforting about the entire concept of communicating and connecting with others.
But this discomfort can be critical to your growth at work. So, it is you who have to decide. Whether you want to grow at work as well as the social front or you just want to stand out alone as an introvert. The choice is yours!
So, if you want to stand high on the career ladder then combat this discomfort and talk with others. Find yourself a place to eat lunch with others begin small meetings at work and even make small eye contacts with others when you feel like.
8. Make the Most of Your Time:
As per experts most of the people make excuses to not able to find enough time from their busy schedules. This is why they are not able to spend time with others to socialize.
The sheer attempt of doing things perfectly and on time offers people with very limited time to interact with others. But this is not going to work if you want to shine at work. You need to make most of your limited time available to you.
Respond to an email, check phone calls, and check your Facebook account. Besides doing this you can plan to listen to music and talk to others on the phone. Put in some conscious effort to set aside for building relationships with others. So rather than doing such stuff, you can plan a coffee with your colleagues, have lunch with others, and even go for a brisk walk with them.
9. Ask Questions to Know More About others Better:
Large numbers of people believe that when they are in a casual conversation with their colleagues, or when they are talking to others related to any specific business subject, then asking questions would appear fake and out of the course.
But this is never the situation. Everyone can ask questions to others. You can always ask things such as about the latest project, things they are interested in, and the goals they want to accomplish in their lives.
This will help you to share appropriate psychological space with others and will offer you with creating a shared link with most of the members at your workplace. Make sure you are open, compassionate, and curious about your comments so that you can blend well with them.
10. Engage with Others Before Beginning of a Meeting

:

If the idea of going out for lunch with your colleague is making you feel uncomfortable then you can begin connecting with people in bigger groups even before a meeting is going to start.

You can plan going out to get the work done, or to gain some knowledge about a project, or to communicate about topics related to the project. Engaging before the beginning of a meeting always works well and turns to be a healthy conversation with others.

You can engage with others in movies, games, TV shows, and sports. Even smaller interactions will help individuals to get you to know more personally about them and will keep the environment healthier at work.
11. Be Realistic and Authentic in Your Approach:
No matter which way or step you follow, it is essential that you are realistic and authentic in your approach.
Your approach must be authentic and you must be sincerely keen to cultivate a real relationship. Also, be careful about what you speak and how you speak so that you can identify ways that are more suitable to your personality.
If you will start faking and develop unauthentic notions, then people will stop trusting you. If you are planning to develop a longer relationship, then you must practice realistic things more appropriately. Don't make any fake, prior plans. Just let things work for you.
12. Communicate via Phone if You are a Remote Worker:
If you are a remote worker, then you will have only limited ways to communicate with your colleagues. All you have is to communicate with others through conference calls and over email, and this would be making tough for you to know other people.
In this case, you can begin by making small calls for five minutes or even less. During the call, you can discuss in small notions about your life and ask about their routine. Discuss the TV show, weather, news events, or any social event about to happen in the office.
Furthermore, you can even include few greeting lines in your emails, and always send smileys and emojis through chat messages. This way, even if you are a remote worker, still you be able to act socially at work.
13. Don't Compare Yourself to Others:
If you wish to involve socially with others, then you must stop comparing yourself to others at work.
This is important as if you will compare with others, then this will develop negative thoughts and ideologies about others. Even this can develop insecurities within you. It is because, in most of the situations, you are always comparing negative qualities with the positive qualities of other people.
Just remember one thing that, everyone has some positives and flaws. They are only trying to hide their flaws and present their best at work. So, if you are too busy finding flaws and worrying about others, then you will have very less time to make the most of yourself.
14. Be Genuine:
When you want to appear socializing at work, then you must appear genuine to others in the conversation.
Be fully engaged in the conversation and make sure you are stimulating as well as fulfilling the interactions with others. Avoid telling people what they want to know and hear as this will make them believe that you are not being genuine to them.
Just be yourself and avoid taking the communication to the next level. Don't just talk about yourself and remain calm often to appear interested in the conversation.
15. Be Open-Minded:
You might not be able to communicate well with others, as you might think that the person is stupid and not up to your mark. If you want to make friends, then just don't consider a person to be your potential friend. Talk to him to get a better understanding of his personality and be open-minded in your conversation.
Being social at work is not that difficult. All you need to do is just follow these ways and just enjoy doing your work!